This is a sponsored post written by me on behalf of Pompeian.  All opinions are my own.
 A simple , rustic dish of potatoes, eggs, onions, and bell peppers…my twist on a Spanish classic!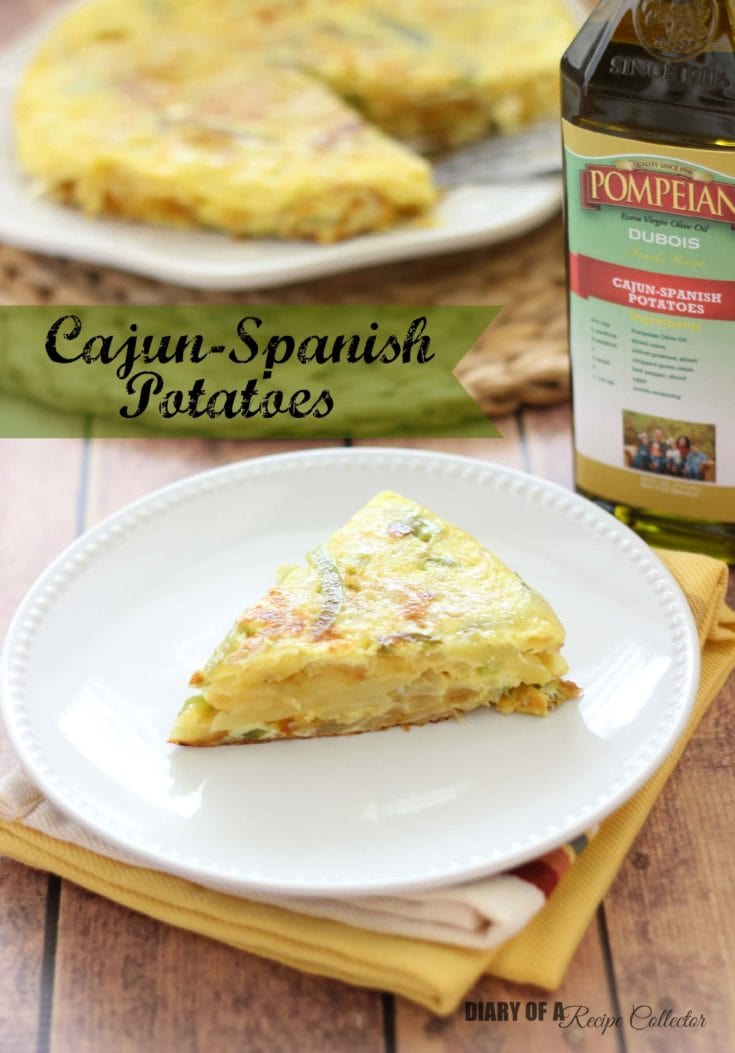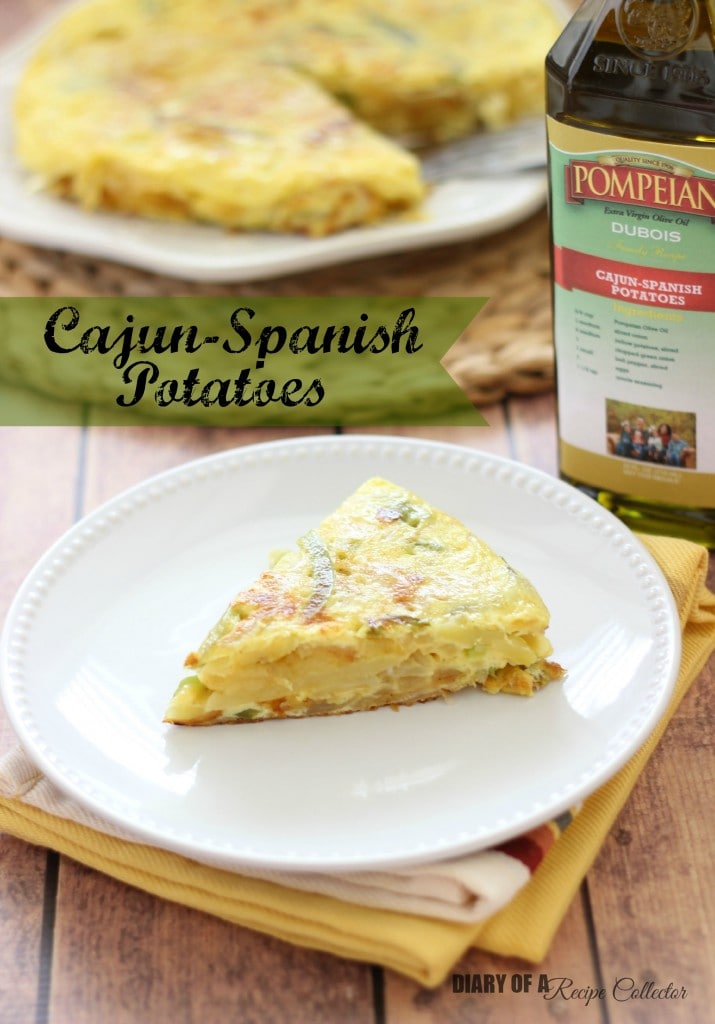 One of the things I love about Cajun food is how simple it really is to make.  True Cajun dishes do not require a long list of ingredients. So when my mom introduced me to a Spanish Tortilla and told me how she made it, I was very excited.  It was delicious, and it is so similar to our favorite way of cooking:  simple, rustic, and cost-effective.
So I took this traditionally Spanish tortilla recipe and added my Cajun twist on it by adding in some Cajun spices and bell peppers.   It is delicious no matter what time of day!  We could have it for breakfast, lunch, or dinner!  It also makes a great side dish too.   It has become a dish we love to make, and we usually have all the ingredients..my kind of meal!
One of those ingredients that I ALWAYS have is Pompeian Extra Virgin Olive Oil.  I use it in most of my cooking, and my Cajun-Spanish Potatoes would not be the same without it.  Seriously!!  The potatoes begin by cooking in it, and it gives the whole dish an unmistakable flavor!  It truly makes the dish!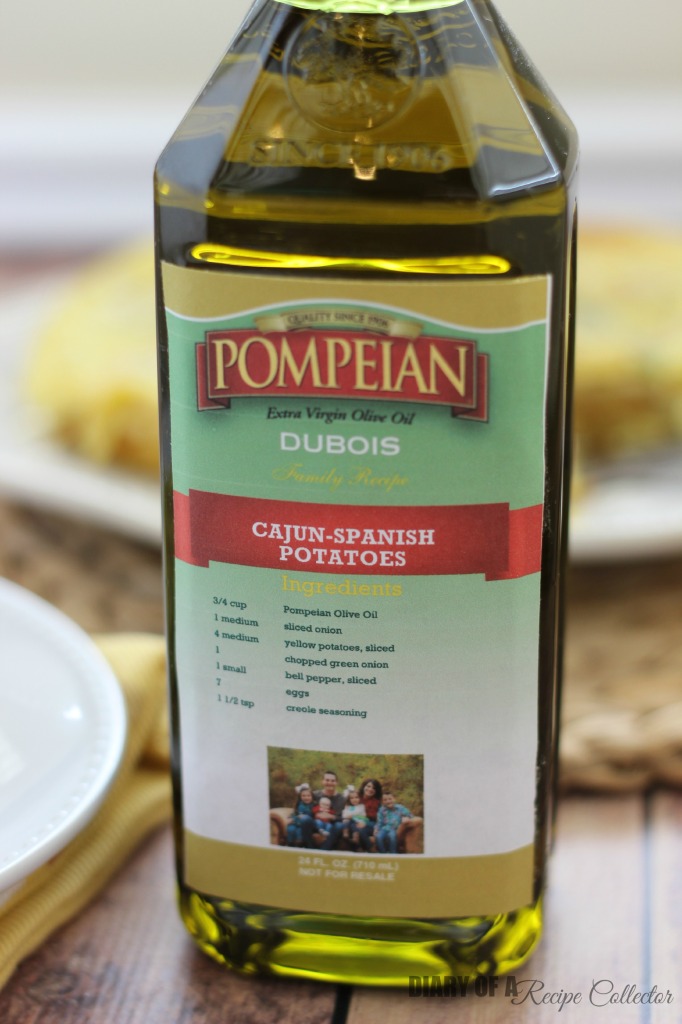 One REALLY cool thing the folks at Pompeian are doing this holiday season is allowing you to create your own personalized label for a 24 oz. bottle of olive oil!!  I love this idea for gift-giving!  How cool would it be to make a gift basket for someone and fill it with ingredients, cookware, utensils, and a personalized bottle of olive oil complete with the recipe.   Imagine their surprise when they open it and find this customized label with a cherished recipe and photo this holiday season!!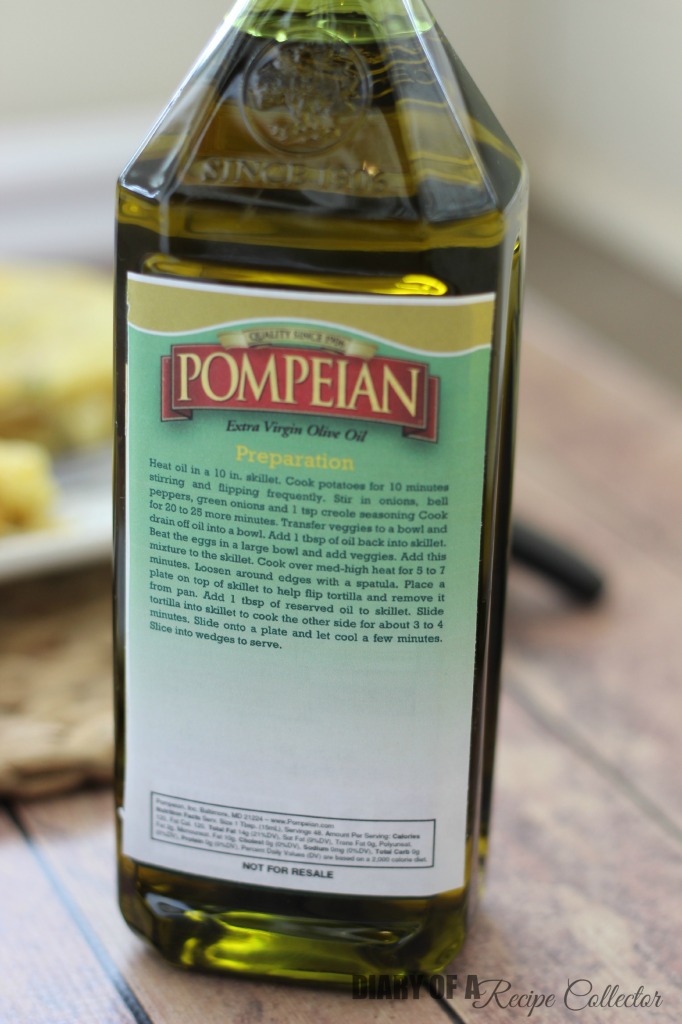 Pompeian is the first and only extra virgin olive oil to have the USDA Quality Monitored Seal.  They also have other great products like blended oils, vinegars, cooking wines, and cooking sprays.  If you need some recipe inspiration, they have that too!  Just visit Pompeian.com to see all the wonderful products and dishes.  To make your personalized label for a 24 oz. bottle, all you need to do is visit Facebook.com/Pompeian or Pompeian.com to get started.  It is really easy and makes the bottle so fun!!

These Cajun-Spanish Potatoes are easy to make.  You start out by cooking down the potatoes, onions, and peppers in the Pompeian Extra Virgin Olive Oil to make them really soft and filled with flavor.  Next, you mix them  with eggs and cook up them in the skillet until mostly set.  With the help of a plate and some potholders, all you do is flip it out of the pan and slide it back in to cook the other side.  The olive oil really helps it to not stick.
I really hope you try this delicious dish, and create your very own personalized label for your Pompeian Olive Oil here.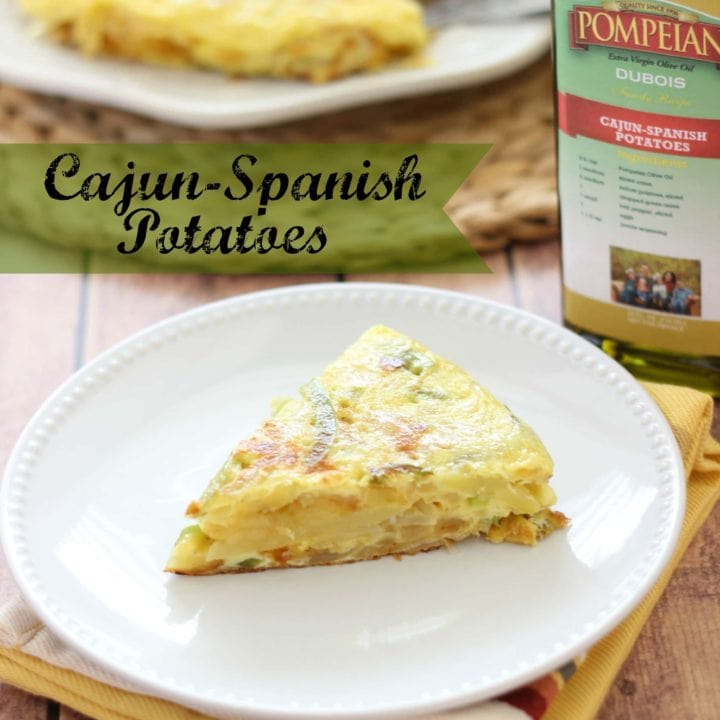 Cajun-Spanish Potatoes
Ingredients
3/4 cup Pompeian Extra Virgin Olive Oil
4 medium potatoes, thinly sliced
1 medium onion, thinly sliced
1 small bell pepper, thinly sliced
1 green onion, chopped
1 1/2 tsp creole seasoning
7 eggs
Instructions
Heat oil in a 10 in. skillet.
Add and cook potatoes for 10 minutes stirring and flipping frequently.
Season with 1 tsp of creole seasoning.
Stir in onions, bell peppers, green onions and 1/2 tsp creole seasoning Cook for 20 more minutes.
Transfer veggies to a bowl and drain off oil into another bowl.
Add 1 tbsp of oil back into skillet.
Beat the eggs in a large bowl and stir in the veggies. Add this mixture to the skillet.
Cook over med-high heat for 5 to 7 minutes. Loosen around edges and lift up bottom with a spatula.
Place a plate or round pizza pan on top of skillet to help flip tortilla and remove it from pan.*
Add 1 tbsp of reserved oil to skillet.
Slide tortilla into skillet to cook the other side for about 3 to 4 minutes.
Flip it onto a plate and let cool a few minutes.
Slice into wedges to serve.
Notes
*I always flip the pan over the sink just in case any oil or unset egg drips over the plate.
 This is a sponsored post written by me on behalf of Pompeian.