Boston Cream Pie Poke Cake – Major crowd-pleasing cake filled with vanilla pudding and sweetened condensed milk and topped with a homemade chocolate frosting!!

Y'all this little Boston Cream Pie Poke Cake is one of the best desserts I've made in quite a while!  I've made it twice in the last month, and I plan to make it again next month for a Bible study meeting with my ACTS sisters.  I think it has become my new go-to dessert recipe!  In fact, my "I'm not much of a sweet eater" husband finished off the first pan I made as you can see from this Instagram picture!
Gosh!  I love it when that happens!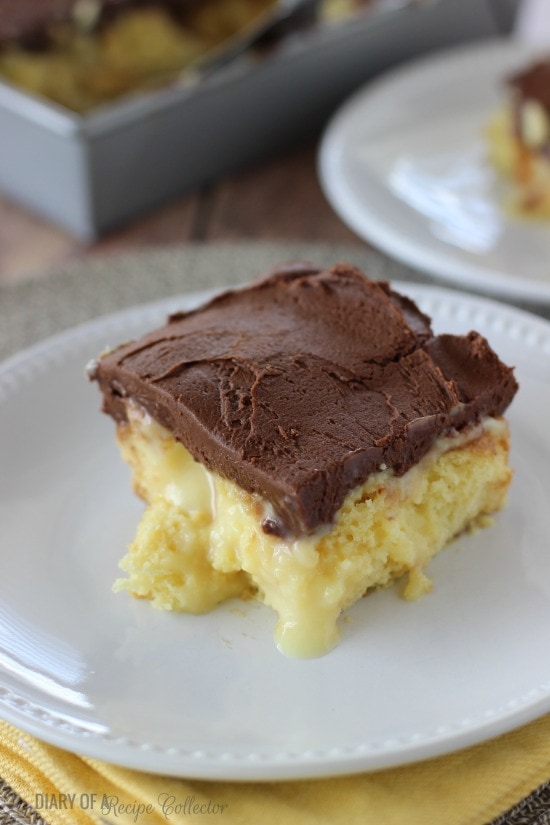 Even since childhood, I've always loved a good yellow cake with chocolate frosting.  It is a true classic winning combo.  I used a box cake mix because I'm not all that picky about that sort of stuff, but you could totally use your own homemade yellow cake mix if that is your thing.  I figure box mixes are my friend when I add all the other good stuff to the cake anyway.
In the end, you finish it off with a fabulous homemade chocolate icing that is spoon-licking good.  Just ask me and my kids!!  Chocolate icing is dangerous around these parts!!  Like I need to hurry up and put the bowl under water so I don't keep eating every last morsel of it kind of dangerous!!
I certainly hope you try it for any of your family and friend gatherings.  It is such a crowd-pleaser!.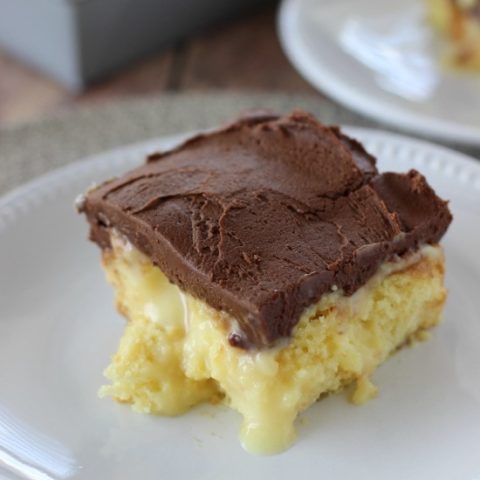 Boston Cream Pie Poke Cake
Ingredients
1 box yellow cake mix plus ingredients to make cake
1 3.5 oz. instant vanilla pudding mix
2 cups milk
1 14 oz. can sweetened condensed milk
Frosting
1 1/2 sticks butter, softened
3/4 cup cocoa powder
1/2 cup boiling water
1 tsp vanilla
5 cups powdered sugar
Instructions
Bake cake according to box mix directions in a 13 x 9 pan.
While cake is in the oven, mix pudding mix with 2 cups of milk. Whisk until combined and let sit for 2 minutes or until thickened. Whisk again for a few seconds.
Whisk in sweetened condensed milk. MIXTURE WILL BE THINNER THAN PUDDING. THIS IS OKAY SINCE YOU WILL LET IT SET UP IN THE REFRIGERATOR.
Remove cake from oven and poke several holes with the handle of a wooden spoon.
Pour pudding mixture all over cake filling all the holes and letting it completely cover the cake. Let it sit until cooled (about 1 hour).
Make frosting by adding softened butter to a large mixing bowl. Add cocoa powder. Carefully pour in boiling water. Add vanilla and beat for about 1 minute or until combined.
Gradually add in powdered sugar beating after every few cups added. Beat until smooth.
Frost cake and refrigerate until ready to serve. BEST REFRIGERATED OVERNIGHT.
Notes
*Pudding mixture will be thin, and that is okay. This will allow the cake to really soak in the mixture. It will also thicken as the cake refrigerates.
**The frosting quantity on this recipe has been reduced from what was previously posted.
 Looking for other great crowd-pleasing desserts?
Not Yo' Momma's Banana Pudding