Stuffed Mini Meatloaf Pepper Rings make a delicious one-pot supper!

Hello everyone! I'm a little late getting this post out today. I normally post my new recipes very early in the morning, but that didn't quite work out for me this morning. I didn't even hear my alarm! Like not at all! Luckily my 3 year old came in my room when she did because we would have had a really late morning.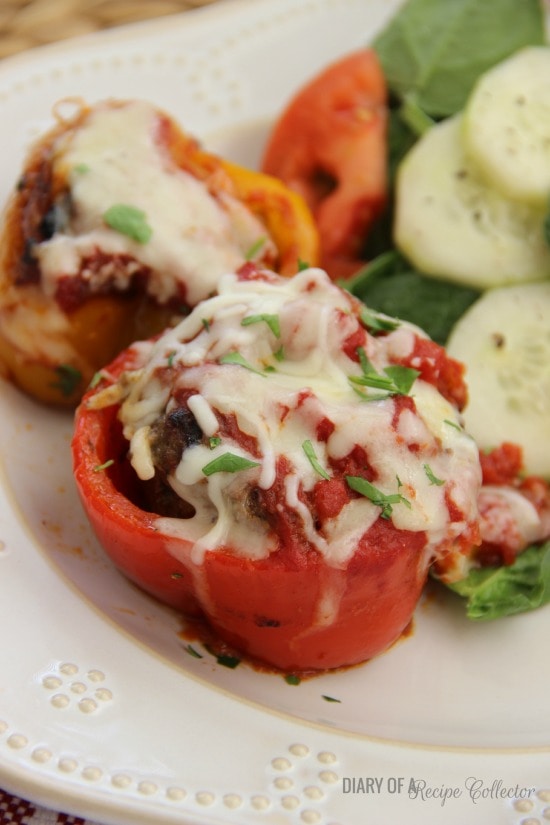 So I kind of just relaxed a little after taking my older kids to school. Rather than hurrying up to come home and start all the usual clean-up chores and email checking, I went to my parents house to bring my three year old to play for the day. They love to have her. They actually kept her when she was an infant while I was still working. So she has a special little place in their hearts and boy does she know it!
The baby and I stayed to visit for a while. It's really nice to break routine every now and then!
Speaking of breaking routine, how about changing up your meatloaf routine a little. Do you all make meatloaf? It is one of my husband's favorite dinners. I don't make it too often because I'm usually experimenting with other blog recipes, but it is always a nice treat. And so are these Mini Meatloaf Pepper Rings!




They are a super easy supper to make! Even though my kiddos aren't big on the peppers, they sure do dig any type of meatball-related dinner. This idea actually came from Sunny Anderson on Food Network several years ago. I thought it was so cool how she got so creative with bell peppers.
Now, I like to use a lean ground beef for this dish to minimize how much the meat will shrink down in the peppers. Plus it keeps it a healthier meal . I served it with a little green salad, skipped out on the carbs, and felt really good about my dinner.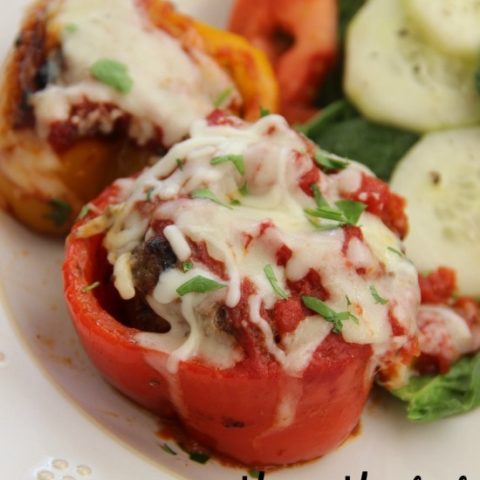 Mini Meatloaf Pepper Rings
Ingredients
4 large bell peppers (red, yellow, or orange)
2 lbs. lean ground beef
1 1/2 tsp creole seasoning
1/4 cup Italian bread crumbs
1 egg
1/4 cup shredded Parmesan
A pinch crushed red pepper flakes
3 cloves garlic, finely chopped
1 tbsp olive oil
1 tbsp fresh chopped parsley
1 cup shredded Italian cheese blend
1 28 oz. can crushed tomatoes
Instructions
Prepare peppers by slicing off a little of the top and bottom of each pepper. Do not discard these. Cut out ribs and seeds. Slice into 3 thick rings and place on a sheet pan lined with parchment for easy clean up. Dice up remaining parts of peppers to use in meat mixture.
Prepare meatloaf mix: Mix ground beef with seasoning, bread crumbs, egg, Parmesan, red pepper flakes, garlic, and remaining diced peppers until combined.
Stuff each pepper with meat mixture leaving a dome of the mixture on top of each pepper.
Heat olive oil in a large oven-safe pot over medium-high heat. (If you do not have an oven-safe pot, you will just transfer them into a casserole dish to bake later).
Brown each stuffed pepper ring for about 4 to 5 minutes on each side. You may need to do this in 2 batches depending on the size of your pot.
Once, browned on each side, pour crushed tomatoes over the stuffed pepper rings. (Transfer to casserole dish before topping with crushed tomatoes if you do not have an oven-safe pot.
Bake at 350 degrees for 35 to 45 minutes. Top with cheese and bake for 5 more minutes. Top with fresh parsley and serve.
These are some great oven-safe pot ideas:
Looking for other similar recipes?
Stuffed Bell Peppers-–The BEST recipe EVER!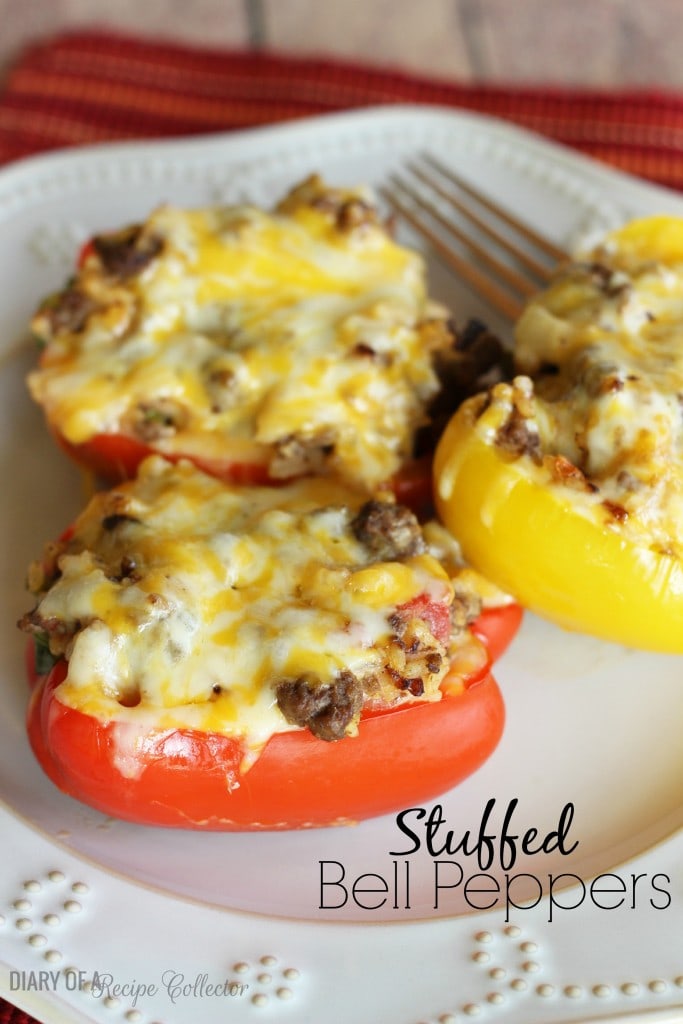 You can find more MAIN DISH RECIPES HERE.
You can find ALL RECIPES HERE.
For more ideas, follow me on FACEBOOK, PINTEREST, INSTAGRAM, AND TWITTER.
Get FREE recipes delivered to you by email: SIGN UP HERE!