This is a sponsored post written by me on behalf of Hormel Foods, LLC.. All opinions are 100% mine.
Honey Mustard Chicken & Bacon Skewers – Chicken marinated in a wonderful honey mustard dressing, skewered with delicious Hormel Black Label Bacon, and grilled to perfection makes a perfect outdoor entertaining meal!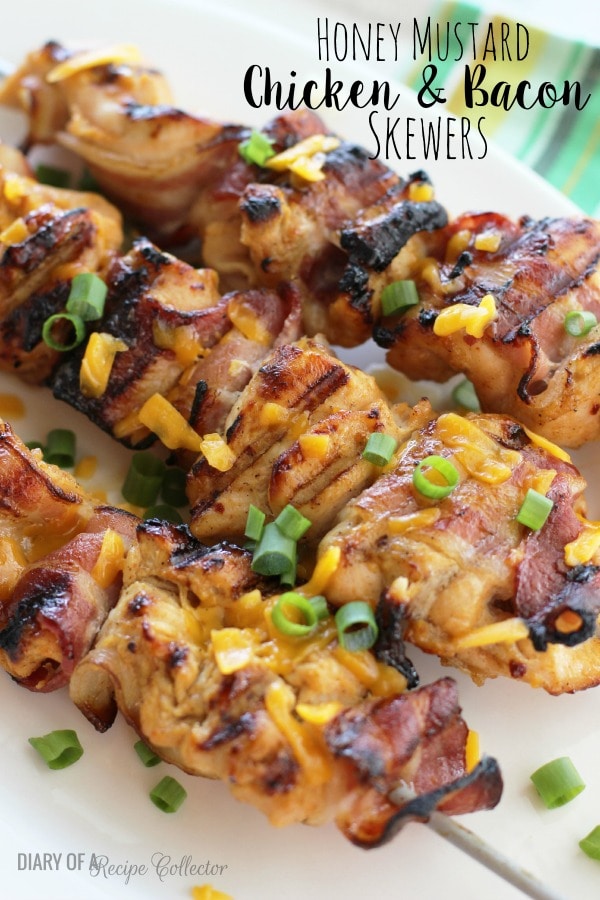 Howdy folks!  Today I have some awesomeness to share with you!  I'm happy to say everyone loved this little meal so much.  We've been grilling a lot lately…a lot!  I just love this time of year.  Right now we are trying to soak up every bit of this mild weather.  Before we know it, it will be sweltering hot, and my kids will only want to play outside for like a minute.  But for now, we are really enjoying being outside!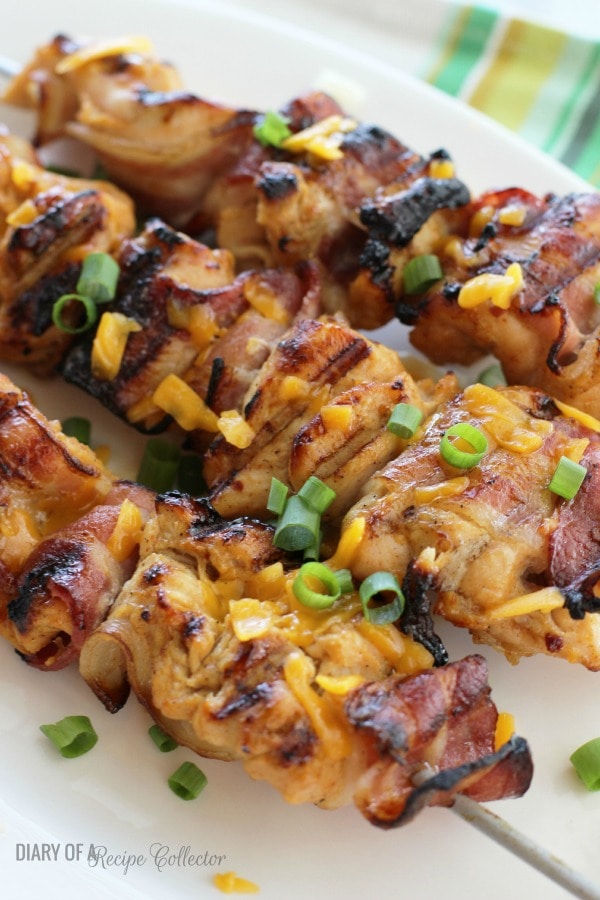 In fact, I had the perfect Mother's Day doing just that.  My husband cranked up the grill, we got out the slip and slide and little pool, and the kids played for hours.  I even got to sit outside and look at a cookbook and read some of my other book.  Y'all that never happens!!  It was absolutely blissful!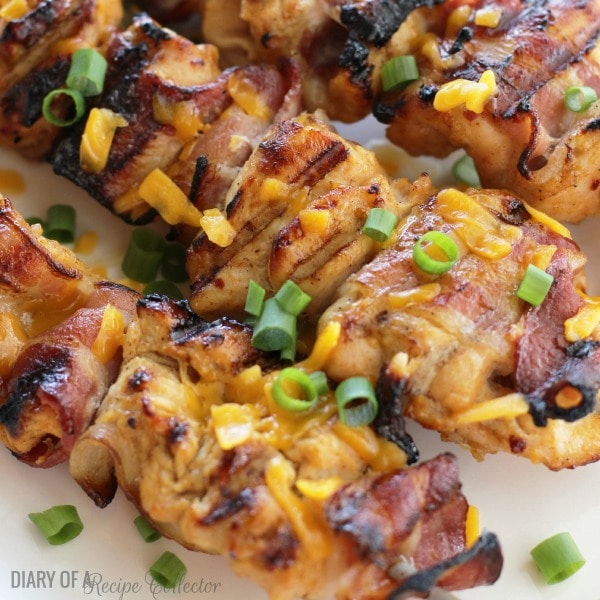 So I am definitely looking forward to more days like that one for sure!  Another thing I am looking forward to is having some friends over.  Our good friends moved to a neighboring town last year, and we don't get to see them as often anymore.  I can't wait to have them over to do some more outdoor grilling while the kiddos run wild and play.
One thing I can't wait to make for them are these Honey Mustard Chicken  and Bacon Skewers!  They are so good, and BONUS, my kids loved them.  Winner winner, chicken dinner!  Plus Bacon!  For this recipe we used,  Hormel BLACK LABEL® Bacon -Thick Cut.  It was perfect for this recipe.
There is nothing like that bacon cooking as one with the chicken…nothing!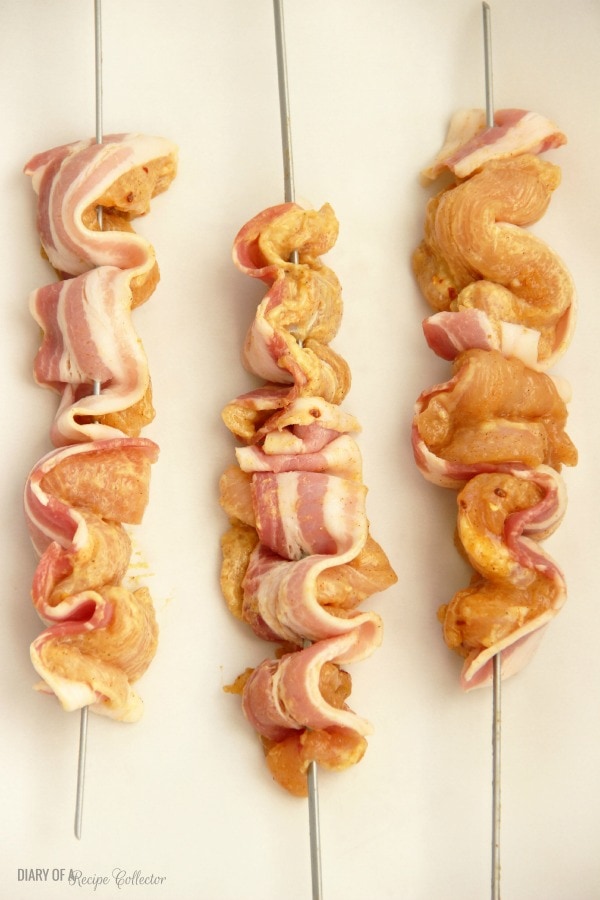 We just skewered the bacon and chicken together in an accordion style pattern after marinating the chicken for a little while.  It really made the perfect grilling recipe when you are tired of just plain grilled chicken.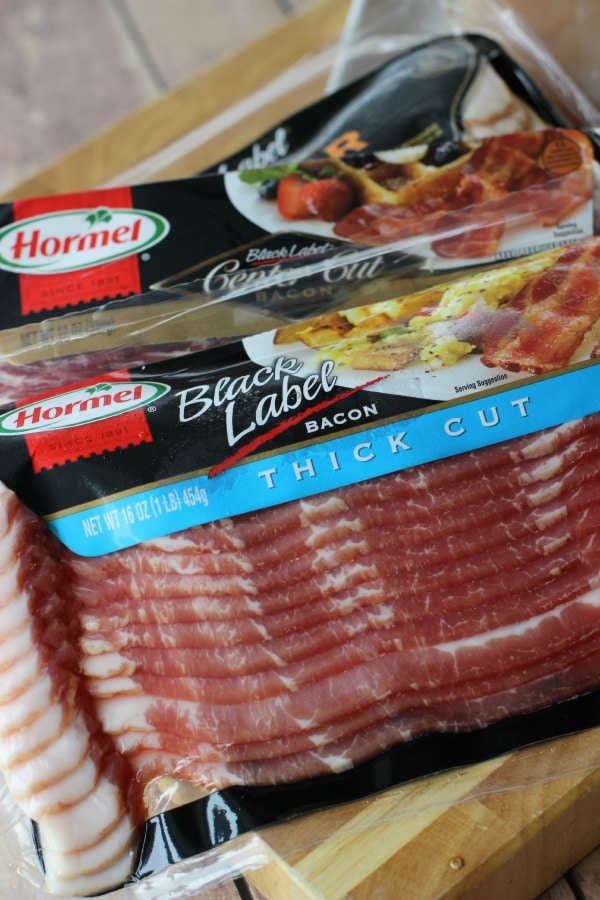 I'm pretty much obsessed with Hormel bacon!  Their BLACK LABEL® Bacon features exceptional varieties that never compromise on quality or taste. This includes traditional bacon varieties, fully cooked bacon, thick cut bacon & Canadian bacon.  I got my hands on some of their Brown Sugar  BLACK LABEL® Bacon, and I cannot wait to try it too!  You must check out the Hormel Foods site to see all the varieties, get more Easy Recipe Ideas, get coupons and savings.  You can even sign up for their Hormel Newsletter.
On the Hormel site, you'll get a look at all the varieties like Cherrywood, Pecanwood, and Jalapeno.  Be sure to print the coupon while you're there too!
Once you've made your fabulous creation with their BLACK LABEL® Bacon, be sure to post your recipe on the Hormel Facebook page.    You can also follow their Pinterest page for other fabulous affordable recipe ideas!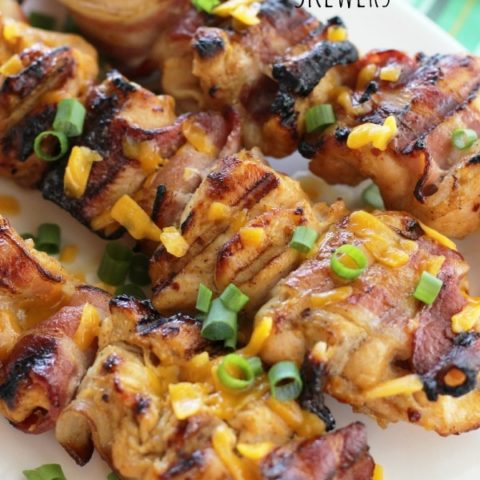 Honey Mustard Chicken & Bacon Skewers
Ingredients
2 chicken breasts, cut into 3 strips each
8 slices Hormel BLACK LABEL® Bacon
1 tsp creole seasoning or seasoned salt
2 tbsp honey
2 tbsp dijon mustard
Juice of 1/2 lemon
a pinch of crushed red pepper flakes
1/4 tsp paprika
1/2 cup shredded cheddar cheese
2 green onions, chopped
Skewers
Instructions
In a gallon storage bag, add the creole seasoning, honey, dijon mustard, lemon juice, red pepper flakes, and paprika. Seal and shake to mix everything up.
Add chicken to the bag. Seal the bag while letting the air out. Mix the chicken around with the marinade until chicken is coated. Refrigerate for 30 minutes to an hour.
When ready to grill, lay a chicken strip onto a piece of bacon. Thread them together onto skewer alternating back and forth. (See picture). Do the same with one more chicken strip and one more piece of bacon on the same skewer. Repeat this process with the other two skewers.
Grill over medium high heat rotating until chicken is cooked through. This will take about 10 to 12 minutes depending on your grill.
Remove from heat and top with a little shredded cheese and green onions.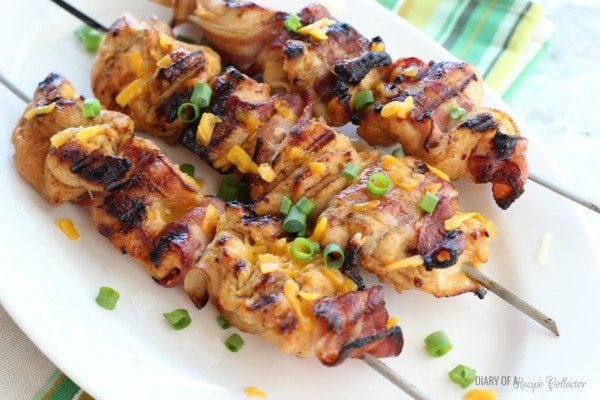 Other recipes you might like:
Spinach & Provolone Chicken Pinwheels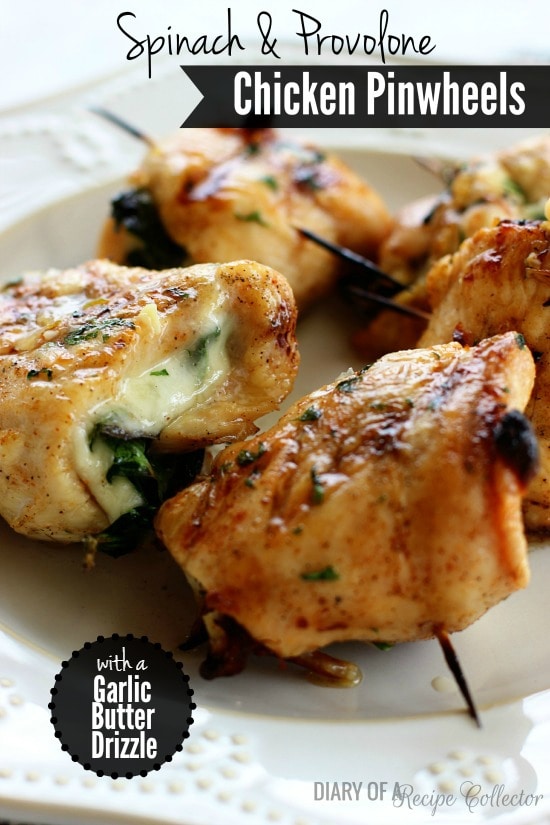 Stuffed Cream Cheese Chicken Pinwheels