This Chicken Fajita Wedge Salad is a perfect way to enjoy fajitas in a light, healthy, and low-carb way!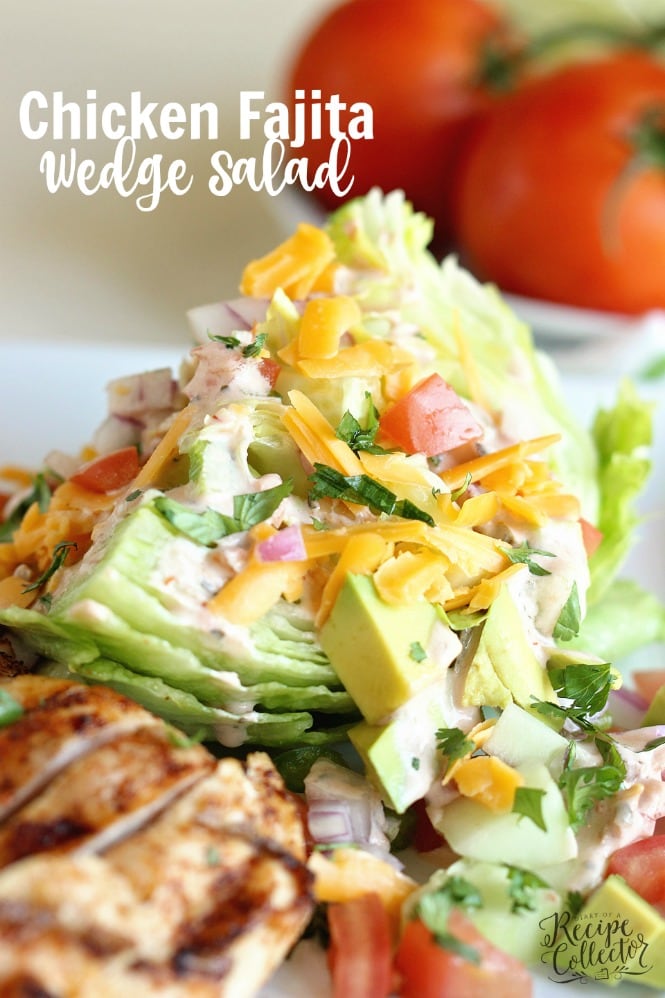 I was always the most organized person.  I took pride in the fact that I was that I was that way.  And then I had four kids…  And you know what?  I've become a pack-rat!  Seriously, I have these little spots in my house that I just put stuff and tell myself I'll get to it when I have time.  The problem is there is no dedicated amount of time when you have four kids.  So that pile in my bedroom that I need to go through and put in the attic or donate builds up quite often.  And that master bedroom closet that has clothes that I just look at but don't want to wear needs some serious attention.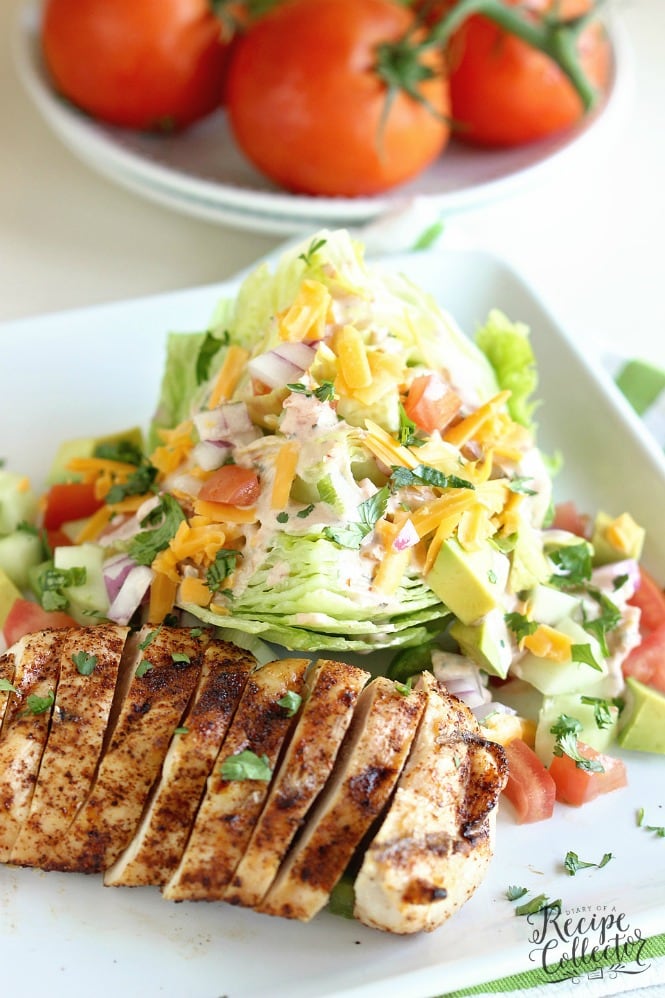 Now I'm pretty good about the kids' clothes and bedrooms for the most part.  I guess you kind of have to stay on top of that because they are always growing.  So I am constantly aware of  keeping up with those areas and donating what we do not need.
It's just my stuff that has been put on the back burner.  And y'all know how that goes.  Once you let something go, it's even harder to tackle it.  So the once very organized person now needs a professional organizer to come in and help her… or maybe I just need a babysitter to come entertain my kids so I can get some stuff done.  Now that's an idea!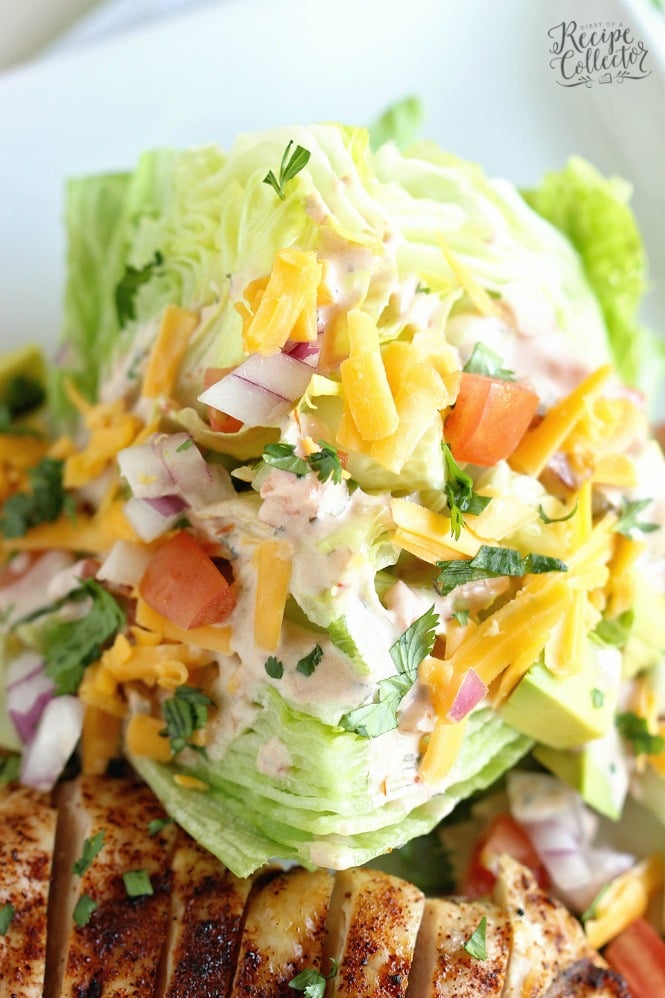 So while I tackle my closet today, I'm leaving you with this beautiful little Chicken Fajita Wedge Salad!  It was so delicious, and I didn't even miss the carbs!  It has all the flavors of chicken faitas with a delicious salsa ranch dressing.  It makes a perfect lunch or dinner.  I plan on bringing this to work several times this year.  A pretty salad like this one will make the work day even better!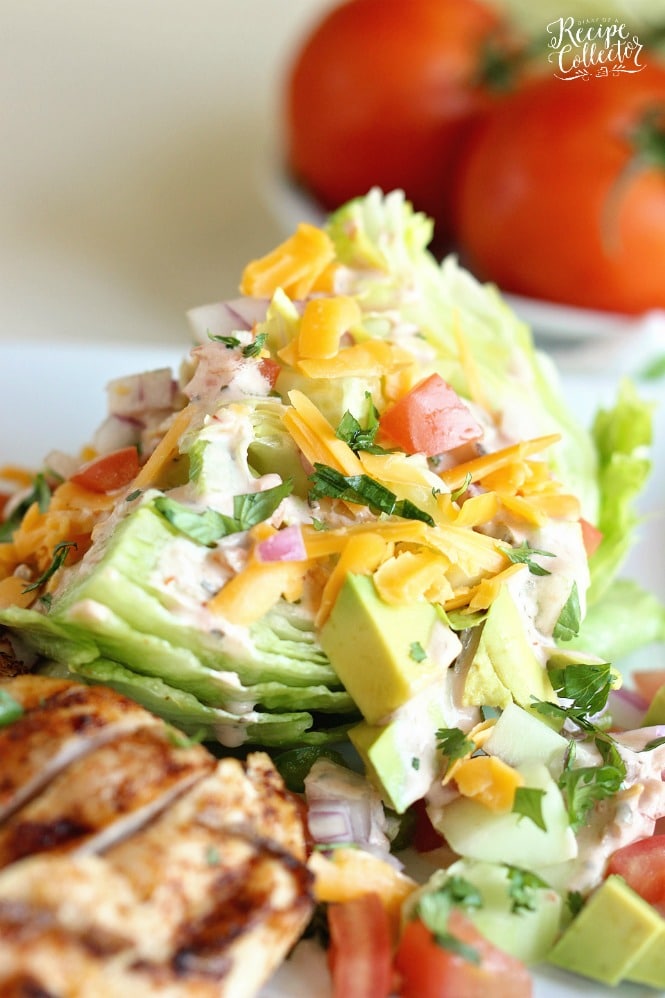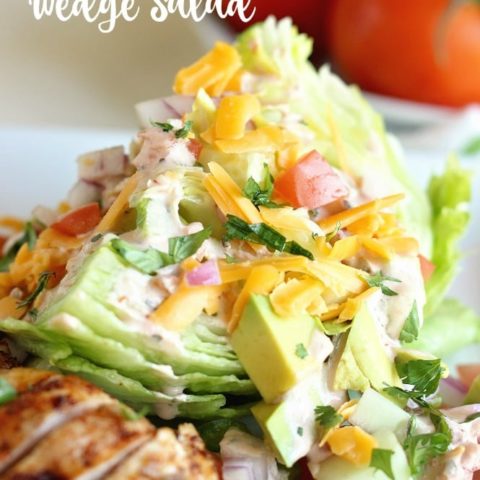 Chicken Fajita Wedge Salad
Ingredients
2 boneless skinless chicken breasts
3/4 tsp chili powder
1/4 tsp cumin
1/2 tsp creole seasoning
1/2 head iceberg lettuce
1 chopped tomato
1/4 cup finely diced red onion
1/4 cup finely diced green bell pepper
1/2 cup diced cucumber
1/2 cup shredded cheddar cheese
3 tbsp salsa
1/4 cup ranch dressing
1 diced avocado
1 tbsp cilantro
Instructions
Season chicken breasts on both sides with chili powder, cumin, and creole seasoning.
Grill over medium heat for about 18 minutes or until chicken is cooked through. Remove from heat and let rest for a few minutes.
Cut the 1/2 head of lettuce in half again. Place each wedge on a plate. Top with tomatoes, bell peppers, onion, cucumber, and shredded cheese.
Mix salsa and ranch dressing together. Drizzle onto each wedge. Garnish with avocado and cilantro.
Slice chicken and serve it along side of the wedge.
 Other recipes you might enjoy:
Candied Pecan & Apple Wedge Salad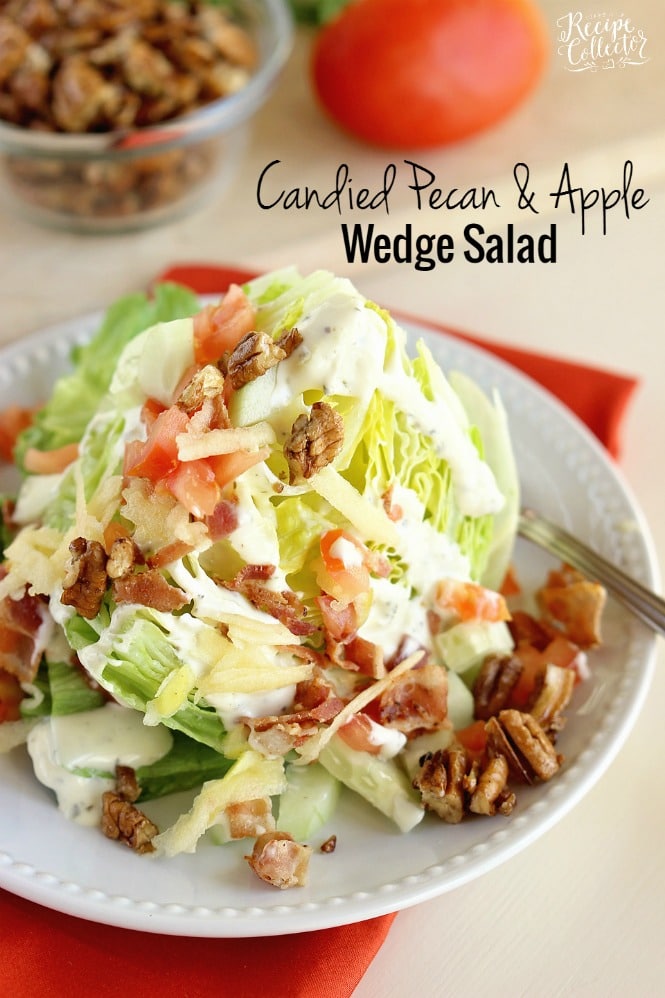 Cajun Cobb Salad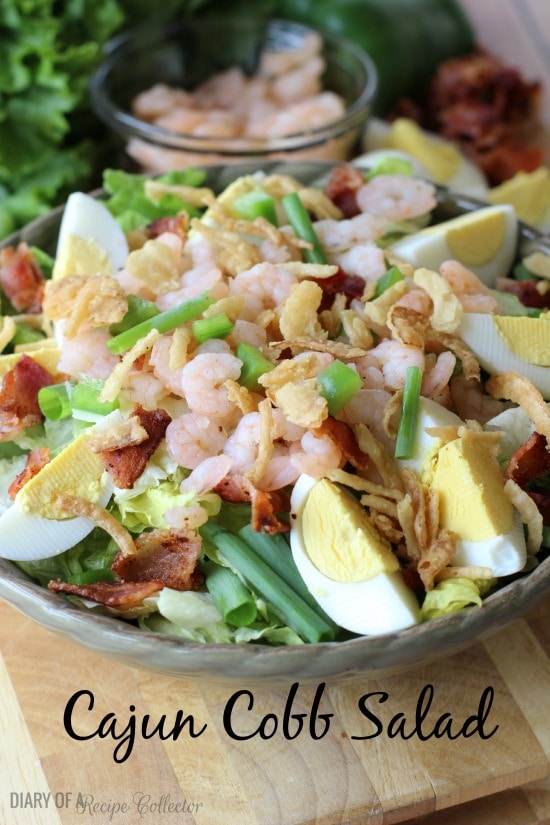 You can find more MAIN DISH RECIPES HERE.
You can find ALL RECIPES HERE.
For more ideas, follow me on FACEBOOK, PINTEREST, INSTAGRAM, TWITTER, AND PERISCOPE.
Get FREE recipes delivered to you by email: SIGN UP HERE!