Magic Cookie Truffles – All the flavors of the beloved Magic Cookie Bar rolled up into a decadent truffle!


Magic Cookie Bars were the first dessert I learned to make as a child.  They remain one of my favorite desserts ever.  I just absolutely adore the combination of coconut, chocolate, and graham crackers all molded together with sweetened condensed milk.
Isn't sweetened condensed milk like the best thing ever invented?  I'm quite often tempted to just grab a spoon and go to town!  So pretty much any recipe that requires it, I want to bake!
These truffles were a total experiment, and to my sweet surprise, they came out flippin' fantastic, and fabulous!  I made about 3 dozen of the little suckers, so I will be gift giving very soon and freezing the rest for Christmas.  I mean my family is going to love me come Christmas.  I've been freezing this, this, and even this.  We will not be short in the sweet department, right?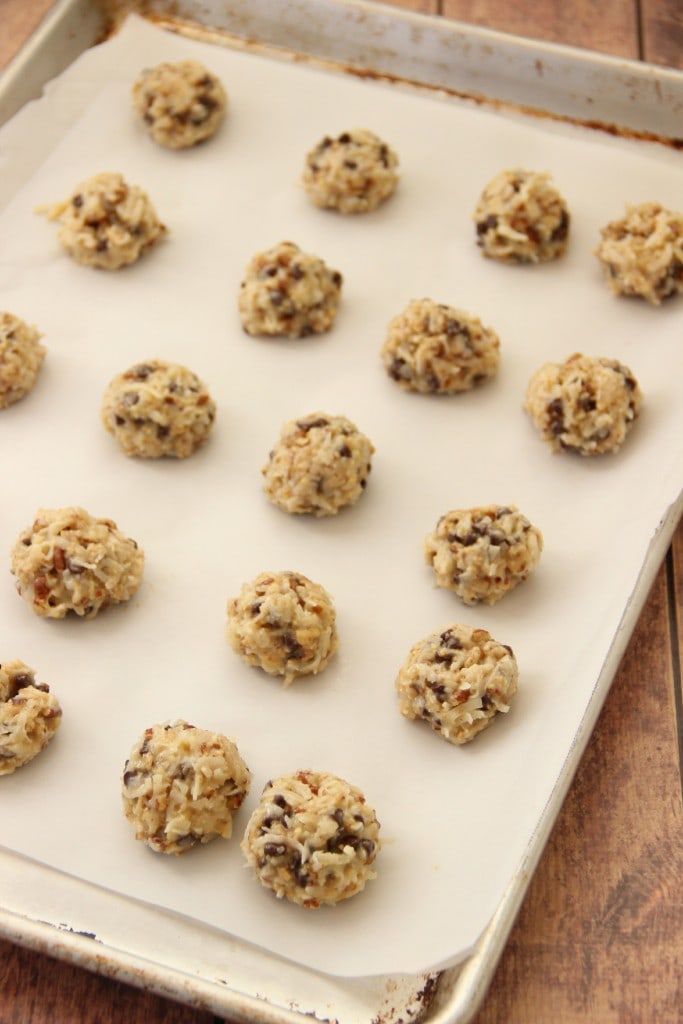 They are so easy to make!!  No oven required either.  You just mix up the ingredients, shape into balls, freeze until pretty firm, melt chocolate, dip, and let set until firm again.  Winner Winner!
Now, I don't know about you, but dipping cake balls/truffles hasn't always been easy for me.  I still don't have the most beautiful cake pop down like some.  I have learned a few tricks though.  It is really important to use a dipping chocolate that is not so temperamental.   I have found chocolate almond bark to be easy to work with once you get it thin and smooth.  The trick to that is adding 1 tbsp shortening.  I have found that adding 1 tbsp to about 8 oz chocolate almond bark does the trick.  It gets the chocolate thin enough to where it coats the ball quite nicely.
Another trick is freezing your truffle/ball ahead of dipping.  This is a must or you will end up with your ingredients all over the chocolate and a great big disaster.  Been there before!  Also don't take them all out of the freezer at one time.  Only take out a dozen or so to keep them cold.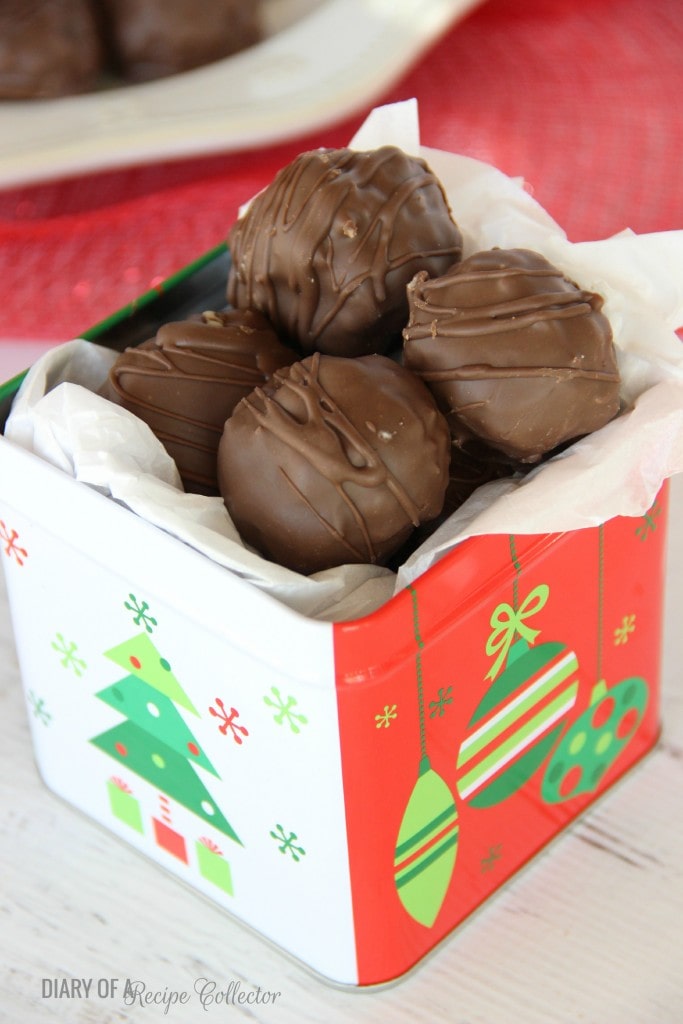 My last little tidbit for you is really important.  Don't melt all your chocolate at once.  I usually work with 8 oz at a time.  Once I use that, I rinse out my bowl and repeat the melting process.  I find this helps the chocolate stay smooth the whole time, and I don't have to worry about overheating it because I'm trying to heat too much.
So I hope you try some dipping this holiday season!  You won't regret it and neither will the people you treat!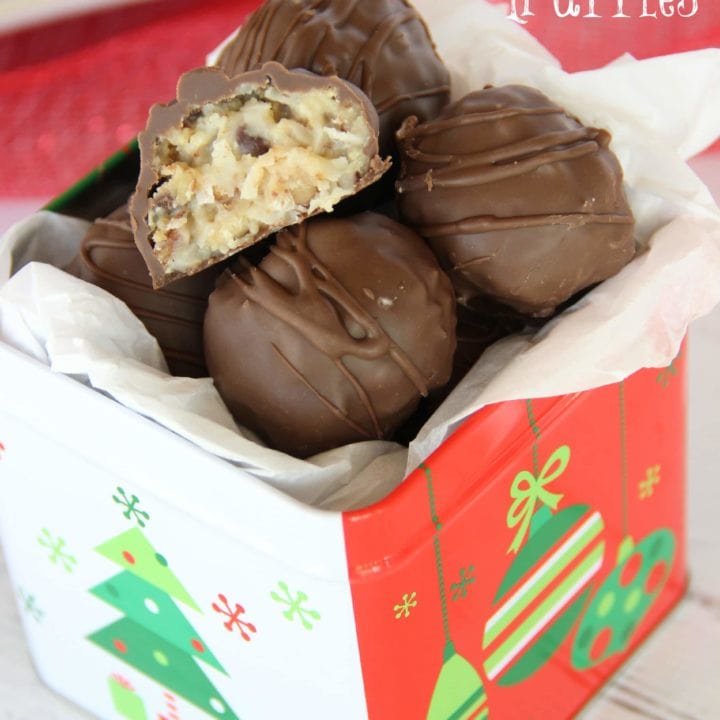 Magic Cookie Truffles
Ingredients
1 cup chopped pecans, toasted
1 cup powdered sugar
2 1/2 cups coconut
1/2 cup graham cracker crumbs
1/2 cup butter, melted and cooled slightly
1 14 oz can sweetened condensed milk
1/2 cup mini chocolate chips
cooking spray for hands
16 oz chocolate almond bark
2 tbsp solid vegetable shortening
Instructions
Toast pecans on a baking sheet at 350 degrees for 7-9 minutes. Remove from oven and let cool slightly. Chop pecans very finely.
In a bowl, mix powdered sugar, coconut, graham cracker crumbs, and pecans until well combined.
Add in butter and sweetened condensed mill. Stir until all combined well.
Stir in chocolate chips.
Line a few large sheet pans with parchment or wax paper. Spray hands with cooking spray and begin rolling mixture into 1 inch balls. Repeat until finished. Freeze until firm. *This mixture is sticky. It may be necessary to keep spraying hands . Rinsing them halfway through helps too.
Once they have firmed up, begin melting chocolate. Place 8 oz of almond bark in a microwavable bowl and heat for 45 seconds. Stir. Heat another 25 seconds. Stir. Add 1 tbsp. shortening. Heat another 25 seconds. Stir. If necessary heat another 20 seconds or so just until shortening is starting to melt. Stirring a little more will help it to melt.
Take only about a dozen balls out of the freezer. Begin dipping into chocolate with a fork to coat evenly and place on wax or parchment paper. Repeat with remaining truffles. When you run out of chocolate, rinse bowl, dry it, and repeat melting with the other 8 oz of almond bark and 1 tbsp shortening.
Optional: Drizzle remaining chocolate with a fork onto finished truffles for a decorative touch.
Recommended Products
As an Amazon Associate and member of other affiliate programs, I earn from qualifying purchases. This helps us keep our blog running efficiently and allows us to create more recipes for you.
Other recipes you might enjoy:
Christmas Magic Mix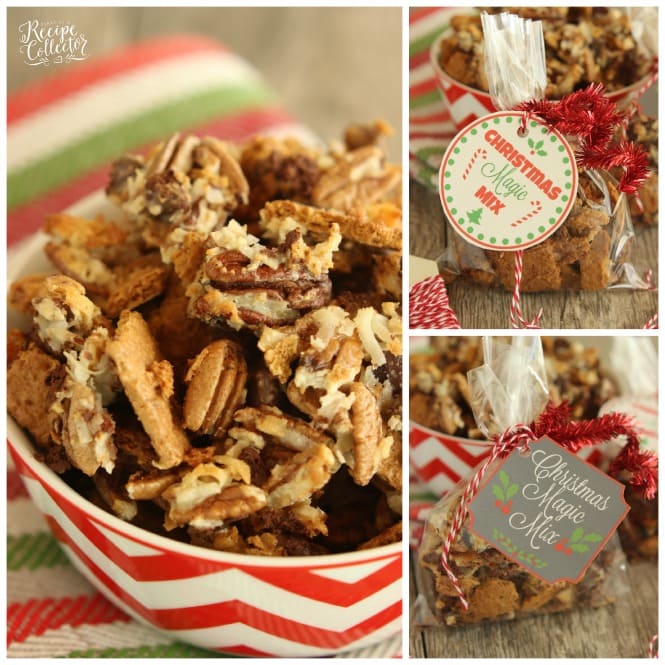 Red Velvet and White Cake Mix Cookies