Chocolate Pecan Pie Cookie Bars – A twist on the traditional pecan pie makes the perfect grab and eat treat for your holidays.

 Well y'all,  I know what I'm bringing for dessert for this Thanksgiving  It's these little bars right here.  I love a twist on traditional desserts.  This one is wonderful.  Instead of a pie crust, this bar has a crust that reminds me of a pecan sandie cookie.  It's filled with wonderful finely chopped pecans!  I'll be able to make it the day before, and it is a pretty fast dessert to make.  Plus it will be easy for guests to grab and eat.
How do you say "pecan?"  I definitely think we say it differently down here in Louisiana.  We say  "Puh-Con" as opposed to "Pea-Can."  I always think it is so interesting how different regions have different pronunciations and sayings.
We also say funny things like "I'm fixin' to go get something or do something."  I didn't know that was weird until someone from up north told me the only time they say "fixing" is when they are literally fixing something like a car or a sandwich.
Another one…do you say soda or pop?  I don't say either one of those really.  It's basically what kind of coke do you want?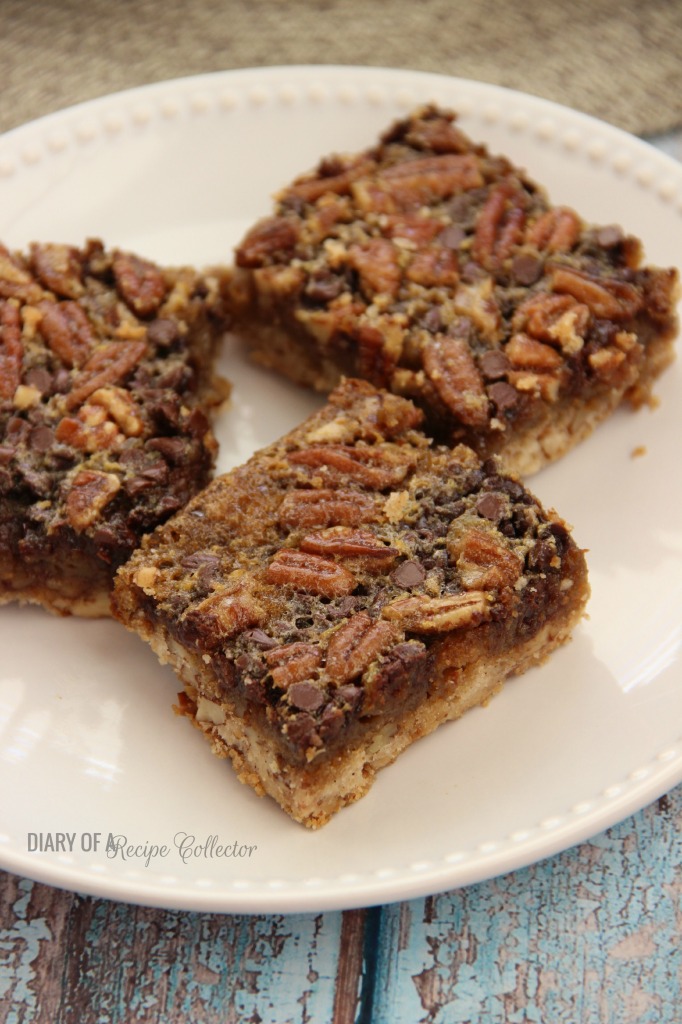 So I'm interested…do you have any different things you say where you live?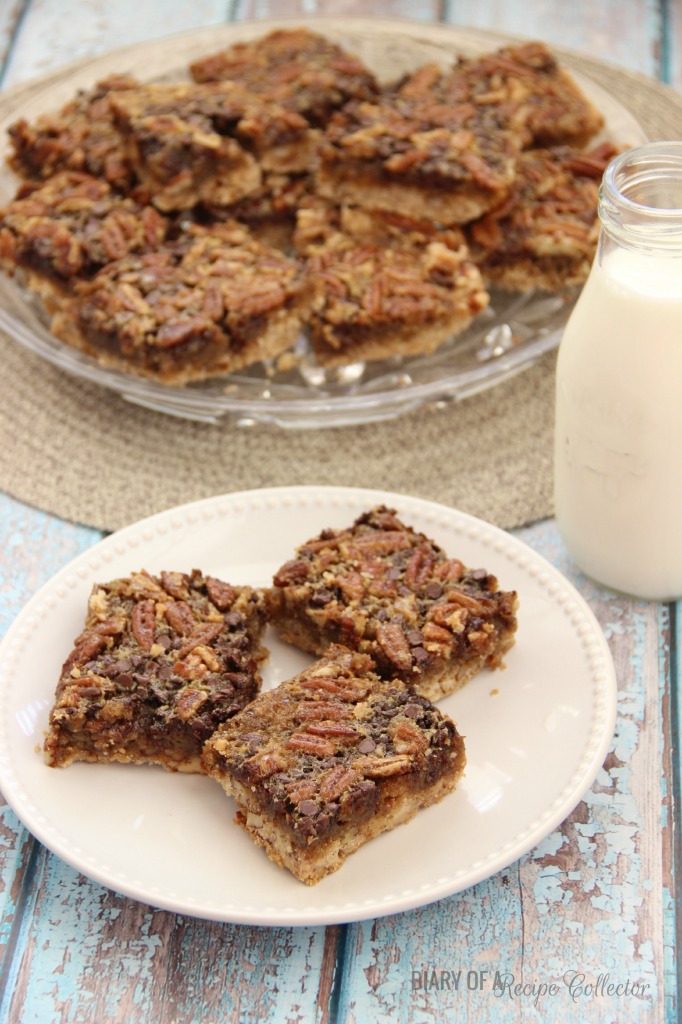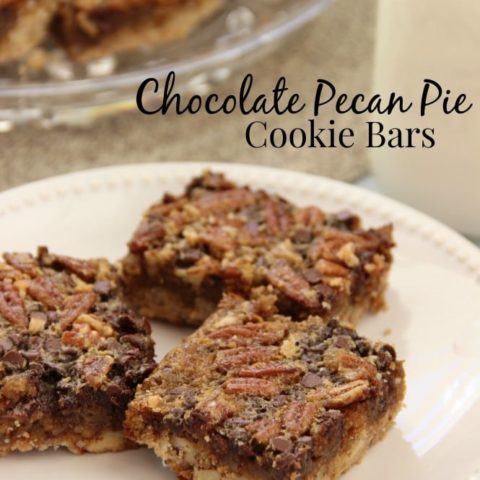 Chocolate Pecan Pie Cookie Bars
Ingredients
1 1/4 cups flour
1/4 cup sugar
1/2 tsp baking powder
1/2 tsp cinnamon
1/2 cup cold butter
1 cup finely chopped pecans
1/4 cup butter, melted
1 cup mini chocolate chips
3 eggs, beaten
1 1/4 cup brown sugar (I used dark brown sugar)
2 tbsp water
1 tsp vanilla
1 cup chopped pecans
Instructions
In a mixing bowl, mix first 4 ingredients. Cut in butter with a pastry cutter or fork until butter is pea-sized crumbs. Stir in finely chopped pecans. Press this mixture into 13 x 9 pan. Bake at 350 degrees for 10 minutes.
In a bowl, whisk eggs, brown sugar, water, vanilla, and cooled melted butter until combined. Stir in chopped pecans.
Pour this mixture over warm baked crust. Sprinkle chocolate chips on top. Bake for 20 more minutes. Let cool completely before cutting into squares.
Recommended Products
As an Amazon Associate and member of other affiliate programs, I earn from qualifying purchases. This helps us keep our blog running efficiently and allows us to create more recipes for you.