These Mississippi Mud Brownies are a chocolate lover's dream! They are filled with rich chocolate layers, marshmallows, and toasted pecans.
Is it cold enough for you guys? I'd say it is cold enough for us down here. No snow…but we had frost this morning. My kids came running to me thinking it might be snow. I had to break their little hearts and tell them it was just ice.
It's crazy how it has snowed so much in their short little lives. I mean it only snowed like once when I was a child. They are so lucky. They asked me the other day when it was going to snow. I had to explain to them that it is a possibility that we may not see snow this year or even next because we just don't live where it happens a lot. Am I sad? Yes and no. I like it for about a day or two. I also like keeping cozy indoors.
But I could just not live in the snow every day. No thanks. I'll keep my warm one day , cold the next day kind of weather.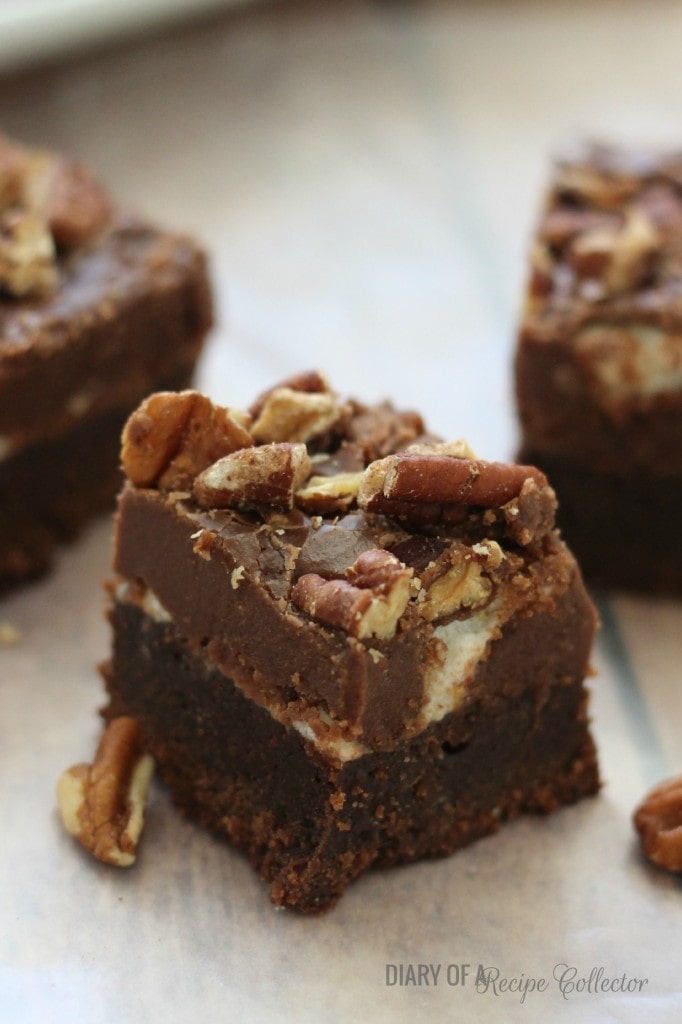 One thing I will not get tired of, however, is chocolate. I'll take it anyway I can 365 days a year! These little brownies are so good!!! I knew how dangerous they could be around my house. Right after making them, I indulged in a few and quickly wrapped up the rest. I gave some to my parents, some to our family pictures photographer, and put the rest in the freezer for Christmas Eve snacking.
It makes an 8 x 8 pan, but a little definitely goes a long way! You can get about 20-25 bars out of one recipe. They would be perfect for any upcoming gatherings!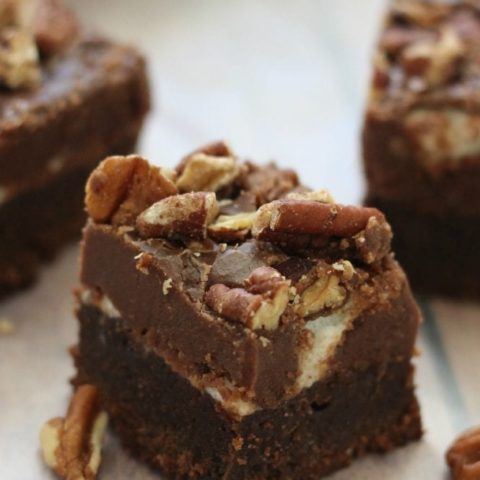 Mississippi Mud Brownies
These Mississippi Mud Brownies are a chocolate lover's dream!  They are filled with rich chocolate layers, marshmallows, and toasted pecans.
Ingredients
3/4 cup pecans
1 stick butter
2 squares semisweet chocolate (2 oz)
1 cup sugar
3/4 cup flour
1/4 cup cocoa powder
2 eggs
1 tsp vanilla
1/2 tsp salt
1- 1 1/2 cup mini marshmallows
Icing
1 stick butter
1/3 cup cocoa powder
1/3 cup milk
1 16 oz. package powdered sugar
1 tsp vanilla
Instructions
Preheat oven to 350.
Toast pecans in oven on a baking sheet for about 7-9 minutes. (Be careful and watch them because they can burn quickly).
Microwave 1 stick butter and chocolate squares for 1 minute. Take out and stir. Microwave 30 more seconds and stir again. Repeat once more if necessary.
Whisk in sugar, cocoa, flour, cocoa, eggs, vanilla, and salt.
Pour into an 8 x 8 greased dish and bake for 20 minutes.
Remove from oven and sprinkle on marshmallows. Return to oven and bake for another 8 minutes or until golden brown. (Make icing while brownies finish baking).
Pour on icing and sprinkle on toasted pecans. Let cool completely before slicing (about 2-4 hours).
For icing: In a medium saucepan, melt butter and stir in cocoa powder and milk over medium heat. Cook and stir for about 2 minutes. Remove from heat. Whisk in powdered sugar and vanilla until smooth.
Recommended Products
As an Amazon Associate and member of other affiliate programs, I earn from qualifying purchases. This helps us keep our blog running efficiently and allows us to create more recipes for you.
Other recipes you might like:
Gooey Brown Sugar Chocolate Chip Bars