Five Layer Brownies – Boxed brownies kicked up a notch with layers of sweetened condensed milk, chocolate chips, coconut, and pecans.
All I have to say is YUMMO! These are positively amazing brownies! I made them the other day for a bake sale at my childrens' school, and since I gave up ALL sweets for Lent, this was no easy task. The recipe…yes is very easy…not taking one for myself is another story. Needless to say, I'll be making them again after Easter!
If you've ever enjoyed a Magic Cookie Bar, then you'll totally enjoy these!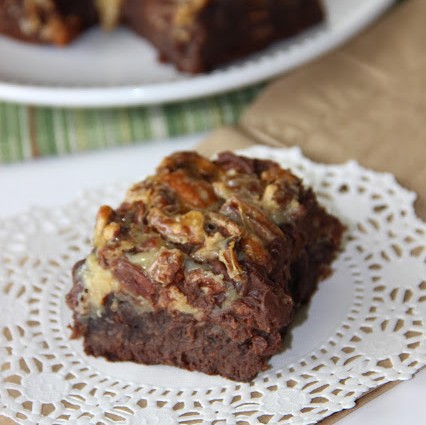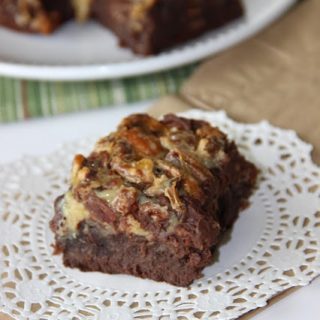 Five Layer Brownies
Ingredients
1 box Supreme brownie mix*
1/3 cup butter, melted
1 egg
2/3 cup coconut
2/3 cup semisweet chocolate chips
2/3 cup chopped pecans
1 can sweetened condensed milk
*Regular brownie mix can be used.  See modification below.
Instructions
1. Preheat oven to 350 (if using glass or dark pan, preheat to 325 to prevent from burning on the bottom). Line an 8x8 pan with foil or parchment and spray with cooking spray.

2. Mix brownie mix with the pouch of chocolate syrup in the box of the Supreme brownie mix, the melted butter, and the egg. Batter will be thick. Pour into lined pan. Bake for 14 minutes. Remove from oven. The brownie will not be cooked all the way yet.

3. Top with coconut, chocolate chips, and pecans. Drizzle with sweetened condensed milk trying to not get too close to edges. Bake another 37 minutes or until the center is light golden brown. Cool for about 2 hours and then cut to serve.


*Modification-If you are using a brownie mix without a chocolate syrup pouch, just add about 2 tbsp of chocolate syrup. If you don't have chocolate syrup, add 2 tbsp vegetable oil. I've also used a combination of chocolate syrup and some vegetable oil. You basically just need to get the batter moistened enough to mix thoroughly.

*Adapted from Betty Crocker