Super easy  one-pot dish filled with ground beef, tomatoes, corn, rice, and Mexican spices.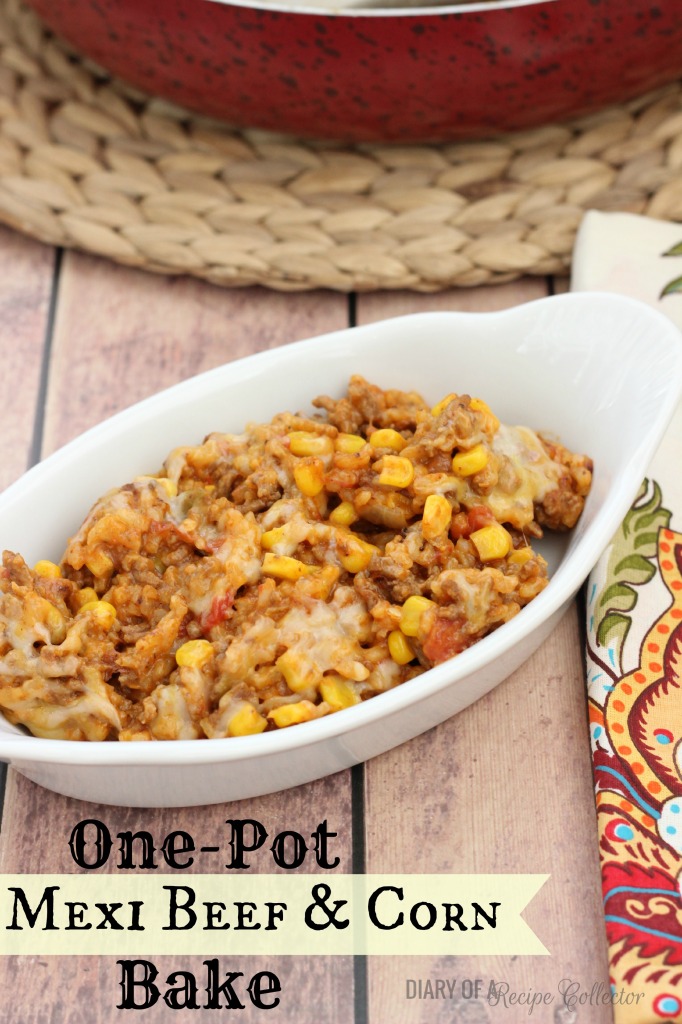 I've been running around like a crazy woman since last week.  I. need. a. break.  Seriously.  Last week, all 4 kiddos were home for Thanksgiving break.  Can you say, "Get nothing done!"  I've found one key to my sanity when this happens.  We must get out of the house!  So we did.  We went to the park and to the bounce house.  They also played outside a lot.  So when you are not at home, housework does not get done, blog photos do not get edited, and posts do not get  typed.
Then there was the 2 day Thanksgiving process…one day of cooking and one day of eating and visiting family.
Then there was Black Friday shopping.  My mom, my sister, and I were pretty much gone all day on Friday.  My wonderful husband watched all the kids by himself all day.  ( I think he was a little leery…but he made it!)
Saturday was a slumber party at my mom's for my daughter and my cousin's daughters, and friends.  It was filled with decorating sugar cookies, doing hair, make-up, nails, hot chocolate, popcorn, and a movie.  Phew!!
Sunday was a birthday party, cheer practice, and I went to the funeral home for my good friend's grandfather.
Let's just say I'm ready for some normalcy!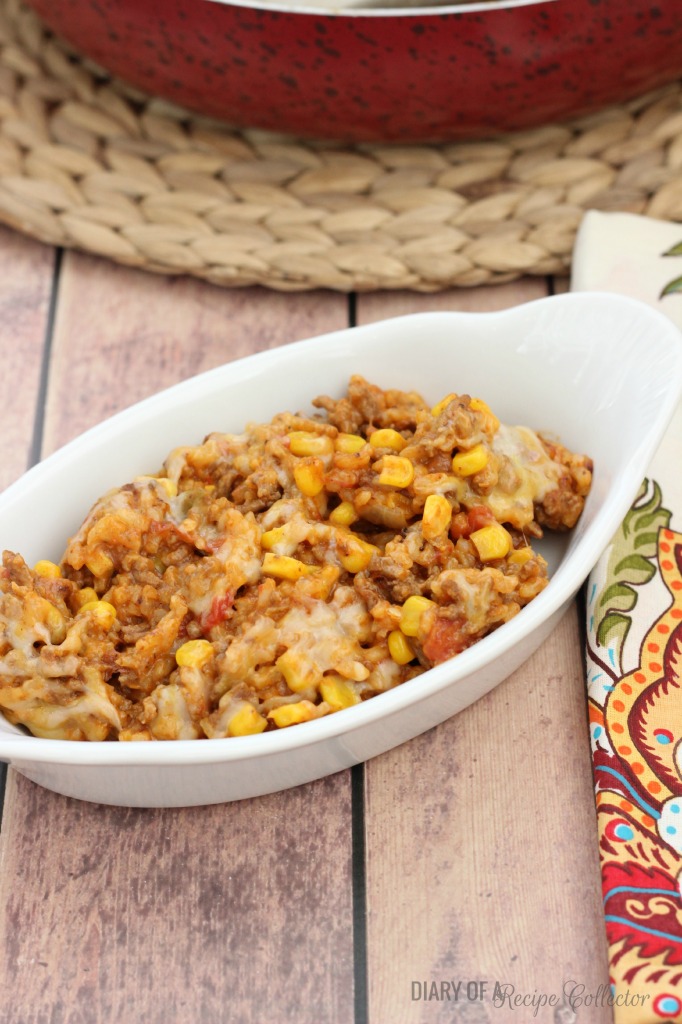 This One-Pot Mexi-Beef & Corn Bake is one of those "normalcy" meals.  I make this when it's a regular weekday, and I need something quick and easy to make.  This meal would be perfect during the next three weeks as we all get ready for the Christmas madness!  My family loved it.  And I love that it was all made in one-pot!
Plus, it's all the things we love:  Mexican flavors, corn, cheese, rice, tomatoes, and ground beef
What's not to love?
One-Pot Mexi Beef & Corn Bake
Ingredients
1½ lbs ground beef
1 tsp creole seasoning
½ tsp cumin
½ tsp chili powder
1 small onion, chopped
1 can diced tomatoes
1 15 oz. can tomato sauce
1 4 oz. can chopped green chiles
2 cups rice
2 cups water
1 tsp salt
1 15 oz. can corn
½ cup salsa con queso (I used Tostitos)
½ to ¾ cup shredded Colby jack cheese
Instructions
Brown ground beef and onion over medium high heat.
Add seasoning while browning.
Add diced tomatoes, tomato sauce, and green chiles and stir.
Add rice, water, and salt and stir.
Bring to a boil. Cover with lid and reduce heat to low to let rice cook for 20 minutes. After 20 minutes, lift lid to check to see if rice is cooked. If not, add a little more water, replace lid and cook for 5 to 10 more minutes.
When rice is done, stir in corn and salsa con queso.
Top with cheese and serve.
 Other recipes you might enjoy: