One-Pot Cajun Black-Eyed Peas & Rice – A delicious easy one pot super packed full of Cajun flavor and filled with ground beef, black-eyed peas, diced tomatoes, and rice.

Hello there folks! Yes, I'm still here. I've just been a little busy with the everyday routine. It's been one of those weeks where I can't get caught up. But I'm getting there! I've been able to get in the kitchen and make a few more recipes lately! I can't wait to post them all for you guys!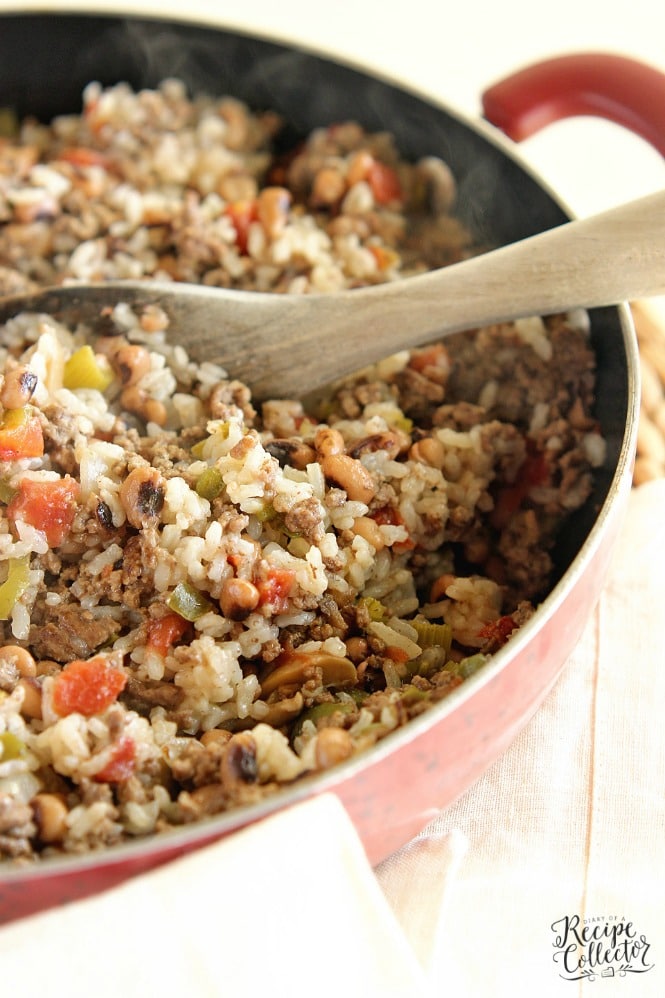 And first up, I bring you my favorite one! I know you guys like one-pot easy suppers. This One-Pot Cabbage Casserole has been shared over 400,000 times on social media. I continue to be in awe by that! I also know you guys like recipes with minimal ingredients too! This Crockpot Sausage & Potatoes is rocking on Facebook right now! In fact, I want to say a happy and thankful welcome to any new subscribers lately because of that post! Welcome to my happy place where I get to share our favorite family recipe ideas!!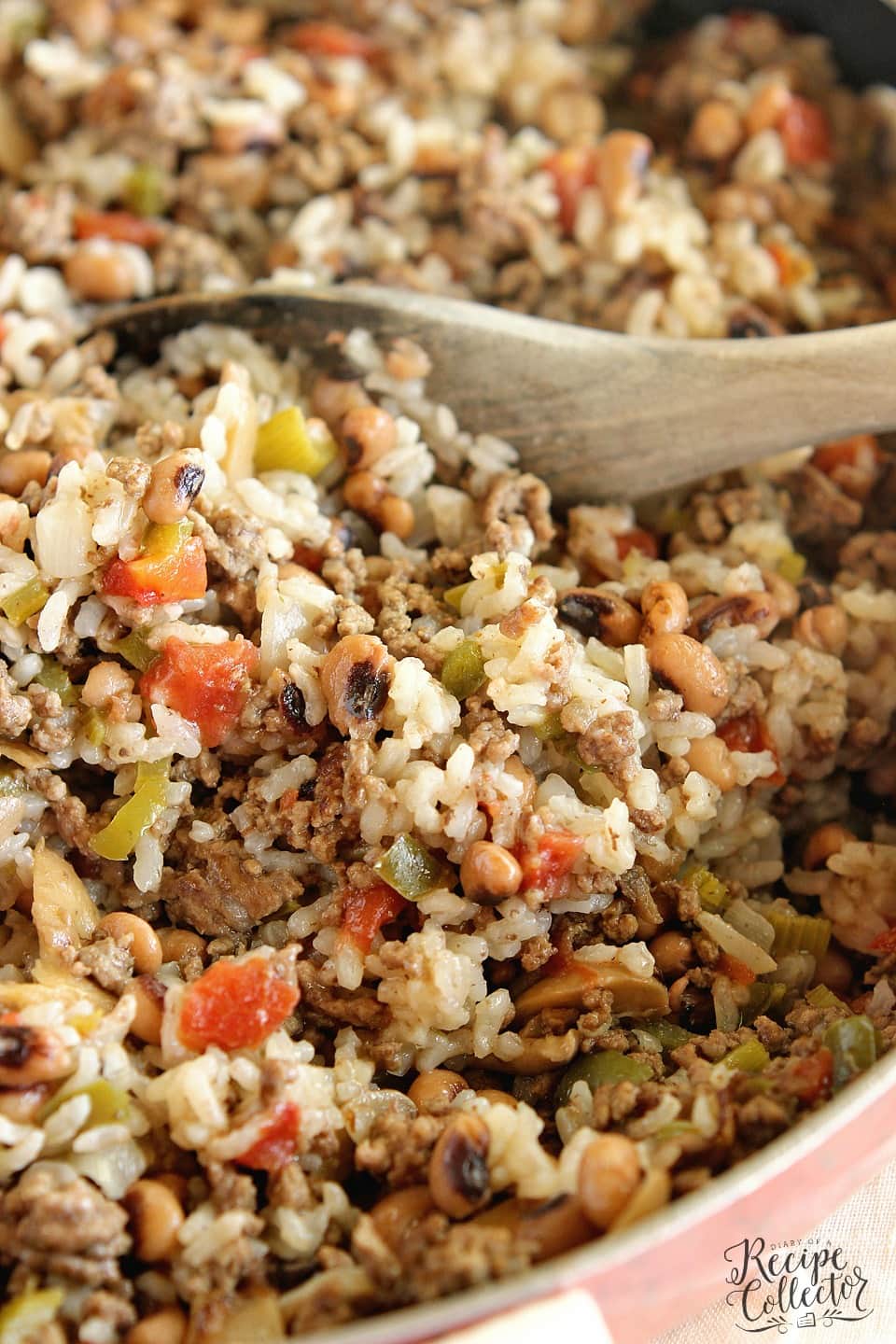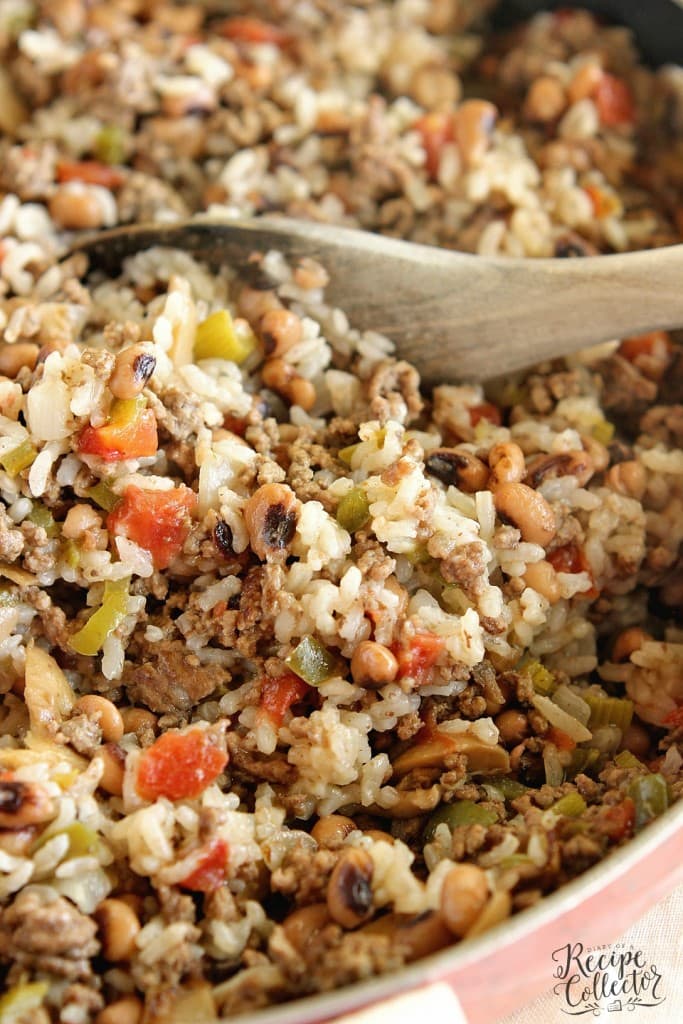 This One-Pot Cajun Black-Eyed Peas & Rice will be a new favorite recipe in your house too! It really doesn't get easier. I cook the rice in the same pot, which totally saves on clean-up time too! There is nothing worse than the after-supper aftermath. With 6 people in our house now, it looks like a tornado came through our kitchen after any meal. It's way past time for me to start training our big kids to help out more with the clean-up process. I know it's so important to build responsibility in kids. I really want my kids to know this house doesn't run itself, and they have to do their part even with after-school stuff and homework. Beginning a routine in our house where that becomes a process is definitely on my to-do list.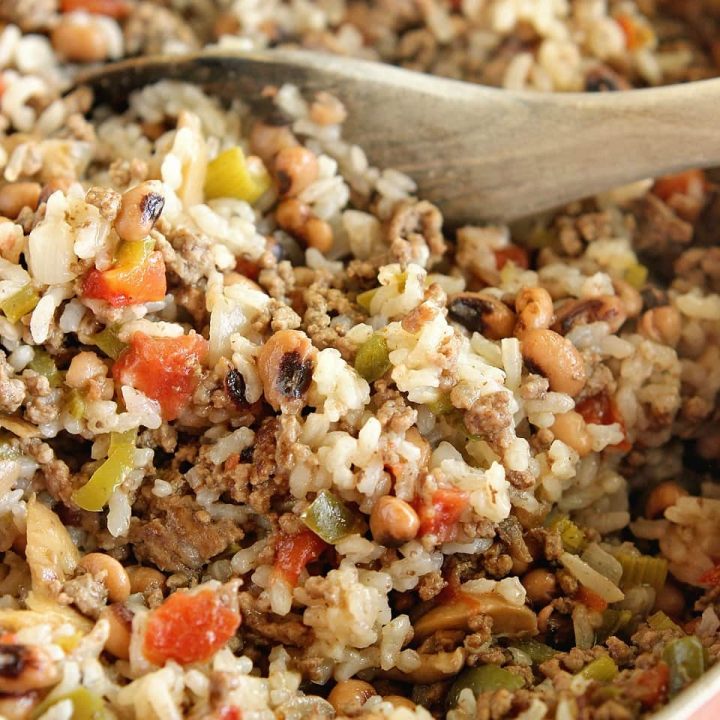 One-Pot Cajun Black-Eyed Peas and Rice
Ingredients
1.5 lbs ground round
1 onion, chopped
1 small bell pepper, chopped
2 stalks celery, chopped
1 tsp creole seasoning
1 10 oz. can Rotel*
1 can sliced mushrooms
1 envelope dry onion soup mix
2 cans black-eyed peas, drained
1 cup rice
1 cup water
Instructions
In a large pot, brown ground beef with onion, celery, and bell pepper. Add seasoning.
Add Rotel, onion soup mix, mushrooms and stir well.
Add black-eyed peas and stir.
Add rice and water and stir. Bring it to a boil. Put a lid on the pot. Reduce heat down to low and let the rice cook for 20 to 30 minutes. Do not remove the lid before 20 minutes to make sure rice cooks well. After about 20 minutes, you can check to see if rice is cooked. If not, replace the lid and cook it a little longer. You can add a little more water to help steam the rice little more as well.
Taste to season a little more, if desired.
Notes
*I used mild Rotel.
If you don't have dry onion soup mix, you can just increase the seasoning a little.
Recommended Products
As an Amazon Associate and member of other affiliate programs, I earn from qualifying purchases. This helps us keep our blog running efficiently and allows us to create more recipes for you.
Other recipes you might like:
One-Pot Cabbage Casserole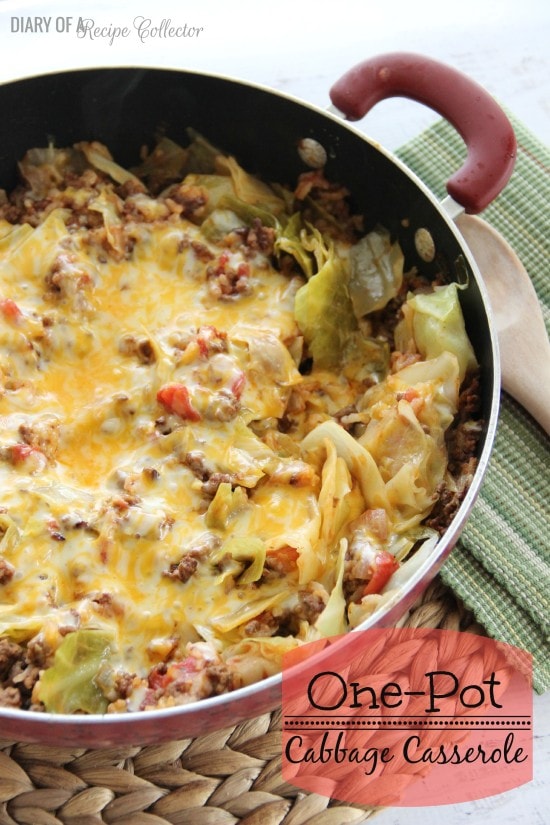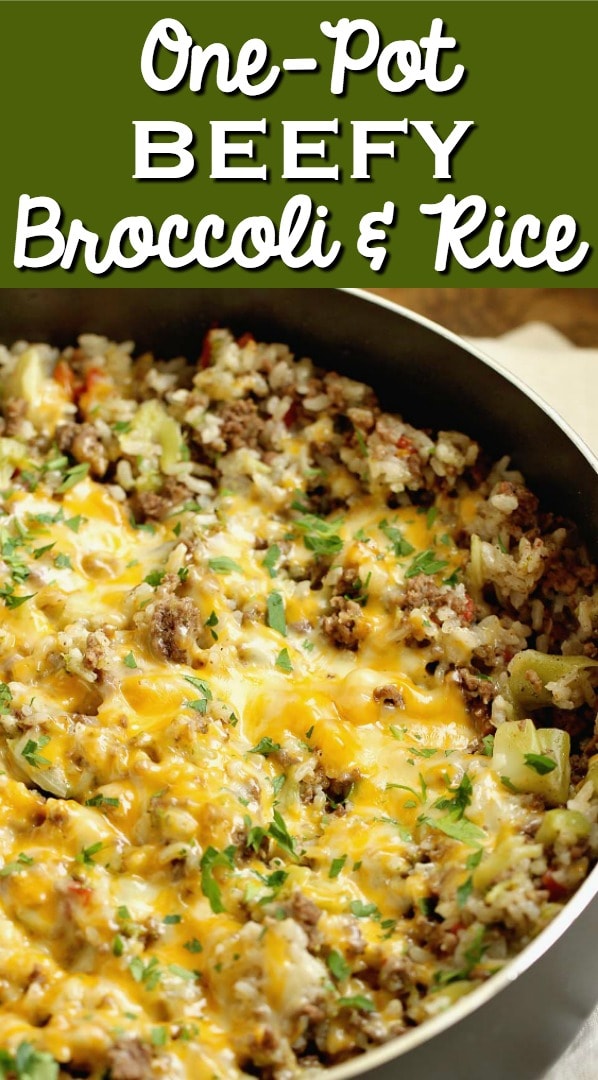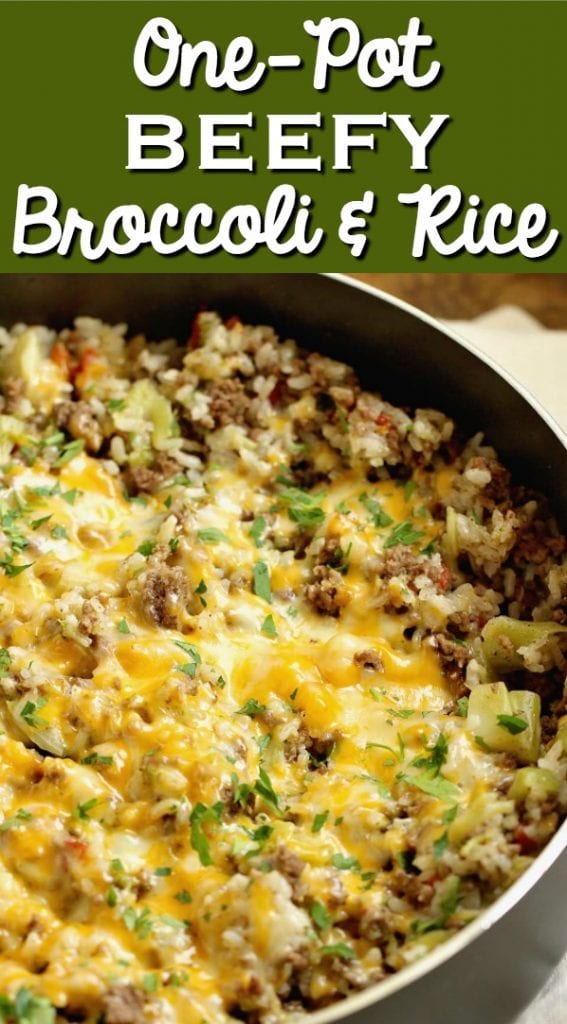 Crockpot Sausage & Potatoes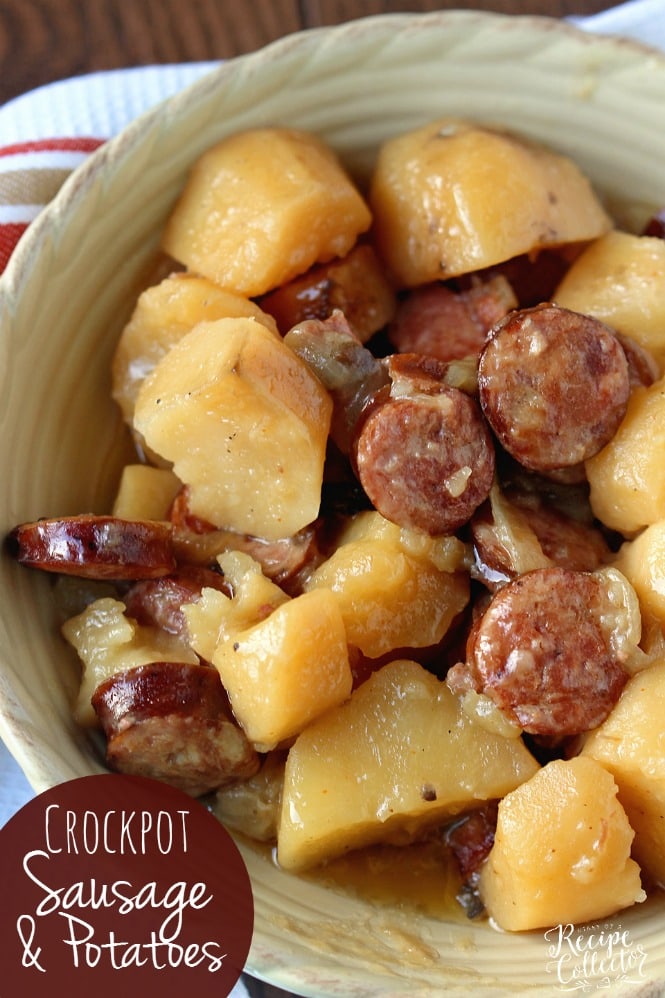 Rice Cooker Sausage Jambalaya