Tomato Basil Shrimp Pasta – A delicious pasta recipe filled with a creamy tomato basil sauce.
If you've been around this blog for a while, then you know I am a fan of shrimp! In particular, I love shrimp and pasta. And this Tomato Basil Shrimp Pasta is no exception. It was a huge hit among the husband and kids, and I see many dinners with this recipe.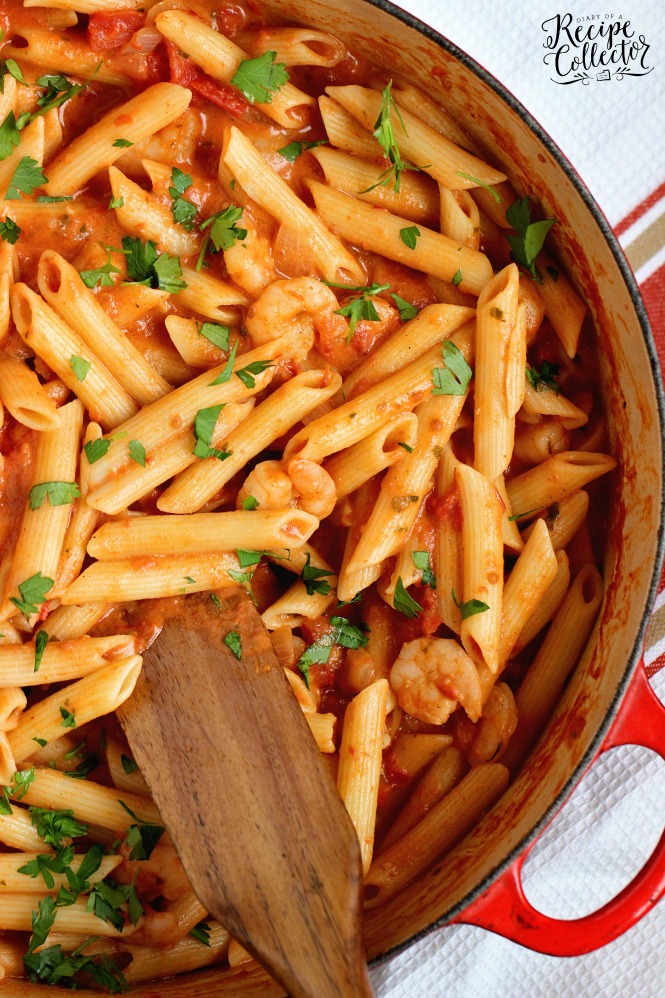 We topped bowls with our favorite choices of cheese…mozzarella and parmesan. But for those who aren't into the cheese, it is great without it too.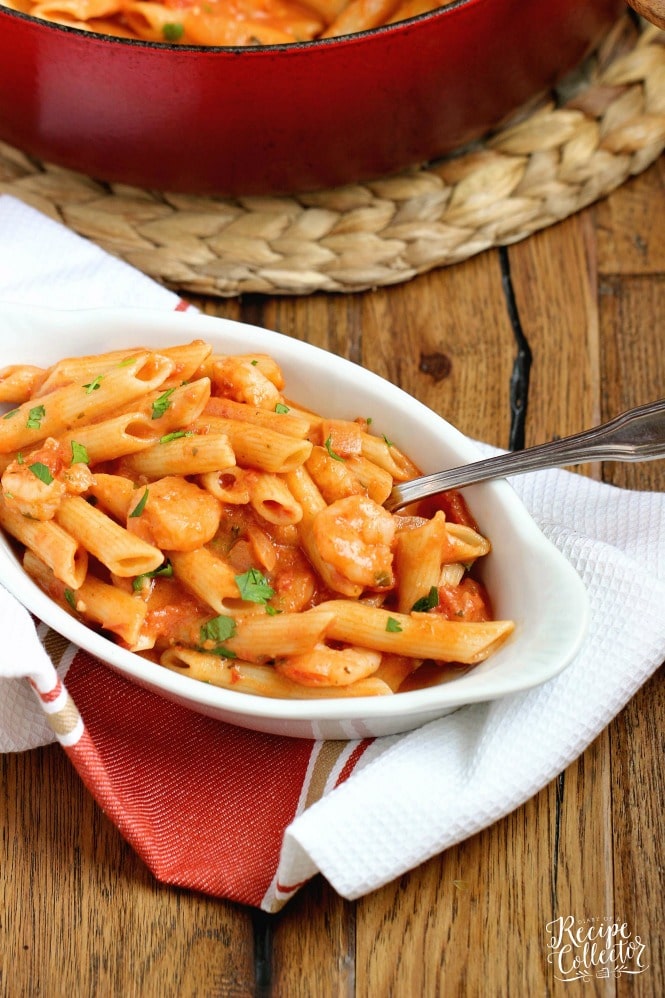 I also like to buy frozen shrimp for recipes like this one. I defrost them in some water on the counter for a little while before starting dinner. Shrimp also cooks really fast, so it lends itself to quick family-friendly pasta nights.
How to Make Tomato Basil Shrimp Pasta
Begin water for pasta
Saute shrimp and garlic in butter and olive oil and remove.
Begin boiling pasta
Saute onions.
Add chicken broth and simmer.
Add canned tomatoes, sugar, basil, and heavy cream.
Add in shrimp and garlic.
Stir in pasta.
Serve topped with cheese and parsley.
*I love this basil paste!! I use it in so many dishes.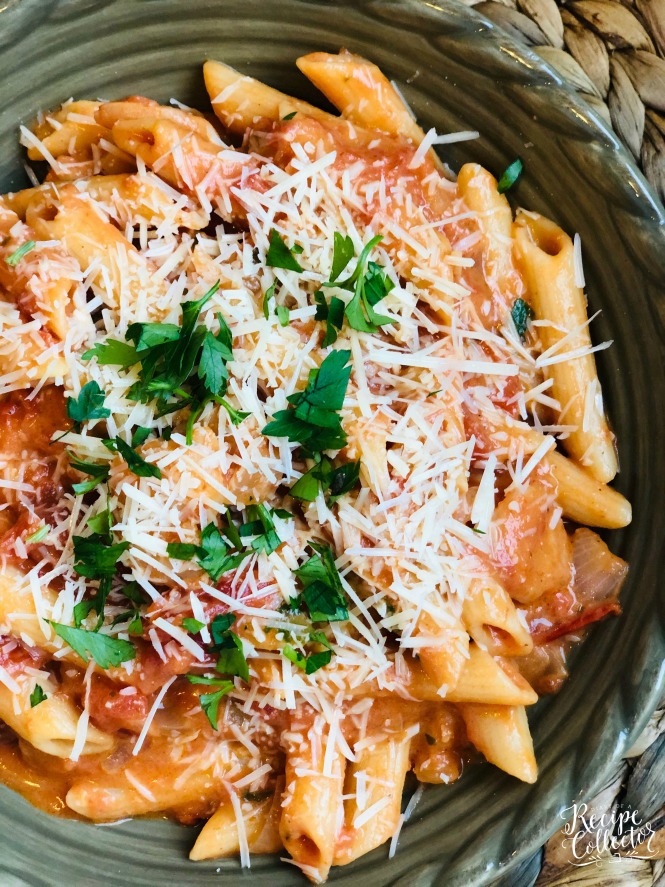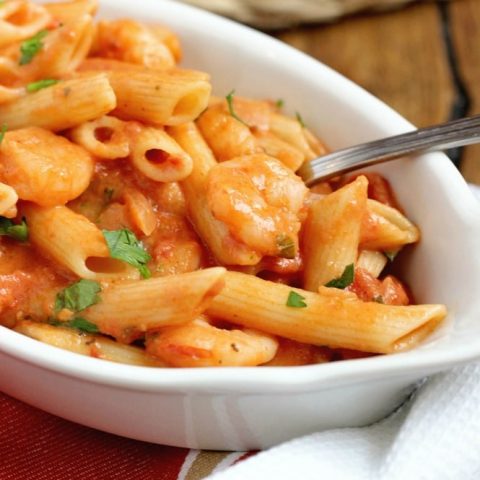 Tomato Basil Shrimp Pasta
Tomato Basil Shrimp Pasta - A delicious pasta recipe filled with a creamy tomato basil sauce. 
Ingredients
2 tbsp butter
2 tbsp olive oil, divided
1 lb medium uncooked shrimp (70-90 count), peeled and deveined
2 cloves garlic
1 onion, chopped
1 1/2 tsp creole seasoning, divided
14.5 oz chicken broth
14.5 oz canned diced tomatoes
28 oz crushed tomatoes
3 tbsp sugar
1/2 cup heavy cream
16 oz penne pasta
basil (12 to 15 leaves, chopped or 1 tbsp basil paste)
Toppings: chopped parsley, shredded parmesan cheese, and shredded mozzarella
Instructions
Heat a large pot of water for pasta. Let it come to a boil while you begin the shrimp and sauce.
In a large heavy bottom pot, add butter and 1 tbsp olive oil. Heat over medium high heat. Add shrimp seasoned with 1 tsp creole seasoning. After a few minutes, add chopped garlic. Saute until shrimp are done (about 5 minutes total). Remove to a bowl and set aside.
Add 1 tbsp olive oil to the same pot. Add onion and 1/2 tsp creole seasoning. Saute for about 5 to 7 minutes.
While onions saute, add pasta to boiling water and boil until al dente.
To the onions, add chicken broth. Stir and bring to a simmer. Add canned tomatoes, basil, and sugar. Stir to combine and let simmer for 10 to 15 minutes. Add heavy cream and stir. Add shrimp and garlic back to pot and let simmer in sauce for about 5 minutes.
Drain pasta and mix into sauce. Serve topped with shredded cheese and chopped parsley.
Recommended Products
As an Amazon Associate and member of other affiliate programs, I earn from qualifying purchases. This helps us keep our blog running efficiently and allows us to create more recipes for you.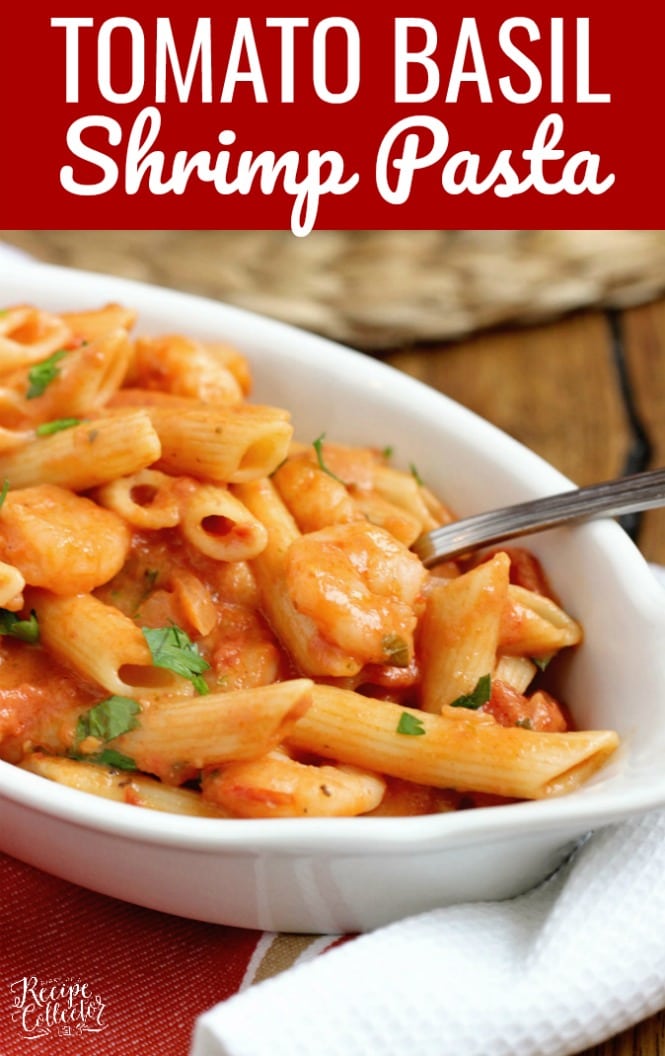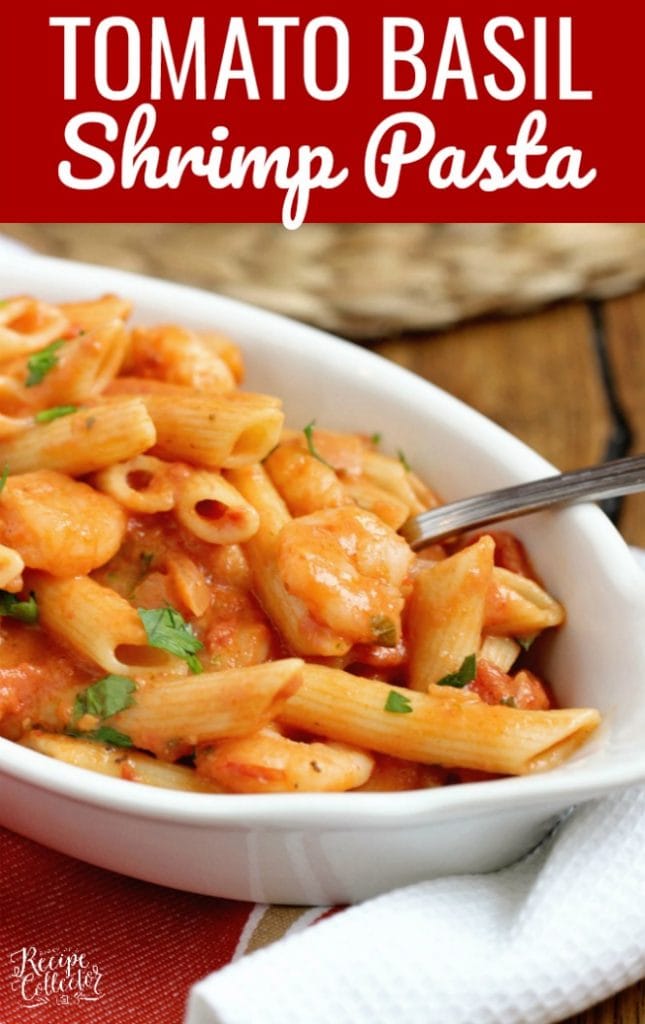 Other Pasta Recipes You May Like:
You can find more MAIN DISH RECIPES HERE.
You can find ALL RECIPES HERE.
For more ideas, follow me on FACEBOOK, PINTEREST, INSTAGRAM, AND TWITTER.
Get FREE recipes delivered to you by email: SIGN UP HERE!