Here's a seafood take on Olive Garden's Chicken Scampi.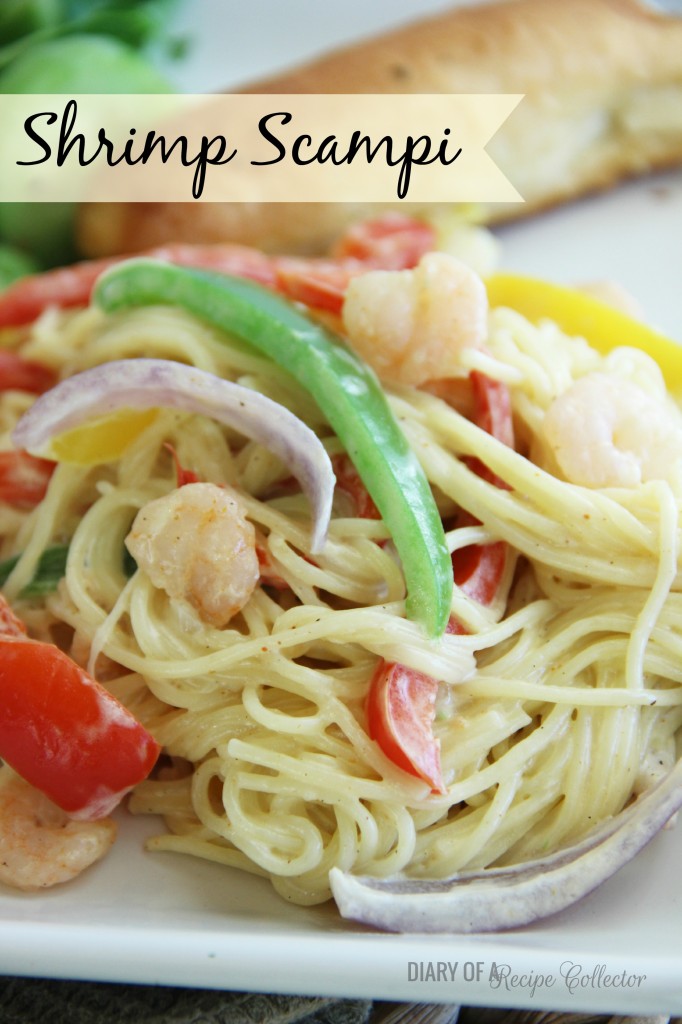 All I can see about this recipe is…DEE-LISH!  I love making this pasta!  I don't make it very often, but when I do it is such a special treat!  It's a good at home date-night kind of pasta, or it is even great to make for company.
If you have ever tried Olive Garden's Chicken Scampi and liked it, then you will love this shrimp version.   Did I mention how good it is yet???  What could be better than a garlic cream sauce over pasta?
Now this recipe contains heavy cream, but you could certainly make it with half-n-half to scale down on the calories.
Recipe:
1/2 stick butter
1 tbsp olive oil
1 lb. shrimp (small to medium size), peeled and deveined
4 cloves garlic, finely chopped
1 red bell pepper, sliced
1 green bell pepper, sliced
1 yellow bell pepper, sliced
1 small purple onion, sliced
1  1/2 cups of heavy cream or half-n-half
1/2 cup grated Parmesan
12 oz angel hair pasta, cooked
Seasoned salt, creole seasoning, or salt/pepper
Saute garlic in butter and olive oil in a pot over medium heat for about 1 minute.  (Be careful not to let garlic burn).  Next add shrimp, season , and cook just until pink.  Remove shrimp and garlic to a bowl.  Add sliced peppers and onions.  Season.  Saute over medium-high heat  for about 5 minutes.  Next add heavy cream (or half-n-half) and Parmesan.  Season.  Simmer over medium heat for about 5 minutes.  Add shrimp and garlic back to pot and simmer for about 4-5 more minutes.  *  Just make sure your peppers maintain their slight bite to them.  Season to taste if necessary.  Add cooked pasta,  stirring to coat pasta with sauce.
**This meal cooks up pretty fast once in the pot.  Make sure to have all produce sliced up and ready and pasta boiled.
This meal is great served with a side salad and bread.
Here's a great salad dressing to try: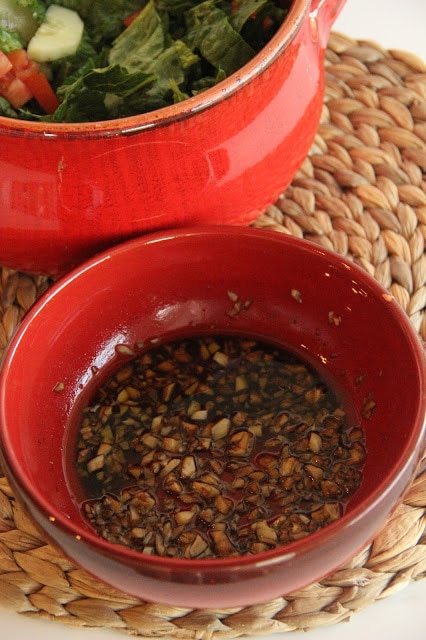 I'm linking up with:
Time to Sparkle #50
Saturday Night Fever #24
Show Stopper Saturday #29
Best of the Weekend #43
Thanks for stopping by and enjoy!!