Skinny Turkey Lasagna – A low-carb, high protein, and low calorie dinner recipe! You won't even miss the pasta!
I'm on a roll with these healthy recipes lately! You guys should be proud. I'm all about increasing my protein lately and eating little meals with protein all day long. This Skinny Turkey Lasagna is just the kind of lean and green recipe I like to eat to stay on track.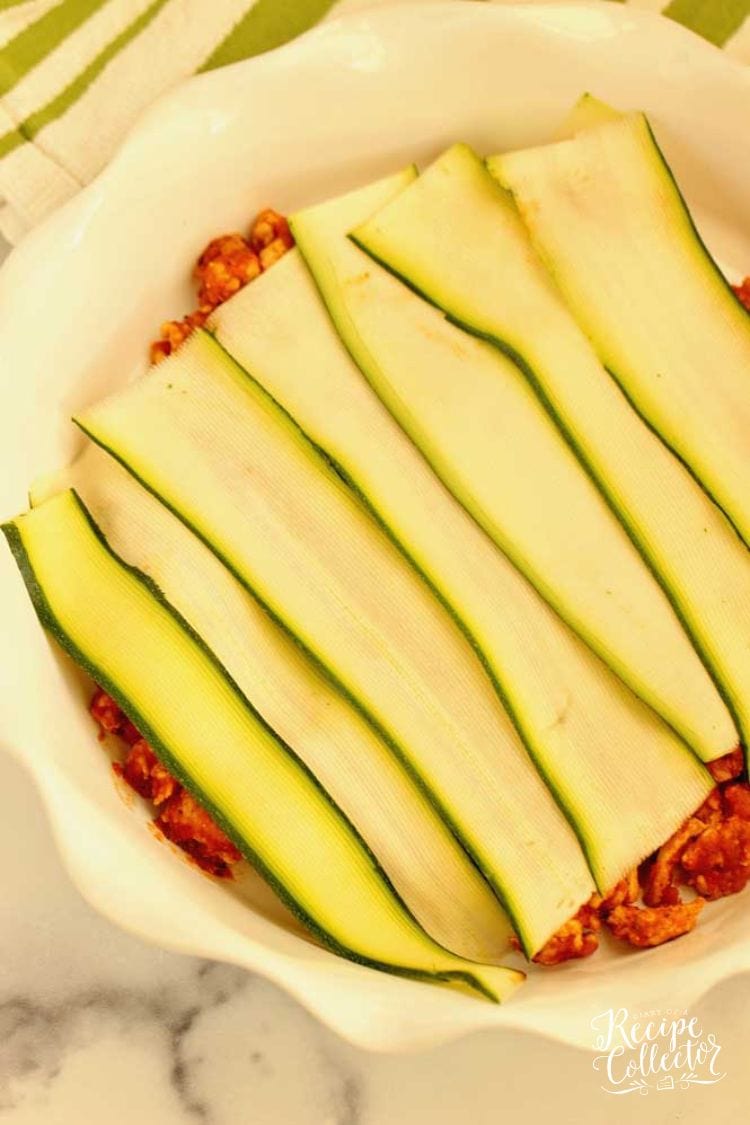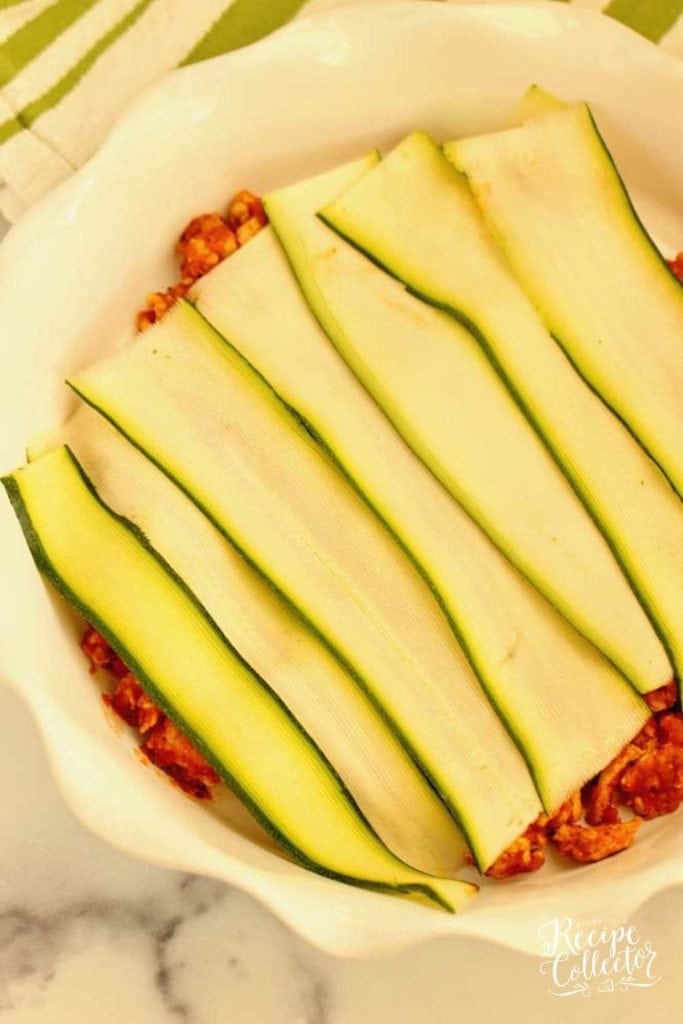 I tried to make this recipe as close as possible to a traditional lasagna but without the things that would hurt my eating healthy mission lately. Subbing out the pasta with the zucchini was an easy swap that I really liked. I didn't even miss the pasta!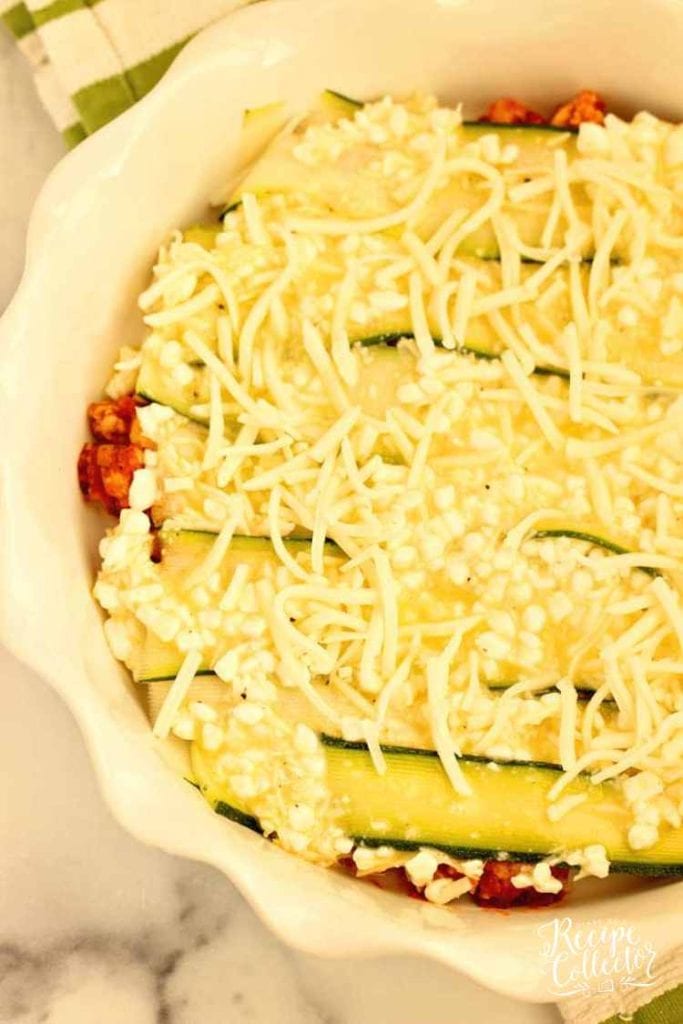 How much does this recipe make and does my family eat this too?
So this recipe is meant to have 4 servings at about 500 calories and 55 g of protein per serving. I ate with a small side salad. I like to make recipes like this on Sunday and portion them out for quick dinners for me during the week. I do still cook during the week for my family, and if that meal isn't something I feel is lean and green enough for me, I have this meal as a back up. I freeze what I don' t eat during the week for later. You could also take it for lunches. I have quite a little stash of healthy meals for busy nights. This is the KEY TO MY SUCCESS LATELY!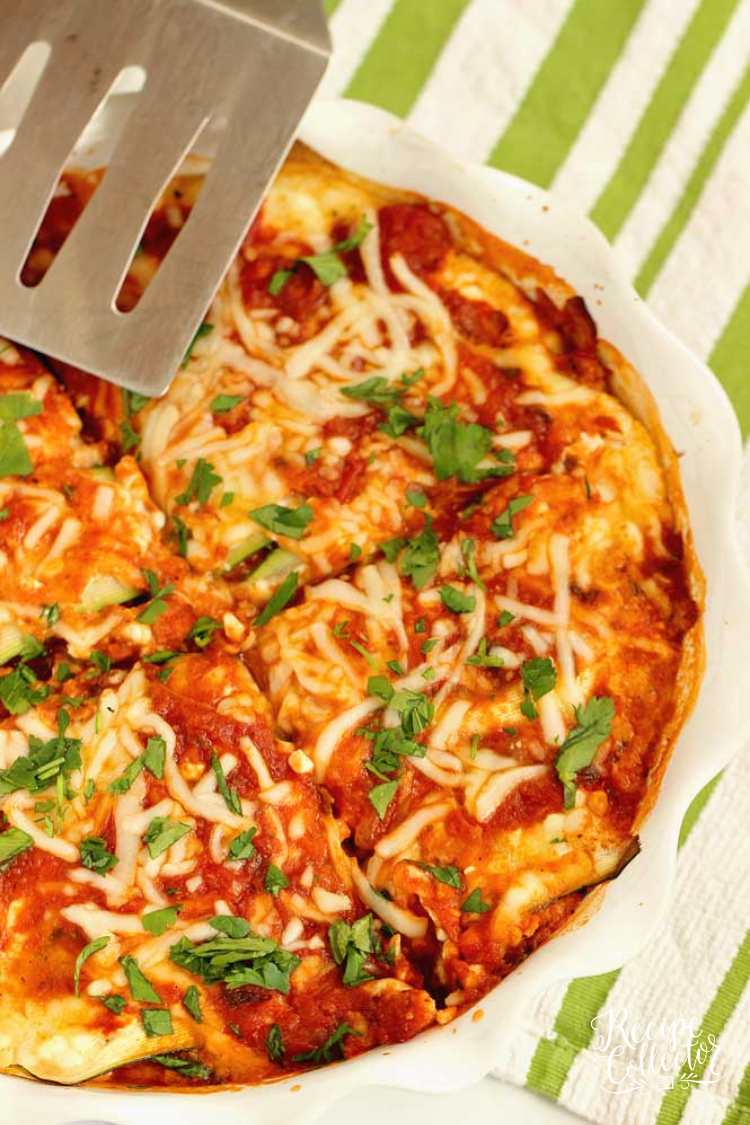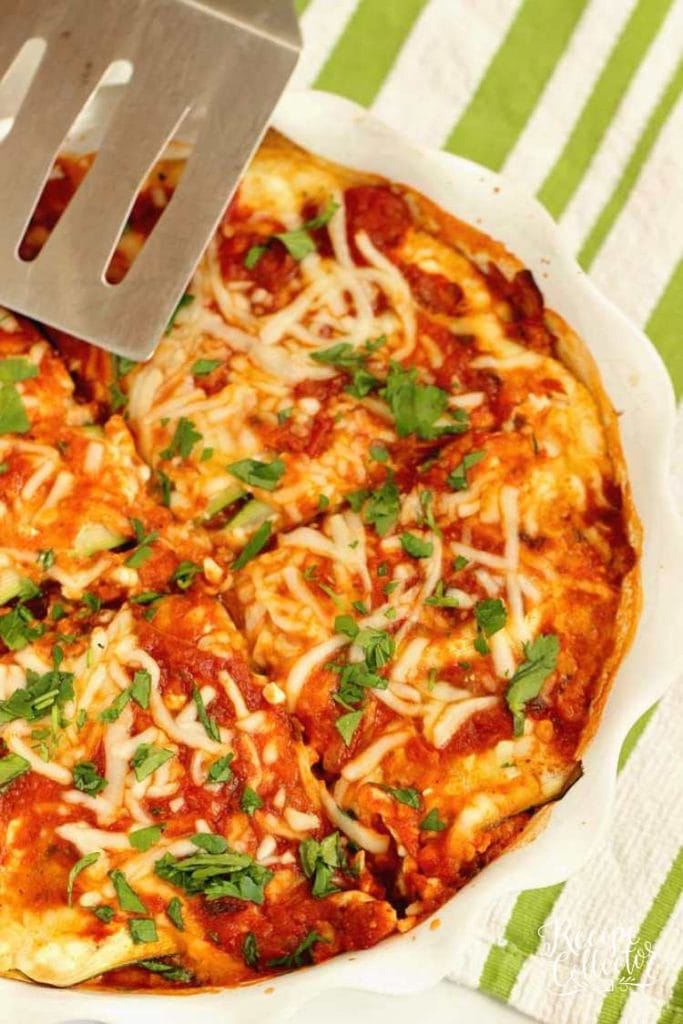 What ingredients do you need to make this Skinny Turkey Lasagna?
Lean ground turkey
I like to use ground turkey that is 99% fat-free.
Spices:
creole seasoning, dried oregano, dried basil, onion powder
Chopped garlic
I like to buy the pre-chopped/pre-minced garlic in the produce section
Zucchini
1 zucchini is enough for all the layers in this recipe. I use a vegetable peeler to slice it very thin.
Low-fat cottage cheese
Cottage cheese adds in some extra protein to the recipe. This step is also the key to helping this recipe not seem so low-calorie. You can blend your cottage cheese if you prefer.
Egg
This is adding in some more extra protein.
Shredded parmesan cheese
kosher salt and black pepper
Rao's Tomato Basil Sauce
This sauce is a great choice when you are trying to stay low in sugar and carbs in a recipe.
shredded mozzarella cheese
fresh chopped parsley for topping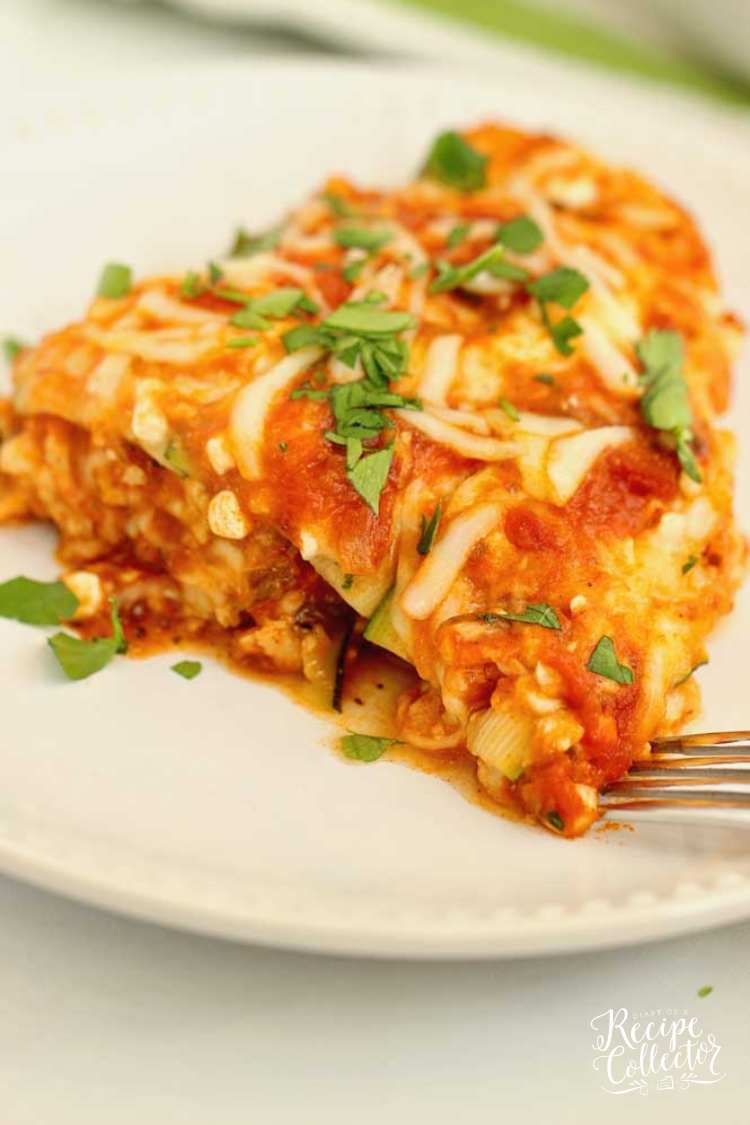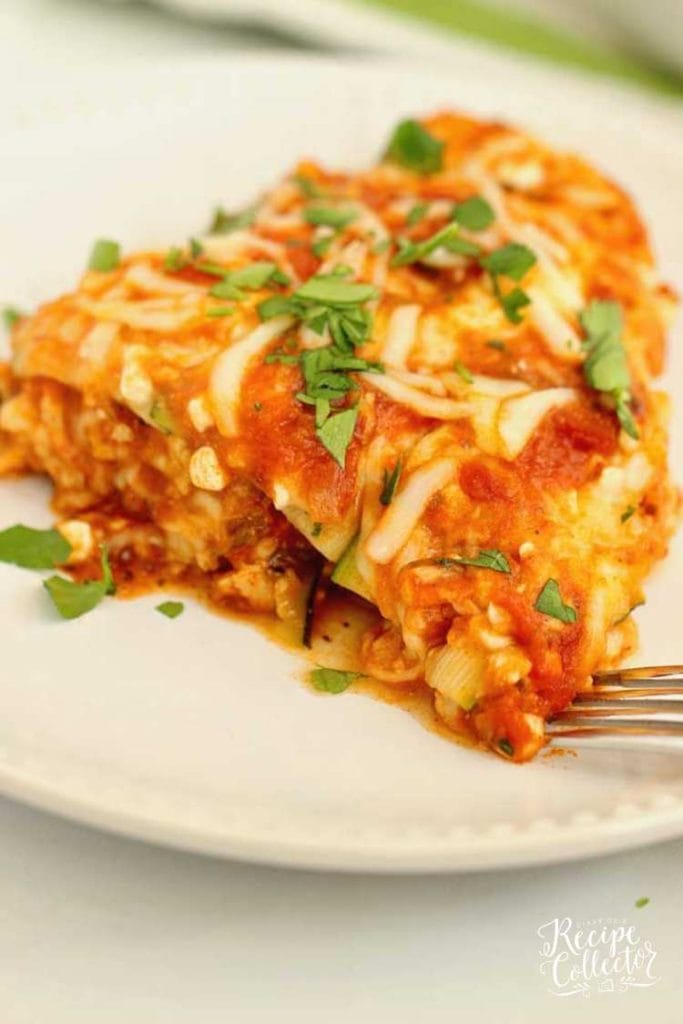 Connect with Diary of a Recipe Collector! Follow us on social media, so you never miss a recipe!
Email Subscription | Facebook | Instagram | Pinterest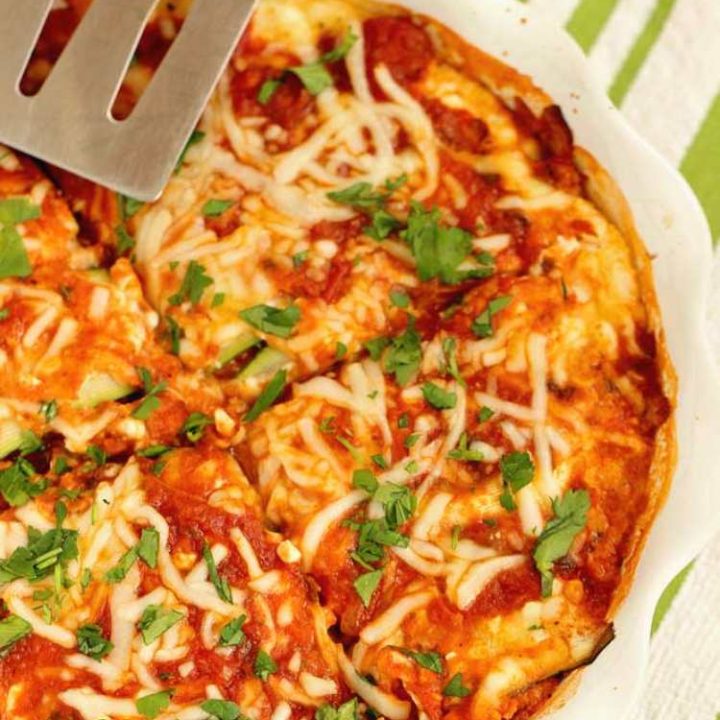 Skinny Turkey Lasagna
Skinny Turkey Lasagna - A low-carb, high protein, and low calorie dinner recipe!  You won't even miss the pasta! 
Ingredients
1 lb. lean ground turkey
1 tsp creole seasoning
1/2 tsp dried oregano
1/2 tsp dried basil
1/2 tsp onion powder
1 tsp chopped garlic
1 medium zucchini
1 cup low-fat cottage cheese
1 egg
1/2 cup shredded parmesan cheese
1/2 tsp kosher salt
1/4 tsp black pepper
2 cups Rao's Tomato Basil sauce, divided
2 cups shredded mozzarella cheese
1 tbsp fresh parsley for topping
Instructions
In a skillet, brown ground turkey over medium high heat. While browning, season with creole seasoning, basil, oregano, onion powder, and chopped garlic . Once browned, add 1 1/2 cups tomato sauce and stir. Reduce heat to simmer for about 5 minutes.
Slice zucchini horizontally into very thin slices to be used to layer. You can do this with a peeler or a mandolin.
In a small bowl, mix cottage cheese, parmesan cheese, egg, and salt and pepper.
In an 8 x 8 dish, layer half of the meat mixture in the bottom. Top with strips of zucchini to cover the meat. Top with half of cottage cheese mixture. Top with 1/3 cup of shredded mozarella. Repeat other half of meat layer, zucchini layer, other half of cottage cheese mixture, and 1/3 cup mozzarella. Top with remaining 1/2 cup tomato sauce and remaining mozzarella.
Bake at 350 degrees for 30 minutes. Top with fresh parsley.
Recommended Products
As an Amazon Associate and member of other affiliate programs, I earn from qualifying purchases. This helps us keep our blog running efficiently and allows us to create more recipes for you.
Other recipes you might like: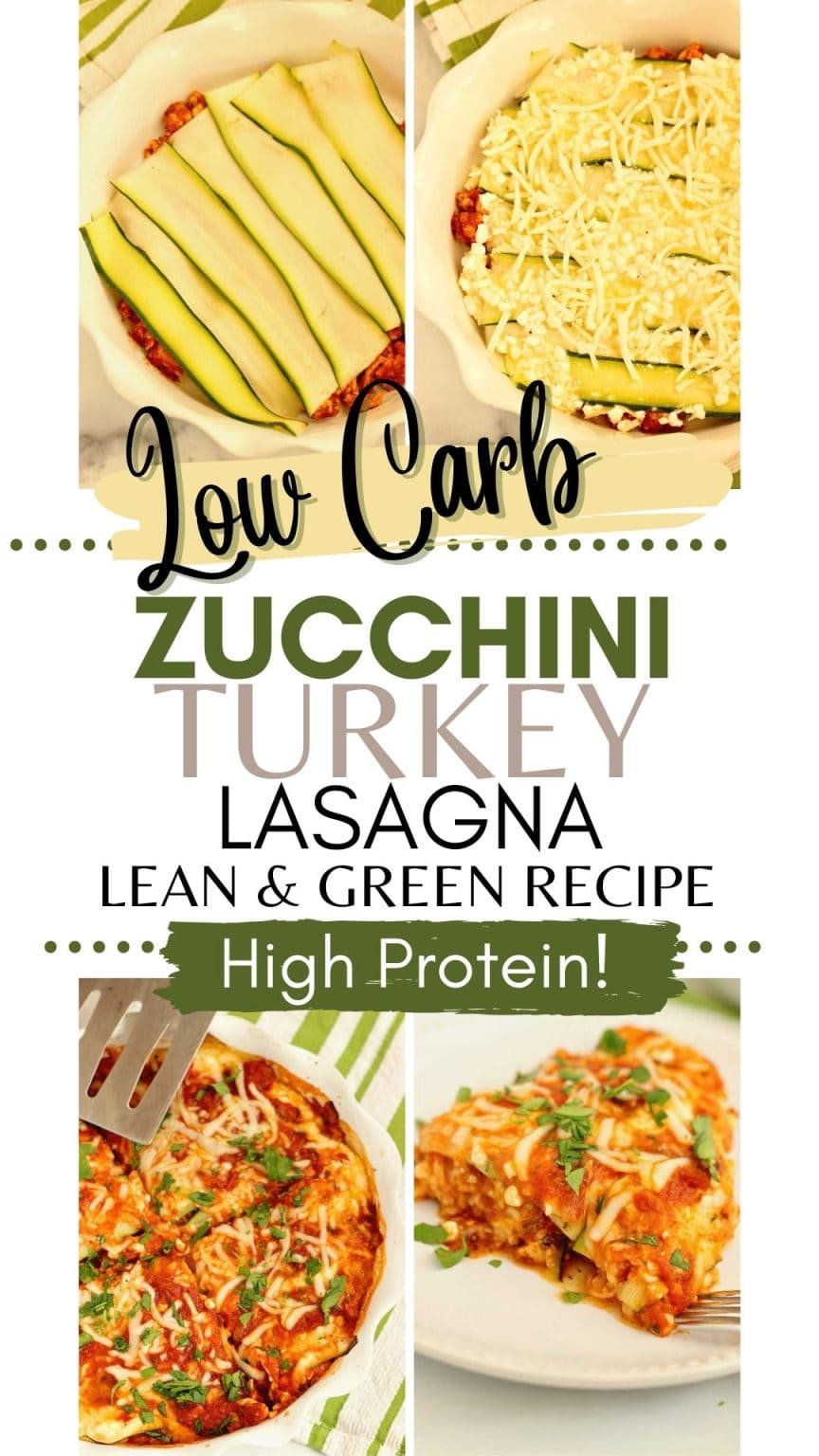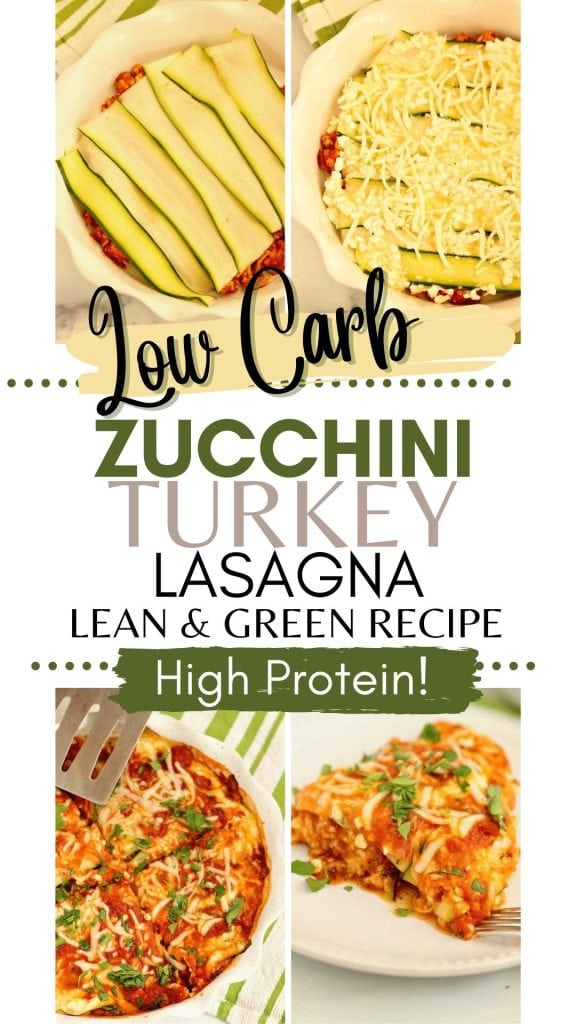 You can find more MAIN DISH RECIPES HERE.
You can find ALL RECIPES HERE.
For more ideas, follow me on FACEBOOK, PINTEREST, INSTAGRAM, AND TWITTER.
Get FREE recipes delivered to you by email: SIGN UP HERE!