Quick Creamy Chicken Skillet Burritos – A perfectly easy 30 minute meal idea made with the help of a rotisserie chicken!
We can't ever get enough quick meal ideas around here. This Quick Creamy Chicken Skillet Burritos recipe is so darn easy and a must for your future meal plan. The secret shortcut is using a rotisserie chicken! These are such an easy route in the kitchen, and they are full of so much flavor!

This is a little twist on my original Skillet Covered Burritos recipe that uses ground beef. I'm anxious to hear which version is your family's favorite!

Tips for Quick Creamy Chicken Skillet Burritos:
Want this meal to be even quicker? Have your chicken already chopped and ready to go ahead of time.
Not a fan of black olives? Two out of four of my kids aren't either. I make a few burritos without them.
Do you like things spicy? Use the "Hot" enchilada sauce. You can also add a little pepperjack cheese to each burrito.
Connect with Diary of a Recipe Collector! Follow us on social media, so you never miss a recipe!
Email Subscription | Facebook | Instagram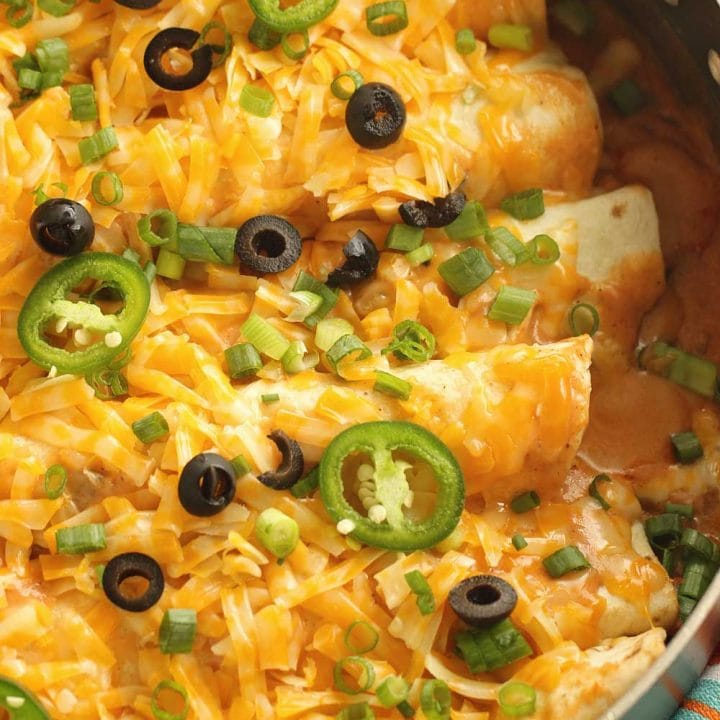 Quick Creamy Chicken Skillet Burritos
Quick Creamy Chicken Skillet Burritos - A perfectly easy 30 minute meal idea made with the help of a rotisserie chicken!
Ingredients
2 to 3 cups chopped rotisserie chicken
1 1/2 tbsp olive oil
1/2 cup onion, diced
1/2 tsp creole seasoning
1 can cream of mushroom
1 10 oz red enchilada sauce
2 tbsp chopped green chiles
1/3 cup milk
1/2 cup sliced black olives
3 cups shredded cheese ( I used Colby Jack)
8 flour tortillas (I prefer burrito size and just trim the ends after rolling)
Optional:  green onions, sour cream, chopped tomatoes
Suggested Sides:  Refried beans, Mexican rice
Instructions
In a large skillet, heat oil over medium high heat and add chopped onion. Add creole seasoning. Saute until onions are clear, about 7 to 8 minutes.
Add cream of mushroom, enchilada sauce, green chiles, and milk. Reduce heat, cover, and cook for about 15 minutes.
While the sauce cooks, make the burritos by filling each tortilla with chicken, shredded cheese, and black olives. Roll up and set aside seam side down until sauce is finished simmering.
Once sauce is simmered, place burritos in filling seam side down. I roll them in the sauce to get them coated evenly. You can also spoon the sauce over them.
Top with remaining cheese. Cover and let cheese melt for about 5 more minutes. Remove from heat. Add green onions, black olives, and diced tomatoes to top it. Serve with sour cream.
Recommended Products
As an Amazon Associate and member of other affiliate programs, I earn from qualifying purchases. This helps us keep our blog running efficiently and allows us to create more recipes for you.
Other recipes you may like:
Don't forget to check out my other favorite ground beef version of this recipe:
Skillet Covered Burritos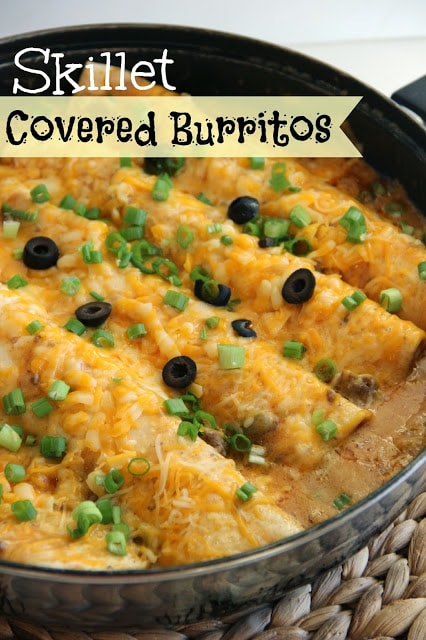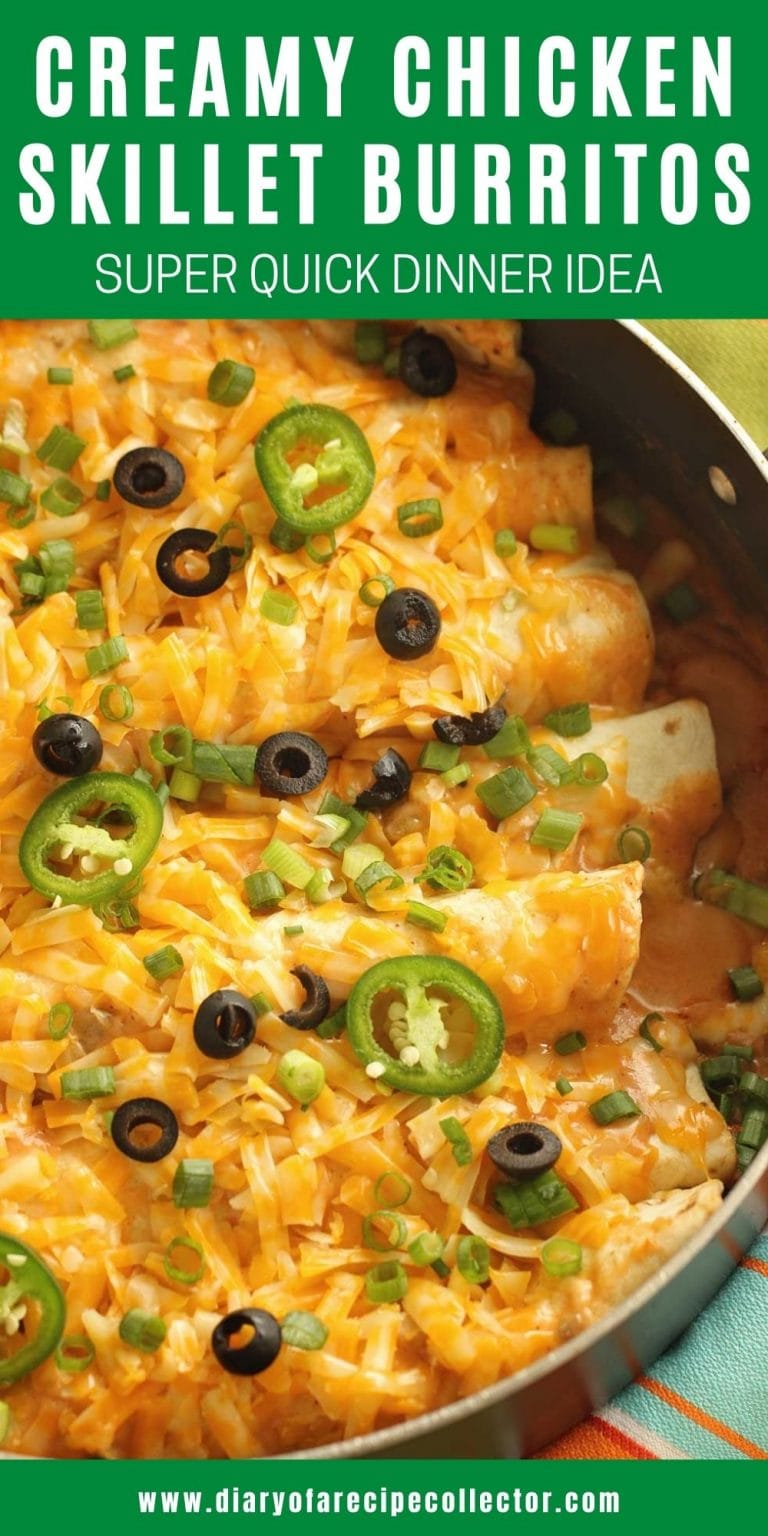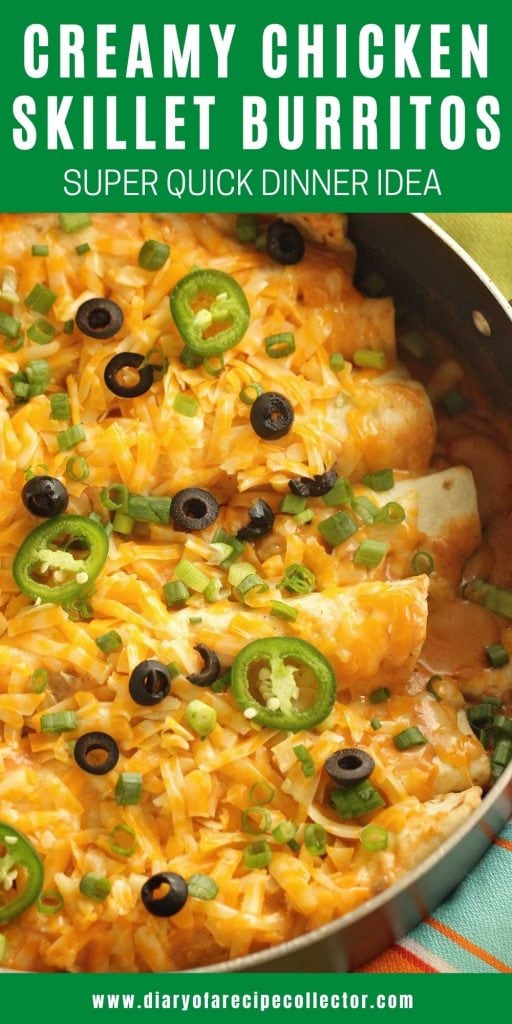 You can find more MAIN DISH RECIPES HERE.
You can find ALL RECIPES HERE.
For more ideas, follow me on FACEBOOK, PINTEREST, INSTAGRAM, AND TWITTER.
Get FREE recipes delivered to you by email: SIGN UP HERE!