Mexican Lasagna – A hearty casserole filled with ground sirloin, three cheeses, lasagna noodles, tomatoes, and all those wonderful Mexican flavors.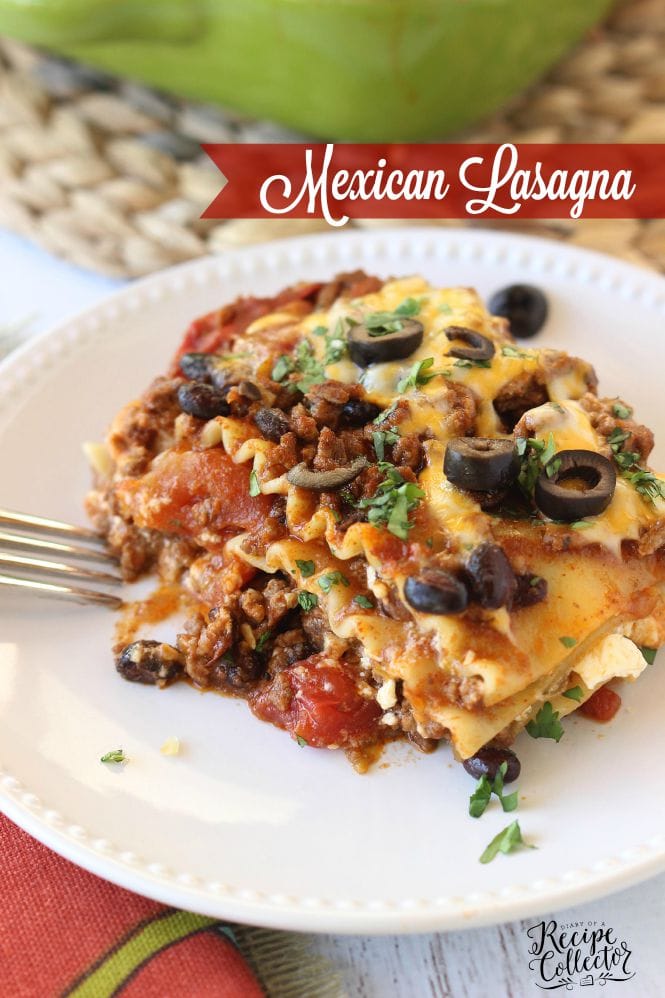 So today is our last day of summer vacation.  I wish I could say we will spend it outside letting the kids play all day, but that would be a big NO.  It is sweltering the last few weeks.  Yesterday, we had a ton of errands to go run, and it was so hot, I had to come home and change into something cooler.  You know it's hot when I have that problem because I am normally so cold-natured.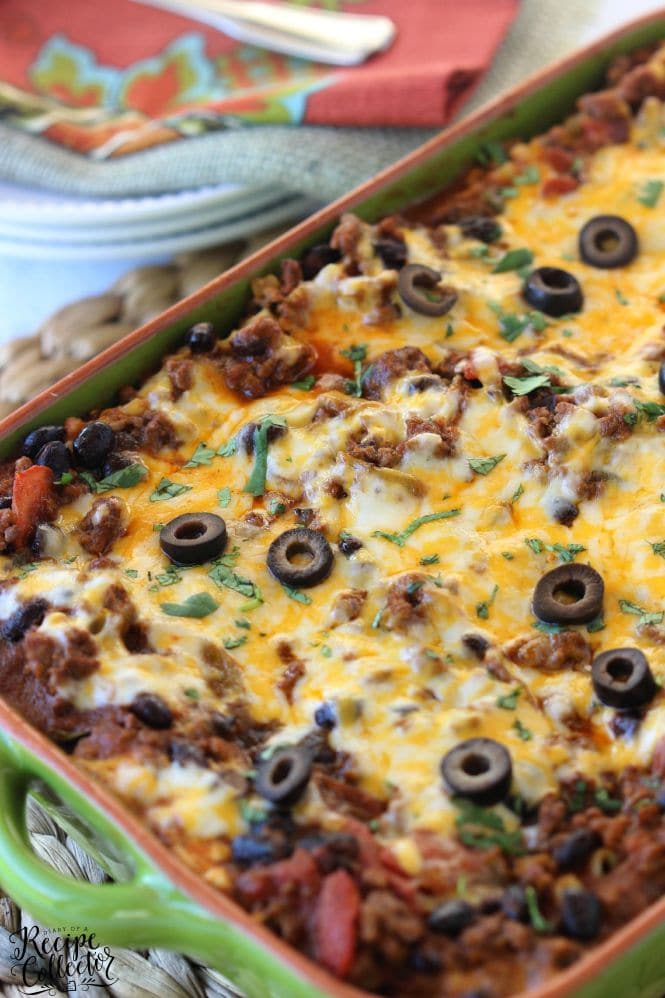 My husband picks on me all the time because I don't like it to be below 75 outside because I get cold.  I know…could I be more of a weenie?  But seriously, the heat index this week is like 110 degrees.
So there will not be much playing outside today unless it involves water.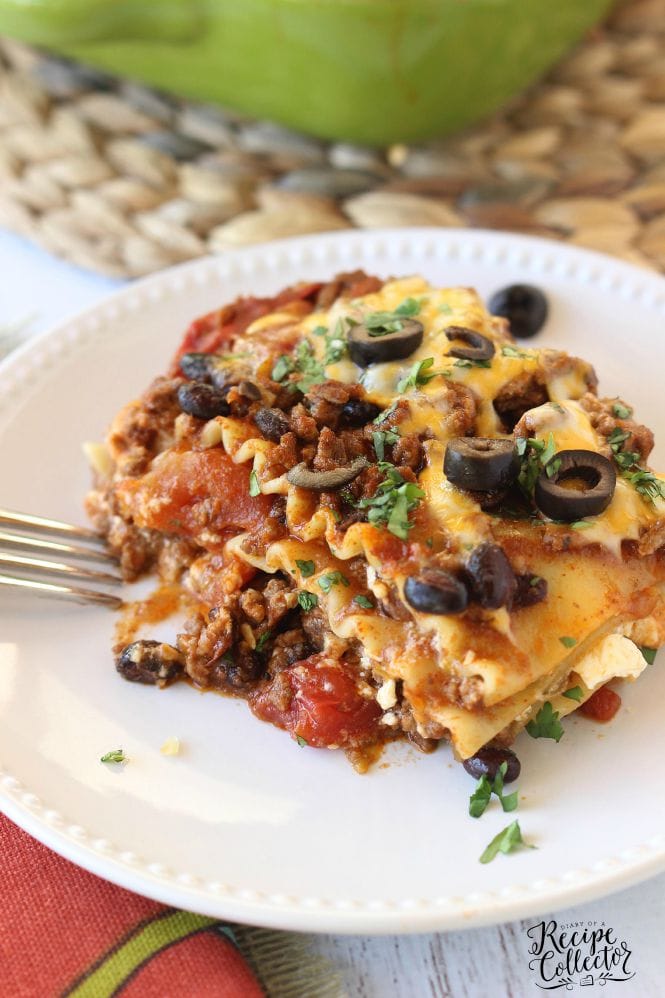 We've got about one more month of this heat.  #comeonfall
Here's hoping no hurricanes head our way either.  September is the peak season for them, so we always get a little nervous.
So as we wait this heat wave out and look forward to cooler casserole-making weather, I want to share this fabulous Mexican Lasagna with you all.  It was delicious!  It's perfect for company too.  Normally, I make casseroles and end up freezing the last few servings for busy nights during the school year.  It works out perfectly.  Serve it with a green salad and some of these great Vidalia Onion Cornbread Muffins.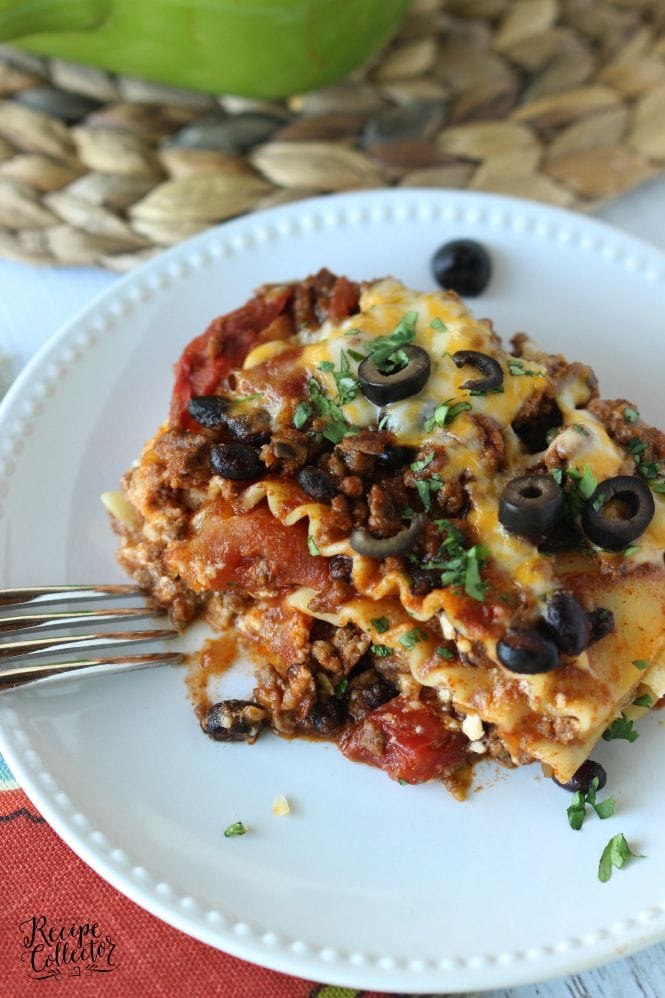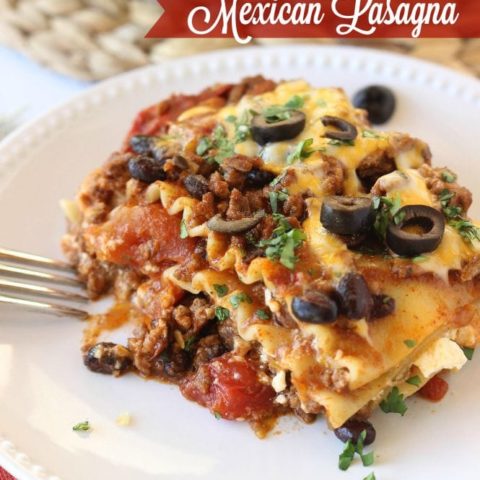 Mexican Lasagna
Cook Time:
1 hour
30 minutes
Total Time:
1 hour
30 minutes
Ingredients
1 1/2 lb. ground sirloin
1 1/2 tsp. creole seasoning
2 tsp chili powder
1 tsp cumin
1 8 oz. can tomato sauce
1 14.5 oz. can diced tomatoes
1 4 oz. can diced green chiles
1 14.5 oz can black beans, drained and rinsed
1 cup water
16 oz. container of cottage cheese
3 1/2 to 4 cups shredded Colby Jack cheese
1/2 tsp salt
1/4 tsp pepper
1 egg
1 tbsp cilantro, plus more for garnish
9 lasagna noodles, uncooked
Sliced black olives for topping (optional)
Instructions
In a large pot, season ground sirloin with creole seasoning, chili powder, and cumin and brown.
Add tomato sauce, diced tomatoes, black beans, green chiles, and water. Simmer over medium heat for about 10 minutes. Taste to season again. Turn off heat.
Mix cottage cheese, 1 cup shredded cheese, 1 egg, salt and pepper, and cilantro in a bowl.
Spray 9 x 13 casserole dish with cooking oil spray.
Add 1 1/2 cups sauce to bottom of casserole dish and spread out evenly.
Top with 3 uncooked noodles
Top with 1/3 of remaining meat sauce, 1/2 of cottage cheese mixture, 1 cup shredded cheese
Repeat with 3 more noodles, meat sauce, last 1/2 of cottage cheese, and shredded cheese.
Top with last 3 noodles, last 1/3 of meat sauce and more shredded cheese.
Cover with foil sealing edges tightly. Bake at 350 for 50 minutes. Uncover and bake for 5 to 10 minutes more. *You may want to place casserole dish on a sheet pan in case any sauce bubbles over.
Top with sliced olives and cilantro. Allow to cool about 10 minutes before cutting and serving.
Recommended Products
As an Amazon Associate and member of other affiliate programs, I earn from qualifying purchases. This helps us keep our blog running efficiently and allows us to create more recipes for you.
 Looking for other great recipes?
Vidalia Onion Cornbread Muffins