Dainty, sweet cookies flavored with LorAnn Princess Emulsion are perfect for your little girl's next party or a sweet baby girl shower.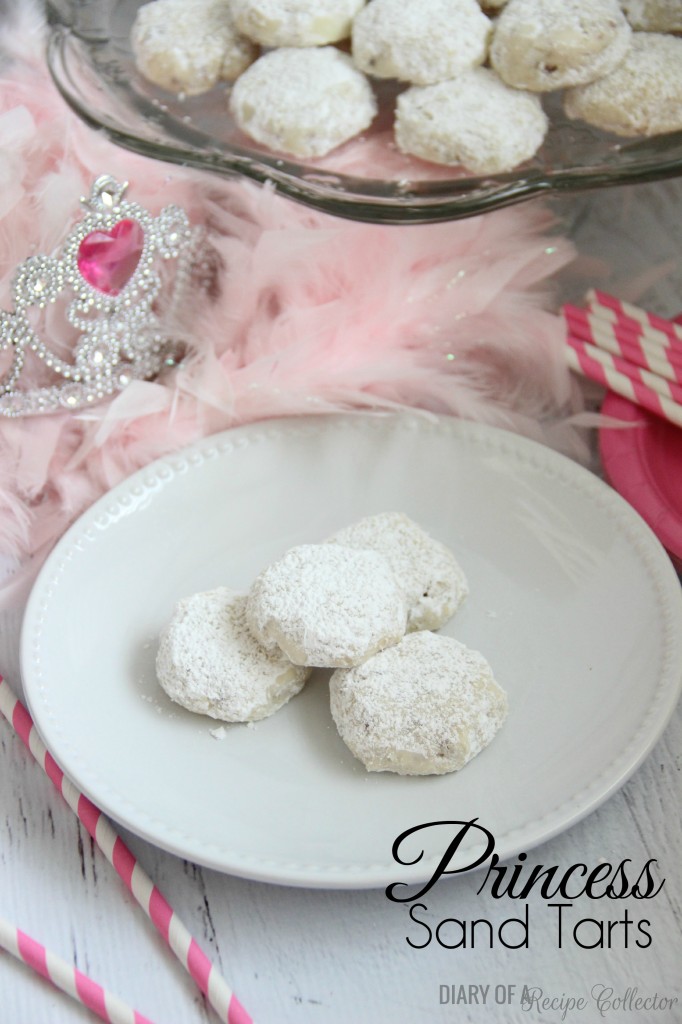 So the other day I received some "happy mail!"  A small box arrived at my doorstep directly from LorAnn Oils and Flavors.  I couldn't wait to get started baking with them.  The wheels in my head immediately started turning trying to figure out what I wanted to create.  I filled up a post-it note with ideas so quickly because these flavorings are just so fun!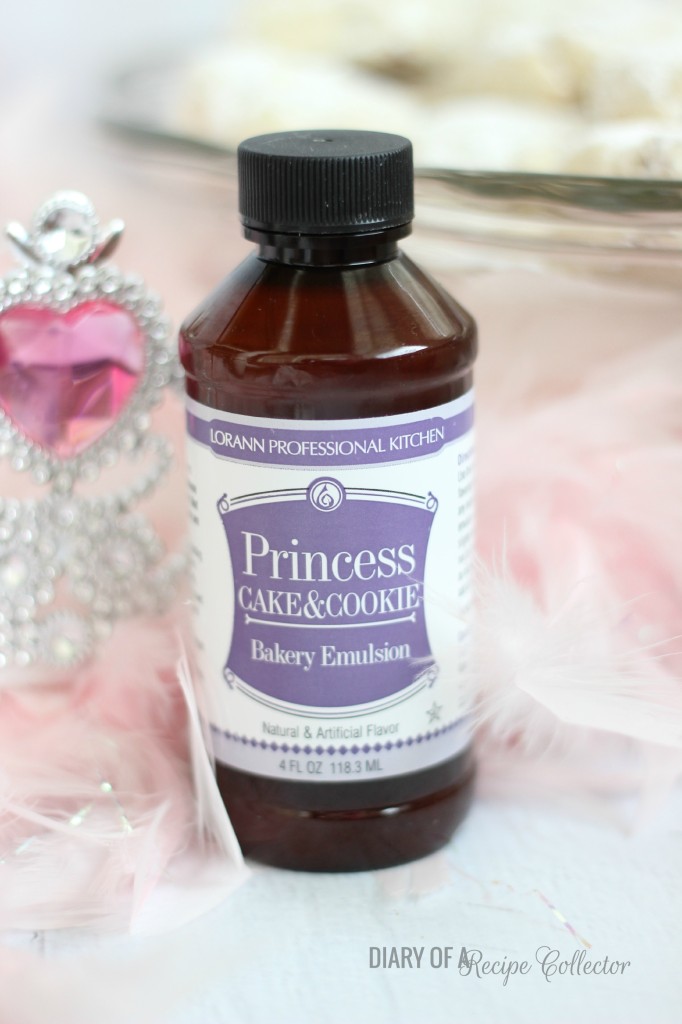 I couldn't wait to use the Princess Bakery Emulsion!  It smells so good and I instantly knew I wanted to make something sweet and dainty.  And what's more dainty than a sand tart?
So what is a bakery emulsion you might ask?  They are water-based alternatives to extracts which are alcohol-based.  As a result, the flavors  taste true and do not bake out.  You use them in the same amounts as you would an extract.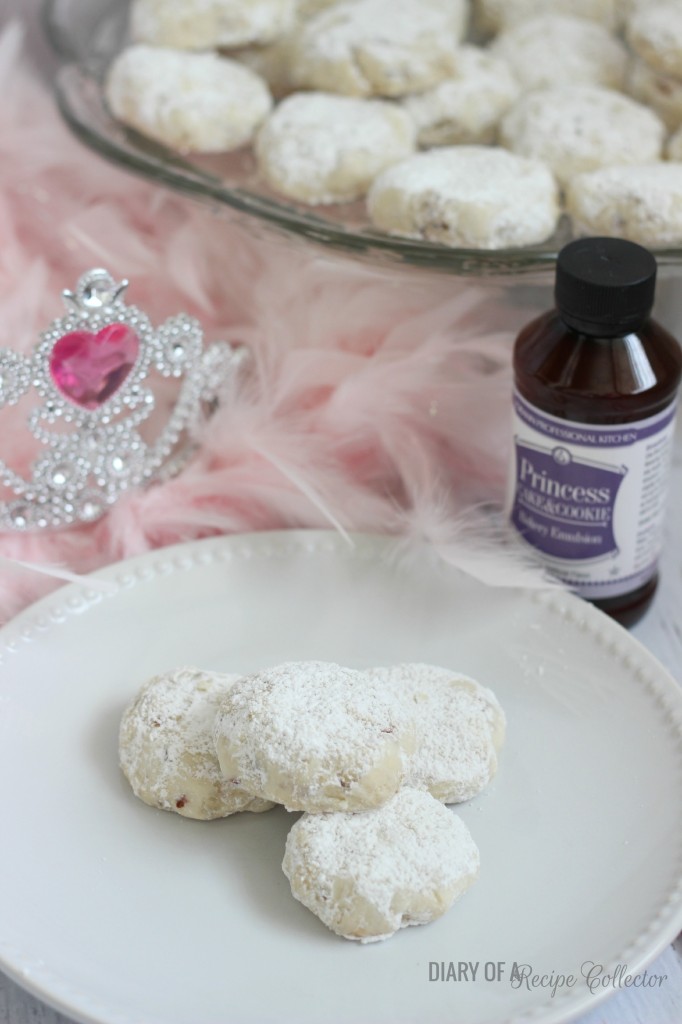 Wouldn't these be perfect for a little girl's birthday party or a baby girl baby shower?  You really must try them!  They received great reviews from all my taste testers:)
LorAnn has other bakery emulsions and flavorings.  They aren't just for baking either!  I can't wait to use the Coconut Flavor and Pumpkin Spice Emulsion too.
So if you are wanting to know what else you can make, please check out the other blogs below the recipe to get some great ideas!!
*Note-LorAnn provided me with products, but all opinions are my own.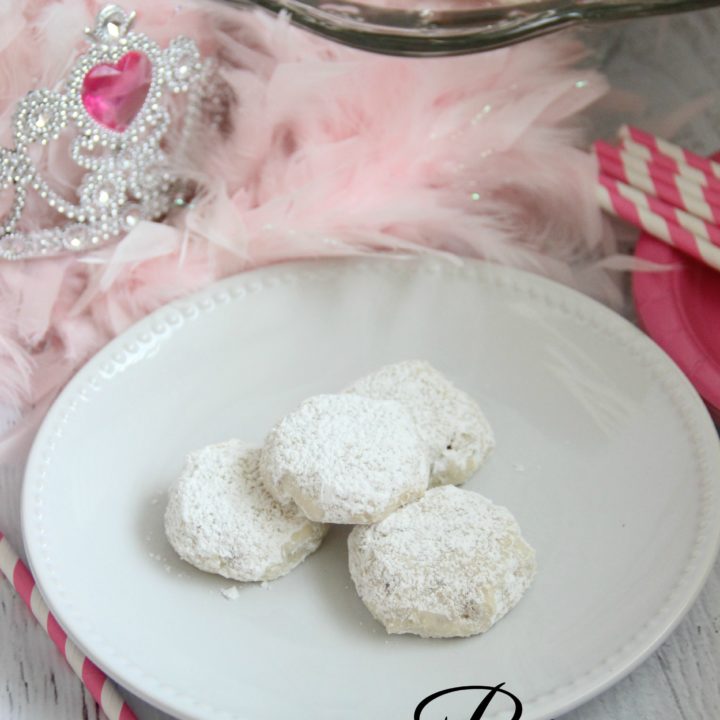 Princess Sand Tarts
Ingredients
1/4 cup powdered sugar plus more for dusting
1 stick of butter, softened
1 tsp LorAnn Princess Bakery Emulsion
1 cup flour
1/2 cup finely chopped pecans
Instructions
Preheat oven to 270 degrees.
In a large bowl, beat the butter and sugar until creamy.
Add emulsion and mix again.
With mixer on low, slowly add flour.
Stir in pecans.
Roll dough into approximately 1 inch balls. If dough is too sticky, sprinkle some flour on your hands.
Place on cookie sheet and press down slightly to flatten.
Bake at 270 for 38-40 minutes.
Let cool for about 10 to 15 minutes and dust with powdered sugar.
Strawberry Fudge from The Stylish Nest
Pumpkin Spice Latte French Macarons from Rickabamboo
Amaretto Cookies from The Blonde in the Apron
No Soda Root Beer Cupcakes and Frosting from Juggling Act Mama
Coffee Donuts from the First Year Blog
Pumpkin Spice Brownie Cookies from Flippin' Delicious
Pumpkin Spice Latte Cake from The Frugal Foodie Mama
Sink Freshening Tabs in a Snap from Christina, Plain and Simple
Marshmallow Cookies with Princess Cake Frosting from Mom's Busy Helper
White Chocolate Key Lime Shortbread from It Bakes Me Happy
Toasted Coconut Hot Chocolate from Delightful E Made
Pumpkin Spice Protein Smoothie from Nel's Nook
Cinnamon Spice Cake with Caramel Frosting from Hezzi-D's Book and Cooks
Almond Cake Cookies with Cinnamon Spice Glaze from Mom's Test Kitchen
Soft Pumpkin Spice Cookies from Love Bakes Good Cakes
Princess Sand Tarts from Diary of a Recipe Collector
Baked Pumpkin Donuts with Cinnamon Glaze from Deliciously Sprinkled
Pumpkin Cheesecake Mousse from Confessions of a Cooking Diva
Purple People Eater Popcorn Balls from Seven Alive
Green Apple High Hat Cupcakes from Pint Sized Baker
Pumpkin Pie Pudding Parfait from Fearlessly Creative Mamas
Mango Butter Cake from Clark's Condensed
‎Pistachio Lemon cake from Self Proclaimed Foodie
Apple Crumb Coffee Cake from Healthy Delicious
Chocolate Chip Horchata Zucchini Bread from Plate to Gate
Key Lime Cookies from Cooking with Curls
Key Lime Margarita Cookies from Lori's Culinary Adventures
Chocolate Irish Cream Bundt Cake from Lynsey Lou's
Earl Grey Shortbread Cookies from Never Skip Dessert
‎Maple Pumpkin Bread Pudding with Salted Maple Caramel Sauce from the Paisley Barn
Pumpkin Cinnamon Cream Puffs from That's my Home
Citrus Body Scrub from Melissa's Cuisine
Pumpkin Spiced Tres Leches Cake from Flavor Mosaic
Salted Caramel Meringue Cookies from The Bitter Side of Sweet
Pumpkin Toffee from Eazy Peazy Meals
Movie Theater Chocolate from KC Bakes
Lactose Free Bacarian Cream Pudding from Travel Parent
Red Velvet Muffins from I Love my Disorganized Life
Maple Bacon Fruit Dip from Renee's Kitchen Adventures
Maple Macadamia Nut Bread Pudding from Awesome on $20 a Day
Pumpkin Spice Caramel Corn Snacks from Grumpy's Honey Bunch
Cranberry Cheesecake Bites from Lady Behind the Curtain
Pumpkin French Macarons from Sweet and Savory by Shinee
Caramelized Apple Spice Cake from The Freshman Cook
Other great party and shower ideas:
Lemon Blossoms