These are not your average chicken salad wraps.  They are filled with whipped cream cheese, shredded lettuce, and provolone cheese.  They really are the ultimate chicken salad rollups!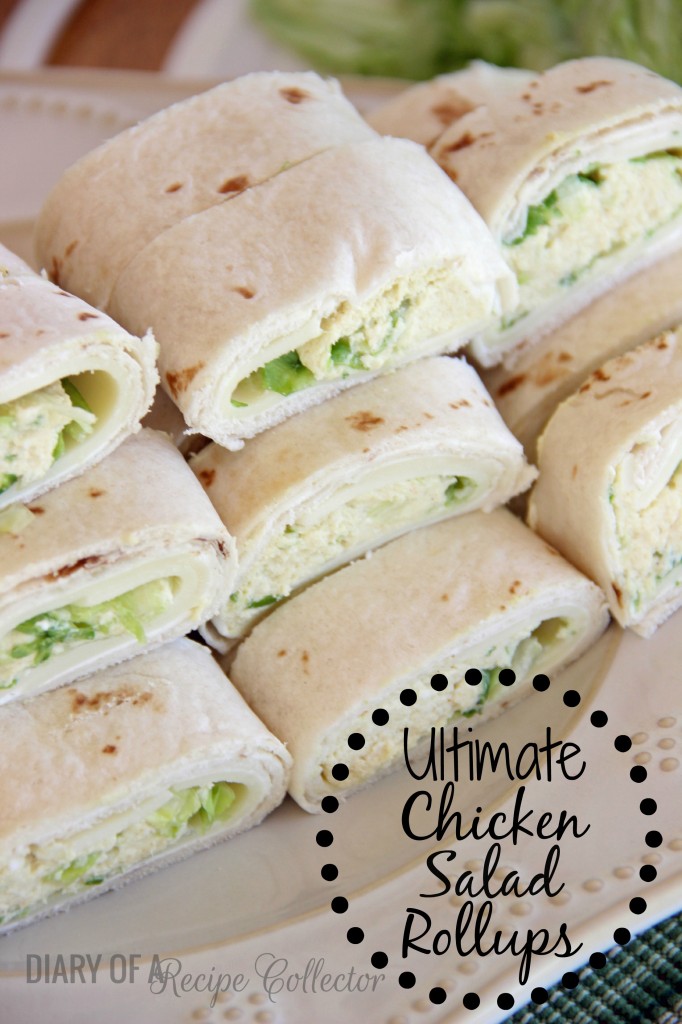 So this weekend was a little busy for us, and we needed a quick little snack like these rollups.  With only 5 weeks left until my due date for baby #4,  I knew I NEEDED to potty train my 2 1/2 year old.  We've done two in diapers before (our oldest two are 17 months apart) and we just would like to avoid that again.  She did so well!  I think she'll be pretty well trained in a few weeks.  So I spent a lot of time  in the bathroom with her, and I didn't have a lot of time to make any elaborate meals.
Luckily these are great little rollups to make ahead and keep in the fridge for when you are famished.  I also love to make them for  vacation each year.   But one of my favorite uses for them is as an alternative to chicken salad sandwiches at a shower.  They really are a hit and get eaten up very quickly.  I first learned to make them from my friend's mom.  She made  them for my friend's baby shower, and they've become a recipe I'll never forget.
First start off by spreading a large tortilla with whipped cream cheese.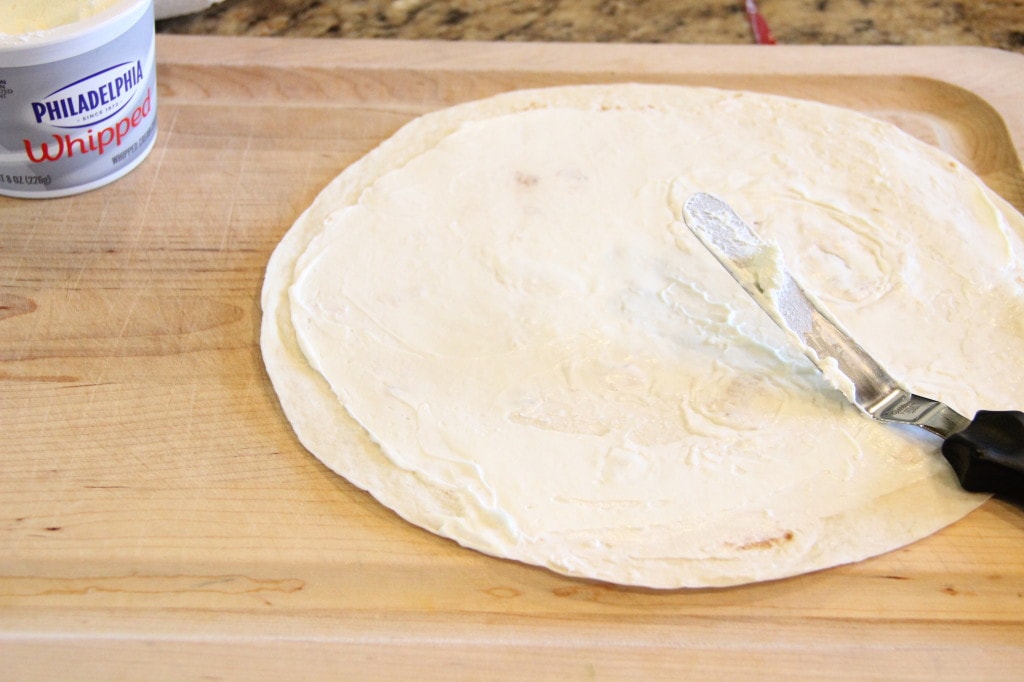 Along one edge. layer the provolone cheese.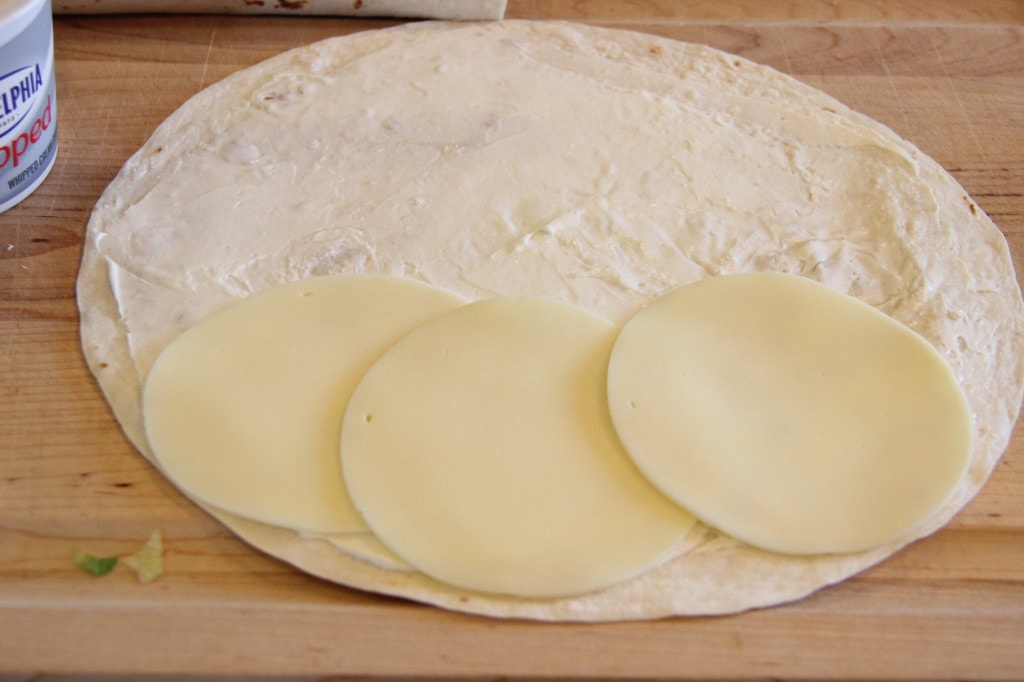 Top with shredded lettuce.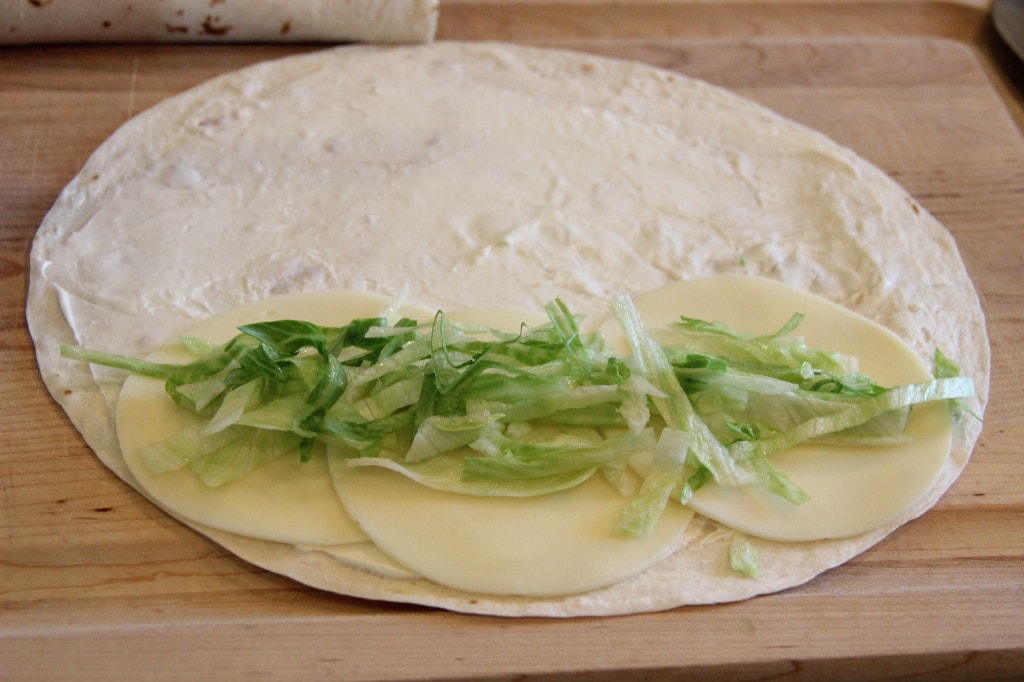 Top lettuce with chicken salad.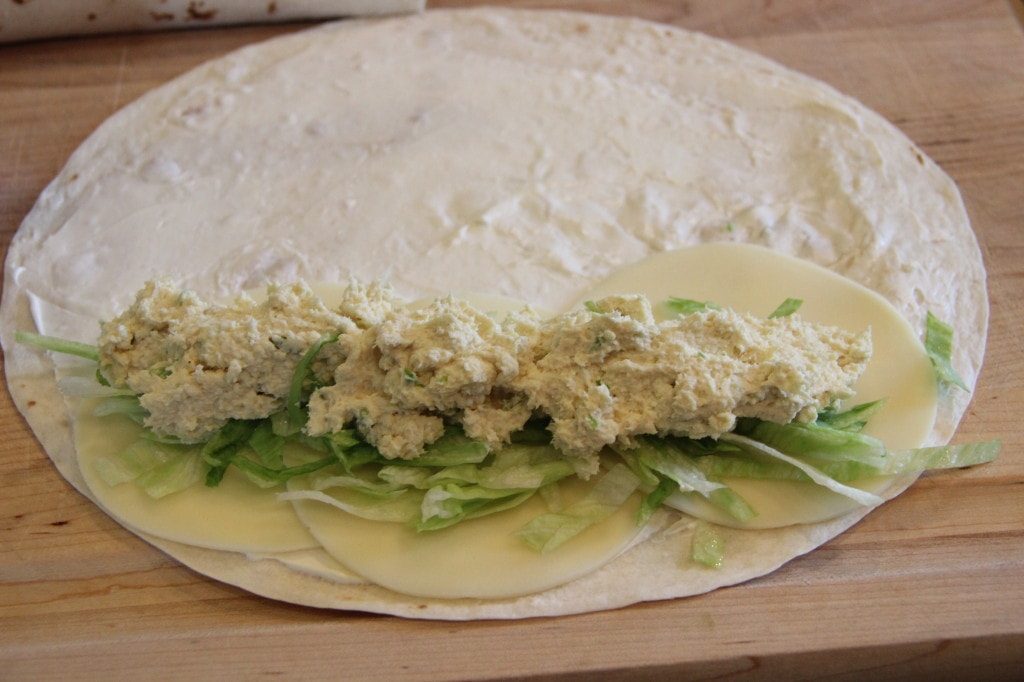 Finally, roll them up and place in fridge to chill before slicing.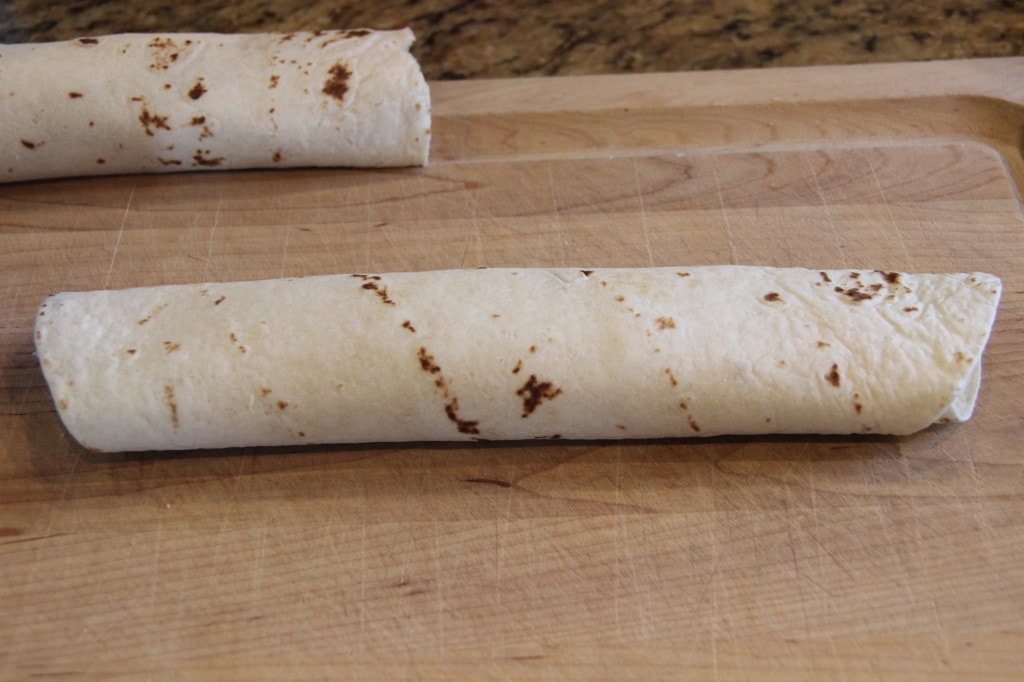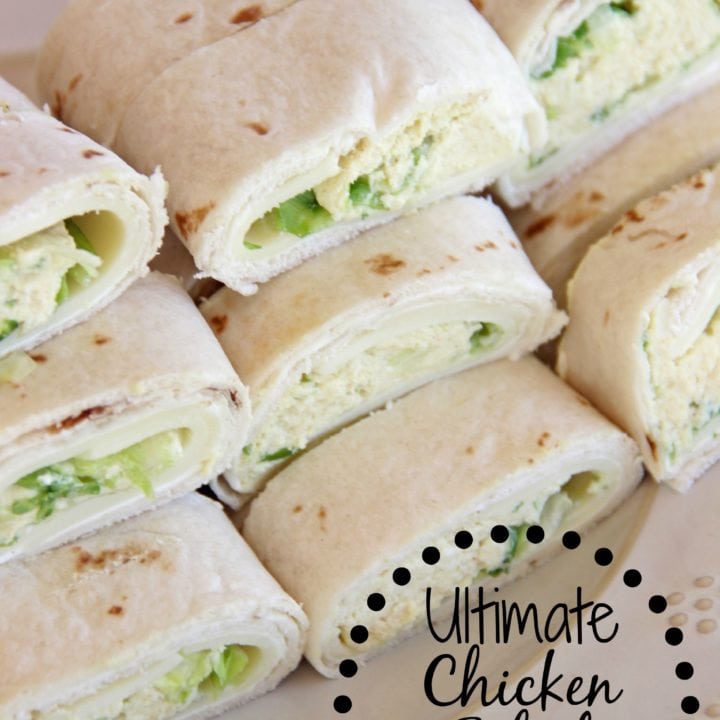 Ultimate Chicken Salad Pinwheels
Ingredients
2 boneless chicken breasts, seasoned and boiled
2 green onions
3 eggs, boiled
1/2 cup mayo
1 tsp mustard
salt and pepper
4 tortillas (burrito size)
1/2 cup shredded lettuce
12 slices provolone
1/2 cup whipped cream cheese.
Instructions
Roughly chop chicken and green onions.
Add to food processor and pulse a few times.
Add in eggs, mayo, mustard, and salt and pepper to taste. Pulse until combined. If too dry, add a little more mayo. Adjust seasoning to taste.
To assemble: Spread about 1 tbsp whipped cream cheese on tortillas. Add 3 slices of provolone to the edge of the tortilla (see picture). Top with shredded lettuce and finally 3 -4 tbsp of chicken salad. Starting at one end, roll up. Repeat with remaining ingredients.
Wrap in plastic wrap and chill at least one hour.
Cut into 1 inch sections using a serrated knife.
Notes
Add a little white onion (about 1/8 of an onion) when processing for a nice kick. You can also add sweet relish.
Recommended Products
As an Amazon Associate and member of other affiliate programs, I earn from qualifying purchases. This helps us keep our blog running efficiently and allows us to create more recipes for you.
Linking up with:
Time to Sparkle
Totally Talented Tuesdays
Tasty Tuesday
Weekend Retreat
Best of the Weekend
Other great foods for a shower: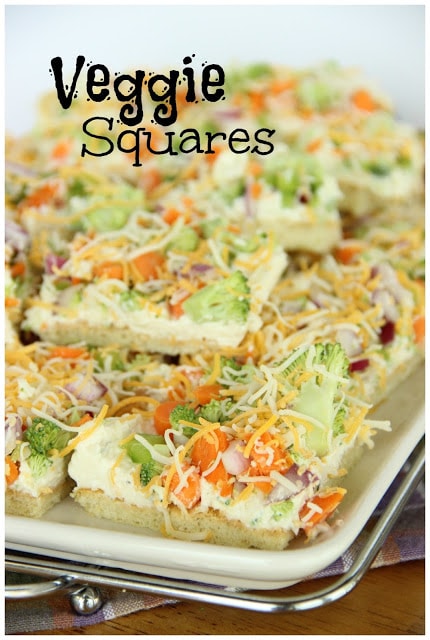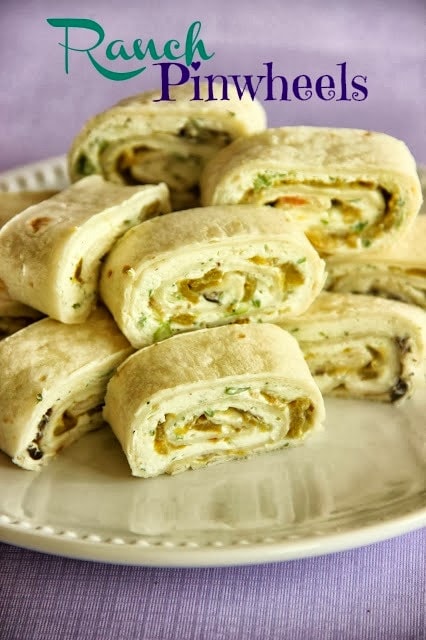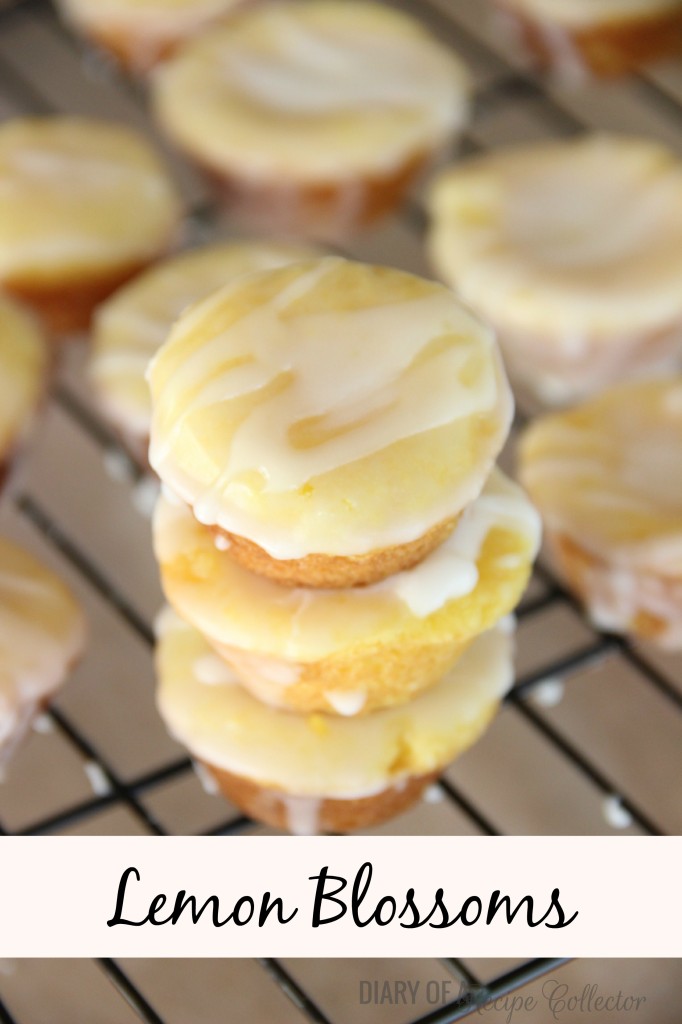 And please don't forget about your chance to win $1000.  You can enter here: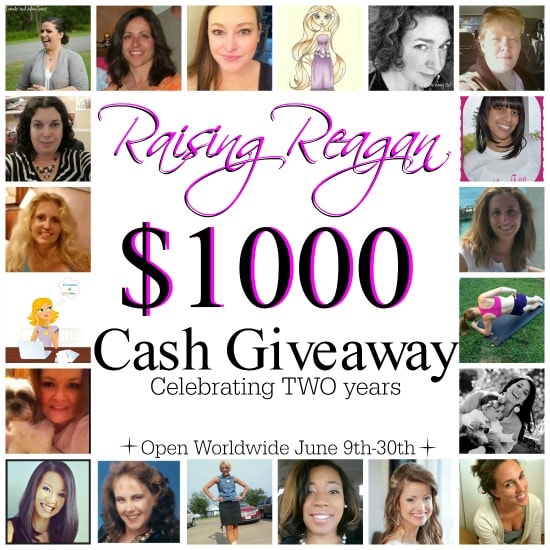 Have a great day!