Potato & Sausage Soup – A hearty soup filled with breakfast sausage and frozen hash brown potatoes making it a quick and easy soup recipe idea!

I could not wait to bring you this recipe today! We LOVED it! I can see myself making this all the time because it only took about 30 minutes to make too! It was such a big bowl of comfort food for sure 🙂
And according to our forecast for the next few days, comfort food is in order. We are apparently going to get a ton of rain and severe weather…so much of it that they cancelled school! That is always a special treat when we find out we get to sleep in and stay in our jammies.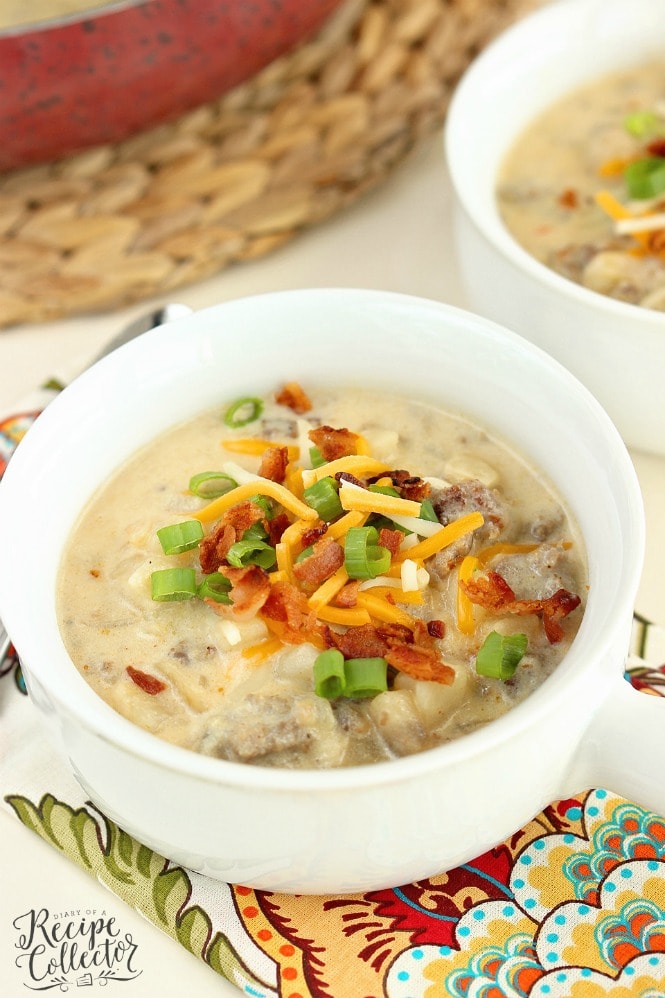 However looking outside this morning, I don't see much in the way of all that rain. I guess we'll see if we get some later. In the meantime, I am not complaining about getting a day off of the usual hustle and bustle! We have such a busy weekend ahead of us that I can definitely use this time. Now hopefully I can be productive with my day with all 4 of the kiddos here.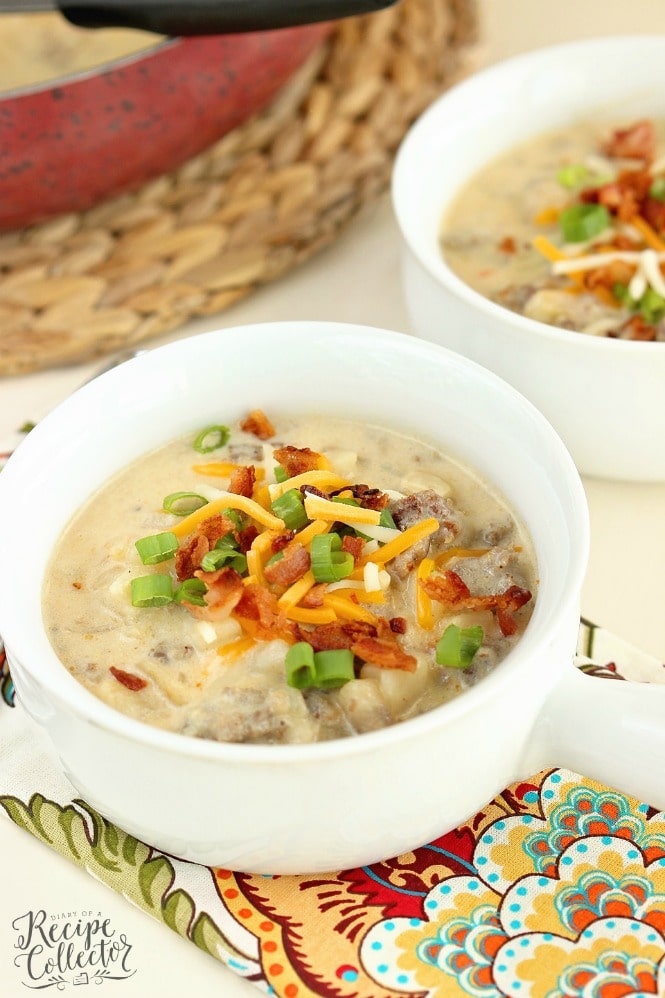 Maybe I'll make another pot of this Potato & Sausage Soup! And if your family is anything like mine, make extra bacon. Because by the time I wanted to use it for my topping on my soup, they had already eaten most of it! Does that happen at your house too? They all come running to the kitchen when they smell me cooking it. My son also does the same thing when it comes to the breakfast sausage. Needless to say, he was hanging out with me a lot while I made this soup 🙂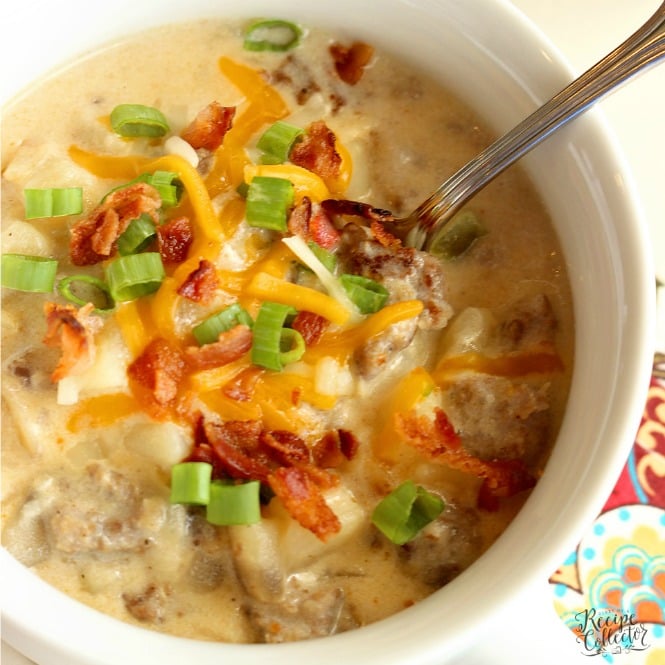 Potato & Sausage Soup
Author:
Cook time:
Total time:
Ingredients
1 lb. breakfast sausage (Jimmy Dean)
1 tbsp olive oil
1 small onion, chopped
3 cups frozen hashbrowns (Potatoes O'Brien)*
1 tsp creole seasoning
1 10 oz can Cream of Potato soup
3 cups milk
3 to 4 slices of bacon
2 green onions, chopped
1/2 cup shredded cheese (I used a Cheddar Jack blend)
Instructions
In a large pot, brown sausage. Once browned remove to a paper towel-lined plate.
Add olive oil and then chopped onion. Add hashbrowns and saute for about 7 or 8 minutes or until potatoes are starting to brown and softened. Add creole seasoning while browning.
Add sausage back to pot along with cream of potato soup and stir to combine.
Add milk and stir. Bring soup to a boil and then reduce to simmer, stirring frequently. Soup will thicken after about 5 to 7 minutes. Once thickened, turn off heat.
While soup simmers, cook bacon in a separate skillet until crispy. Remove to a paper towel and crumble once cooled.
Ladle into serving bowls and top with crumbled bacon, shredded cheese, and green onions.
Notes
For the frozen hashbrowns, I used Potatoes O'Brien which is the diced potatoes with onions and peppers. You could also use frozen shredded hashbrowns. If you'd like to use fresh potatoes, chop them in small cubes.
Other recipes you might like:
Crockpot Sausage & Potatoes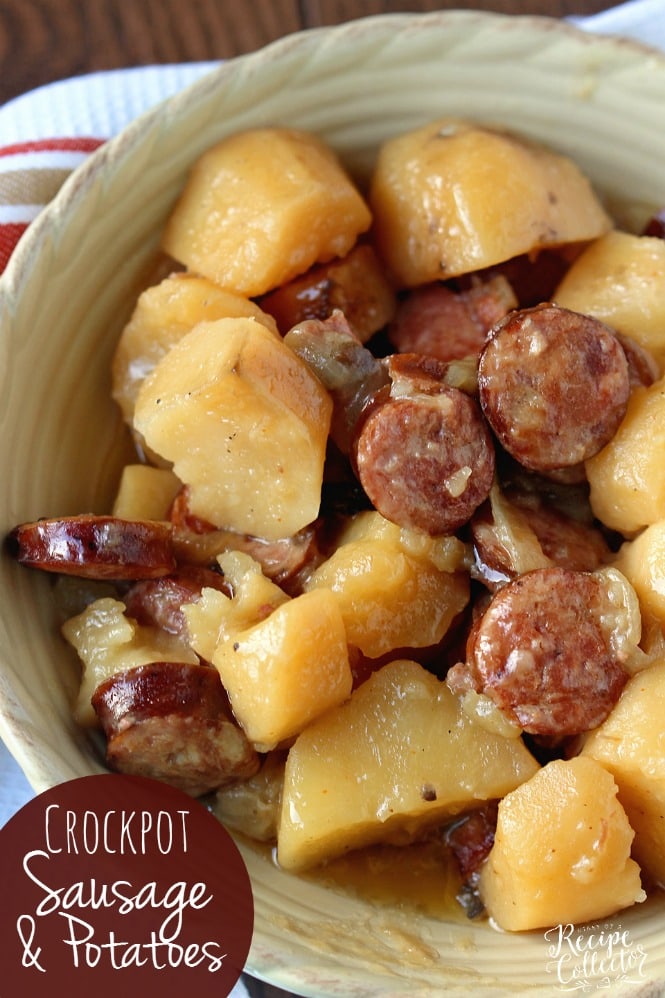 Stuffed Sausage Bread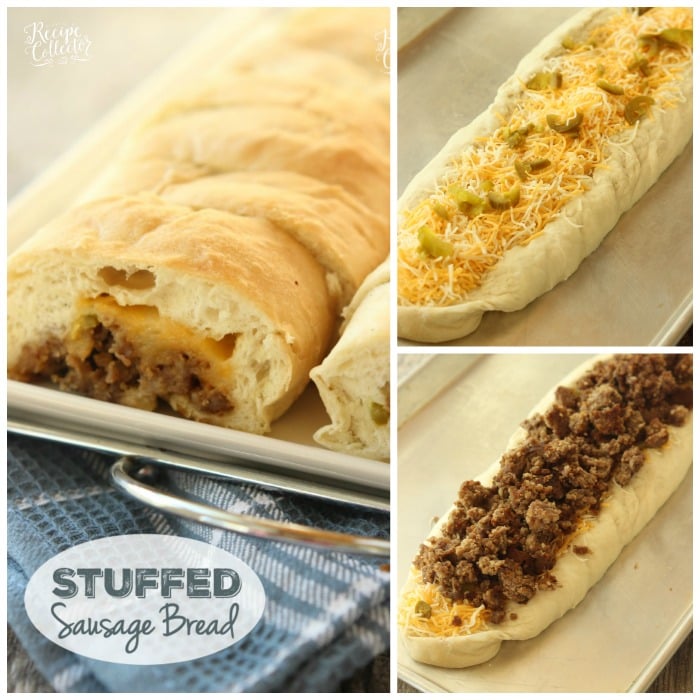 Baked Potato Casserole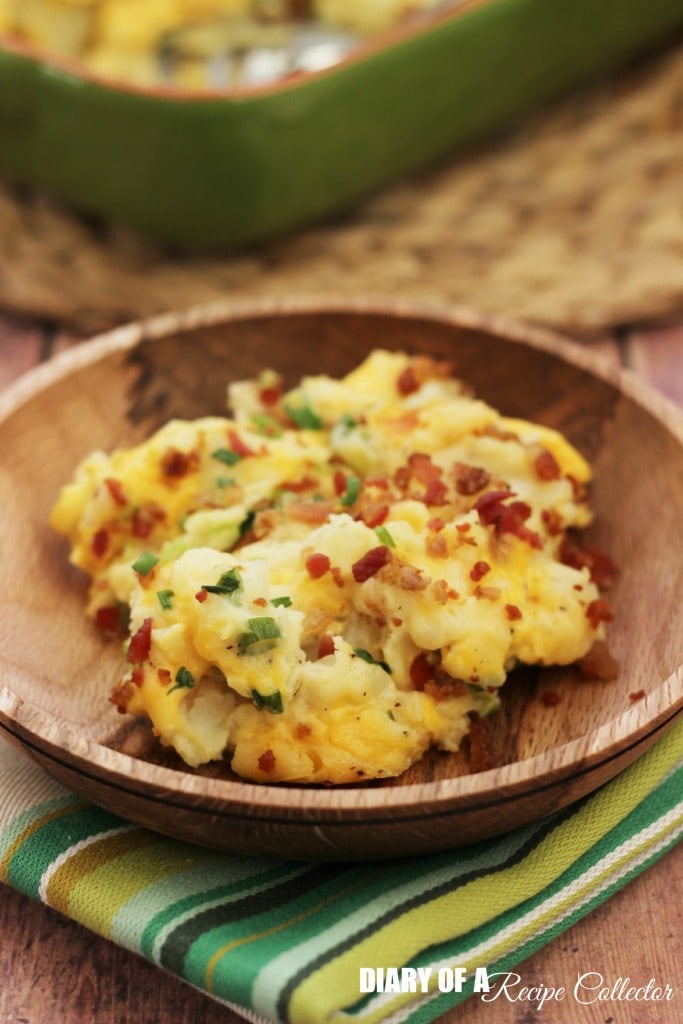 Sausage, Egg, & Cheese Croissant Bake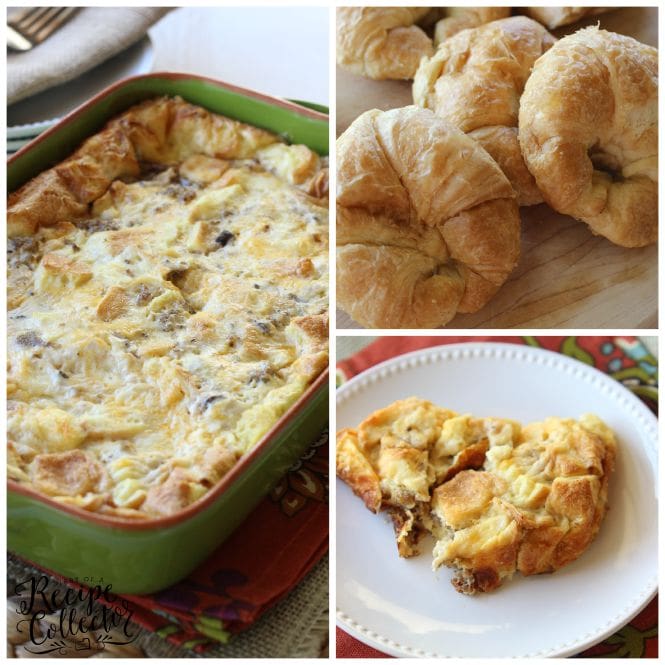 You can find more MAIN DISH RECIPES HERE.
You can find ALL RECIPES HERE.
For more ideas, follow me on FACEBOOK, PINTEREST, INSTAGRAM, TWITTER, AND PERISCOPE.
Get FREE recipes delivered to you by email: SIGN UP HERE!