Stuffed Sausage Bread – This is an appetizer that is such a crowd-pleaser!  It starts with frozen bread dough and is filled with breakfast sausage, cheese, and jalapenos.  Everyone LOVES it!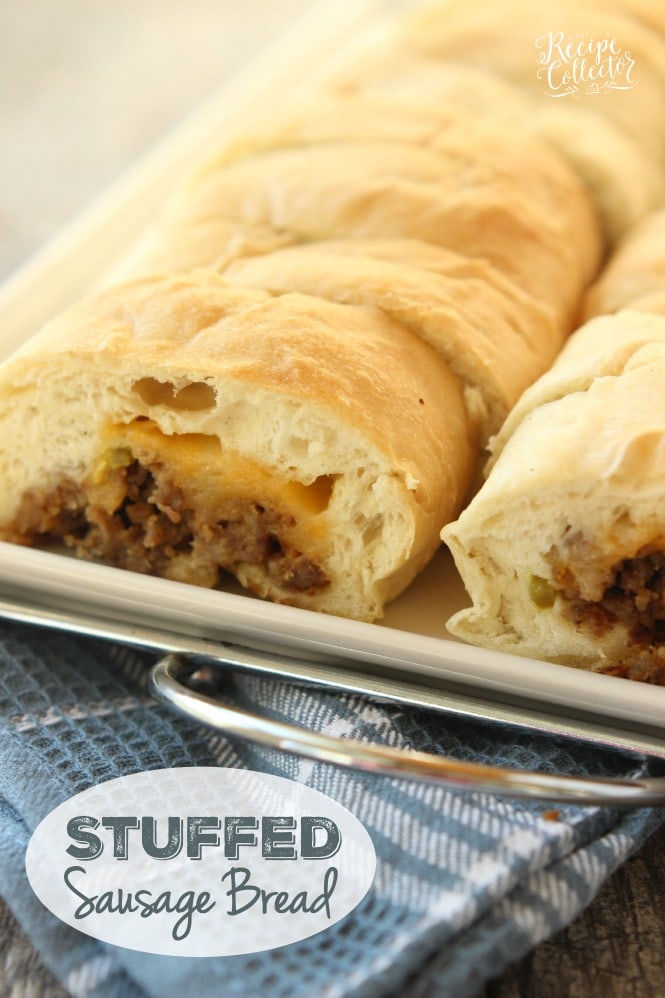 *Update-This recipe was originally posted in 2013.  It is by far my favorite thing to make for any gathering we go to for sure!  So I had to share it again with all my new readers!
See the VIDEO below for this recipe!!
This is my favorite recipe for many reasons.  I make it for most holiday festivities, birthday parties, etc.  If I don't make it for my husband's family, they usually ask me why.  It is a super simple recipe and such a CROWD PLEASER!  My mom got this from a friend a long time ago, and I first learned how to make it when I was about 18.  Around the holidays, I always have the ingredients (which are minimal) on hand.  In fact, I refer to the holidays as "Stuffed Bread Season" when I am making my grocery list.  The smell of this baking in the oven is total comfort to me.  It reminds me of all the good and happy times and all the excitement centered around the holidays and fun times!  Oh how I love this recipe!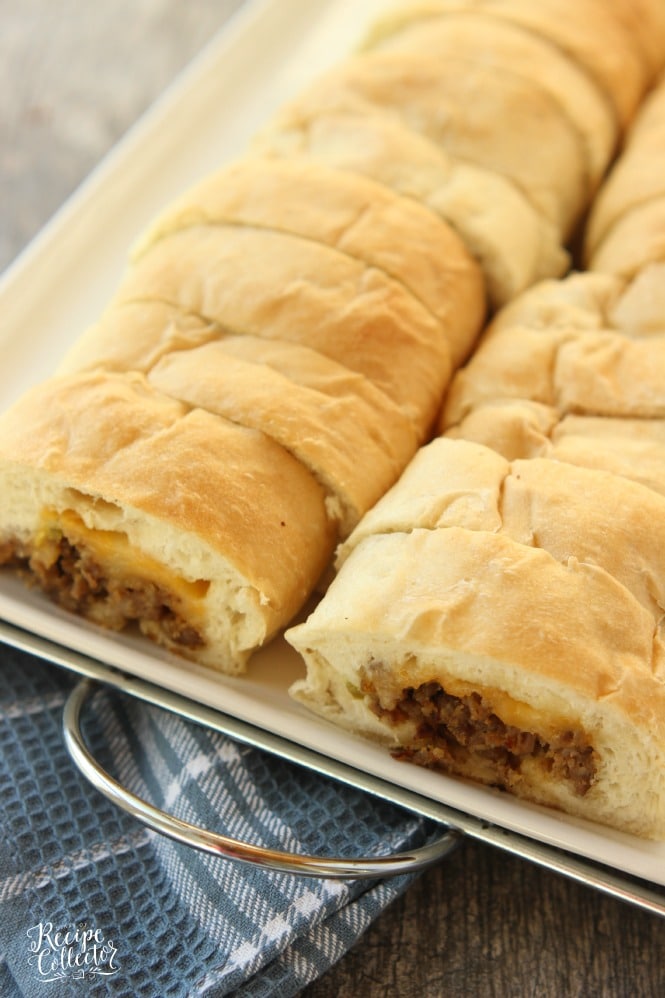 Now people normally ask me how to make it, and they seem quite curious as to how I stuff the meat and cheese in there.  It seems complicated, but it is so easy!  I've made so many of these.  I can practically do it with my eyes closed now.

Start out with a thawed bread loaf.  I find these in the freezer section where all the rolls are.  They usually come in packs of three…perfect because I normally make a lot.  I thaw it out overnight by wrapping it in saran wrap and setting it in the fridge.  I take it out about 30 minutes before I'm ready for it…usually while I'm browning the sausage.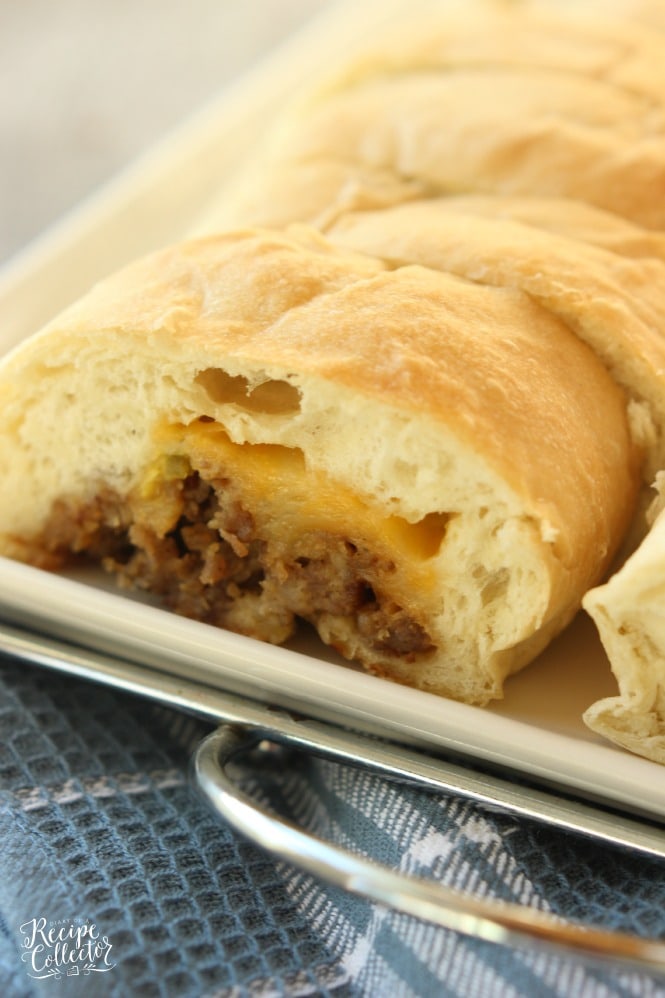 All you need to do is pull and spread the dough out a little.  Don't make it too thin along the bottom or it will tear.  Then just top the dough with shredded cheese and jarred jalapenos and pull up on sides to seal it.
Most of the time I DOUBLE the recipe because one loaf is never enough to feed a crowd!  This is also great for breakfast or brunch too!
Be sure to check out my tips at the bottom of the recipe!  I've perfected the art of this one and had to share my suggestions 🙂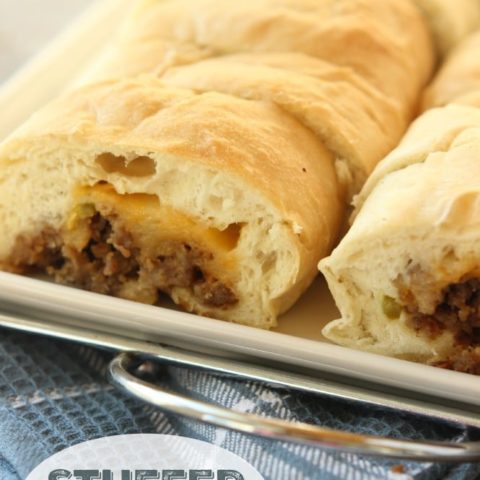 Stuffed Sausage Bread
Ingredients
1 frozen bread dough loaf (thawed)
1 regular size roll of breakfast sausage
1 1/2 cups shredded cheese (Colby Jack or Cheddar)
jarred jalapenos to taste
cooking oil spray
*SEE NOTES FOR TIPS
Instructions
Take THAWED dough out of fridge and let sit out on counter while you brown the sausage.
Spread the dough out on baking pan.
Sprinkle shredded cheese, then jalapenos, and then sausage.
Pull sides of dough together and press to seal really well.
Flip dough seam-side down and spray the pan under dough with a little cooking oil spray.
Bake at 350 degrees for about 30 minutes or until golden brown. Let cool for 20 to 30 minutes and slice to serve.
Notes
*I find the frozen bread dough in the store's freezer section. They come in packs of three. Two brands I've found: Rhodes and Bridgeford

*I usually DOUBLE the recipe and make two. One disappears in no time!

*Time management tip: I allow about 1 1/2 hours for this recipe. 30 minutes to brown sausage and fill bread, 30 minutes to bake, and 30 minutes to cool. I can usually get it done a little quicker, but that is a good place to start the first time you make this. Many times, I will not slice it up until we arrive at our gathering. If that's what you choose to do, you can just start it an hour before leaving.

*Usually I take frozen dough out the night before and let it defrost in the refrigerator (wrapped in plastic wrap). If I forget, I'll take it out and set it on the counter to defrost during the day and then refrigerate once thawed and until I'm ready to begin recipe. I've even followed the quick thaw method on the package directions, which involves using the oven.

*Leaving dough out at room temperature thawed for too long will cause it to become very sticky and more difficult to work with, so I usually take it out of fridge once I begin recipe.
Recommended Products
As an Amazon Associate and member of other affiliate programs, I earn from qualifying purchases. This helps us keep our blog running efficiently and allows us to create more recipes for you.



Other recipes you may love:
Stuffed Pepperoni & Cheese Bread