Garlic Cream Chicken Calzone – Pizza dough stuffed and rolled up with grilled chicken, spinach, jack cheese, and a garlic cream sauce.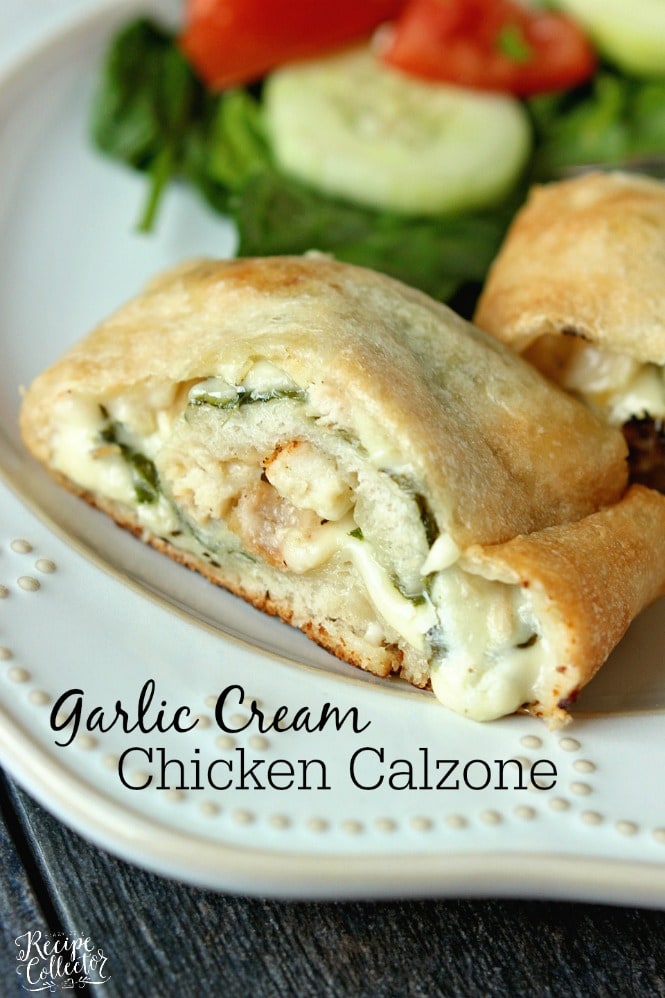 Well hello Thursday!  Where did this week go?  I feel like it just started.  I guess that's not a bad thing since my hubby and I actually have an exciting outing this weekend!  And I really need a night away…for real!  The week started out a little rough (so I guess that is why it flew by for me).  My son woke up with the always fun strep throat Monday morning.  So he was home with me for two days, and so far everyone else is fever free.  Fingers-crossed cause this momma actually has some grown-up weekend plans…and that is pretty much non-existent these days.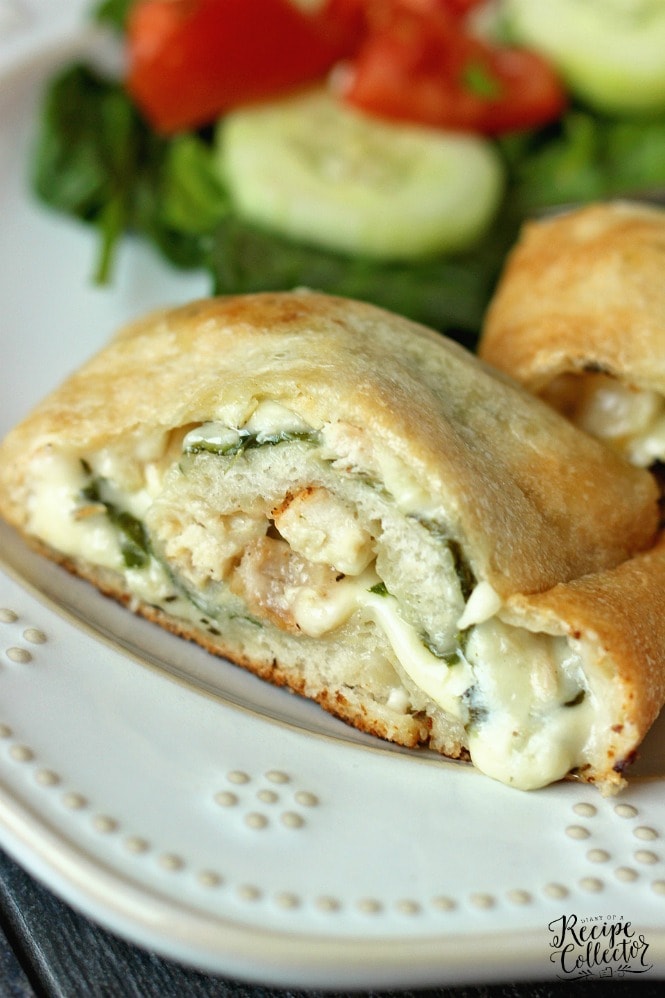 My husband and I have our Mardi Gras crew cocktail party.  I'm so excited to get out!  Can you tell?  My husband is pretty ecstatic too!  I always said when we had kids we would still have date nights.  Well now that never happens for all sorts of different reasons. First, because it's hard to find a sitter for 4 kids.  Second, my mother is always helping me with my kids, so I feel bad asking her to watch them to go out somewhere.  Third, babysitters for 4 kids = kind of pricey.  Needless to say, we end up staying home a lot.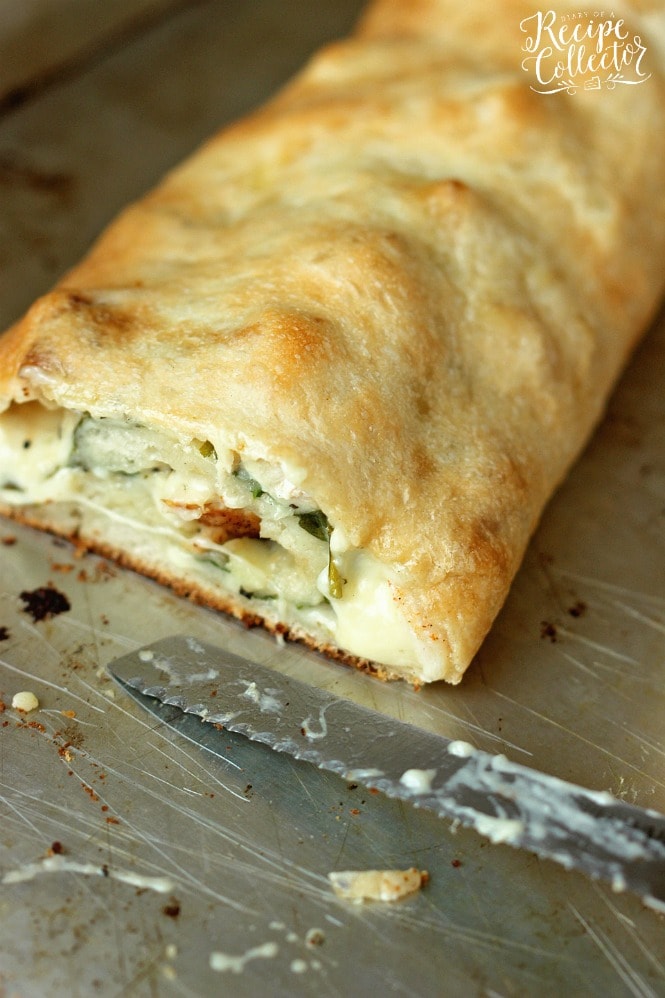 So we are totally going to enjoy every moment of our night out.  And my kids love having a sitter.  They feel like it's an extra special fun night for them too!  Win-win!
And this Garlic Cream Chicken Calzone was a win-win too!  I made it quick and easy with the help of refrigerated pizza dough.  The garlic cream sauce in it is wonderful!  It's the same one used on one of my most popular recipes.  Plus I added spinach, and I was totally in love with this recipe.  I got so excited to have some leftover for lunch the next day too!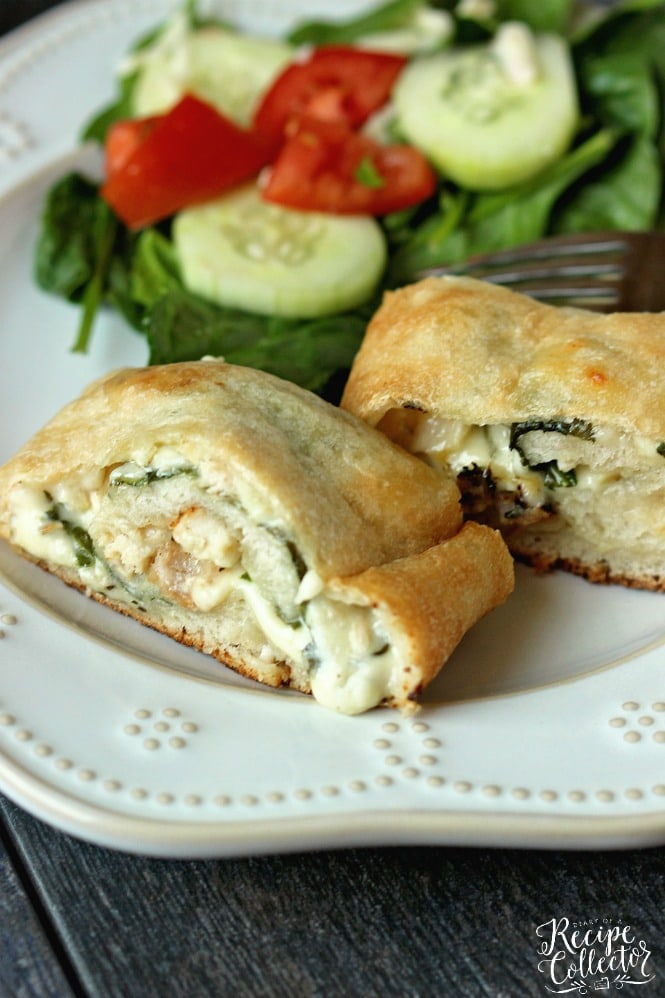 I grilled my chicken the day I made the calzone, but this recipe would be great if you had some leftover grilled chicken.  Then you would REALLY have a speedy supper idea!  Hope you enjoy it!  See you guys tomorrow with a special Friday post!!!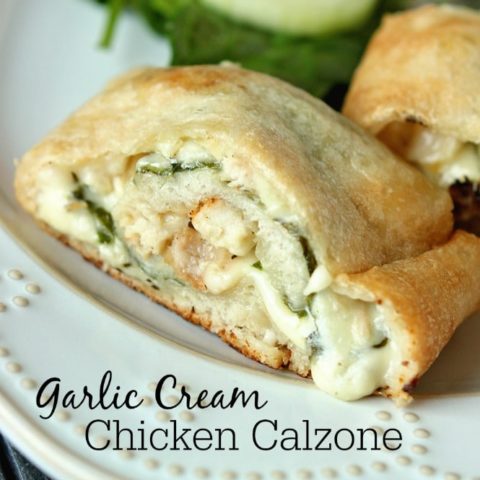 Garlic Cream Chicken Calzone
Ingredients
2 chicken breasts
1 tsp creole seasoning
2 tbsp butter
1 tbsp olive oil
4 cloves garlic, finely chopped
2 tbsp all purpose flour
1/4 tsp chicken bouillon powder/granules dissolved in 1/4 cup HOT water OR 1/4 cup chicken broth*
3/4 cup milk
salt and pepper
3/4 tsp dried basil
1 1/2 cups shredded Monterrey Jack cheese
1 cup fresh baby spinach
1 tube refrigerated pizza dough
Instructions
Season chicken with creole seasoning. Grill over medium to medium-high heat for 8 to 9 minutes per side or until cooked. Remove from heat and let it rest while you prepare the cream sauce.
In a skillet, melt butter and oil over medium heat. Add garlic. Cook for 2 minutes. Add flour and cook for 1 to 2 minutes stirring frequently. Add chicken broth* and stir. Add milk slowly and stir. Season to taste with salt and pepper. Add basil. Stir and cook for 2 more minutes over medium heat. It will begin to thicken. Remove from heat.
Unroll pizza dough onto sheet pan and spread out to about a 10 x 15 inch rectangle. Spread garlic cream sauce over the entire area of dough. Top with chopped grilled chicken. Top with baby spinach and shredded cheese. Beginning with longer end roll up while being careful to continue to tuck ingredients in as you roll it up. Place on a baking sheet seam side down. Spray with a little cooking oil spray under dough. Bake at 350 for 15 to 20 minutes or until golden brown. Let sit about 5 minutes to cool. Slice and serve warm.
Notes
*You could also sub a 1/4 cup white wine for a slightly different flavor in these.
Recommended Products
As an Amazon Associate and member of other affiliate programs, I earn from qualifying purchases. This helps us keep our blog running efficiently and allows us to create more recipes for you.
Here are some other recipes you might love:
Grilled Chicken & Bacon Pizza with a Garlic Cream Sauce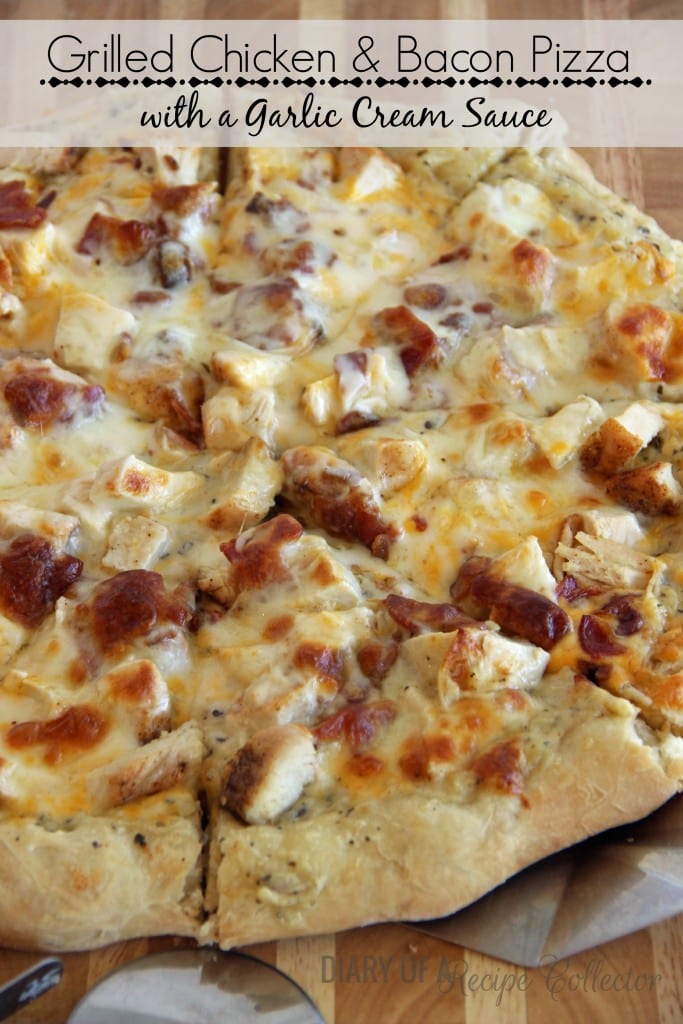 Grilled Chicken & Bacon Panini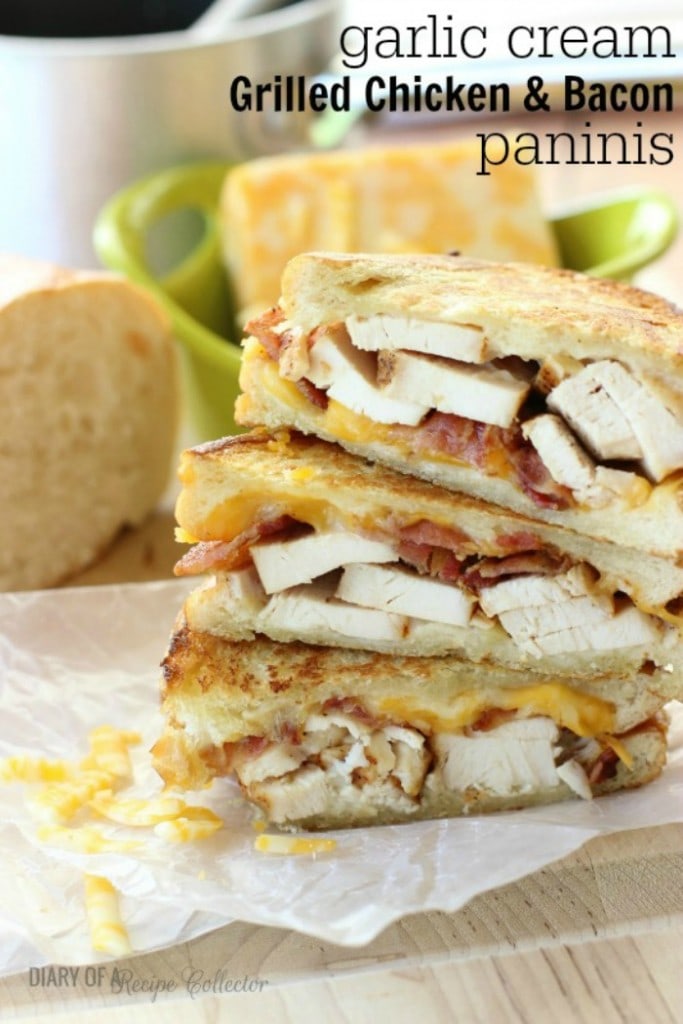 Chicken & Bacon Alfredo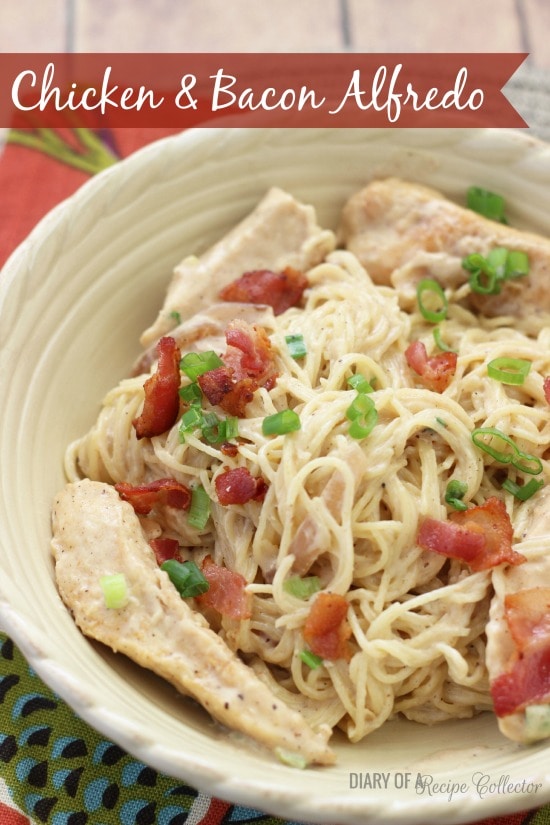 Honey Mustard Chicken & Bacon Skewers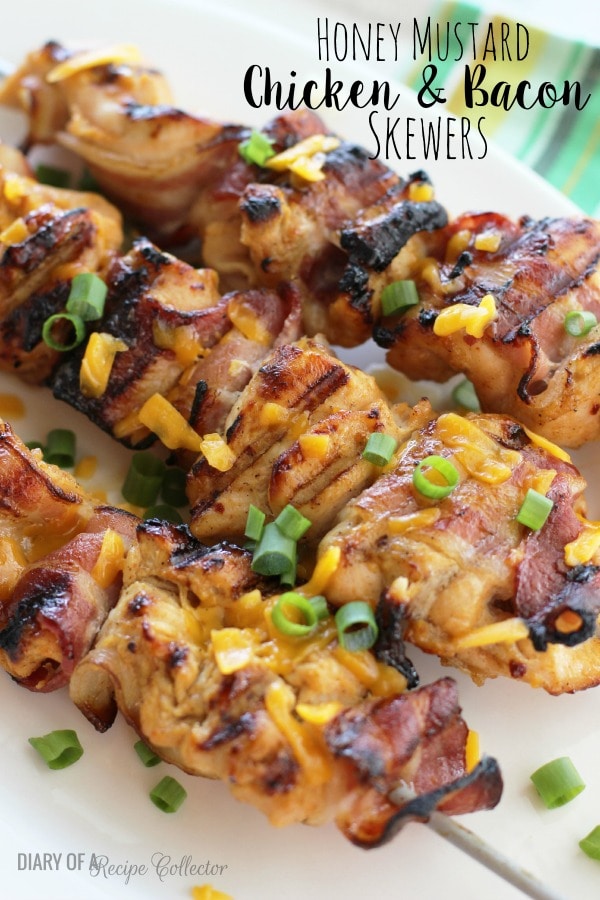 Spinach & Provolone Chicken Pinwheels