Chicken & Bacon Alfredo – An easy restaurant-style pasta filled with chicken, packed with bacon flavor, and finished off with Parmesan cheese.  Bonus:  You can make it at home!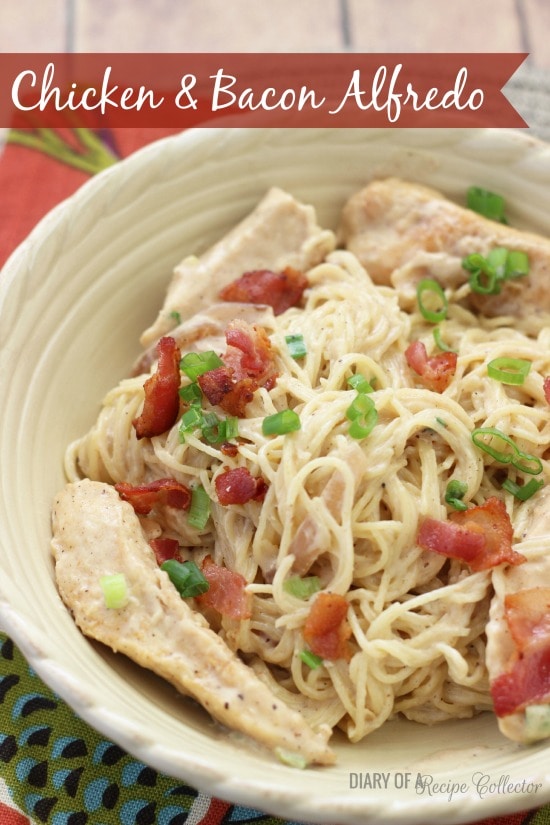 So as I type this post up, I currently need to make a grocery store trip badly.  We are seriously out of so much!  Does this ever happen to you guys too?  Or am I the only one having trouble adjusting to this back to school routine.  You would think I would have extra time with my older two kids in school, but I've been really busy with blog work lately.    I'm thinking the ingredients for this pasta dish might be on the grocery list.  I actually made this Chicken & Bacon Alfredo pasta a while back ago and shared it on Mandy's Recipe Box.  We loved it!
As far as back to school stuff though, I'm happy to say the homework routine has been smooth-sailing so far this year.  Last year was a bit chaotic, as I explained in this post.  This year, we made a hard decision, and chose to have our son repeat 1st grade.  I just felt like he wasn't quite mature enough to move on to 2nd.  He has a late birthday, and I just felt like he had so much more potential.  It was a decision that I basically thought about everyday the entire school year.  After talking to some experienced moms, teachers, and the school counselors, we knew what the best decision was.
He currently is making wonderful grades and just seems more aware of what he needs to do for school!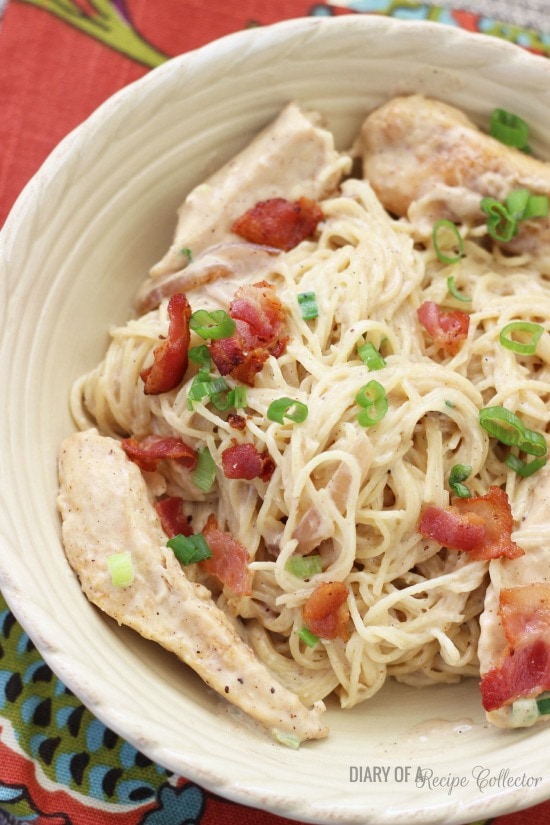 So now for this pasta!  I chose to use angel hair because I love it so much, but feel free to use your favorite pasta…fettuccine or even bow tie pasta would be great too!  You can also add in other ingredients to bump up the flavor even more.  I added in red onions because they are wonderful with pasta dishes.  Sun-dried tomatoes, artichoke hearts, or green peppers would be great too!  That's one of the things I love about making pastas.  You can use what you have and not have to visit the grocery store.  That is pretty much my motto these days.  Grocery store + 4 kids = No fun for Mom!
Chicken & Bacon Alfredo
Author:
Ingredients
3 chicken breasts, cut into 3-4 strips and seasoned
1 cup flour, plus 2 tbsp
Salt and pepper or seasoned salt
8 slices bacon, chopped
1 red onion, sliced
2 cloves garlic, finely chopped
1 cup milk
1 1/2 cups half and half
3/4 cup shredded Parmesan
12 oz. angel hair, cooked
3 green onions, chopped
Instructions
In a large pot, cook bacon until slightly crispy.  Remove with a slotted spoon.
Place 1 cup of flour in a shallow dish.  Season with salt and pepper or seasoned salt.  Coat chicken strips in flour and shake off excess.
Add 1 tbsp of olive oil to pot and heat over medium-high heat.  Add chicken to pot and cook over medium-high on both sides for a total of 10 minutes.  Remove chicken.
Add onions and saute for about 5 minutes.  Add garlic and cook for 2 to 3 more minutes.
Reduce heat to medium.  Add 2 tbsp flour and stir for about a minute.  Add milk and half and half.  Stir and slowly bring it to a boil.  Simmer over medium heat.  Sauce will begin to thicken.
Add Parmesan and stir.  Add chicken and coat with sauce.  Simmer for about 3 minutes.
Mix in cooked pasta.
Top with bacon and green onions and serve.
OTHER RECIPES YOU MAY LIKE: