Garlic Cream Grilled Chicken & Bacon Paninis – Thin slices of grilled chicken, crispy bacon, and Colby Jack cheese piled onto sliced loaf bread spread with a garlic cream sauce and grilled until golden brown.


Hopefully, you didn't get your fill of grilled chicken yesterday because I've got a great sandwich for it! And it is so good!! I also hope you had a good Labor Day weekend. Ours started out a little busy with a slumber party as you can see from Instagram. After 24 hours with six kids total, my husband and I were wiped out! We had a lot of fun though. My nephew and niece came over to spend the night, and then we took all of them to the bounce house on Saturday. I think it is safe to say everyone had a good time! We decided to take it easy the rest of the weekend too:)
So I've posted my fair share of sandwiches on this blog. What can I say? We are sandwich eaters in my family and not the regular plain ol' kind. I'm talking about a really gourmet-style sandwich piled high with fixings and served on bakery-style bread. I love coming up with new sandwich creations, and paninis have a special place in my heart. The first time I made one when my husband and I were first married, I was immediately sold on the whole concept of a grilled sandwich.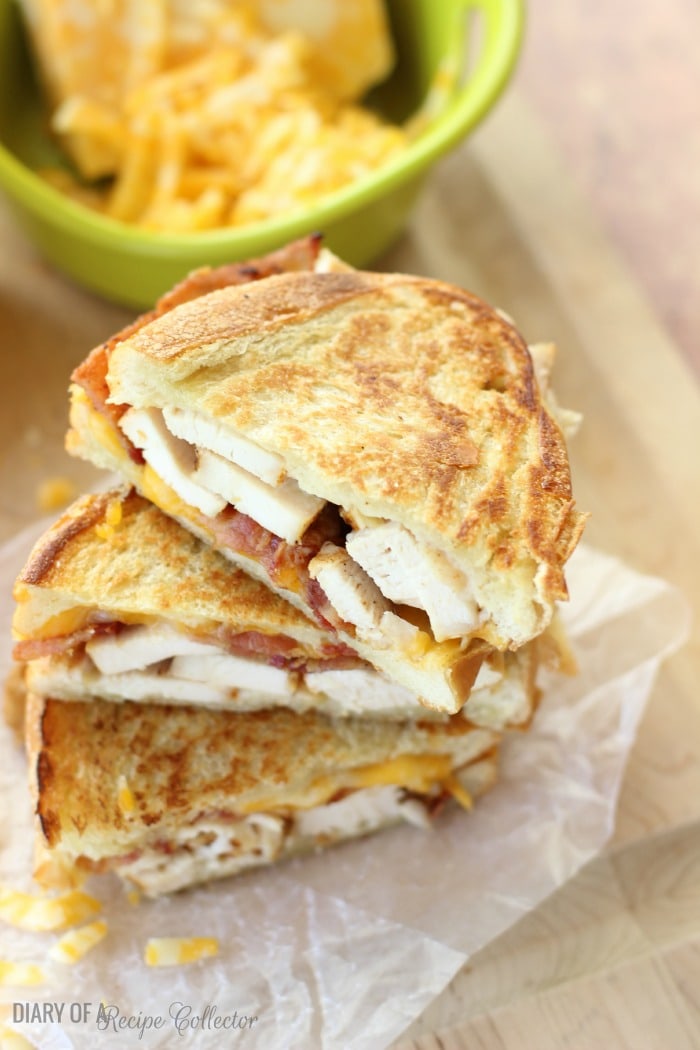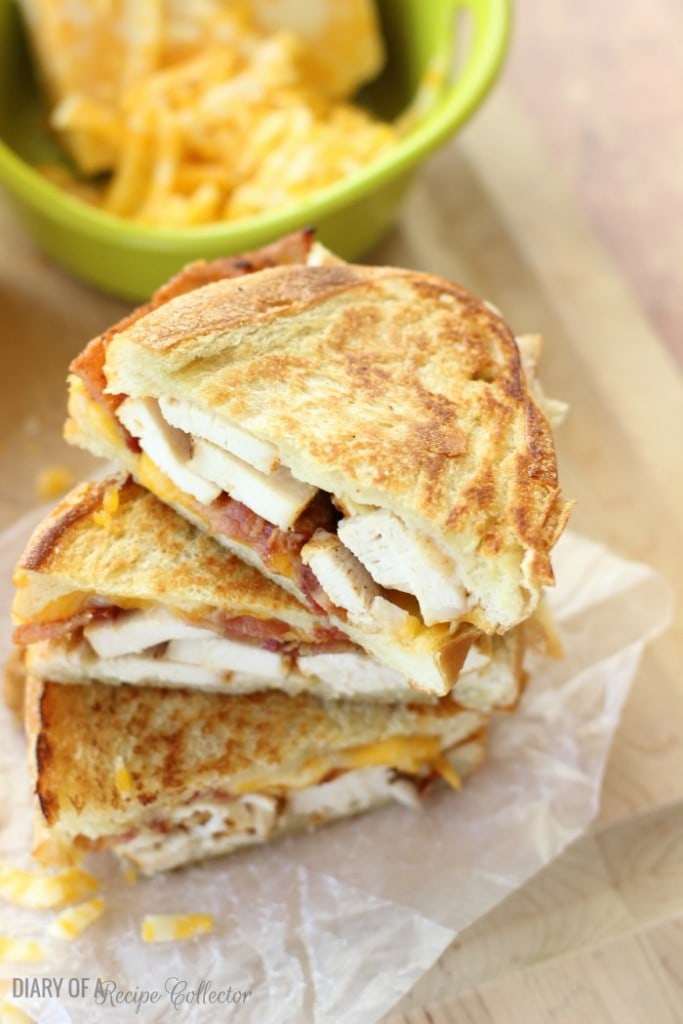 I've always been a grilled cheese fan, so it is only natural that my love would extend to a panini of any sort!
This particular panini came about after I made a Grilled Chicken & Bacon Pizza which is a really popular recipe on my blog. I love recreating recipes! Pretty much anything can be made into a sandwich.
Plus, there is no need for a panini press! Just press it down with another skillet, and you are good to go!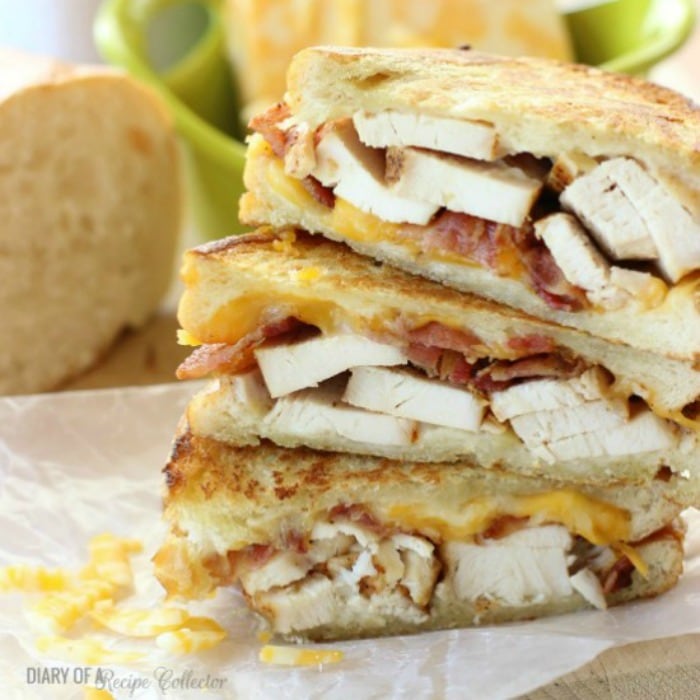 Garlic Cream Grilled Chicken & Bacon Paninis
Ingredients
3 grilled chicken breasts, thinly sliced
8 slices Colby Jack cheese (or 1 1/3 cups shredded)
12 slices bacon, cooked
1 tbsp olive oil (plus more for grilling paninis)
1 tbsp butter
3 cloves garlic, finely chopped
1 tbsp flour
1/2 cup milk
1/2 tsp kosher salt
French bread loaf or Italian bread loaf, cut into 8 1-inch thick slices
Instructions
Make garlic cream sauce: Heat olive oil and butter in a small sauce pan. Add garlic and saute over medium heat for 1 to 2 minutes. Add flour and stir for 1 minute. Lower heat to medium-low and add milk and stir to prevent lumps. Season with salt. Cook for 2 minutes or until thickened. Remove from heat.
Assemble sandwiches: Spread garlic cream sauce on each inside slice of bread. Top one side with grilled chicken, 3 slices of bacon, and 2 slices of cheese (or 1/3 cup of shredded cheese). Top with other slice of bread.
Grill sandwiches: Preheat a skillet over medium-high heat. Drizzle a little olive oil on one side of bread. Place that side down onto skillet. Press down using another skillet. Let cook until golden brown. Drizzle other side with olive oil. Flip it over, press down with other skillet, and grill that side until golden brown. Serve warm.
Recommended Products
As an Amazon Associate and member of other affiliate programs, I earn from qualifying purchases. This helps us keep our blog running efficiently and allows us to create more recipes for you.
Other Recipes You Might Like:
Grilled Chicken & Bacon Pizza with a Garlic Cream Sauce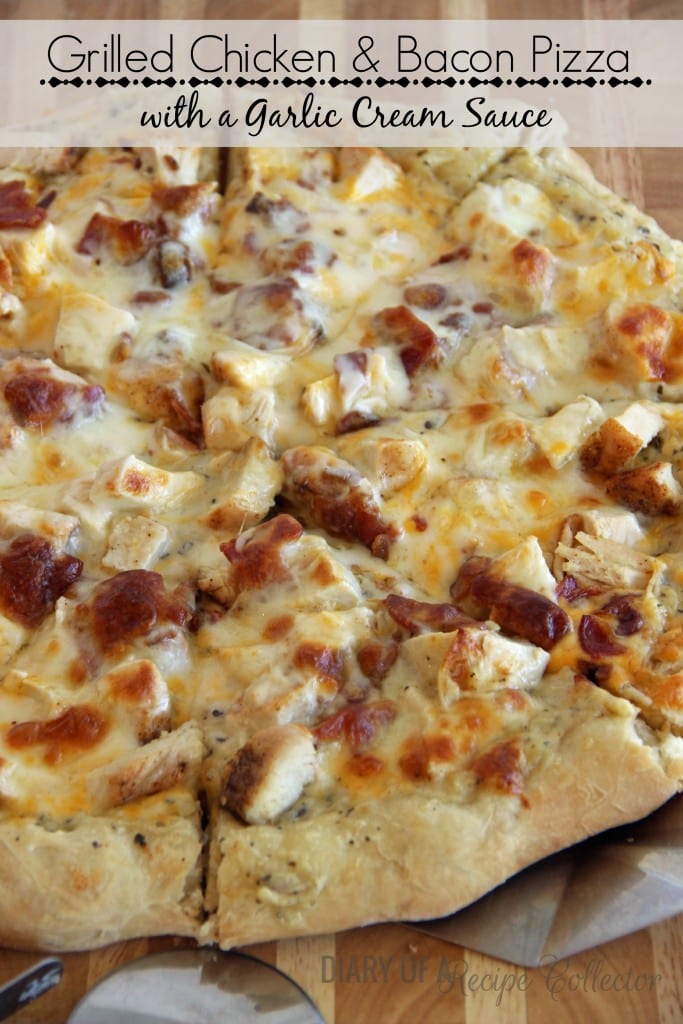 Chicken Fajita Paninis with a Fiesta Ranch Sauce