Chicken Fajita Bowlrito – All the great taste of chicken fajitas minus the tortilla made easy with the help of slow cooker mexican chicken!!
I know I've told you guys I could eat Mexican food every day of the week.  So I'm definitely excited to share this great weeknight recipe for a Chicken Fajita Bowlrito with you!  You might be wondering what in the world a bowlrito is right?  It's all those great fajita fixings like mexican rice, beans, onions, peppers, chicken, and of course, lettuce and tomatoes in bowl form.  In my opinion, it's total comfort food!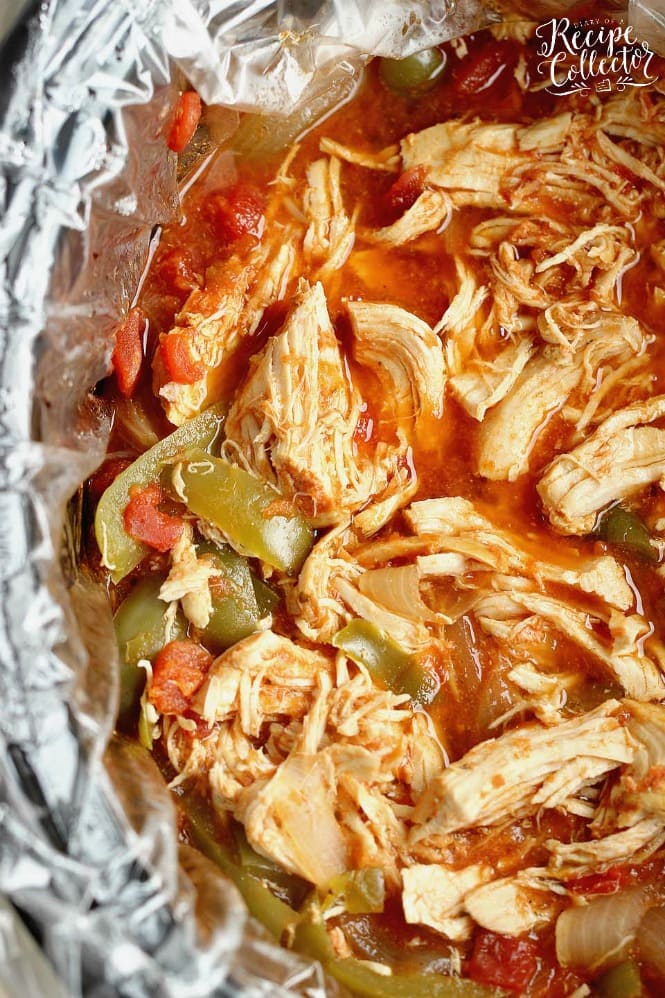 This meal comes together really quickly by making the chicken in the slow cooker.  This is seriously a huge time saver for weeknight meals!  You can even put them in there frozen!!  Whoop whoop!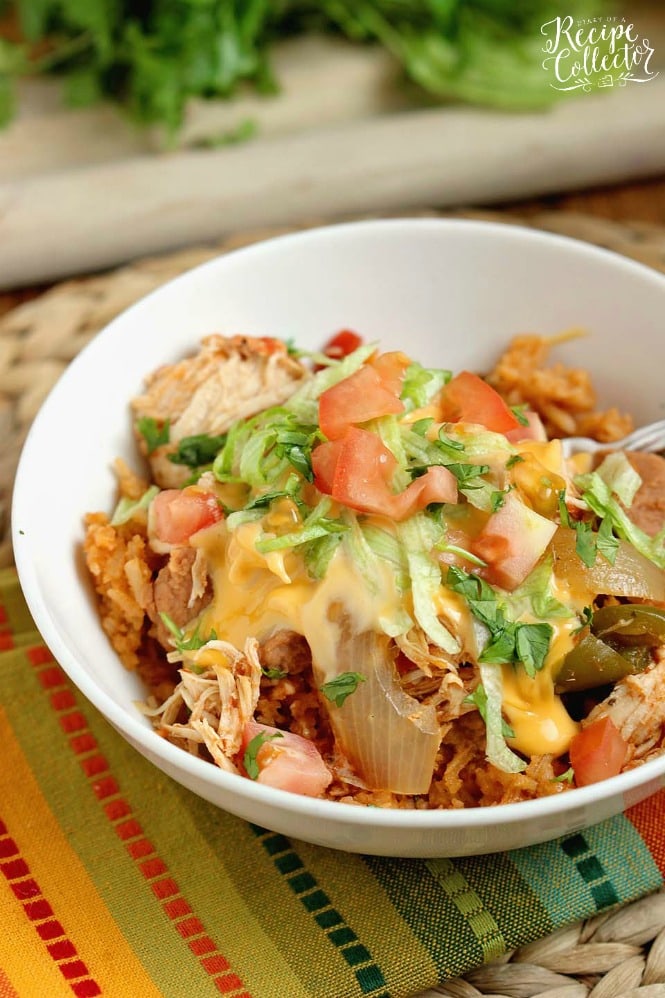 When it's time to fix up the bowls, make the mexican rice, melt the cheese, and chop the veggies.  Then all you have to do is layer everything in a bowl.  I can totally see this being a favorite recipe around here come school time.  And I've totally been telling myself I need to mentally prepare that it's almost time to head back into our fall routine.  Summer can't last forever, but oh how I wish it could!!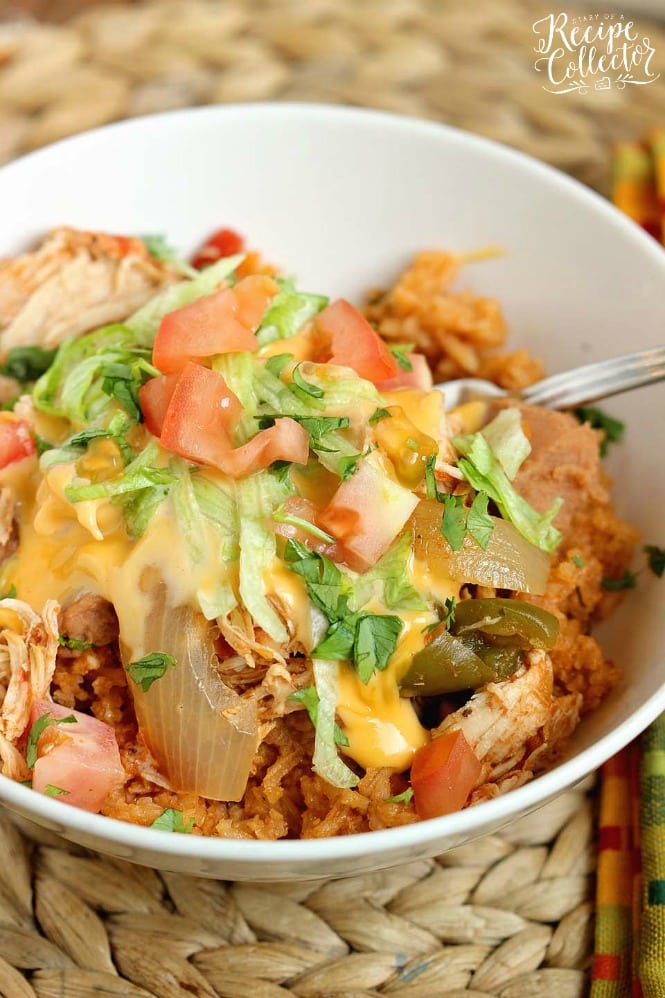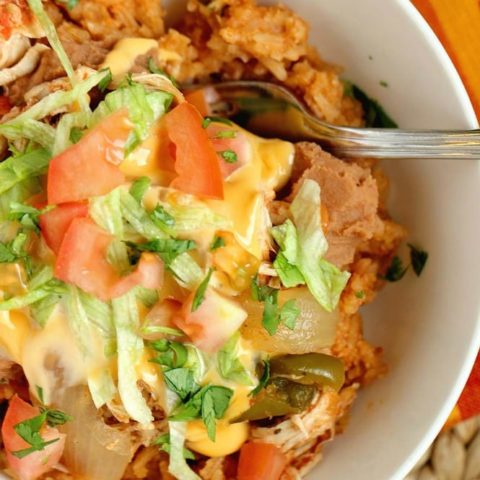 Chicken Fajita Bowlrito
Ingredients
For the slow cooker chicken:
3 boneless chicken breasts
1 onion, sliced
1 green bell pepper, sliced
1 16 oz. mild salsa
1 cup water
3/4 tsp creole seasoning
For the Mexican rice:
2 cups long grain rice
3 tbsp olive oil
1 tsp chicken boullion powder
4 cups water
1 8 oz can tomato sauce
1 tbsp chopped cilantro
1/4 tsp cumin
1 tsp kosher salt
Cheese Sauce:
16 oz. block of Velvetta
1/2 cup milk
Toppings:
chopped cilantro
1 tomato, chopped
1 cup shredded lettuce
1 can refried beans, warmed
Instructions
In a slow cooker, layer chicken, onions, and peppers. Sprinkle with creole seasoning. Top with salsa and add water. Cover and cook on low for for 4 to 5 hours. If using frozen chicken, cook for 7 to 8 hours. Once cooked, shred chicken using two forks.
In a skillet or saucepan that has a lid, heat olive oil over medium high heat. Add rice and stir cooking until it starts to turn golden brown. Add chicken boullion, cumin, and salt, and stir to combine. Add tomato sauce, water, and cilantro and stir. Bring to a boil and reduce heat to low. Cover and simmer for 20 to 25 minutes and stir. Do not lift lid until after 20 minutes.
While the rice cooks, melt the cheese in a small pot with the milk over medium-low heat. Stir frequently and remove from heat and cover once melted.
In a each bowl, layer rice, beans, chicken, peppers, onions, melted cheese, chopped tomato, shredded lettuce, and chopped cilantro.
Notes
* This recipe can also be made with grilled chicken if you do not have a slow cooker.
Recommended Products
As an Amazon Associate and member of other affiliate programs, I earn from qualifying purchases. This helps us keep our blog running efficiently and allows us to create more recipes for you.
Looking for other great recipes?
Mexican Rice-Cooker Shrimp & Rice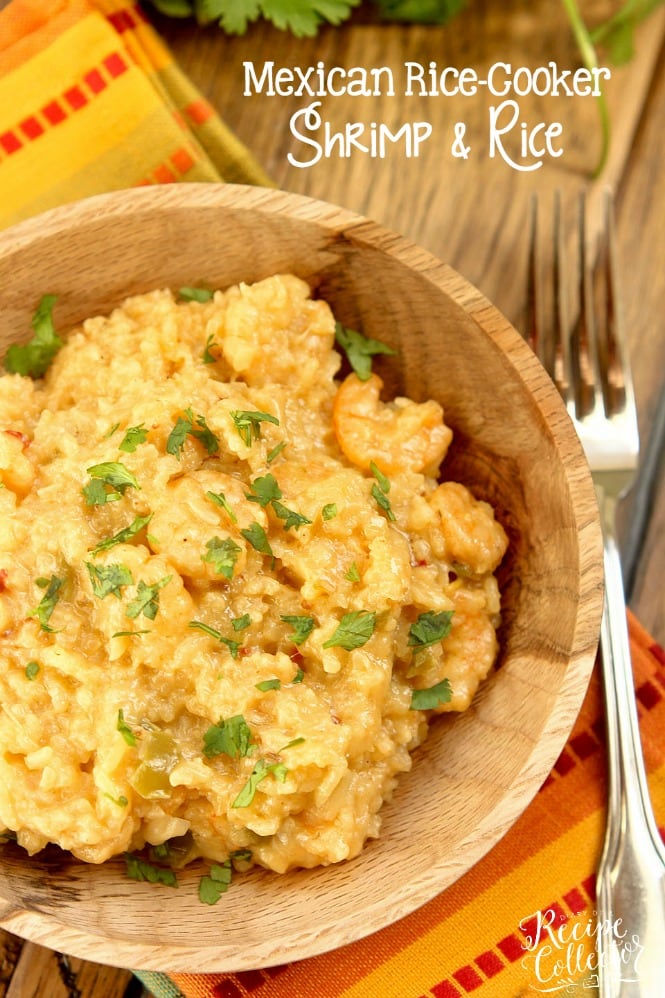 Mexican Lasagna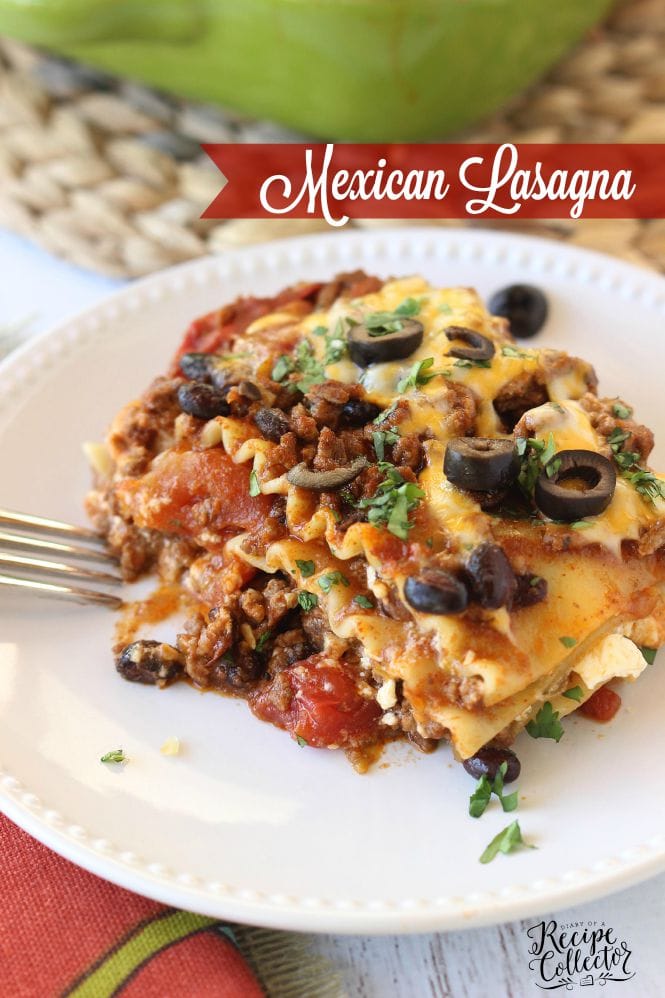 Crock Pot Chicken Cacciatore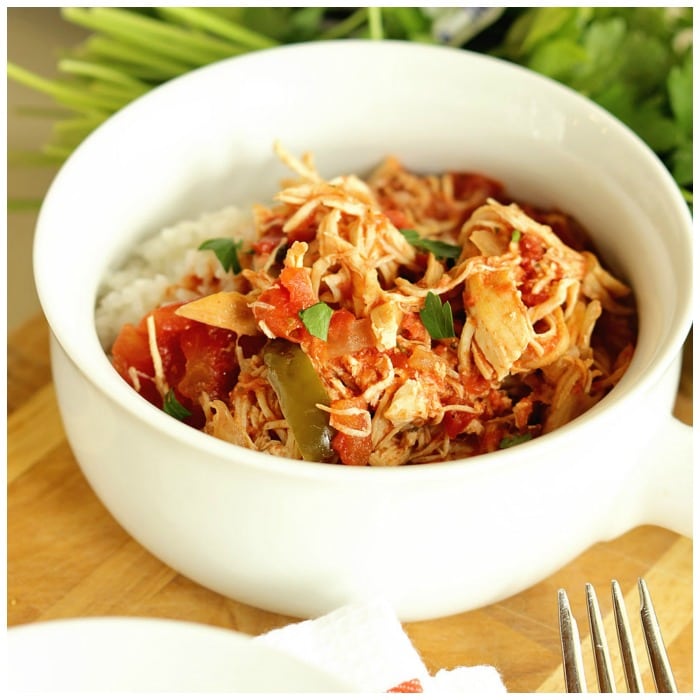 Slow Cooker Balsamic Chicken Sandwiches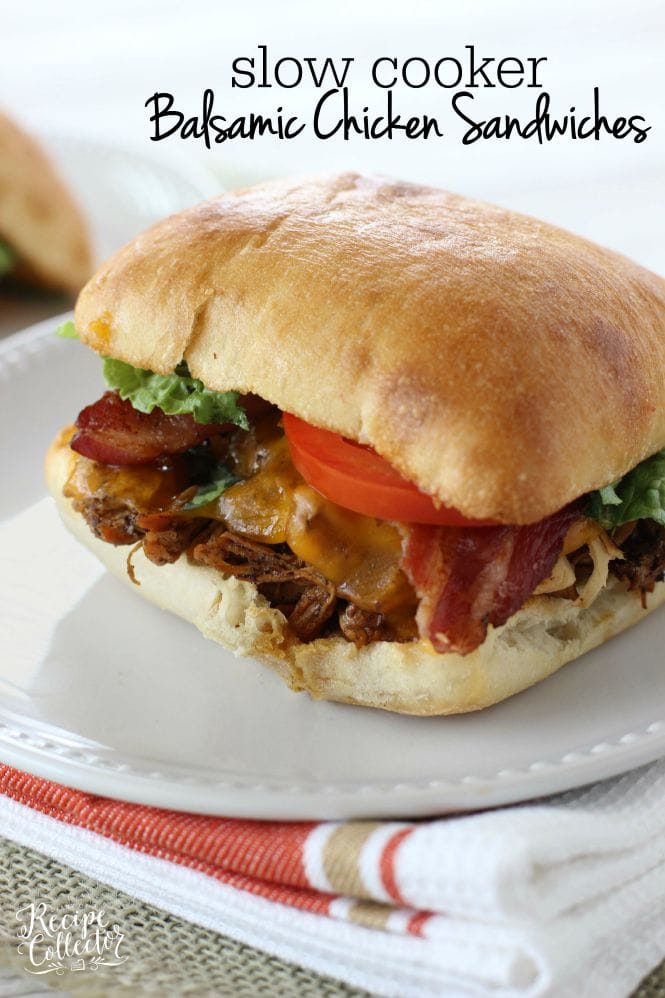 Hot-Pressed Chicken Caprese Wraps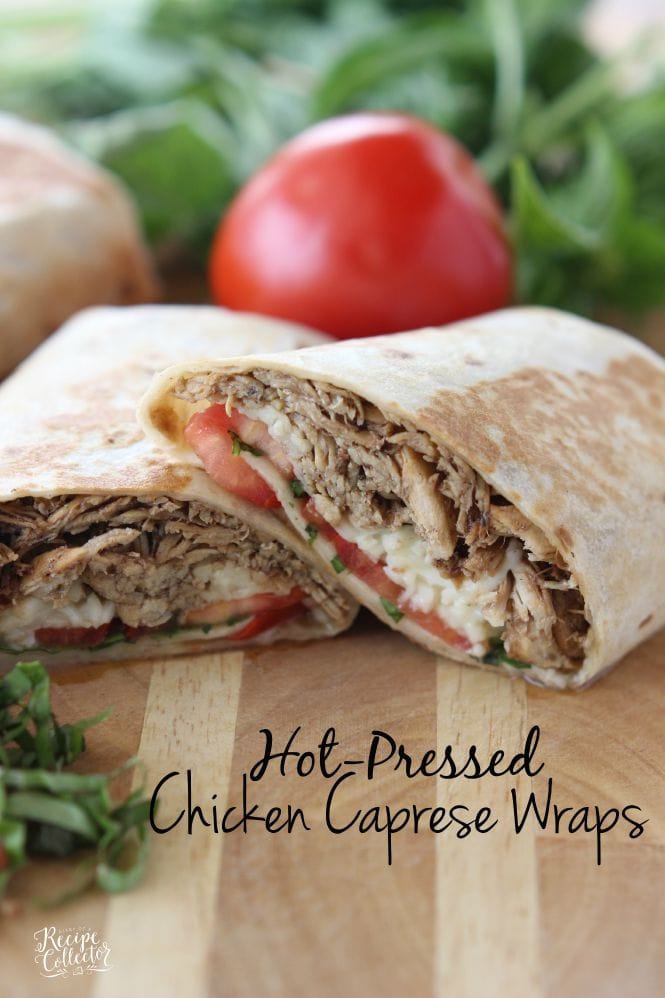 Looking for a new slow cooker?  Here are some ideas for you!
You can find more MAIN DISH RECIPES HERE.
You can find ALL RECIPES HERE.
For more ideas, follow me on FACEBOOK, PINTEREST, INSTAGRAM, AND TWITTER.
Get FREE recipes delivered to you by email:  SIGN UP HERE!