Crock Pot Chicken Cacciatore is a perfect slow cooker meal for a quick and easy weeknight dinner! Filled with tender shredded chicken, tomatoes, peppers, and onions.
Get FREE recipes delivered to you by email: SIGN UP HERE!
The slow cooker is my best bud right now.  With school all day and an activity for at least one kid just about every night, easy suppers are the order of the day.  And I just love cooking chicken in my slow cooker too.  It's hard to believe that I was once afraid to cook chicken in the crock pot.  I know that sounds so silly!  But it's true!  I always avoided those recipes.  If it wasn't beef or sausage, I probably wasn't going to try it in my crock pot.
And then I tried cooking chicken in the slow cooker, and my life completely changed.  Dramatic?  Maybe a little.  But for real, it totally made my life easier.  Need cooked chicken to put in a casserole for supper tonight?  Just throw it in there frozen with a cup of water and some seasoning.  When you get home, you will have chicken ready to shred.  Once I learned that method, it opened up so many ideas in my head.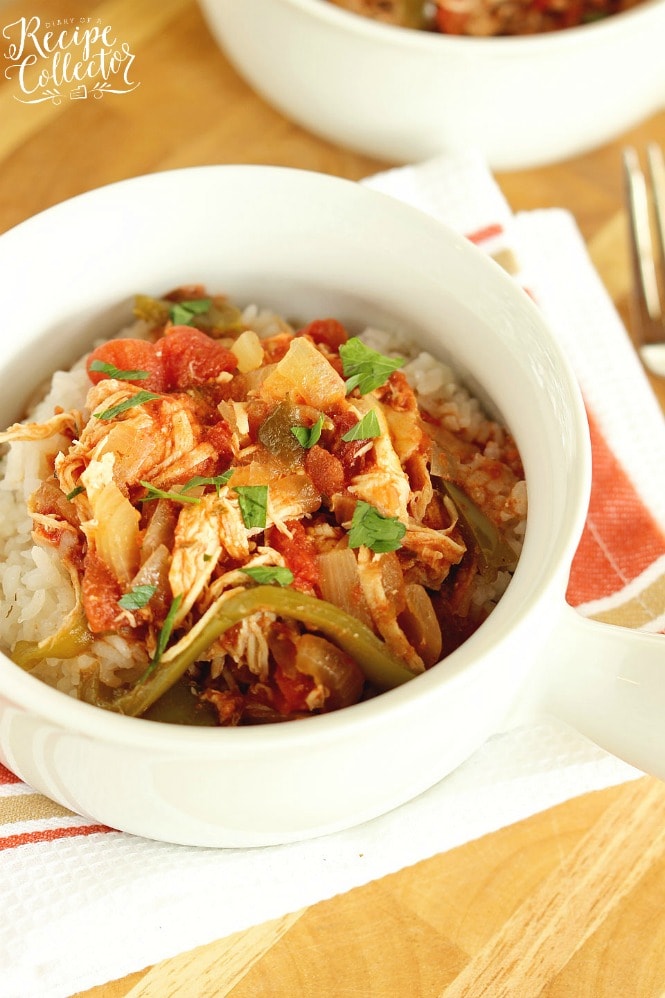 So with that method, you can pretty much throw in extras with your chicken and make a whole new meal.  For this Slow Cooker Chicken Cacciatore, I threw in some diced tomatoes, stewed tomatoes, tomato sauce, peppers, onions, and a little oregano.  It couldn't have been easier!  You probably already have all the ingredients to make it too.  We ate it over rice because that's how we roll a lot down here in Louisiana, but you can serve it any way you'd like!
I do hope this little method will be helpful for you too!  My mind is already spinning with Mexican and Southwestern possibilities!  And I'm sure you've figured out how much I love those flavors!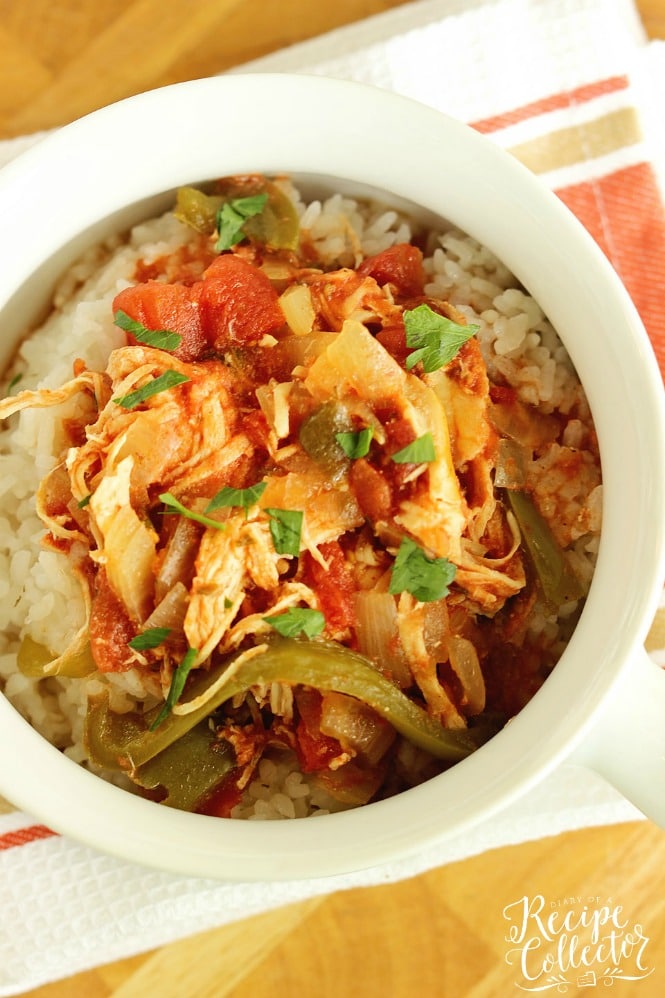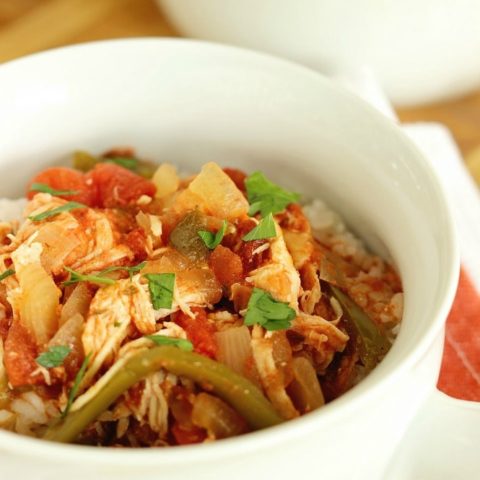 Crock Pot Chicken Cacciatore
Total Time:
8 hours
5 minutes
Ingredients
3 chicken breasts (frozen)*
1 medium onion, chopped
1 medium bell pepper, sliced
1 tsp creole seasoning
1 8 oz can tomato sauce
1 14.5 oz can stewed tomatoes
1 14.5 oz can diced tomatoes
3/4 tsp dried oregano
Cooked rice for serving
Garnish: fresh parsley (optional)
1 slow cooker liner*
Instructions
Place liner in slow cooker for easy clean up.
Place chicken breasts in slow cooker.
Top chicken with onions and bell peppers.
Season with 1/2 tsp creole seasoning.
In a small bowl, mix tomato sauce, diced tomatoes, stewed tomatoes, remaining 1/2 tsp creole and oregano. Pour mixture over the chicken, onions, and peppers.
Cook on low for 7 to 8 hours.
Serve over cooked rice. Top with fresh parsley.
Recommended Products
As an Amazon Associate and member of other affiliate programs, I earn from qualifying purchases. This helps us keep our blog running efficiently and allows us to create more recipes for you.
You can see this recipe on Julie's Eats & Treats where I am a contributor!!
Other recipes you might like:
Slow Cooker Balsamic Chicken Sandwiches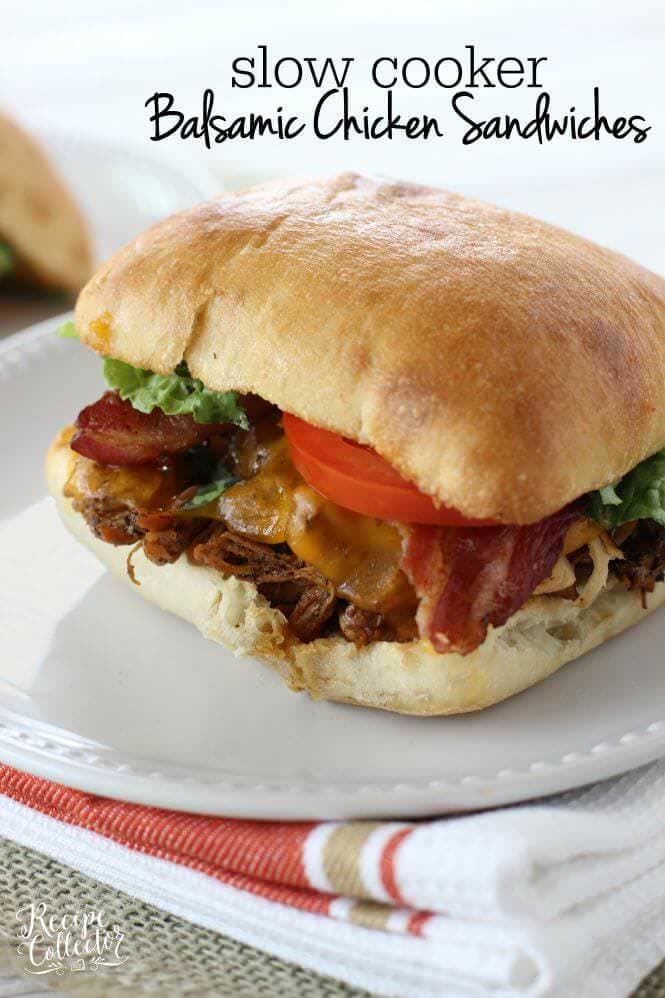 You can find more MAIN DISH RECIPES HERE.
You can find ALL RECIPES HERE.
For more ideas, follow me on FACEBOOK, PINTEREST, INSTAGRAM, TWITTER, AND PERISCOPE.
Get FREE recipes delivered to you by email: SIGN UP HERE!