Slow Cooker Balsamic Chicken Sandwiches – Served on a toasted ciabatta roll and topped with bacon and cheddar cheese with a roasted garlic mayo. They are so good! It can be made in an Instant Pot too!

I'm on a roll this past week with this Slow Cooker Balsamic Chicken and the Hot-Pressed Chicken Caprese Wrap. I wanted to bring you one more recipe. And I saved the best for last!
So one of my favorite places to go eat when we go out of town to go shopping is La Madeline. We don't have one where I live. Boo! My favorite sandwich over there is the Chicken Parisian sandwich made with balsamic chicken.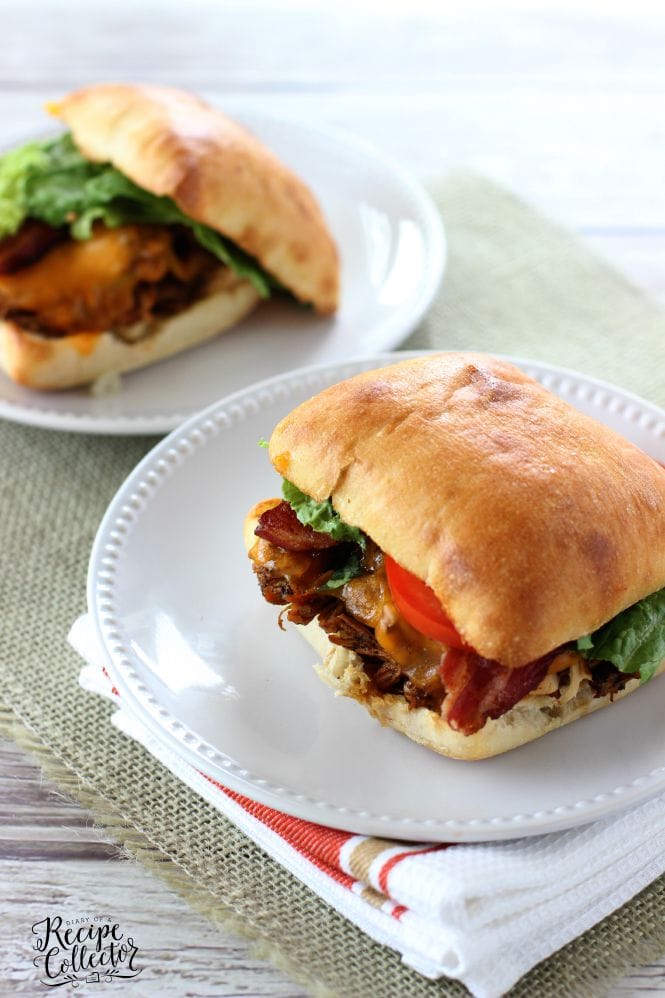 Well since I can't have that very much where I live, I decided to create my own. And I think I found a winner! Now mine is a little different than the La Madeline sandwich. First up, I used ciabatta bread I found in the grocery bakery section. Second, I decided to add a little roasted garlic mayo to mine to give it that extra something. Last, I cooked my chicken in the crockpot to make this super easy for any week night!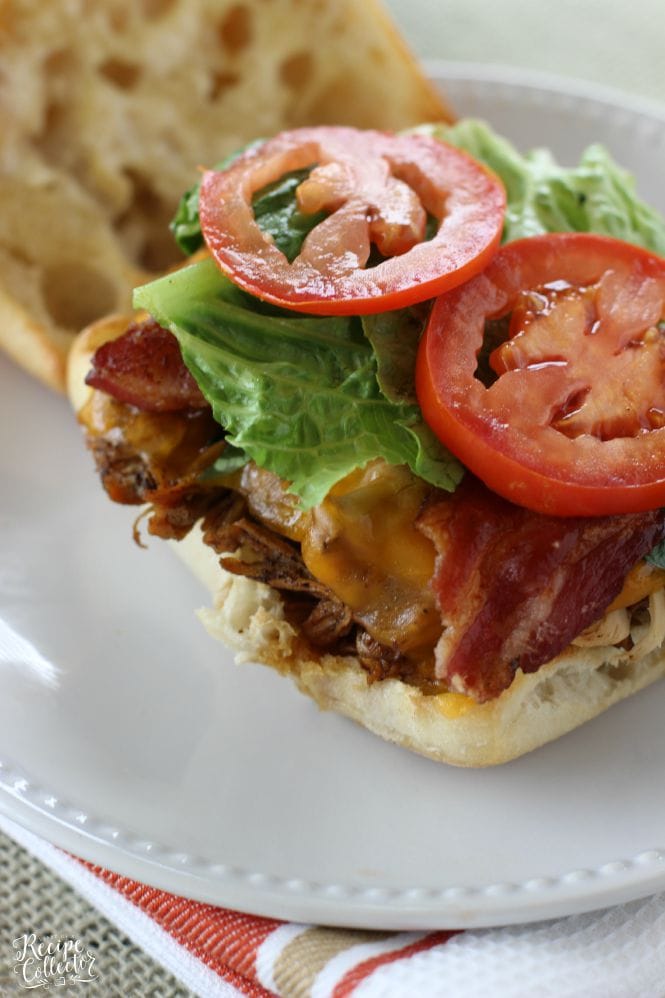 The result was one amazing sandwich! I can see myself making this one all the time this fall too!
Tips for making this Balsamic Chicken even faster:
Use the Instant Pot directions. It takes about 15 minutes to come to pressure, cooks for 20 minutes, and I let it naturally release for about 5 or 10 minutes.
Roast the garlic quicker by chopping it, placing it in an oven-safe bowl with 2 to 3 tbsp olive oil and roast at 400 for 10 minutes.
Leftover chicken? Make Balsamic Chicken Wraps!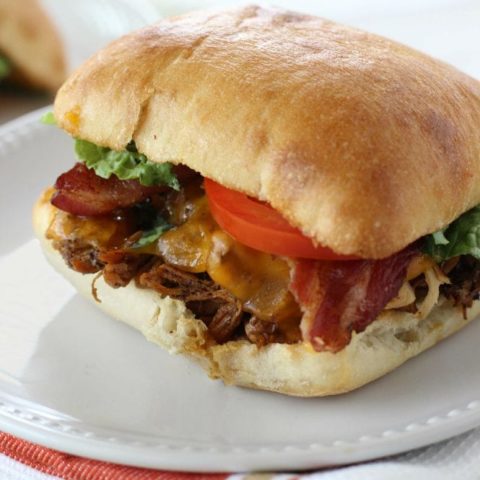 Slow Cooker Balsamic Chicken Sandwiches
Ingredients
Slow Cooker Balsamic Chicken:
2 boneless chicken breasts ( can be frozen-see recipe)
1 3/4 tsp creole seasoning or seasoned salt
2 cloves garlic, chopped
1/2 cup balsamic vinegar
2 tbsp Italian dressing
1 tbsp brown sugar
Roasted Garlic Mayo:
1 head garlic
1 1/2 tbsp olive oil
1/4 to 1/2 cup mayo
Sandwiches:
4-6 slices bacon, cooked
1 roma tomato, sliced
Romaine lettuce
4 slices cheddar
4 ciabatta rolls or kaiser rolls, sliced in half
Instructions
Slow Cooker Balsamic Chicken:
Place chicken breasts in slow cooker.
Season with 3/4 tsp creole seasoning.
In a small bowl, mix balsamic, Italian dressing, 1 tsp creole seasoning, garlic, and brown sugar. Pour this over the chicken breasts.
Cook on high for 4 hours.
You can also use frozen chicken breasts and cook on low for 8 hours or high for 6 hours.
Once chicken is done, shred it with two forks and let set in sauce until ready to serve.
Instant Pot: Prepare the same way and add to instant pot. Cook for 20 minutes if using fresh chicken breasts and 25 minutes if using frozen.
Roasted Garlic Mayo:
Preheat oven to 400 degrees.
Cut top off of head of garlic. Place on sheet of foil. Drizzle garlic with olive oil. Wrap in foil. Place in pan and roast in oven for 45 min. (SEE BELOW FOR SHORTCUT)
Remove from oven and allow garlic to cool a minute. Squeeze garlic out into a bowl. Mix in 1/4 to 1/2 cup mayo.
If you are short on time, you can chop all the garlic, add it to a small oven safe dish. Add 2 to 3 tbsp of olive oil and roast garlic at 400 for 10 minutes.
For Sandwiches:
Broil ciabatta or kaiser roll slices, cut side up, for a few minutes until golden brown.
Spread each slice with a little mayo.
Top bottom slice with chicken, bacon, cheddar slice, and tomato. Broil 2 to 3 minutes.
Top with romaine and top bun. Repeat with other sandwiches.
Looking for other recipes?