This is a sponsored conversation written by me on behalf of Horizon Organics. The opinions and text are all mine.
Zucchini Meatballs & Tomato Gravy – A perfect way to sneak those vegetables into meatballs! Plus they are served with a delicious tomato gravy and carrots. They are perfect served over mashed potatoes! #SmartMeals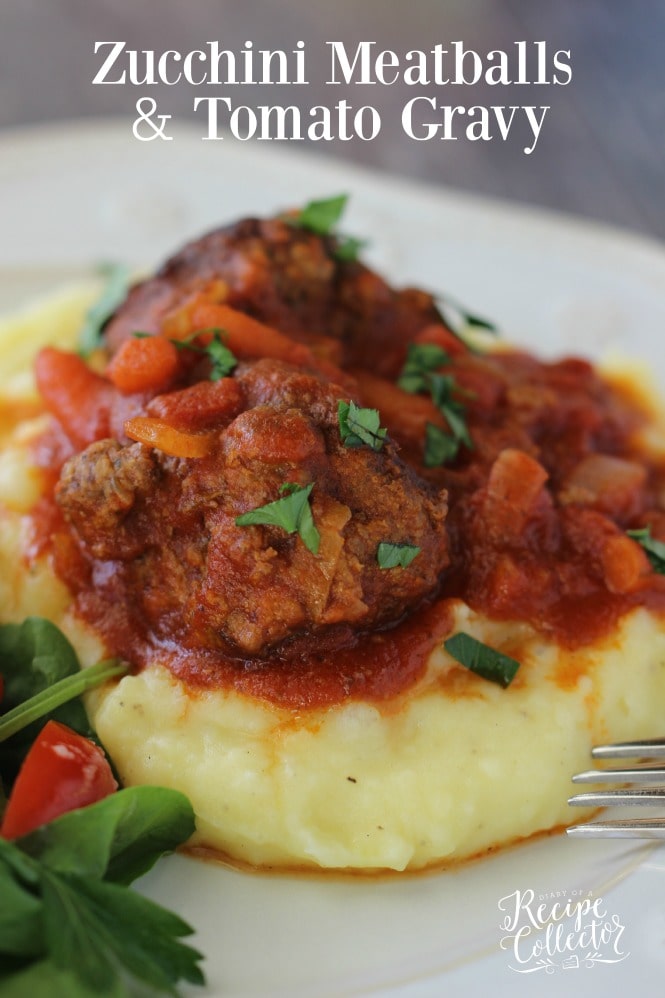 I am a lucky mama. I have kids that are great sleepers and great eaters…most of the time 🙂
This is not something I take for granted, especially when I hear other moms talk about some of their troubles. Now, we still have our little issues…like my 4th one who every now and then wants to act like a newborn all night. #blameitonthemolars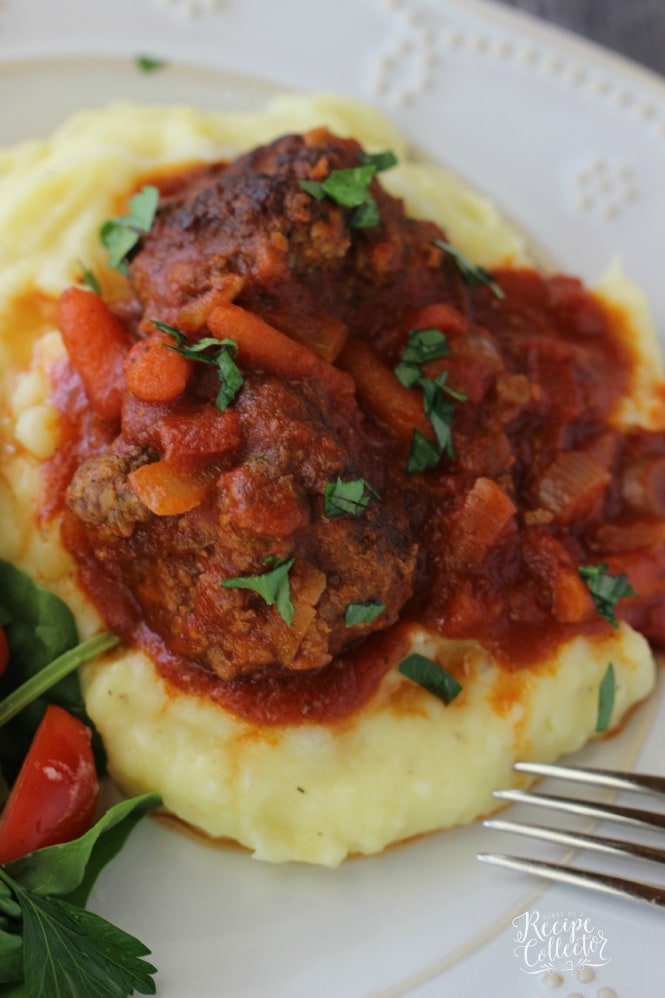 But all our babies so far have been great eaters up until about 3 1/2 years old. And then something happened to each of them. They discovered that those green beans are green or those little things inside the gravy are onions. That phase, luckily, is winding down for my older ones. They are now eating better again and being more adventurous like they were as little bitty ones.
So during this little picky stage, I've had to get creative. And there is really nothing my kids like better than a meatball. I make them in all shapes and sizes as you can see from these burgers, this soup, these patty melts, and these sliders. In any form, they are a hit!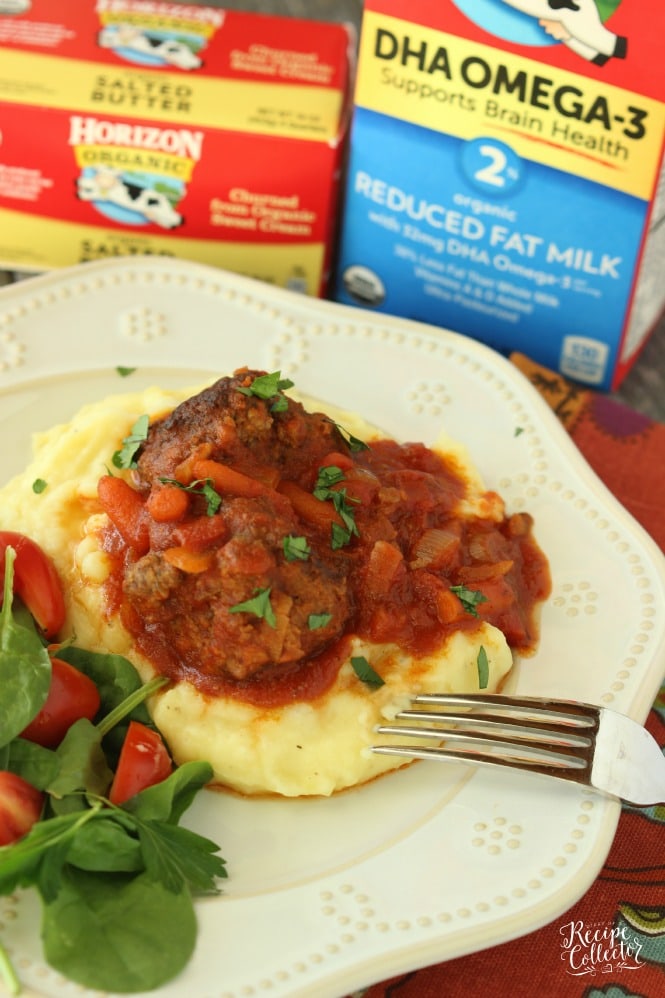 And to my pleasant surprise, these Zucchini Meatballs and Tomato Gravy were a hit too! I shamelessly admit that I took pride in the fact that my kids were eating zucchini and didn't even notice it. Hehe! They gobbled it all right up. Mission accomplished! Now don't get me wrong. I will still offer veggies to them in its purest form, but while we are at this picky stage, a mom has to do what a mom has to do.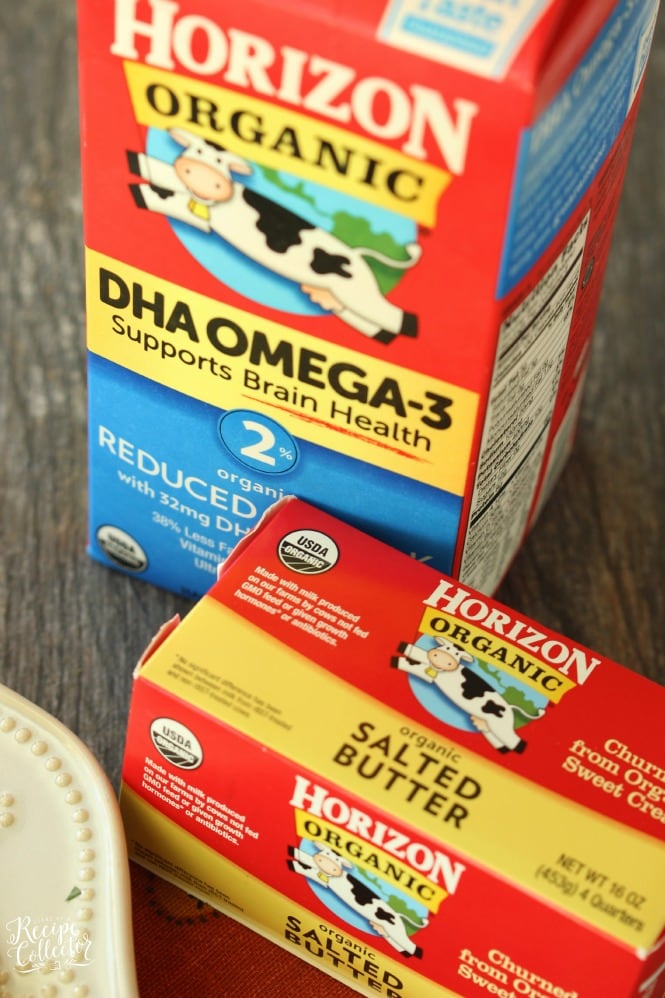 It's also a really great meal to use up all those vegetables in the fridge before they go bad. I'm really trying to work on that and get smarter with my meals! If I can't sneak them in a meatball or put them in a gravy, then I usually end up roasting them with a little olive oil and salt and pepper. That, by the way, is one of the quickest, easiest, and yummiest side dishes around!
And for those yummy mashed potatoes, I used Horizon milk and butter. They came out so creamy and delicious! They were perfect with that tomato gravy…comfort food heaven! Be sure to check out the full line of Horizon products. You can also get some great recipe ideas on their Pinterest, Facebook, Instagram, and Twitter pages. Be sure to check them out and follow along! I'd love to know which products are your favorite too!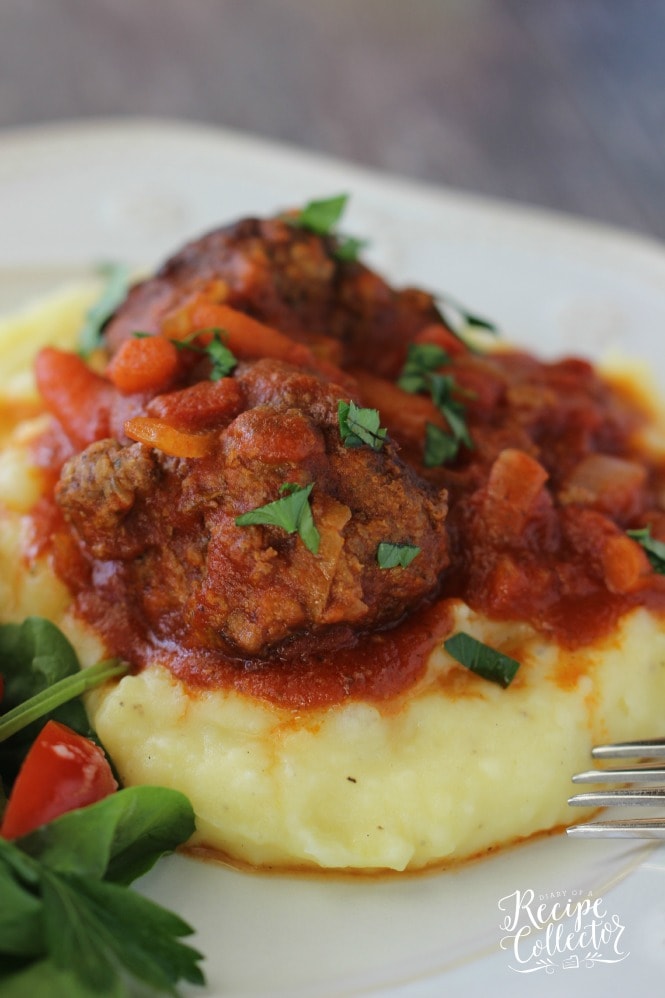 Zucchini Meatballs & Tomato Gravy
Author:
Ingredients
Potatoes
2 1/2 lb. potatoes, peeled and cubed
1 stick Horizon Organic butter
1 cup Horizon Organic 2% Milk
salt and pepper
Meatballs & Tomato Gravy
2 lb. ground round
1 cup shredded zucchini (1 small zucchini)
1 egg
2 cloves garlic, minced
1/2 cup Italian bread crumbs
2 tsp creole seasoning, divided
1 15 oz. can petite diced tomatoes
1 15 oz. can tomato sauce
1 small onion, chopped
1 cup chopped carrots
1/2 tsp oregano (dried)
1 tsp kosher salt
2 tsp sugar
Fresh parsley
Instructions
Boil potatoes until fork tender. Drain water. Add butter and cover. Let sit for a minute to let butter melt. Mash potatoes. Stir in milk until combined and creamy. Add salt and pepper to taste. Cover until ready to serve.
Mix ground round with zucchini, egg, garlic, bread crumbs, 1 1/2 tsp creole seasoning just until combined.
Roll meat mixture into meatballs. Brown on all sides. Remove from pot.
Add onions and carrots to pot. Saute until onions are clear. Add diced tomatoes and tomato sauce. Add oregano, salt, 1/2 tsp creole seasoning, and sugar. Stir. Add meatballs and stir to coat with sauce. Simmer over medium heat for about 15 to 20 minutes.
Serve over mashed potatoes. Garnish with fresh parsley.
This is a sponsored conversation written by me on behalf of Horizon Organics. The opinions and text are all mine.