Strawberry Swirl Cookies – An easy sugar cookie recipe swirled with strawberry jam, coconut, and pecans.  It makes a great Christmas cookie!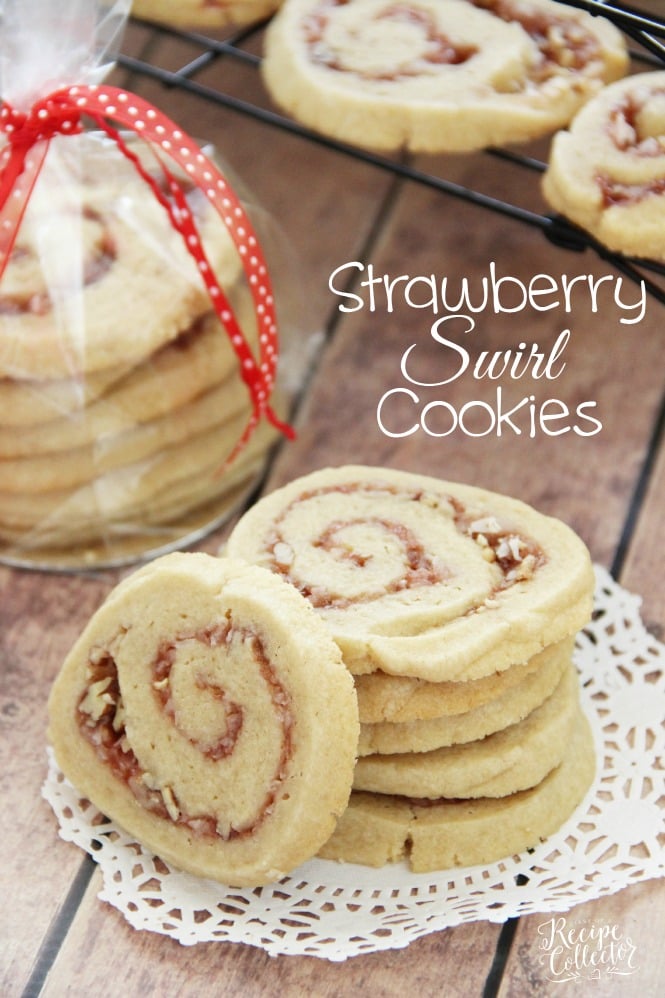 This past week has been a little out of ordinary around our house.  We have kitchen remodeling going on and sick children every time I turn around lately.  We are 3 out of 4 in the sick kiddo department.  My oldest had an infection on her foot which required two urgent care visits.  My youngest has two ear infections (again) and he has tubes, which we were hoping would prevent them.  And then there is my youngest little girl.  I am most worried about her.
She woke up a week ago, crying and saying her groin/hip area was hurting and she couldn't walk.  This went on for a few hours, and then I took her to the doctor.  They did blood work and x-rays, which all came back normal.  The doctor diagnosed her with Transient Synovitis or Toxic Synovitis.  It's basically an inflammation of her hip, which occurs in children.
That was a scary day.  Pretty much in my top 4 scary days in my life.
She has slowly gotten better at walking and managing with her little limp over the last week.  I took her back to the doctor yesterday because I needed a pep talk from the doctor.  It's hard to watch her have this for a week already.  He told me to just give it some more time to heal.  For the most part, she doesn't seem bothered by it and happily plays and runs about the best she can.  Every now and then, she will say it hurts.  I just want it to go away…
So I've been in worried mommy mode for the last week, and I need to think of happy things like Christmas cookies.  I would really appreciate any prayers for her continued healing though and to calm my worries.  It's hard to talk about my worries on here where I usually talk about all happy stuff.  But my blog is about my real life too, so I don't like to leave out those important details.
So onto these Christmas cookies that I know my little ones would love sick or not sick.  These cookies were super easy to make!  And the cookie dough is so good!  It's the same dough I use for these Cinnamon Pecan Icebox Cookies.  They are a great cookie for a cookie exchange too because they are a little different from the usual.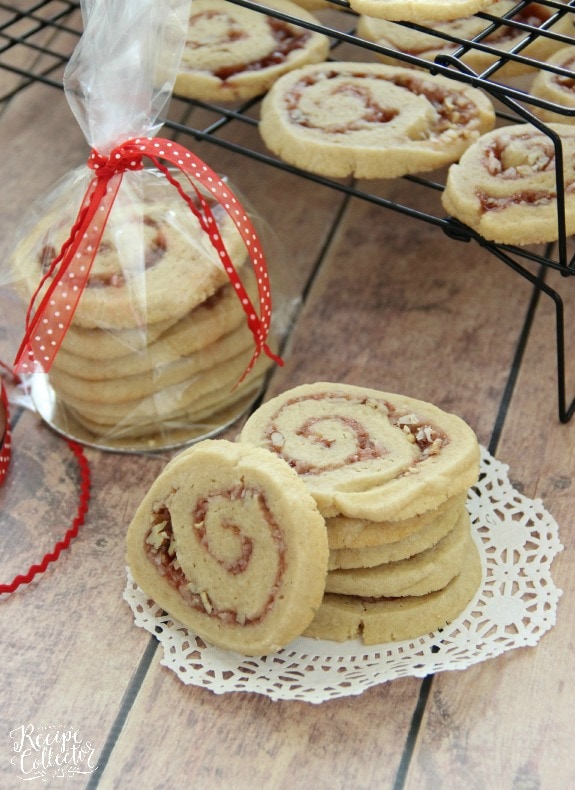 They would also make a perfect cookie to give away as a gift to teachers and neighbors.  My kids love to give little treats to their teachers and I love to bake!  Win-win!  Plus, I'm such a sweet lover that I must get rid of the desserts as quickly as possible!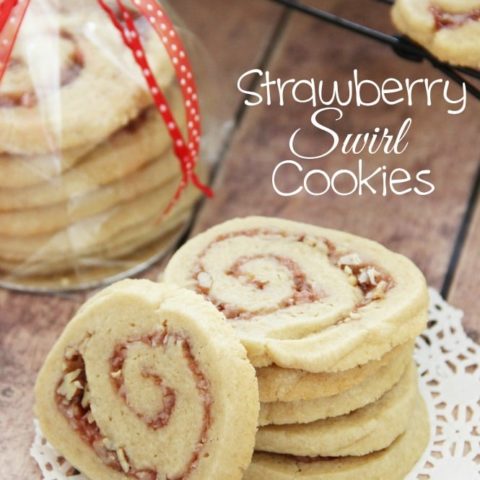 Strawberry Swirl Cookies
Ingredients
2 sticks butter, softened
3/4 cup sugar
1/4 cup brown sugar
1 large egg
2 tsp vanilla
2 1/4 cups flour, plus more for dusting
1 1/2 tsp baking powder
1/2 tsp salt
1/2 cup strawberry jam
1/2 cup coconut
1/4 cup finely chopped pecans
Instructions
Using a stand mixer or hand mixer, beat butter until creamy. Add sugars and beat until well mixed. Add egg and vanilla and beat well.
Mix flour, baking powder, and salt in a separate bowl. Gradually add flour mixture to butter mixture and beat well.
Scoop out dough onto plastic wrap and wrap up while shaping it into a ball. Chill for an hour.
Take out dough, unwrap it, and place it onto a sheet of waxed paper that has been dusted with flour. Dust dough with flour as well. Roll out dough to a 12 x 9 rectangle.
Spread jam evenly over dough. Top with coconut and pecans, and press them down lightly.
Begin rolling up dough on long side. Once rolled, wrap up in the wax paper, place on a pan, and chill in freezer for about 2 hours or until firm.
Remove and let sit out about 5 minutes. Slice 1/4 inch thick, and place on baking sheet lined with parchment paper.
Bake at 350 degrees for 12 to 14 minutes. Remove to a cooling rack to finish cooling.
Recommended Products
As an Amazon Associate and member of other affiliate programs, I earn from qualifying purchases. This helps us keep our blog running efficiently and allows us to create more recipes for you.
Other recipes you might like:
You can find more DESSERTS RECIPES HERE.
You can find ALL RECIPES HERE.
For more ideas, follow me on FACEBOOK, PINTEREST, INSTAGRAM, TWITTER, AND PERISCOPE.
Get FREE recipes delivered to you by email: SIGN UP HERE!