Skinny Chicken Vegetable Soup – This healthy soup is filled with tons of great vegetables and chicken in a light broth.  This low carb meal will leaving you feeling full and guilt-free!!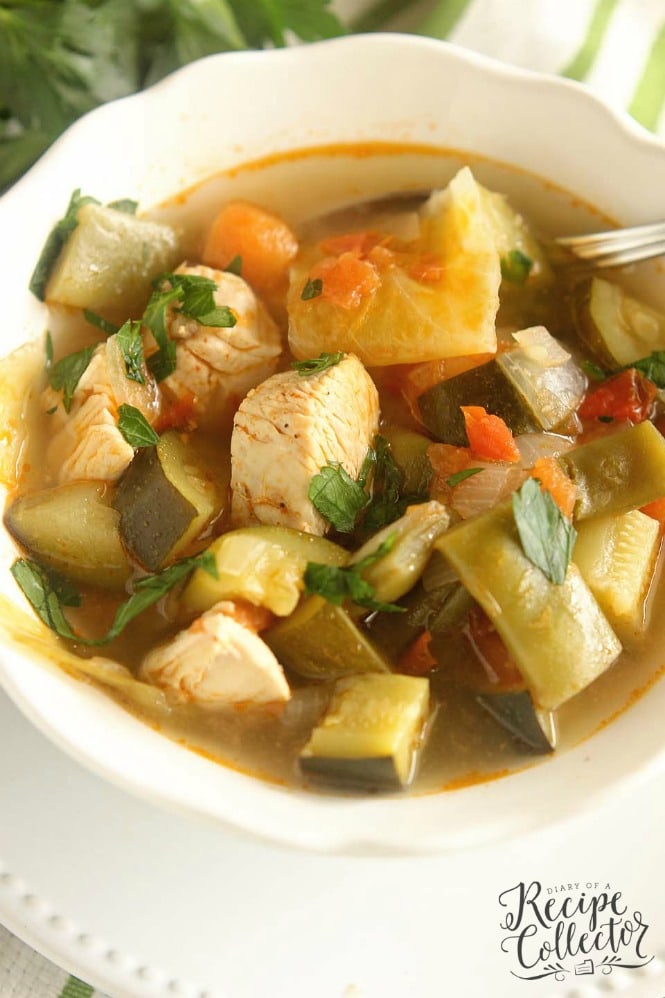 This Skinny Chicken and Vegetable Soup recently became a favorite of mine.  It's exactly what I need after our Easter feast yesterday.  We ate lots of yummy food and dessert, and then we dyed eggs on the back porch.  And that Diet Coke I gave up for Lent was awesome too!  Oh how I love Easter!
But now that I've indulged , it's time for another batch of this Skinny Chicken and Vegetable Soup.  I made a big pot of it one Sunday, and I divided it up for my lunches at work for the week.  I even had a little leftover to freeze for another day.  I ate it with a little salad on the side too.  I definitely got my recommended allowance of veggies for the day!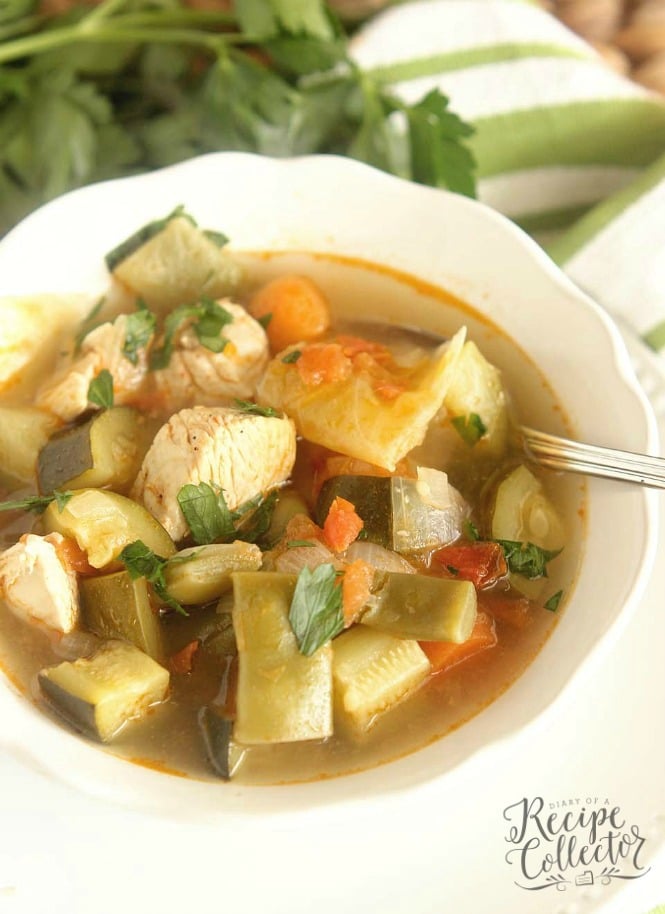 Soup naturally fills you up so well too, so when you are cutting calories, it helps you to not feel deprived.  I was seriously full after every lunch!  Plus, I love how I had all my lunches planned for the week.  Mornings around here can be crazy busy, and I sometimes forget to get my lunch ready in all the chaos.  Getting everything prepped on Sunday solved that problem.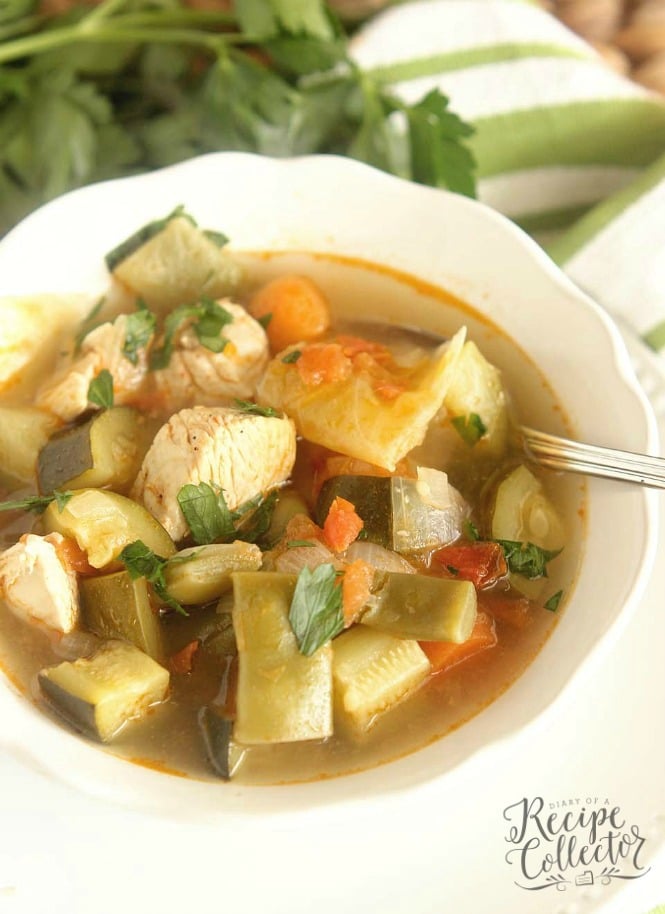 That same Sunday I also made these Taco Egg Muffin Cups, which are one of my FAVORITE low calorie breakfasts.  I make enough to have them for breakfast all week.    With these two recipes, I had a great low carb week, which is always a huge thing for me.  Cutting those carbs is always the key for me.  I also love these Mini Meatloaf Pepper Rings for dinner.  These are insanely popular on the blog!  Even my kids love them too!
I hope you enjoy this Skinny Chicken Vegetable Soup as much as I did!
Skinny Chicken Vegetable Soup
Ingredients
2 boneless skinless chicken breasts, cut up into 1 inch pieces
½ tsp creole seasoning
2 tbsp olive oil
1 onion, chopped
3 medium zucchini, chopped
1 cup chopped carrots
1 clove garlic, finely chopped
1 tsp kosher salt
½ tsp fresh black pepper
6 roma tomatoes, diced
1 cup frozen green beans (I used Italian)
32 oz. chicken broth
1 cup chopped cabbage
chopped fresh parsley for garnish
Instructions
Add oil to soup pot. Heat over medium-high heat and add onion, zucchini, and carrots. Season with ½ tsp salt and ½ tsp pepper. Saute for about 5 to 7 minutes.
Add garlic and continue to saute for 5 more minutes. Add tomatoes and green beans. Add other ½ tsp salt. Saute for about 5 to 7 more minutes.
Add chicken broth. Bring to a boil. Add chicken and cabbage. Bring back up to a boil and reduce to simmer over medium heat covered for about 20 minutes.
Ladle in bowls and top with parsley when ready to serve.
 Other recipes you might like:
Mini Meatloaf Pepper Rings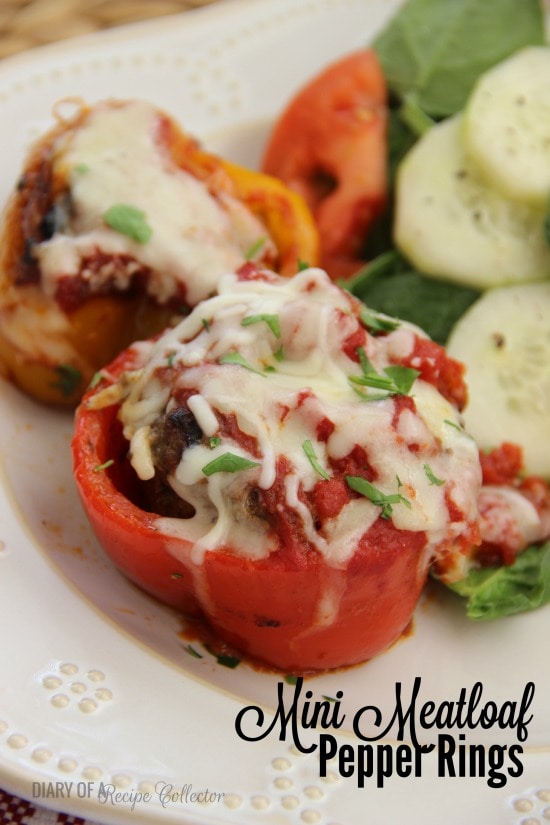 You can find more MAIN DISH RECIPES HERE.
You can find ALL RECIPES HERE.
For more ideas, follow me on:
 FACEBOOK, PINTEREST, INSTAGRAM, TWITTER, AND PERISCOPE.
Get FREE recipes delivered to you by email: SIGN UP HERE!