Taco Egg Muffin Cups – A great grab and go breakfast idea that is high in protein and low in carbs. Plus, it's only 3 freestyle points!


I'm really not sure how I've been blogging for three years this month and never shared this recipe with you yet. These are one of my favorite go-to breakfasts. When I'm wanting to cut back on my carbs, I'll make a batch of these on Sunday to have for the week. It makes it so nice for mornings when I'm running around getting all the kids ready to head out for school. I just grab a few and pop them in the microwave for about 30 seconds.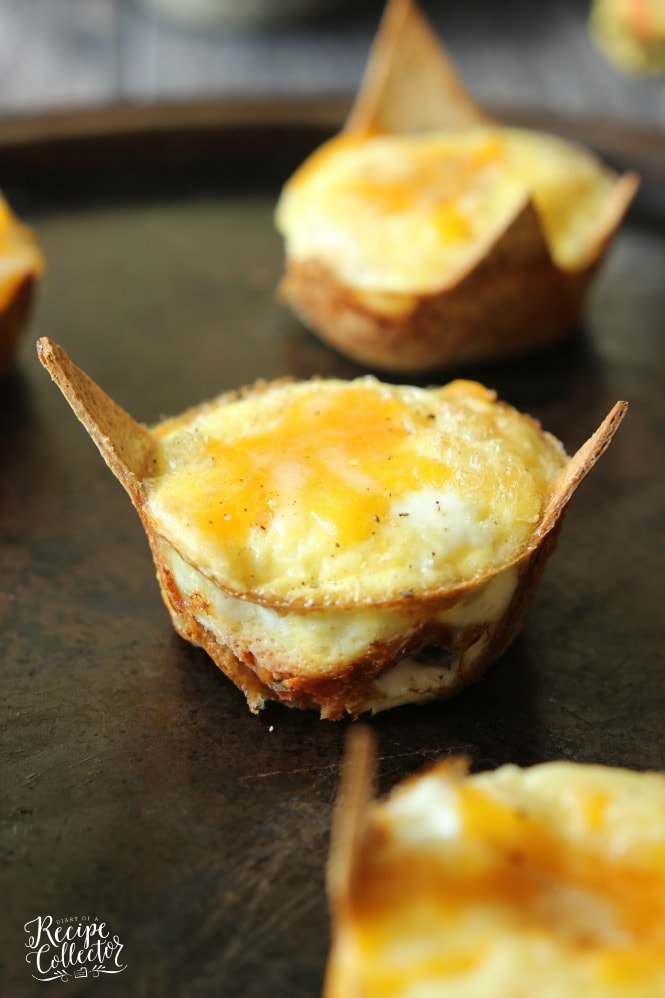 I usually eat them with a small piece of fruit when I'm being particularly strict on watching what I'm eating. That way I'm good to go until my snack mid-morning, which is usually a yogurt. I find that cutting back all the bread products really works for me. And when I do grab a grain, it is whole wheat. I usually limit it to 2 servings a day. So here's what I love about these! One muffin only has 1/4 of a whole wheat tortilla. So when I eat two, it only counts as a 1/2 serving of a whole grain for my day!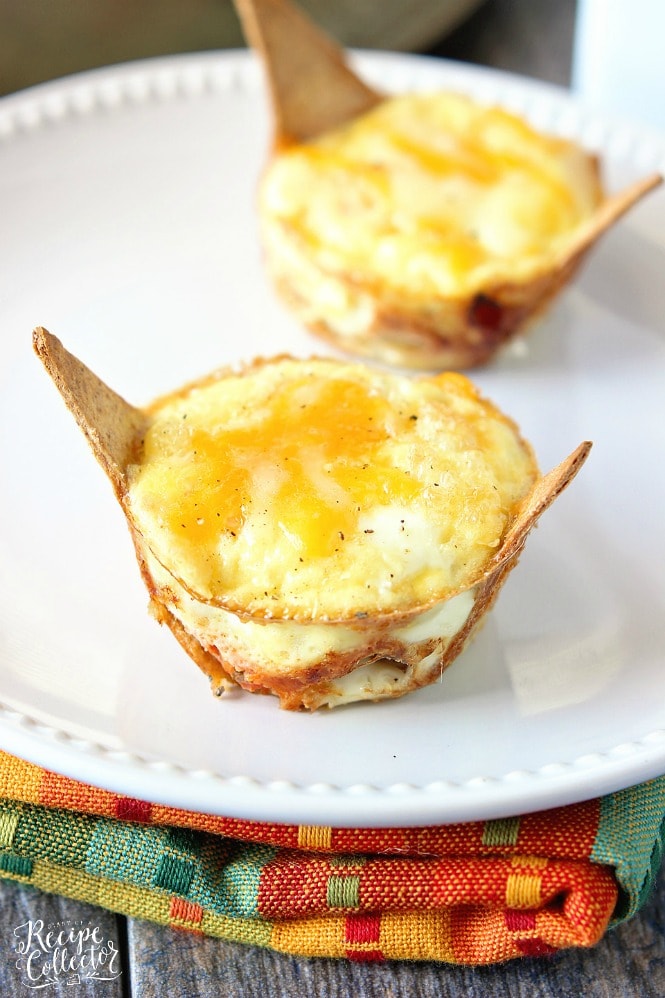 That way I can save more for a little snack in the afternoon and a still have one more for supper. I find this method really works for me….high protien and low-carb with lots of veggies thrown in there. Now the first few days, I'm pretty irritable as I'm kicking the carbs. But after that, I'm good.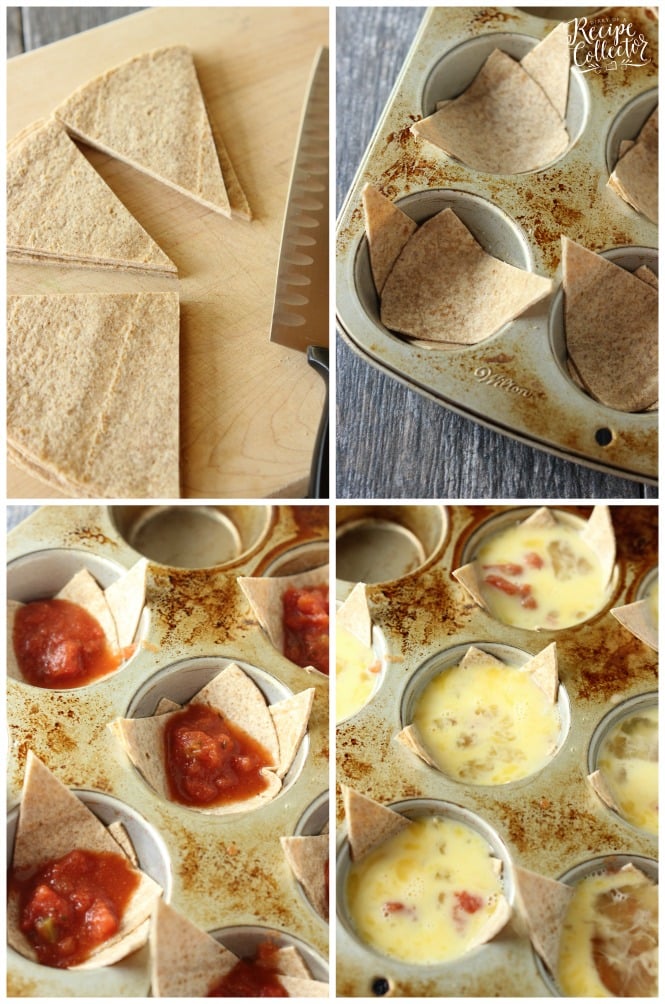 I personally feel a key part of weight-loss (for me at least) is a breakfast with protein. That way I am not starving an hour later! I find that it regulates my blood sugar, and I don't have these moments where I think I'll be sick if I don't get something to eat soon. Do you guys do that? I've done that since I was 12. I know it has everything to do with not eating correctly.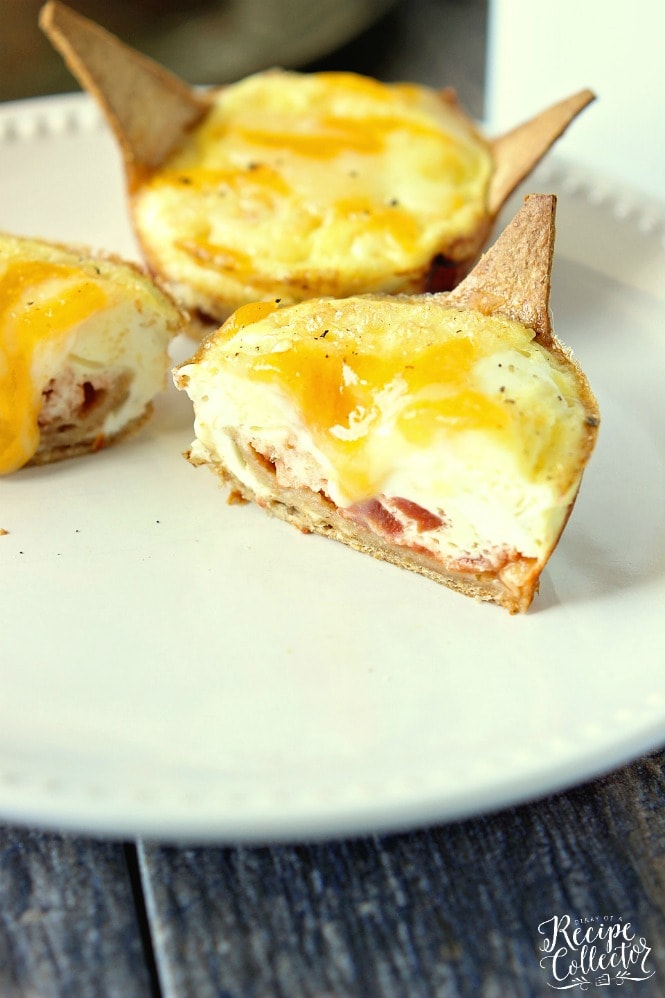 These are super simple to whip up. I find with 6 large eggs, I can make 8 muffin cups. The original idea for this recipe is from a Biggest Loser video I watched many years ago. They put turkey breakfast sausage in theirs, but I don't want a whole lot of meat in mine. I just prefer the egg and salsa. But I loved the idea of putting the tortilla in there to act as a little cup for the egg and salsa 🙂 Hope you enjoy!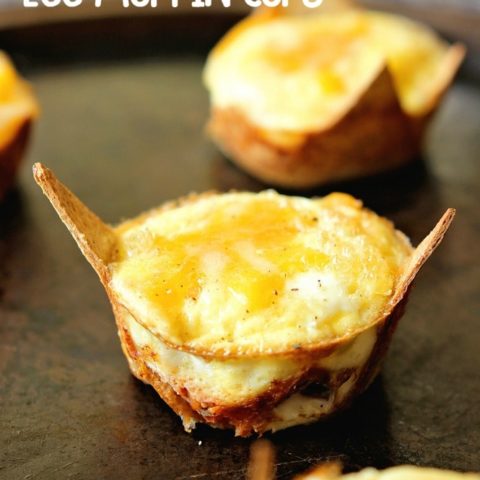 Taco Egg Muffin Cups
Yield:
8 muffins (2 per serving)
Ingredients
2 whole wheat flour tortillas (soft taco size)
6 eggs, beaten
8 tbsp salsa
1/4 cup shredded Colby Jack cheese
salt and pepper
cooking oil spray
Instructions
Spray 8 cups on a muffin tin with cooking oil spray. This is a very important step!!
Cut each tortilla into 8 wedges. Place two wedges into the bottom of each muffin cup with wide edges on bottom and pointed edges coming up out of the tin. (See photo in post)
Place 1 tbsp of salsa in each muffin cup.
Fill each with beaten egg to almost near the top.
Bake at 400 degrees for 10 minutes or until egg is mostly set.
Top each with a little shredded cheese once removed from oven.
Allow them to sit for about 5 minutes and then remove from pan. Serve warm.
Allow to cool and refrigerate any leftovers for later in the week.
Notes
I like to make these ahead of time, let them cool, and refrigerate for a quick breakfast throughout the week. Reheat in the microwave for about 30 seconds.
Recommended Products
As an Amazon Associate and member of other affiliate programs, I earn from qualifying purchases. This helps us keep our blog running efficiently and allows us to create more recipes for you.
Looking for other low calorie ideas?
Skinny Chicken Fajita Tostadas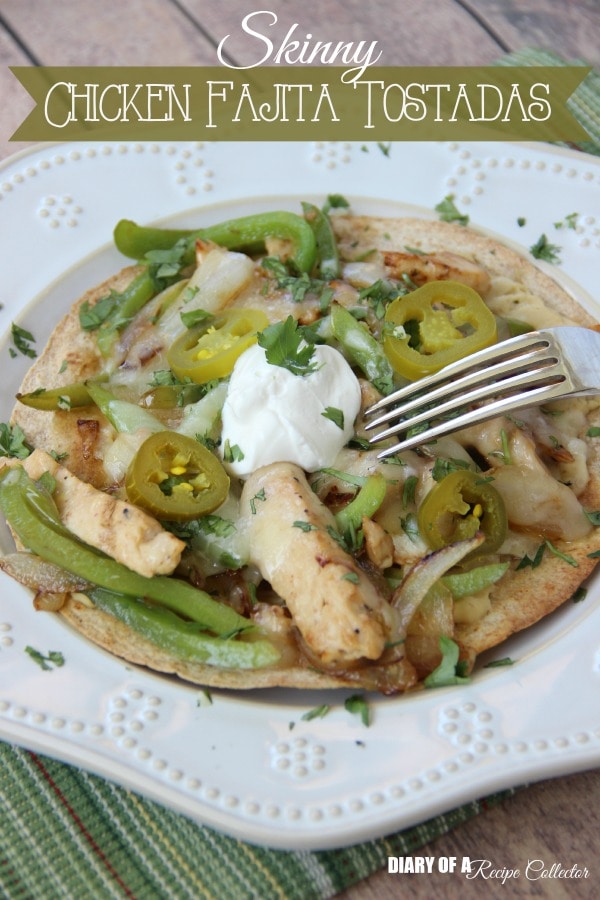 Skinny Turkey and Pepperjack Pizzas