Roasted Veggie Pizza with Garlic Cream Sauce – Oven-roasted yellow squash, zucchini, cauliflower, and onion, three cheeses, and a delicious garlic cream sauce make this pizza out of this world good!
I got the idea for this Roasted Veggie Pizza at a wine tasting I went to with some friends. As soon as I took one bite, I knew I had to try to recreate it. I am happy to say that this is one of my new favorite pizzas!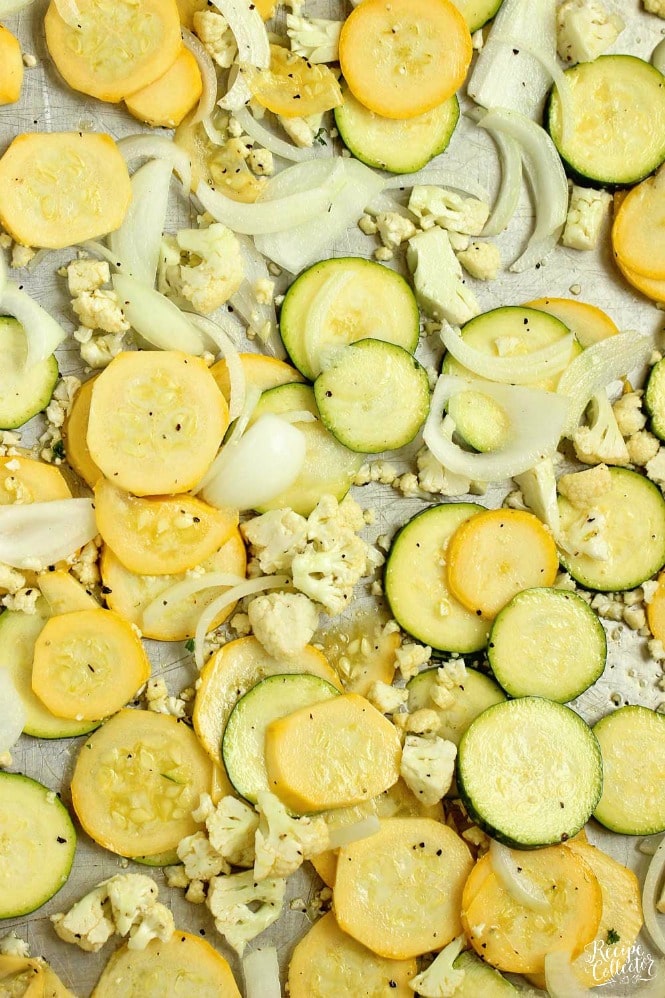 It really is a great summer pizza and a great way to use up all those summer vegetables. Don't be shy roasting all those vegetables. They cook down a lot. Have a meat lover in the house? Add some sausage or some bacon for a nice change. We just made this pizza and a more traditional one to go with it. But I really preferred this one! The sauce, folks, is just quite possibly addicting.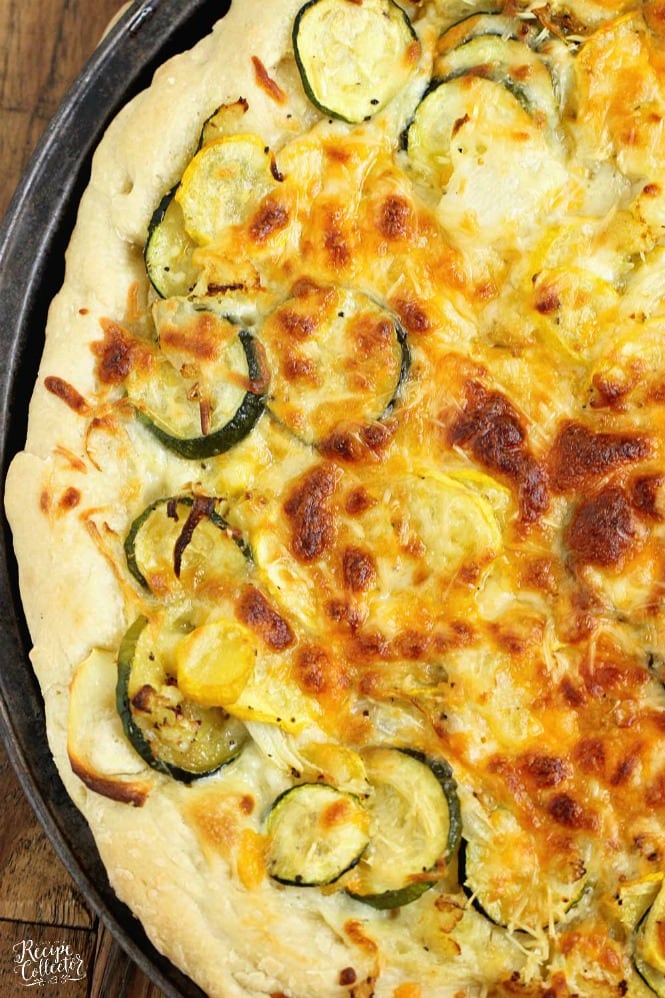 I use Pioneer Woman's pizza crust recipe because it is one of the easiest ones I have tried to date, and it makes enough for two pizzas, which is perfect for our family.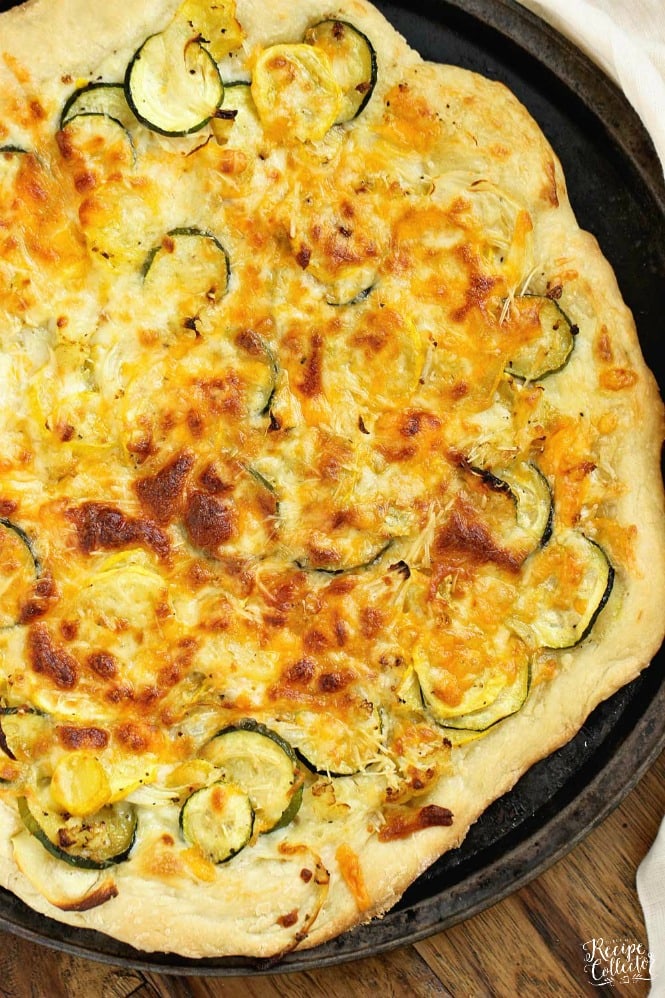 Tips for Making Roasted Veggie Pizza with Garlic Cream Sauce:
You can use a premade dough. Some grocery stores carry already made pizza dough. You can always buy the refrigerated canned pizza dough or the already made crust.
My favorite pizza dough recipe is from Pioneer Woman.
Make your pizza dough ahead of time.
Add chopped cooked bacon or sausage for a delicious twist.
Grill your pizzas for a fun summer dinner idea!
Roasted Veggie Pizza with Garlic Cream Sauce
Oven-roasted yellow squash, zucchini, and onion, three cheese, and a delicious garlic cream sauce make this pizza out of this world good!
Ingredients
1 small zucchini
2 small yellow squash
1/2 yellow onion
1 cup diced cauliflower
1 tbsp olive oil
1/2 tsp salt
1/4 tsp pepper
2 tbsp butter
1 tbsp olive oil
4 cloves garlic, chopped
1 shallot, chopped
2 tbsp flour
1/4 cup wine, beer, or chicken broth
3/4 cup milk
1/2 tsp dried basil
pizza dough (store-bought, homemade, or canned)
1 cup shredded Colby Jack cheese
1 cup shredded Mozzarella cheese
1/2 cup shredded parmesan
Instructions
Preheat oven to 400 degrees.
Thinly slice (about 1/8 inch thick) squash, zucchini, and onion. Add to a sheet pan and drizzle with olive oil. Season with salt and pepper.
Roast veggies for 15 to 20 minutes. Once veggies are done, increase oven temperature to 450 degrees.
While veggies roast, make the garlic cream sauce by melting butter and oil in a skillet.
Add garlic and shallot. Cook for 2 minutes. Add flour and cook for 1 to 2 minutes stirring frequently. Add wine (or beer or broth). Stir. Add milk slowly and stir. Add basil. Season to taste.
Stir and cook for 2 more minutes over medium heat and then remove from heat.
Spread pizza dough onto pizza pan or stone. Prick with a fork all over. Spread sauce over dough. Top with roasted veggies and all three cheeses.
Bake for 15-20 minutes or until golden brown at 450 degrees.
Notes
This pizza can also be cooked on a grill outside!
This pizza is so good, you won't miss the meat! However, you can always add chopped cooked bacon for a delicious twist!
Recommended Products
As an Amazon Associate and member of other affiliate programs, I earn from qualifying purchases. This helps us keep our blog running efficiently and allows us to create more recipes for you.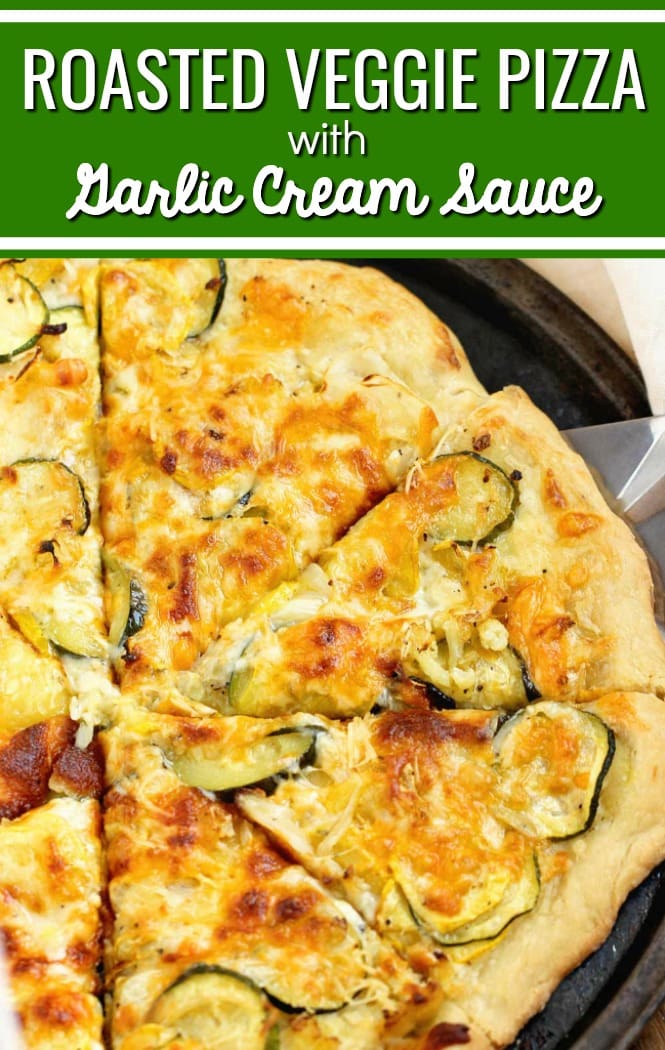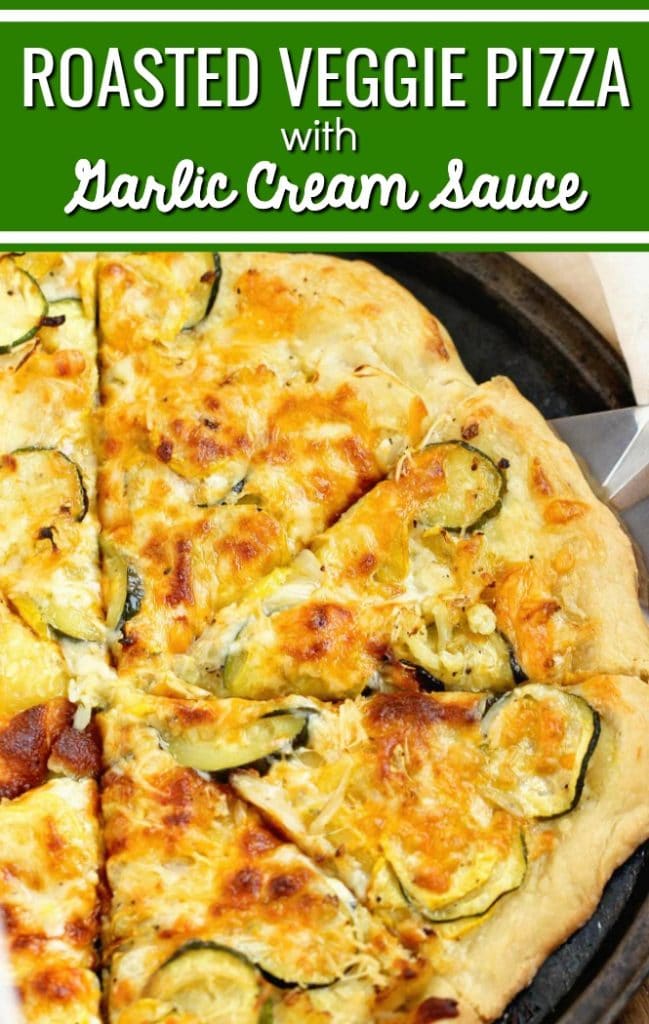 Other Pizza Ideas You May Like: