Skillet Deep Dish Pizza – A perfect quick pizza idea for your family's at home pizza night!

With this busy season of the year, I've been making this Skillet Deep Dish Pizza a lot lately. It is seriously so easy. I love using my black iron skillet for it too! This recipe is great for a week night too because you don't have to allow for rise time on the pizza dough. Pizza yeast is so convenient!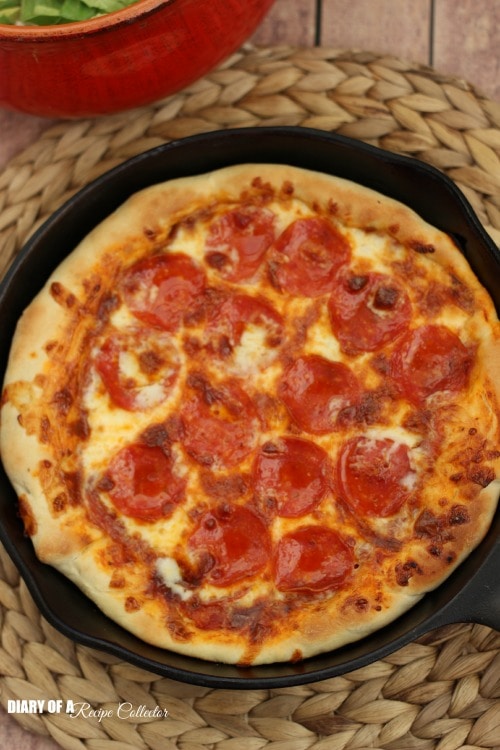 Customize these any way your family prefers them. The dough recipe makes enough for 2 pizzas as well. I sprinkle a little cornmeal on the bottom too so it gives it that delivery pizza texture. Serve it with a nice salad and dinner is easy and delicious!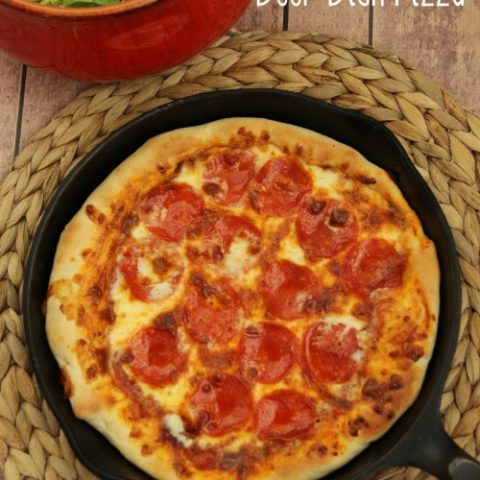 Skillet Deep Dish Pizza
Ingredients
1 pizza yeast packet
1 tablespoon sugar
3 tablespoons olive oil, plus more for brushing
3 3/4 cup flour, plus some for dusting
1 1/2 teaspoons salt
1 1/3 cups warm water (120-125 degrees)
1 tablespoon cornmeal
1 cup of pizza or marinara sauce
Toppings: Pepperoni, 1 1/2 cups shredded Mozarella cheese
Instructions
In the bowl of a stand mixer, mix yeast, sugar, salt, and 2 cups of flour.
Pour in warm water and olive oil and mix for about a minute. Switch to dough hook and add another cup of flour. Mix until combined again. Add last 3/4 cup of flour and keep mixing until dough starts to pull from sides.
Remove from bowl (sprinkle dough and hands with a little flour to make this easier). Split dough in half. Reserve one for later use.
Sprinkle cornmeal into the bottom of the black iron skillet.
Press dough into pan while spreading it the sides.
Drizzle a little olive oil on pizza and brush it over dough.
Add pizza sauce, pepperonis (plus any of your other favorite toppings), and shredded cheese.
Bake at 450 for about 12-15 minutes or until sides get slightly golden brown.
Let cool a little before cutting.
Notes
Other half of pizza dough can be frozen.
Recommended Products
As an Amazon Associate and member of other affiliate programs, I earn from qualifying purchases. This helps us keep our blog running efficiently and allows us to create more recipes for you.
Other recipes you might enjoy:
Grilled Chicken and Bacon Pizza with a Garlic Cream Sauce