White Chicken Enchilada Pizza – All the flavor of White Chicken Enchiladas but in pizza form! What's not to love!

Hey everyone! Hope your week is going okay so far. We are full swing into the school year down here. Just about every afternoon we have something going on now. This year we have a 2nd grader and 1st grader. Homework time is interesting to say the least. It goes something like this:
Me: (To my 2nd grader) Get started on your Math first. (To my 1st grader) let's look at your math sheet.
2nd grader: Mom, why aren't you helping me?
Me: I'll be there in just a second. Let me get him started first.
2nd grader: Can you do this one with me? Can you read this one to me? (She can read and I'm fairly confident she knows what to do also).
Me: (Distracting my 2 year old with stickers) Let me just do one more with your brother.
Me: (To my 2nd grader) Okay let's see what you've done and I'll check them to see if they are right. Wait. You haven't started yet. (As she hangs upside down to get her pencil that has rolled onto the floor for the 4th time). Okay let's do this one.
Baby starts crying.
Me: (While wiping marker off the table and taking it away from my 2 year old) Okay let's do a few more. Good. Now your turn.
Baby cries a little louder, and I go grab him.
Me: (To my 1st grader) Finish your math so we can check it. Remember we still need to do your ELA sheet.
2nd grader: Mom can you help me?
1st grader: Mom I don't understand this one?
2 year old climbs on table.
Baby still crying and wants to eat.
Me: Where's your Daddy??
This cycle repeats and occasionally we have meltdowns when some of that Math is just not sinking in. I don't know how you home-school moms do it. I taught school for 9 years, but I never had a 2 year old and a baby to take care of at the same time. I just keep telling myself it will get easier…one day soon hopefully!
I'm sure a lot of you have evenings like this too. So why not look forward to eating a great pizza after all that hard homework thinking time?
This pizza is so good! I love White Chicken Enchiladas. This has all those same flavors from the sour cream, green chiles, and cream of chicken minus the tortillas. Your family will love it!
I usually have pizza dough already made in the freezer that I thaw out anytime I make a pizza. Honestly, I don't have time to make pizza dough on a school night unless I can get it made earlier in the day. I've included one of my favorite pizza dough recipes below.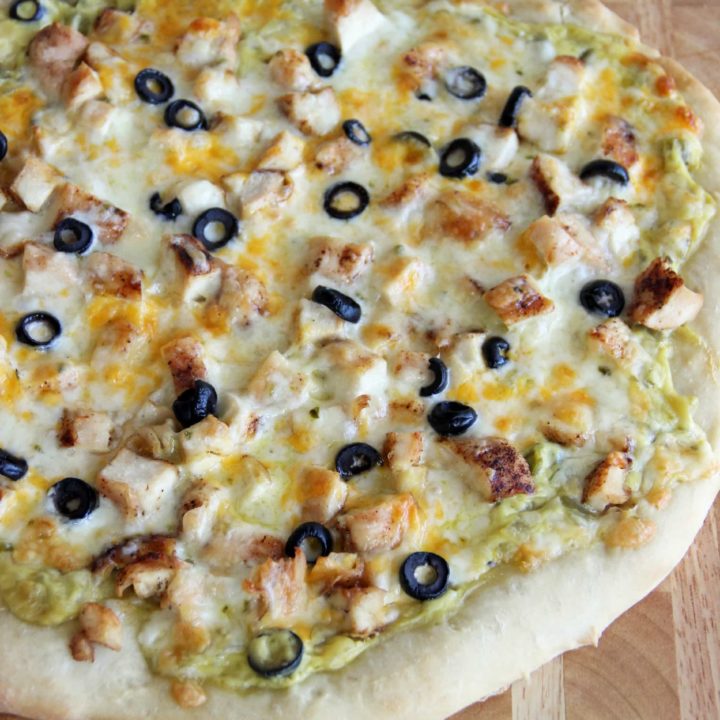 White Chicken Enchilada Pizza
Ingredients
pizza dough
2 chicken breasts, grilled and diced
2 tbsp butter
1 small onion, chopped
1 clove garlic, finely chopped
1 can sliced olives, divided
1 can cream of chicken
1/2 cup sour cream
1 can green chiles, chopped
1 1/2 cups shredded Colby Jack cheese
1/4 cup milk
Instructions
Preheat oven to 425. While oven is preheating, spread dough into a 12 inch circle on a pizza stone or pan. Place in oven to partially bake while oven is preheating. Partially bake for about 7 -10 minutes. Remove.
In a medium saucepan, melt butter.
Add onion and garlic and saute for about 5 minutes.
Add 1/4 cup olives, sour cream, cream of chicken, milk, green chiles and mix well over medium heat.
Remove from heat.
Spread sauce on partially baked crust.
Top with chicken, olives, and cheese.
Bake pizza for 10-15 minutes or until crust begins to get golden brown and cheese is melted.
Enjoy!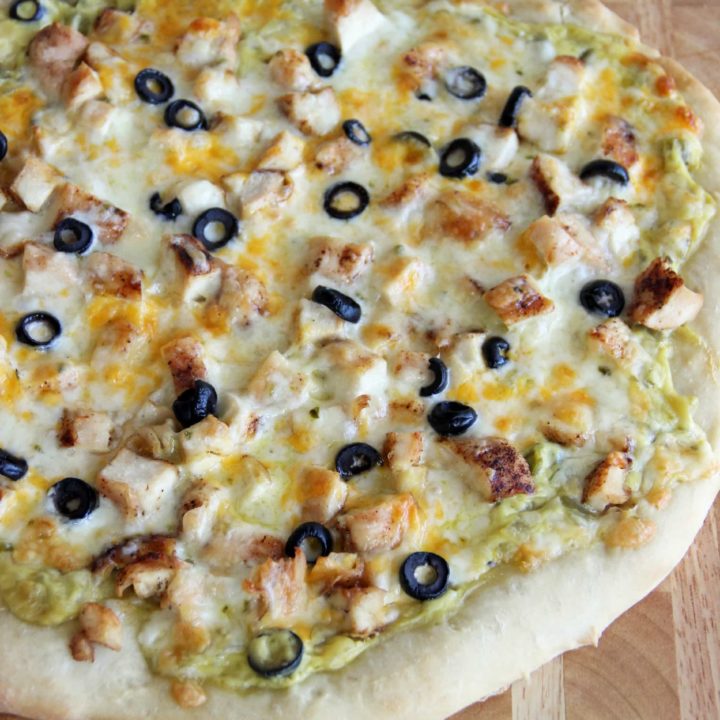 Pizza Dough
Ingredients
1 tbsp sugar
1 yeast packet
1 1/3 cups warm water
3 tbsp olive oil
3 3/4 cup flour, plus more for dusting
1 1/2 tsp salt
Instructions
Mix warm water with sugar and yeast and let sit for 10 minutes. Yeast will begin to foam on top.
Stir the olive oil into the yeast mixture.
In the bowl of a mixer, mix the flour and salt and then make a well in the center.
Pour in the yeast mixture gradually and begin stirring in the flour.
Using dough hook, turn mixer on and let it knead dough for about 5 minutes or until dough pulls away from sides. Sprinkle in more flour if dough seems too wet and is not pulling away from sides.
Split mixture into two balls. Place each dough ball in an olive oil coated bowl while turning dough to get coated with oil as well. Cover with dish towel and let it rise for 1 to 2 hours or until it doubles in size.
Freeze the extra dough in a freezer storage bag. Let thaw and come to room temperature when ready to use. Dust with a little flour to help spread it onto a pan.
Notes
Source: Food Network Magazine
Recommended Products
As an Amazon Associate and member of other affiliate programs, I earn from qualifying purchases. This helps us keep our blog running efficiently and allows us to create more recipes for you.
Here's some other recipes you might enjoy:
Grilled Chicken and Bacon Pizza with a Garlic Cream Sauce