Looking for a low calorie and easy lunch you can make ahead of time?  This Roasted Red Pepper and Turkey Wrap  with only 4 ingredients is just the ticket!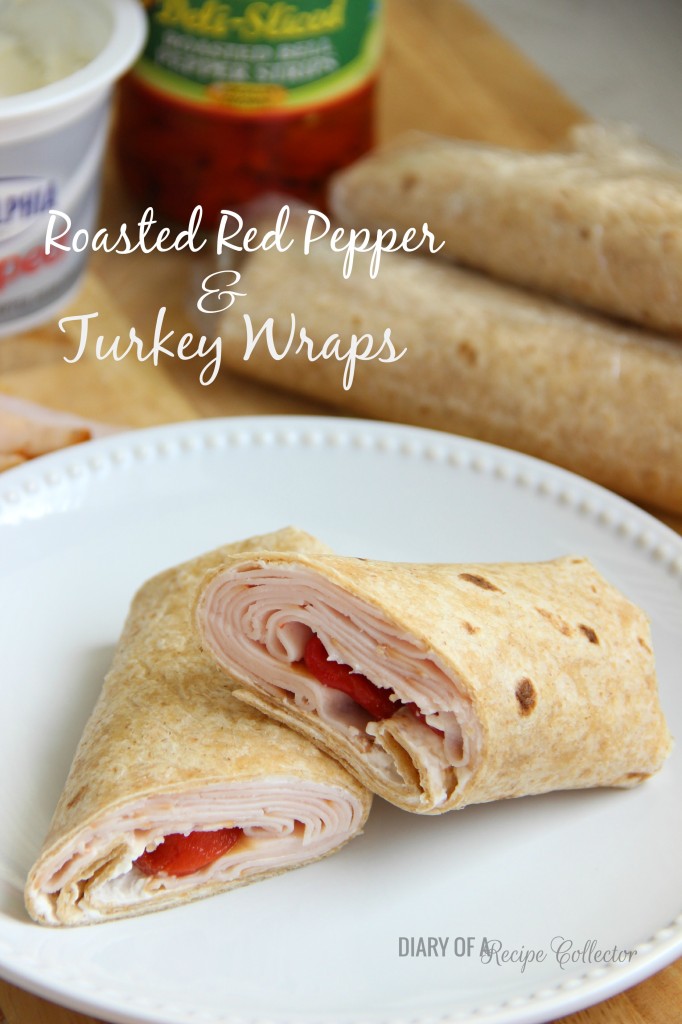 Well our little man is now 2 months old.  I can't believe he's getting so big so quickly.  On one hand it is good because I look forward to easier stages ahead, but on the other hand, I just love those sweet tiny baby features and the sweet little cry…except at 2 am.
So since I have a 2 month old, I'm kind of in weight loss mode.  I'm trying to get off those last few pounds.  I always dread this part.  I'm pretty much doing what I've done every time.  I put in my Jillian Michaels Body Revolution video and wish it will be over soon.
And then I eat little things like this for lunch.
I'm a huge Biggest Loser fan, and this little recipe is adapted from the first Biggest Loser cookbook.  It is so easy, and I usually make three or four of them ahead of time in order to have them ready to eat.  They really can't get easier to make.  Whole wheat tortilla, whipped cream cheese, roasted red bell peppers, and sliced turkey…that's it!
Here are some other things I eat during the day:
Breakfast:
Scrambled Eggs in a Whole Wheat Pita Pocket
Scrambled Eggs in a Whole Wheat Tortilla Wrap
Boiled Eggs
Lunch:
Turkey and Cheese Whole Wheat Wrap
Turkey, Lettuce, Tomato in a Pita Pocket
Chicken and Cheese Quesadilla
Snacks:
string cheese
yogurt
1/2 pita toasted with hummus
I'm also trying to not be too strict right now either since I am nursing.  I know I just need to patient, and it will come off in a few months…easier said than done, right?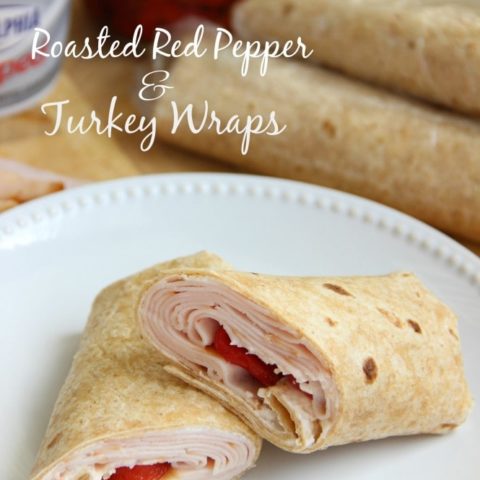 Roasted Red Pepper and Turkey Wrap
Ingredients
1 whole wheat tortilla
1 tbsp whipped cream cheese
5-6 slices turkey
3-4 strips of roasted red bell pepper (jarred)
Instructions
Spread cream cheese over all of tortilla.
Place turkey on top of cream cheese.
Top with roasted red bell pepper strips.
Roll up and slice in half or wrap in plastic wrap and chill for later.
Notes
*Adapted from The Biggest Loser Cookbook
Other wraps:
Ultimate Chicken Salad Rollups