Praline Poke Cake – This butter pecan cake has the most delicious praline icing plus it's filled with caramel!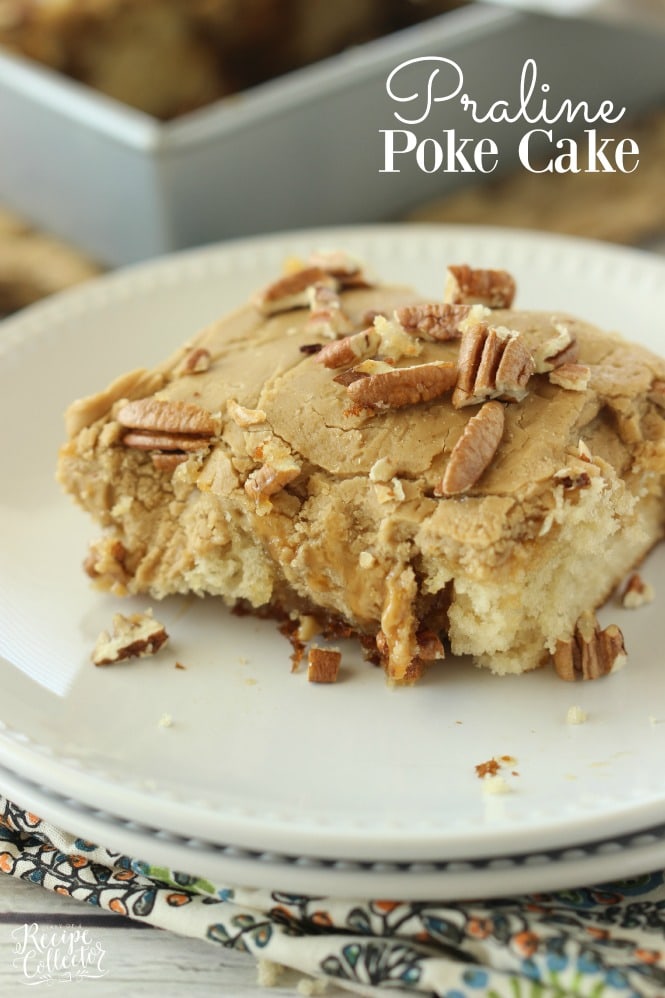 It's been pumpkin central around here lately! Seriously. We've had so much pumpkin painting going on…
Every year, I let my kids pick out little pumpkins to paint when we go to the pumpkin patch to get our big carving pumpkin. So they painted those last weekend. And this past weekend, my two older kiddos wanted to enter the pumpkin decorating contest at school. So we spent another weekend painting…all while the pantry remodel is going on. I found myself wondering what I was thinking. My kitchen looked like a disaster area for the last five days.
And I hate to say it, but not much cooking has been going on while all this other stuff is happening. I'm ready for normalcy in that department!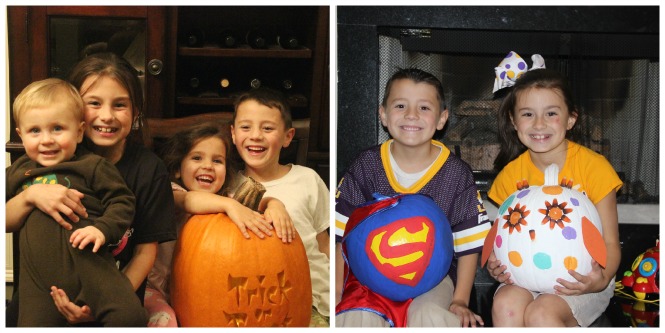 These kinds of pictures are always always my favorite ones to take. I love that I have a picture of the kids with the carved pumpkin every year. I'm big on tradition. They all go in a scrapbook, which I've totally neglected since my youngest was born. Did you know I have a scrapbooking blog? Now it has a few cobwebs on it since I haven't had time to work on any of that stuff in the last year. But I truly miss it so much! After the hustle and bustle of the holidays, I plan on getting all of my stuff out and working on a few pages.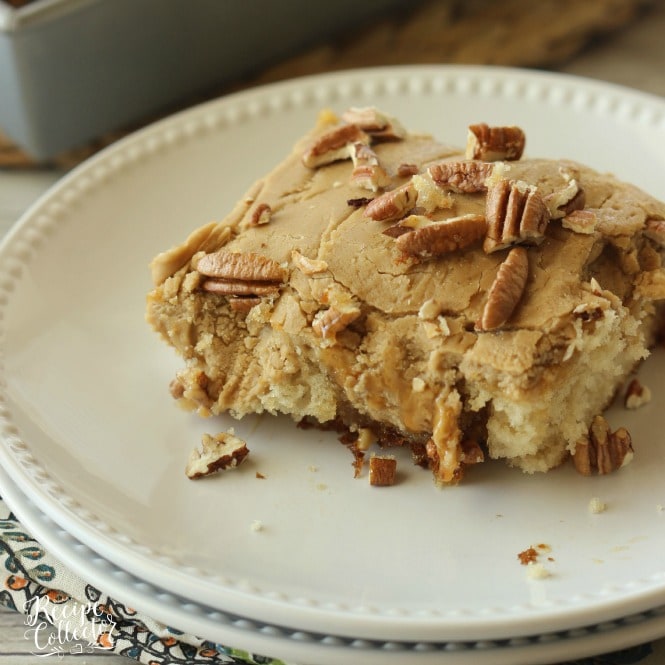 Today, I have a great fall cake recipe for you. It's made with a Praline icing!! Now down here in Louisiana, we say prah-lean as opposed to pray-lean. That Cajun accent comes out in words like that. But no matter how you say it, it is delicious! I just used a box butter pecan cake mix, and after I baked it, I poked holes and poured on the caramel sauce. The icing is really simple to make too. You will love it!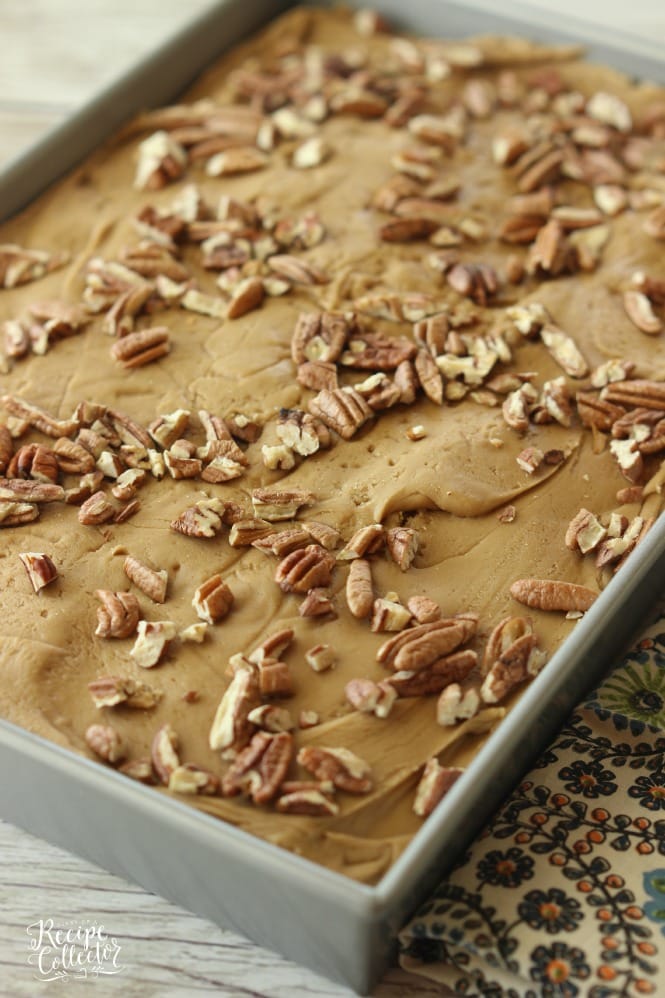 Now if the icing comes out a little thick, all you have to do is add a little more cream to it to thin it out a little. It will harden a little after icing. This cake is one of those cakes that goes perfectly with a big ol' glass of milk!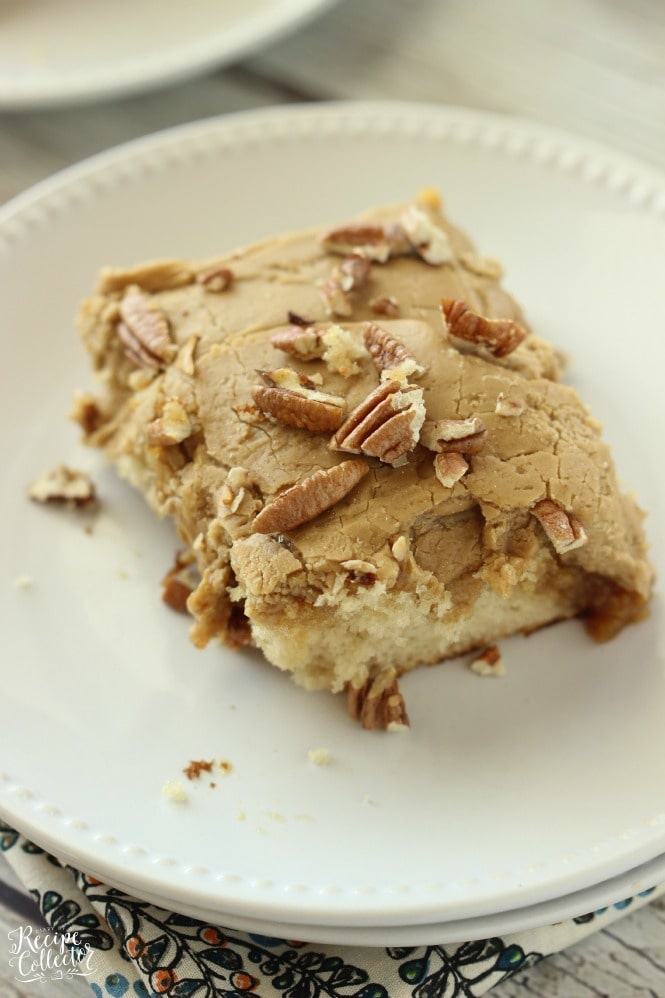 Praline Poke Cake
Ingredients
Cake:
1 butter pecan cake mix (plus ingredients to make cake)
1 12 oz. jar caramel sauce
Praline Icing:
1/2 cup butter
1 cup packed dark brown sugar
1/3 cup heavy cream (plus a little extra may be needed)
1 16 oz. box powdered sugar
1 tsp vanilla extract
1 cup pecans, chopped and toasted*
Instructions
Bake cake according to package directions. Once you remove it from the oven, let it sit for 10 minutes.
Poke holes all over cake with the handle of a wooden spoon.
Pour caramel over cake and into holes. Let soak into cake and continue to cool.
Make icing by melting butter in a medium saucepan over medium heat. Stir in brown sugar and heavy cream. Bring it to a boil and then remove it from heat. Carefully pour into mixing bowl. Add powdered sugar and vanilla. Beat with a hand mixer until smooth. If it is too thick to spread, add a little more cream. (about 1 tbsp)
Frost cake with icing. Top with toasted pecans*.
*Toast pecans in 350 degree oven for 5 minutes and allow to cool.
Recommended Products
As an Amazon Associate and member of other affiliate programs, I earn from qualifying purchases. This helps us keep our blog running efficiently and allows us to create more recipes for you.
Other cakes you may love:
You can find more DESSERTS RECIPES HERE.
You can find ALL RECIPES HERE.
For more ideas, follow me on FACEBOOK, PINTEREST, INSTAGRAM, TWITTER, AND PERISCOPE.
Get FREE recipes delivered to you by email: SIGN UP HERE!