Coconut Lemon Curd Poke Cake – A delicious cake filled with lovely lemon curd and topped with a fantastic icing and coconut.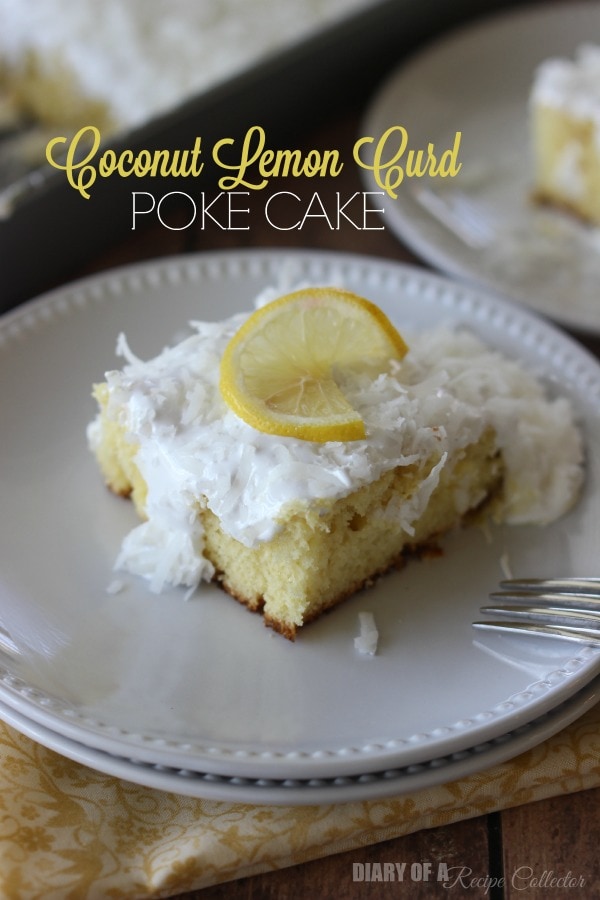 Have I mentioned to you all how much I really really love blogging?  It has become such a fun and exciting adventure for me.  I love bringing you guys recipes that my family and friends love.  And I know you all like to do the same too.  Otherwise, why would you be reading a food blog, right?
But every now and then, there is one aspect of this blogging/internet stuff that gets to me.  I see it all over the place and a few times on my blog.
I have noticed lately how mean people can be online.  They say hurtful comments that I'm sure they would never say to that person in real life.  I've seen it on other blogs, Facebook, Twitter, and recently I've had a few people get down right rude with me.  And that just crushes me…
I mean can you imagine taking a dish to a potluck or something, and someone coming up to your face and saying, "I really don't think you made this recipe right.  What a waste of my time?  You should have done this, this, and this…  Don't ever make this!"
As I'm sure we can all agree, there is a right and a wrong way to say something.  I love helpful, constructive comments.  My most popular post is filled with them.  I love it when people tell me what they've done differently and how it turned out.  Most home cooks never follow a recipe exactly.  The sad truth is that those negative commenters are the ones who will take the time to spread their negativity.  Those who like a recipe are not worried about coming back and commenting.  Although I do have a few that come back and tell me how much they like something.
And y'all that makes my day!
In the end, I have this blog for me, my family, and others who love to cook at home like me.  I want to share what we create.  It is my little space on the web…my little collection of cooking/life memories.  I know I have to remember that people who make those mean comments on my blog or anyone else's have a problem with themselves and not necessarily me.  It takes some thick skin to open yourself up to the public.  That is one aspect of this whole blogging thing I never really thought about before starting.
I will end with saying that I do hear so many positive comments, and I truly appreciate it.  This blog is my little happy place, and I like it to stay that way so you can all be happy with me:)
Venting=Over
Thanks for listening!  Now onto this yummy cake because I'm sure that's what you came for, right?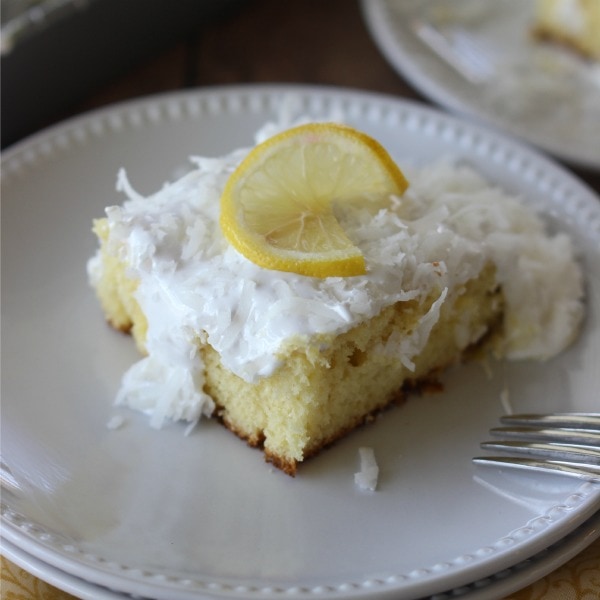 I love a good poke cake!  They are such crowd-pleasers!  Even though this cake has a simple presentation, it is an elegant cake.  Lemon curd is drizzled all over the top of it and soaked into the cake.  I typically make my own lemon curd because I started doing so out of necessity a long time ago when I couldn't find it at my grocery store.  However, now you can find it easier.  So if you are in a rush, go with the store-bought lemon curd.
Finally, it is topped with a rich 7-Minute Icing and coconut.  This pretty much completes the task of making it the most elegant little poke cake ever!  Hope you enjoy it as much as we did!!
Coconut & Lemon Curd Poke Cake
Author:
Ingredients
1 yellow cake mix, plus ingredients to prepare
1 1/2 cups sugar
2 egg whites
1/4 tsp cream of tartar
1/8 tsp salt
1/3 cup water
1 11 oz jar of lemon curd (or use a homemade version below)
1 1/2 cups shredded coconut
For Homemade Lemon Curd:
5 egg yolks
1 cup sugar
4 lemons, zested and juiced
1 stick butter, cut into tablespoons
Instructions
Prepare and bake cake in a 13 x 9 pan according to package directions.
After taking cake out of oven, poke several holes all over cake with the handle of a wooden spoon.
Pour lemon curd over cake and spread it out evenly over top of cake and into holes.
Allow it to set and cool for about an hour.
Make frosting: Set up a double boiler on stove by bringing 1 inch of water to a simmer over medium high heat in a medium sauce pan. Top pan with a heat proof bowl. Make sure that water does not touch bottom of pan.
Add sugar, egg whites, cream of tartar, salt, and water to the bowl. Beat with an electric mixer for 1 minute. Carefully remove the bowl from heat and continue to beat for 7 minutes.
Frost cake with icing. Top with shredded coconut. Refrigerate until ready to serve.
For Homemade Lemon Curd: Set up a double boiler on stove by bringing 1 inch of water to a simmer over medium high heat in a medium sauce pan. Do not top with heat proof bowl yet. Measure lemon juice and add water to make sure liquid measures 1/3 cup. Whisk sugar and egg yolks until smooth in heat proof bowl. Add lemon juice and zest and whisk until smooth. Once water reaches simmer, reduce heat to low and place heat proof bowl on top making sure water does not touch bottom of pan. Whisk mixture until thickened about 8 minutes. Mixture should coat the back of a wooden spoon once thickened and will be pale yellow. Remove from heat and begin whisking in butter one tablespoon at a time allowing it to melt before adding another. This can be made ahead of time and stored in refrigerator for up to 2 weeks. Place plastic wrap directly onto surface of lemon curd before storing.
 Looking for other great cake recipes?