Strawberry Wet Cake – A super moist strawberry cake filled with real strawberries and strawberry jello and topped with a wonderful cream cheese icing and more strawberries!!  It's perfect for a crowd!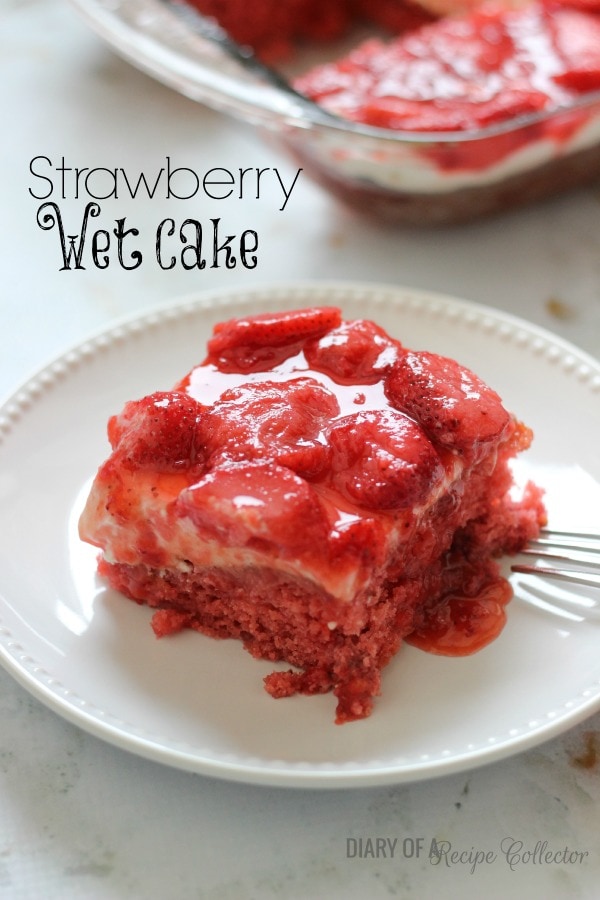 So you guys it has been really rough over here for about a week.  Sick kids are no fun, but when mama gets sick with them, that is really no fun!!
When I woke up Friday morning, I knew I didn't feel well, but I thought I was just coming down with the cold my kids had.  I had a really bad headache.  I had an appointment that morning to meet with someone who is making a sketch for some home remodeling we will be doing soon (more info on that later:)  In the middle of my meeting, I suddenly felt really flushed and cold at the same time.  I had a sudden urge to lay my head down.  I knew it was going to be a rough drive back home…about 30 minutes.
I've never felt something sneak up on me so quickly.  I went from feeling okay to terrible in about 10 minutes.  I felt my blood sugar drop, I got light-headed, and I had to pull over at a gas station to grab a mint.  I closed my eyes a minute and gave the mint a chance to pep me back up again.  It helped a little.  I got back on the road and finally made it home.  Y'all that was pretty scary.  When I got back home, I took some medicine and laid down.  By that evening, I asked my husband to take me to an urgent care clinic.  I knew I had the flu.  Sure enough, I did…
At this point, I was pretty aggravated with myself for not getting a flu shot.  Now all my kids have had one, so I'm hoping that keeps them okay.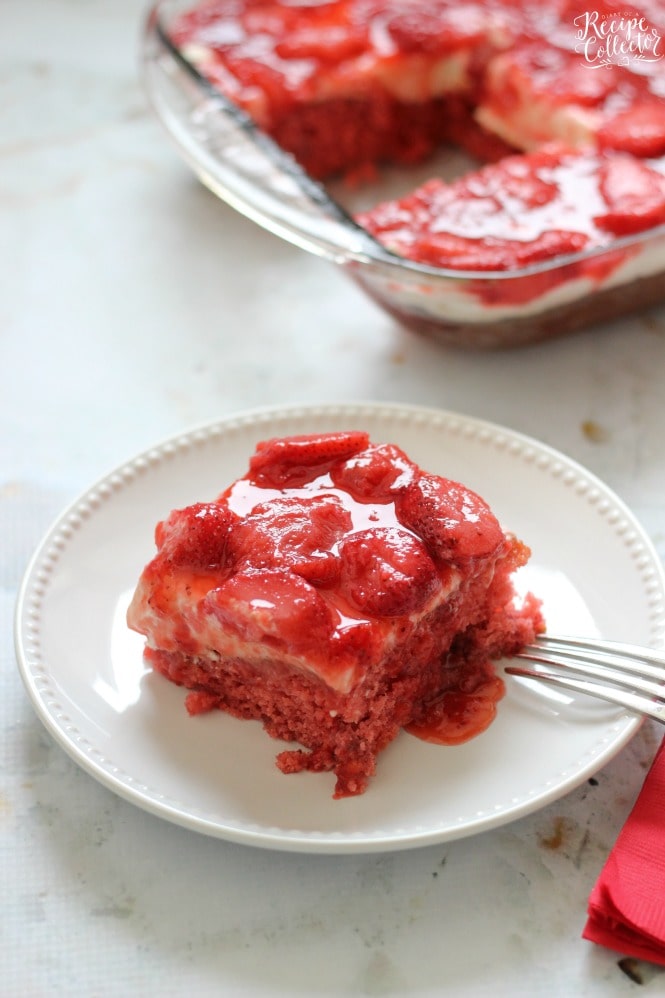 The next few days were more or less taking it very easy and sanitizing everything!  Here's to hoping no one else gets sick because this sick business stinks!
So I'm ending all this sick talk with this glorious slice of bliss!  This Strawberry Wet Cake is fabulous!  It is an old recipe that my mom had.  When she told me about it, I knew I had to try it out.
It is seriously one of the most moist cakes ever!  You finish it off with a wonderful cream cheese icing and more sliced strawberries.  Now let me warn you.  It is sweet and a little goes a long way.  It would be a perfect dessert for a crowd.  I promise people will be asking you for the recipe.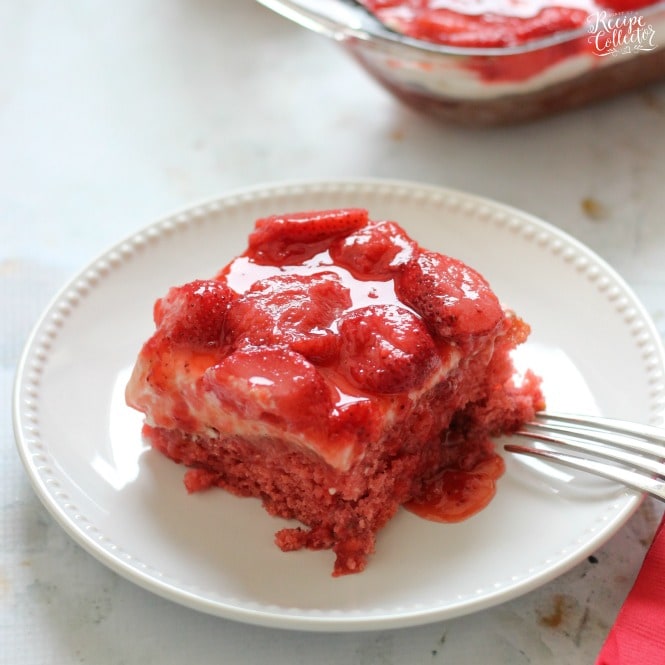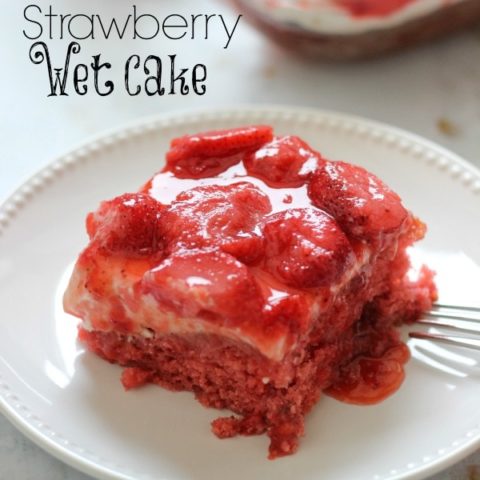 Strawberry Wet Cake
Ingredients
1 box strawberry cake mix
1 3 oz. strawberry jello
2 16 oz. containers of sliced sweetened strawberries (I used frozen)
3/4 cup oil
4 eggs
2 8 oz packages cream cheese, softened
1 cup granulated sugar
1 cup powdered sugar
1 tsp vanilla
Instructions
Mix cake mix, jello, oil, and eggs. Beat for 2 minutes or until well combined. Stir in 3/4 cup strawberries with juice and mix well.
Pour batter into a greased 13 x 9 pan and bake at 350 for 25 to 30 minutes or until toothpick inserted in center comes out clean.
Let cake cool completely.
Make icing by beating together cream cheese, both sugars, and vanilla.
Spread onto cooled cake.
Top with remaining strawberries and juice.
Cover and refrigerate overnight.
Recommended Products
As an Amazon Associate and member of other affiliate programs, I earn from qualifying purchases. This helps us keep our blog running efficiently and allows us to create more recipes for you.
 Other recipes you might enjoy:
Strawberry Sour Cream Cake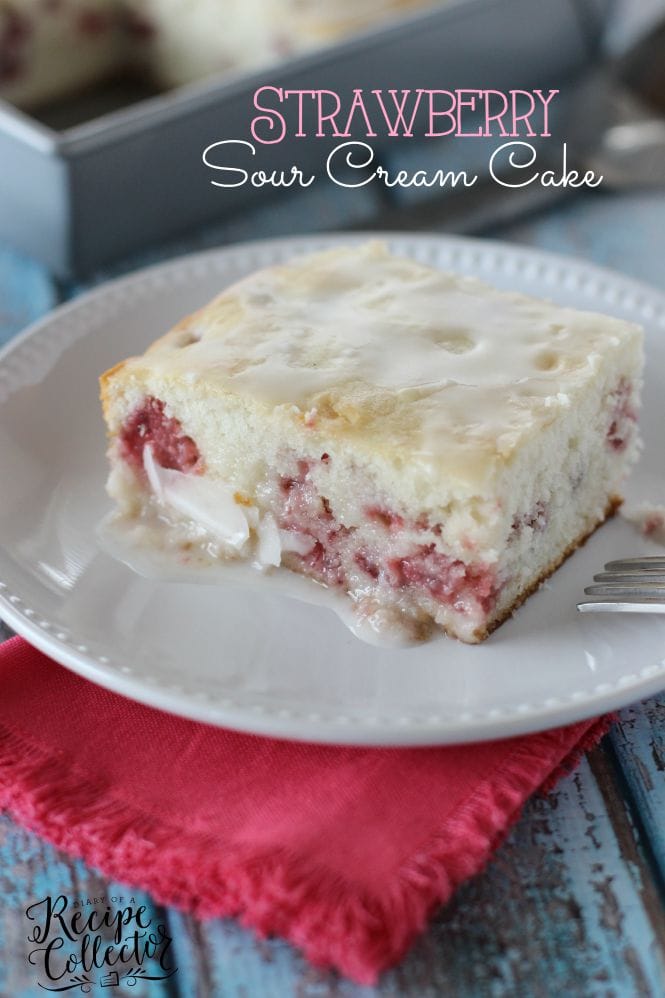 Strawberry Daiquiri Pie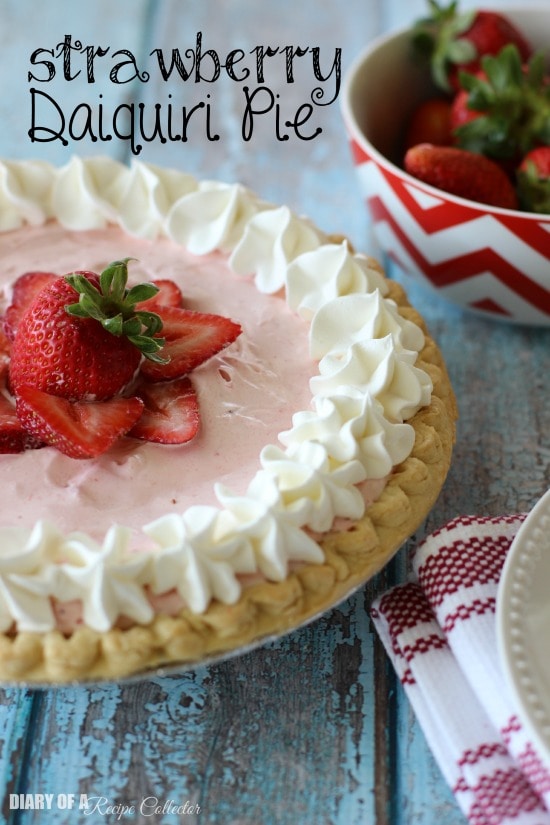 You can find more DESSERTS RECIPES HERE.
You can find ALL RECIPES HERE.
For more ideas, follow me on FACEBOOK, PINTEREST, INSTAGRAM, TWITTER, AND PERISCOPE.
Get FREE recipes delivered to you by email: SIGN UP HERE!