Nutella Ganache Cookie Cups – Only 3 ingredients needed to make these little bites of goodness!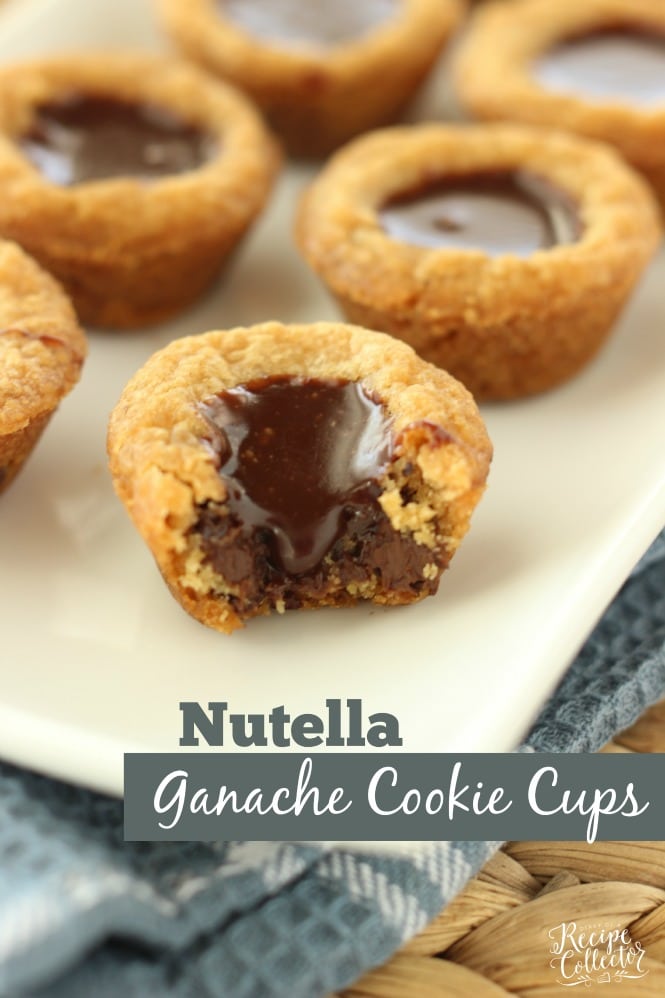 So we have a little problem with things disappearing at our house lately.  Remotes, toothbrushes, sippy cups, a shoe or two…
So who is to blame?  Well our little guy, who is 15 months today, seems to be the culprit.  I found his toothbrush on my cookbook shelf the other day.  My good flip flops had also been missing for a few days.  I found them in my oldest son's hamper.  And those darn remotes…they go missing every few hours.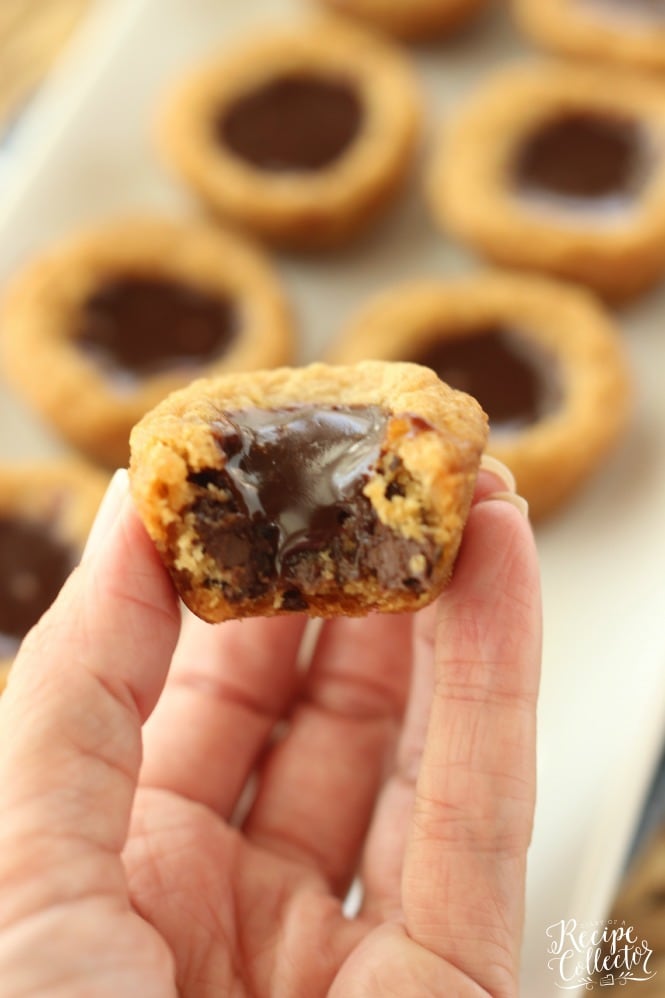 It seems like our little man likes to relocate things.  Now to find them, I often have to get down on his level, literally.
The other day, I opened a kitchen cabinet door only to find his blankets stuffed in my KitchenAid mixer bowl.  And I'm quite sure one of the remotes made it into the trashcan…the other thorn in my side!  Don't get me started on 1 year olds and trash cans!  WHY do they love them so?
So if you need me, I'm probably looking for a shoe or sippy cup…
In the meantime, I'll leave you with something else that disappeared in my house…Nutella Ganache Cookie Cups!
I made 2 batches and they were GONE in no time!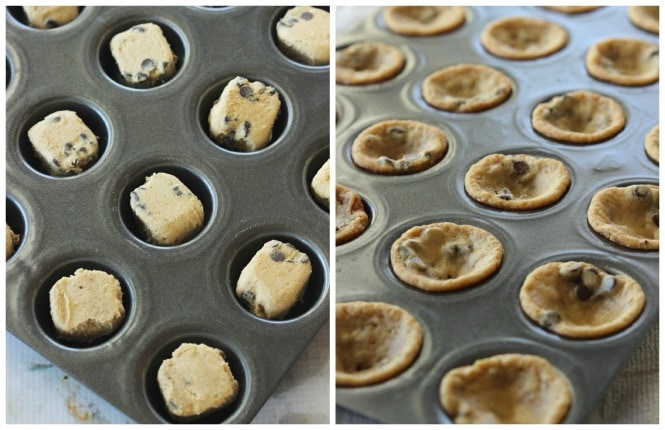 And they were so EASY with only 3 ingredients!  The hardest part is waiting for them to set up and be ready, but I'm not going to lie…I did sneak one or two or three before they were ready.  I had to test them out 🙂
And my other taste testers LOVED them too!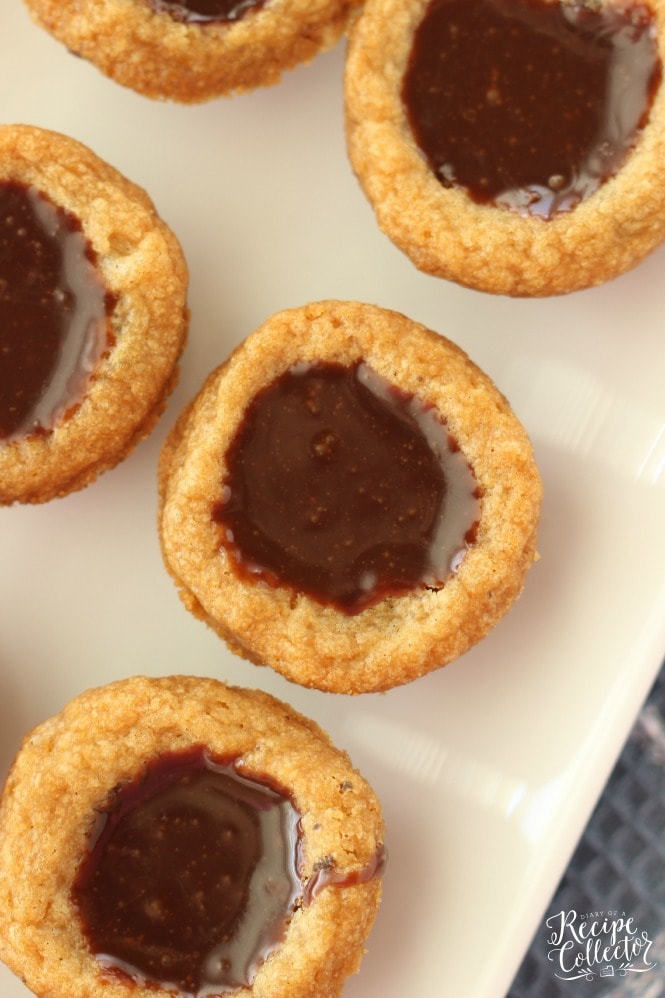 Make sure you have a mini muffin pan for this recipe.  It is so worth it to get one.  I use mine all the time for mini cupcakes and little pecan pies during the holidays.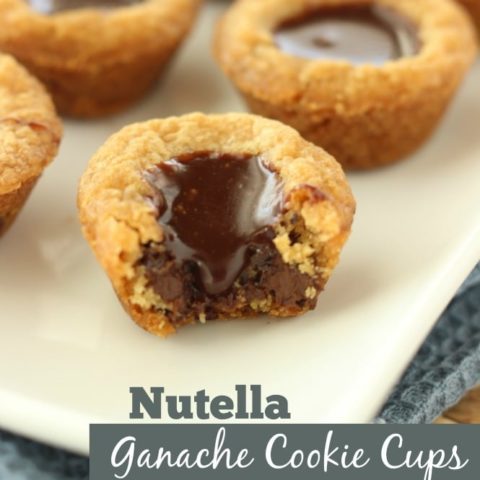 Nutella Ganache Cookie Cups
Ingredients
1 24 ct. package of refrigerated chocolate chip cookie dough
1/2 cup Nutella
1/4 cup heavy cream
Instructions
Preheat oven to 325 degrees.
Spray a mini muffin tin with cooking oil spray.
Remove pre-scored cookie dough squares from package. Place each square in a muffin cup.
Bake for 10 to 12 minutes or until the center is set. It will deflate once removed from the oven.
Let sit for 10 minutes.
Use a small measuring spoon to press down centers a little more being careful not to break sides.
Let sit to cool completely.
Remove from pan using a butter knife to help twist cookie cup out of pan. Place on a sheet of parchment or wax paper.
Make Nutella ganache by heating heavy cream to a slight boil in a small sauce pan. Remove from heat. Stir in nutella until smooth.
Use a 1 teaspoon measuring spoon to fill each cookie cup with the nutella ganache. Allow cookie cups to sit for at least 2 hours before serving. Store covered at room temperature.
Notes
*Make sure you spray even a non-stick pan with cooking oil spray for these cookie cups. This will ensure easy removal without breaking them.
Recommended Products
As an Amazon Associate and member of other affiliate programs, I earn from qualifying purchases. This helps us keep our blog running efficiently and allows us to create more recipes for you.
Looking for more sweets?
Gooey Brown Sugar Chocolate Chip Bars