Gooey Brown Sugar Chocolate Chip Bars – Soft-batch cookie bars made with all brown sugar making them moist, chewy, and delicious!
I just adore brown sugar in recipes!  This cookie bar is not just a more brown sugar than white sugar kind of cookie recipe.  It is ALL brown sugar, which gives such a different, richer flavor and keeps it moist and chewy.  They are super simple and no mixer is required.  It only takes a pot and a spoon…oh and some measuring cups.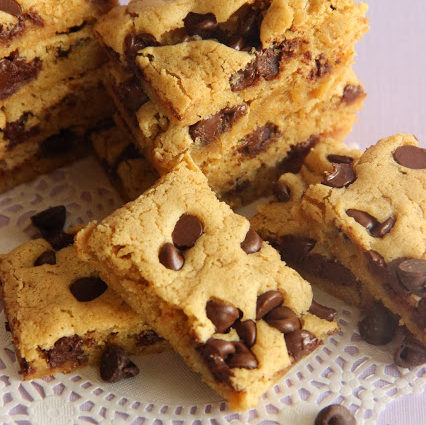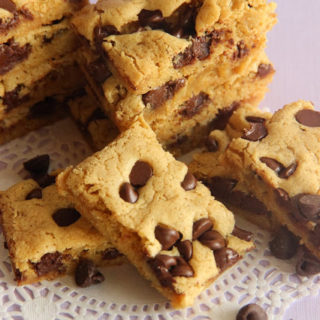 Gooey Brown Sugar Chocolate Chip Bars
Ingredients
1 1/2 sticks margarine (not butter)
1 box brown sugar (2 cups)
2 cups SELF-RISING flour
2 eggs
2 tsp vanilla
1-1 1/2 cups chocolate chips
Instructions
Preheat oven to 325.
Melt margarine in a large sauce pan.
Remove from heat and add brown sugar and self-rising flour. Mix well.
Stir in eggs and vanilla and mix well.
Pour into jelly roll pan (11 x 17) and spread out evenly. Sprinkle top with chocolate chips.
Bake for 20 to 25 minutes. Let cool completely before cutting into bars.
Notes
*The original recipe highly recommends not using butter. Generally, I prefer butter over margarine, but I did not use real butter in this recipe.
**If you don't have SELF-RISING flour, make your own by adding 1 1/2 tsp baking powder and 1/2 tsp salt to each cup of flour. So for this recipe, it would need a total of 3 tsp baking powder and 1 tsp salt added to regular all-purpose flour.
Recommended Products
As an Amazon Associate and member of other affiliate programs, I earn from qualifying purchases. This helps us keep our blog running efficiently and allows us to create more recipes for you.
Other cookie bars you might like:
Chocolate Pecan Pie Cookie Bars