Delicious chicken fajita burritos in no time using the help of the beloved crockpot!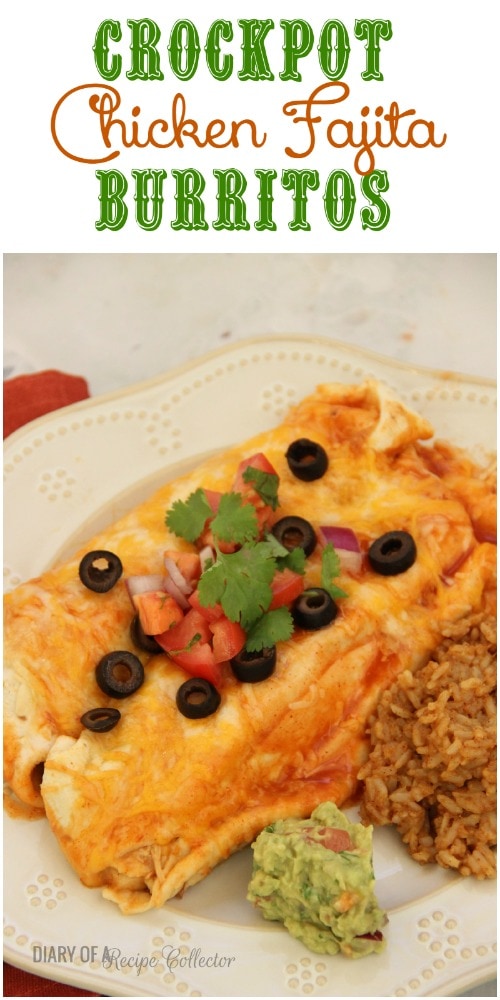 I must say that I do love the Christmas holidays so much, but I was so thankful to be back in my routine on Monday.  It was really bitter-sweet dropping the kids off at school.  I always get a little sad when I think about how they'll be a year older for the next Christmas vacation.  But I'm so excited for the new year!
2014 was a great year, but a year dominated by being pregnant, having a baby, adjusting to life with 4 kids 7 and under, and feeling exhausted.  Plus, we threw in a Disney trip when I was 33 weeks pregnant for funzies!
I'm looking forward to a year of learning this new life:  Mother of 4, stay-at-home mommy, and blogger.  I'm still adjusting, and at times, I feel like I'm living someone else's life.  I wanted to stay at home for years.  I am so grateful that I can now do so.  Yes, some days I feel like I clean up the same things all day and fold a bajillion loads of laundry, but I am still so so thankful to just be able to focus on my family.  I'm looking forward to a year of normalcy and watching my kids grow.
Be sure to follow me on Instagram where I'll document my days of 2015 with #diarydailies_2015.  I had planned on doing this for a while and then I forgot the first 4 days!!  Oh well!  Such is life.
Now that we are back into the swing of things, we are going to be very busy.  This week we have something just about every night.  Weeks like this require a little crockpot cooking.  These Chicken Fajita Burritos came out great!  The crockpot does the major work for you.  All you need to do is roll them up and run them under the broiler right before its time to eat.  If you're feeling in the mood, chop up some tomato and onions to make a pico, and add some olives and guacamole for some extra freshness.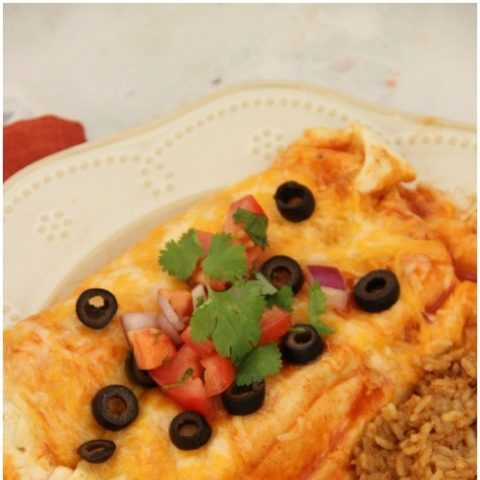 Crockpot Chicken Fajita Burritos
Ingredients
3 boneless skinless chicken breasts
1 onion, sliced
1 bell pepper, sliced
3 10 oz. cans mild enchilada sauce
1 tsp. chicken bouillon granules
1 cup water
1 can refried beans
8 burrito-size flour tortillas
3 cups shredded cheese ( I used Colby Jack)
Optional: Sliced black olives, cilantro, guacamole, pico, Mexican rice
Instructions
Place chicken, onion, bell pepper,2 cans of enchilada sauce, chicken bouillon granules, and water in slow cooker. Cook on low for 6 to 8 hours. When finished cooking, chicken will shred easily with two forks. *I always use a slow cooker liner for easy clean-up.
Assemble: Preheat broiler. Spread some refried beans on burrito. Top with chicken and onion mixture. Top with shredded cheese. Roll up and place in casserole dish. Repeat with remaining tortillas.
Top rolled burritos with last can of enchilada sauce and more shredded cheese. Broil for 5 minutes.
To serve: Top with sliced black olives and cilantro. Serve with guacamole, pico, rice, and beans.
 Other recipes you might like: