Have enchiladas waiting on you when  you get home from work…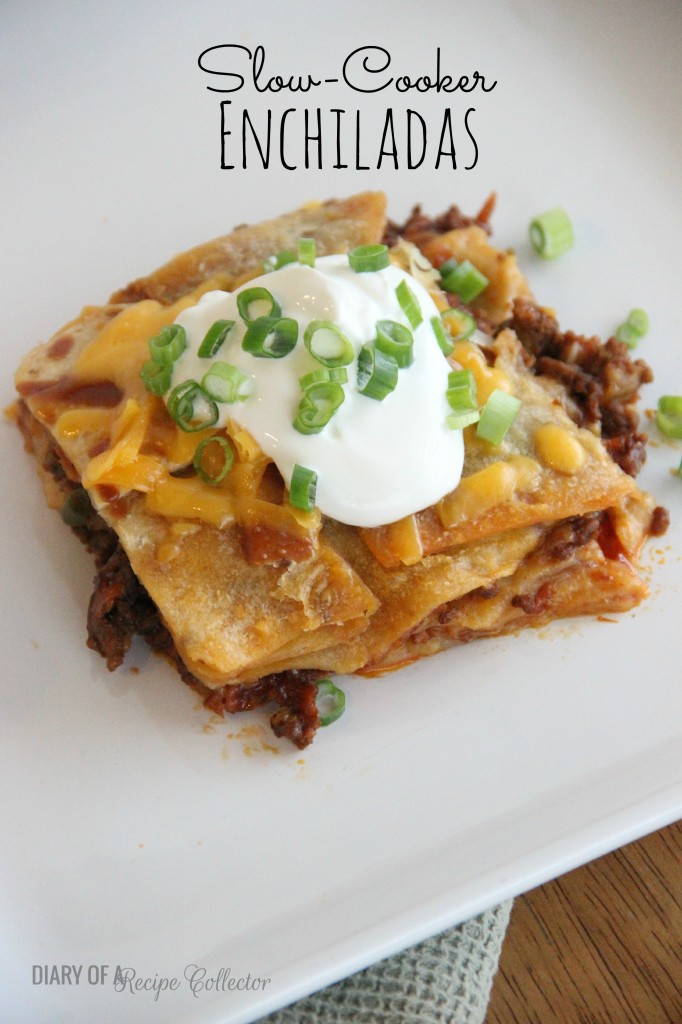 I love a good enchilada casserole baked in the oven, but lately we have been so busy after school, I don't really have time to make one.  I also love the thought of having my slow-cooker cooking away while we are out going from one activity to the next.  I love the smell of cooked food waiting on me when I get home.  What mom doesn't??
I found this recipe in Cooking with Paula Deen magazine (January/February 2009), and I knew I had to give them a try.  They came out great garnished with sour cream and fresh green onions.
So on your busy weeknights, go ahead and give this one a try.
Recipe:
(adapted from Cooking with Paula Deen)
1 1/2 lbs. ground beef
1 onion, chopped
1 clove garlic, chopped
2-3 tbsp chopped jalapenos
salt and pepper or seasoned salt
12 flour tortillas (torn into pieces)
1 28 oz. red enchilada sauce
2 1/2 cups shredded cheese
sour cream
green onions
*Slow cooker liner
Brown ground beef, onion, and garlic.   Season with salt and pepper or seasoned salt.  Stir in jalapenos.  Drain fat.  Line slow cooker with a slow cooker liner.  Layer one-third of tortillas in bottom of slow cooker.  Top with 1/2 beef mixture, half enchilada sauce, and 1 cup of cheese.  Repeat layers of tortillas, beef, and cheese.  Finish off with last third of tortillas and remaining cheese.  Cover and cook on low for 5 to 6 hours or until hot and bubbly.  Garnish with sour cream and green onions.
Enjoy!!
I'm linking up with:
Best of the Weekend
Show Stopper Saturday
SNF Link Party 28