Creamy Chicken Fettuccine – A creamy and perfect pasta dish made with a little spice and sure to please everyone!

So I have little problem lately…
I'm a bit obsessed with going on a Mediterranean cruise.  In particular, one that starts in Barcelona, Spain goes along the French Riviera (Monte Carlo, anyone?), and around Italy stopping off at Rome, Naples, and Venice.  Oh yeah, and throw in a stop at one of the Greek Islands for funzies.  I know!  I'm ambitious, right?
It's just that I've never been to Europe, and it is a life-long dream of mine.  And I think a cruise would be a great way to see so many places.  A lot of bang for your buck!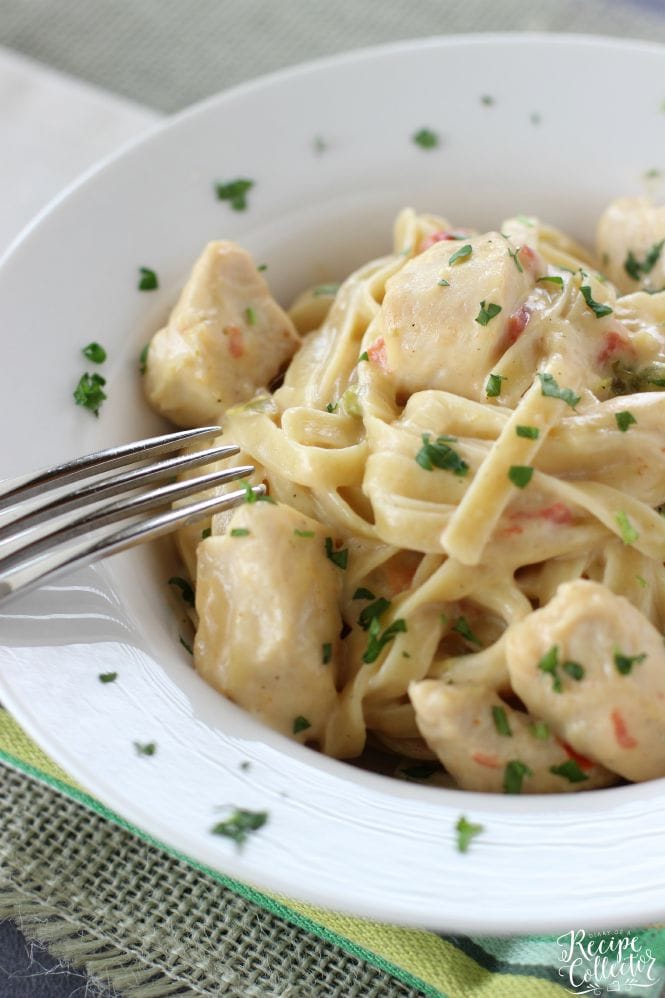 Now this would have to be a kid-free vacation, of course.  Number 1, I foresee this as a husband and wife kind of trip, and number 2, I can't afford to take everyone!    It's all really quite silly.  I mean…I have 4 kids.  At what point can I leave them for a 12 day cruise?  At least, that is what the guilty side of my brain is saying.  But the ambitious, brave, adventurous side tells me to make it happen, and they will be just fine.
I've actually been thinking about this for a year now.  Honestly, we are not ready to take this trip yet.  Not only do I need to save my pennies, but I also have to get more mentally prepared to leave them that long.  So in order to do so, I am really talking about, researching it, and hoping that it will become reality.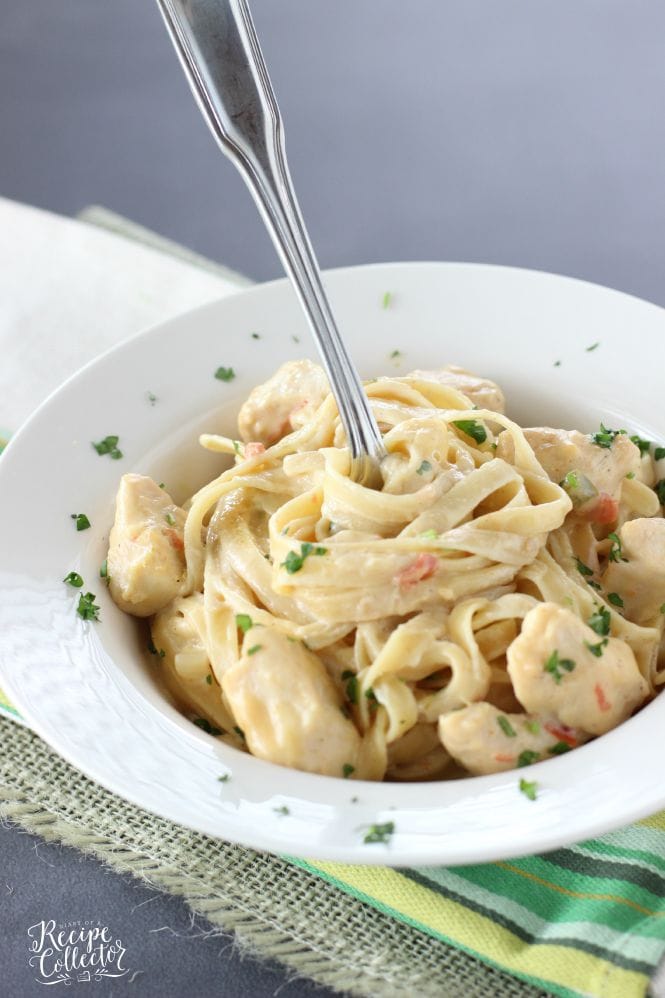 Do you guys ever do stuff like this?
Now did I mention, I have really bad motion-sickness?  Yeah…that's the other problem in this grand scheme.  I've heard that going on big ships can really prevent that…Yikes!  I would hate to take the trip of a lifetime and be sick the entire time…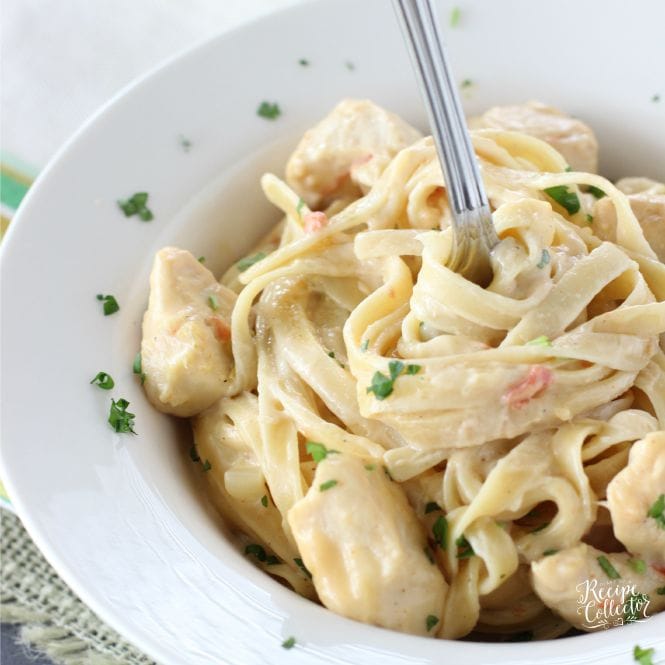 So while I dream of floating along the French Riviera and Italian Coast, I will make things like this Creamy Chicken Fettuccine.  It is one of my favorite dishes to make.  It was actually one of the first things I learned to make when I really started loving cooking.  I do not put a lot of the Mexican Velveeta to cut down on the richness a little.  It doesn't need a lot.  A little will go a long way in this pasta dish.  It is super easy, and I hope you love it too!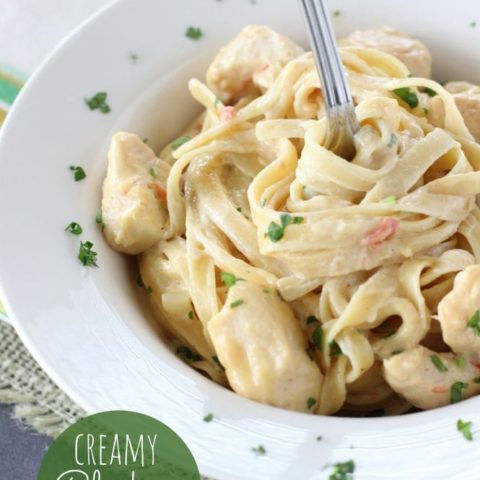 Creamy Chicken Fettuccine
Ingredients
4 tbsp butter
1 tbsp olive oil
1 medium onion, chopped
1 small bell pepper, chopped
2 cloves garlic, chopped
2 large chicken breasts, (1.5 lbs.)- cut up into 1 inch pieces
1 to 1 1/2 tsp creole seasoning
1/4 cup flour
1 1/2 cups half and half
1/2 cup milk
1/4 - 1/3 lb. Mexican Velveeta (cubed)
12 oz. fettuccine noodles, cooked according to package directions
Optional topping: Green onions and/or parsley
Instructions
In a large sauce pan, heat butter and olive oil over medium high heat.
Add onions, bell pepper, and garlic. Saute until tender (about 10 minutes).
Add chicken and 1 tsp creole seasoning. Stir and cook for about 10-15 minutes.
Add flour. Stir and cook for about a minute.
Add half and half and milk. Stir and cook over medium-low heat for about 5 minutes. Stir in cheese and continue cooking until cheese is melted.
Add cooked fettuccine noodles and stir until combined. Taste and adjust seasoning if necessary.
Top with green onions or parsley.
Recommended Products
As an Amazon Associate and member of other affiliate programs, I earn from qualifying purchases. This helps us keep our blog running efficiently and allows us to create more recipes for you.
*My FAVORITE creole seasoning can be found here if you can't find it in your local grocery store.
Looking for other great pasta dishes?
Southwestern Chicken Pasta Bake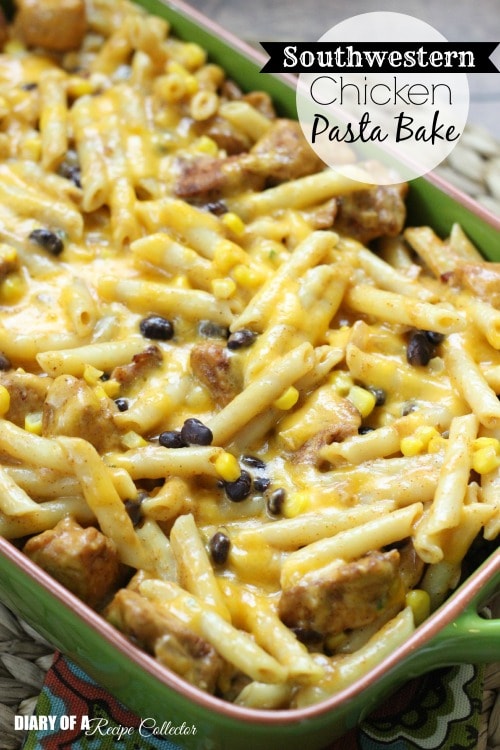 Copycat Olive Garden Chicken Scampi