A delicious pasta bake filled with wonderful Southwestern flavors, chicken, cheese, black beans, and corn.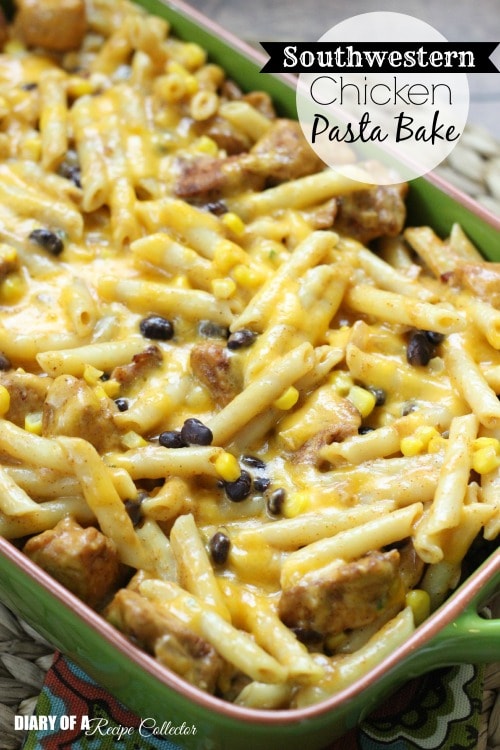 Hello everyone!  I feel like I haven't talked to you all in a while.  We left town on Friday for my daughter's first cheer competition, and I've been playing catch up since.  It didn't help that I had about 1400 emails in my inbox when I left on Friday!!  No lie!  So what could 1400 emails possibly be about?  I wonder that myself quite often.  It was basically a back log of store ads that I quickly deleted.  The rest were certain newsletters to which I subscribe, and a few were social media notifications.  I stayed up LATE Sunday night deleting, so I could start my week fresh.  It totally stresses me out to have all that sitting there.
So back to the cheer competition.  My daughter will be 8 next month.  Since she was 3, I've had her in something…gymnastics, ballet for a few years, jazz, and now tumbling and cheer.  I can honestly say that cheer is the first thing that doesn't become a fight to make her finish out the year.  In all the other stuff I put her in, she would decide mid-year that she didn't want to continue.  Well, once you've paid for costumes and you know she's part of a routine, you can't just let her quit…in my opinion.  Now if she would have been REALLY miserable, I wouldn't have made her go, but it never got that bad.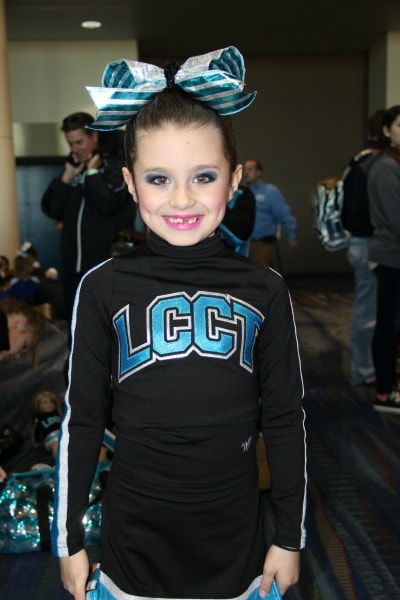 But with cheer and tumbling, we've never had a single issue.  She LOVES going.  LOVES IT!  So now she's on a mini competitive team and practices about 3 days a week.  3 days!  So we've gone from other activities, where I basically have to force her to finish out the year (one day a week) to 3 days a week without one single complaint.  She reminds me when it is a practice day and is dressed and ready before I say anything half the time.  I really LOVE that she LOVES it especially when it was a true risk starting this knowing her history of not wanting to finish other activities.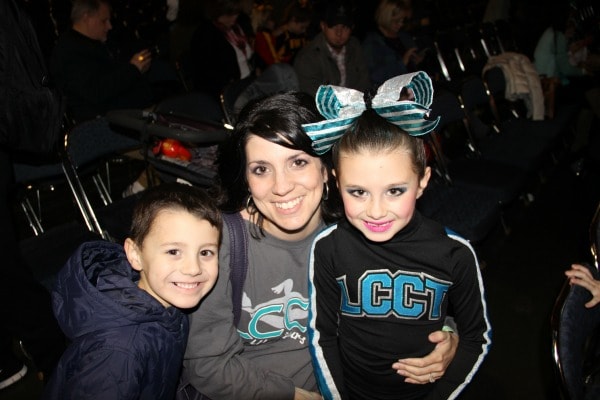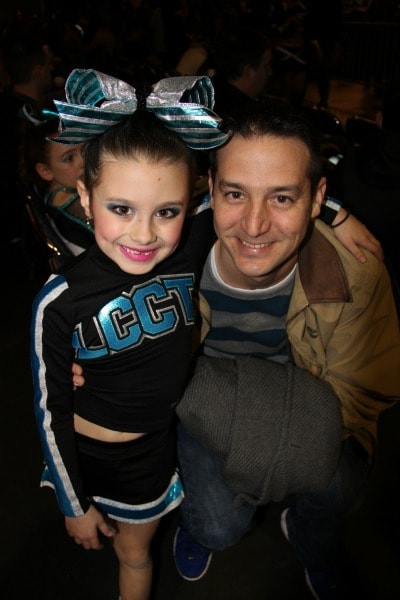 So we finally got to see the end result of all of these practice days.  We traveled to New Orleans, which is about 4 hours from us.  We woke up EARLY the next morning to do hair and makeup (glitter eyes, high teased ponytail, and an annoyingly big bow).  Let me just tell you…putting eyeliner on a 7 year old=NO FUN!  I think my husband was proud of me for not losing my mind…just saying.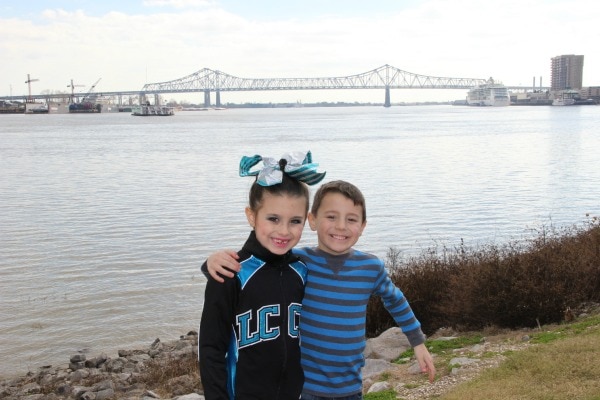 Great memories!!
And another great memory is this Southwestern Pasta Bake.  It was delicious.  The kids ATE IT UP!  Basically if it has a noodle and not too many green things, they will eat it.  Now I will tell you that most of my recipes do not involve a lot of cooking dishes, but this one does (one to boil pasta, one to cook cheese sauce, and one to cook chicken, plus a final casserole dish).  With that being said, as long as I don't do this all the time, you can forgive me, right?  I mean it's so good, so it's so worth the extra effort!  And even though it does dirty a few more dishes, it doesn't take very long to make at all!  So that cancels out the fact that you'll have to wash a little more, right?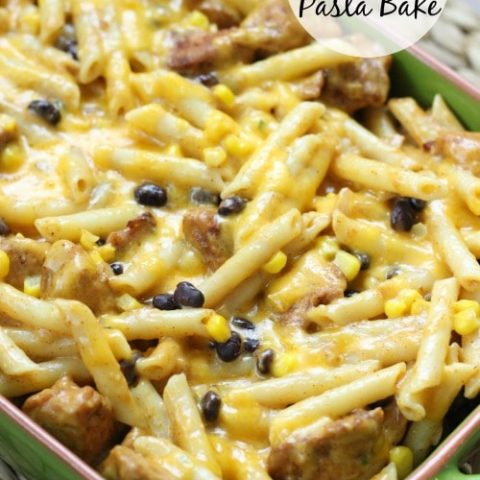 Southwestern Chicken Pasta Bake
Ingredients
16 oz. penne pasta
1 tbsp olive oil
3 boneless skinless chicken breasts, cut into 1 inch pieces
2 1/2 tsp ground cumin
1 1/2 tbsp chili powder
1 tsp creole seasoning
1 onion, chopped
3 cloves garlic, chopped
5-6 jalapenos from a jar, chopped
2 tbsp butter
2 tbsp flour
2 cups milk
2 1/2 cups sharp cheddar cheese, shredded
1 tbsp cilantro, chopped
1/2 can black beans, drained and rinsed
1/2 can corn, drained
Instructions
Boil pasta according to package directions.
Mix cumin, chili powder, and creole seasoning in a small bowl.
Sprinkle chicken breast pieces liberally with this seasoning. Toss to coat.
Heat olive oil over medium high heat in a large pot. Add the seasoned chicken and cook for about 5 minutes.
Add the onions, garlic, and jalapenos and continue cooking for another 5 minutes or until chicken is cooked. While chicken is finishing cooking, make cheese sauce. Turn off heat once cooked.
For the cheese sauce: In a separate pot, melt butter over medium heat. Add flour and stir and cook for about a minute. Slowly whisk in milk working to dissolve any lumps. (If you do have trouble dissolving lumps, strain them out to a small bowl and whisk them to dissolve. Add the mixture back and stir). Keep stirring until the mixture reaches a slow boil.
Add cheese and cilantro and stir until cheese is melted.
Add the cheese sauce to the chicken and stir.
Add the cooked pasta and stir.
Stir in black beans and corn.
Pour mixture into a casserole dish and top with a little more shredded cheese.
Place under broiler for to lightly brown.
Serve while warm.
Notes
*Adapted from Rachael Ray-365: No Repeats
Recommended Products
As an Amazon Associate and member of other affiliate programs, I earn from qualifying purchases. This helps us keep our blog running efficiently and allows us to create more recipes for you.