Banana Cake with Pineapple Cream Cheese Frosting is such a simple yet scrumptious cake that you must make when you have ripened bananas.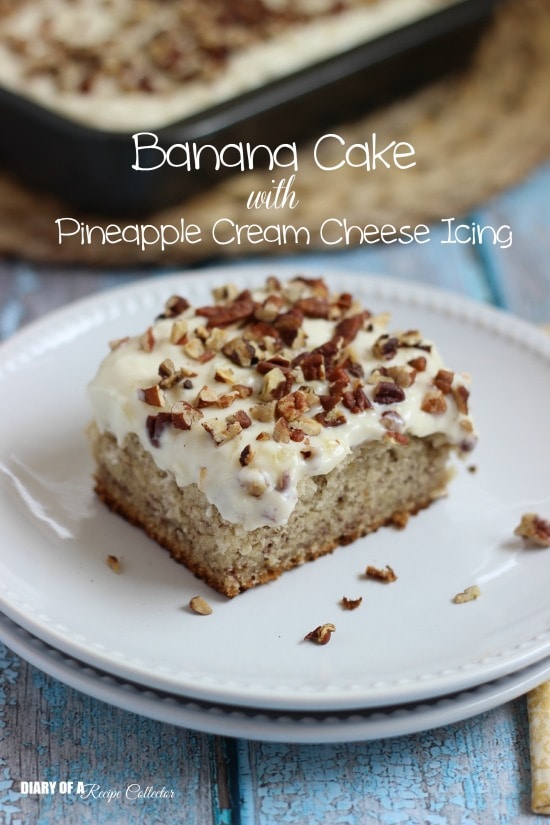 Hey all!  How are you?  We are just recovering from our weekend travels to New Orleans for my oldest daughter's cheer competition.  We went for two nights and had a really good time.  We competed in the morning, so we had all day Saturday to sight see a little.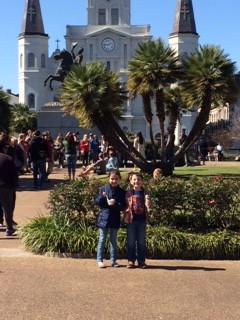 We took the kids to Jackson Square and the French Market.  It was a beautiful weekend, so we were able to walk all around.  I have to be honest…sometimes it is really nice to just go places with our older kids and leave the two little ones at home.  While I missed them a bunch, it was nice to be able to go and not worry about diaper bags, heating bottles, and strollers.
So the girls did a great job!  We are always proud of them.  They got 4th place, and they competed against some great teams.  For our family, it really doesn't matter if they get 1st place.  Personally, the fun that she has makes it all worthwhile.  She LOVES LOVES LOVES it!
Next weekend we are headed the opposite direction.  We are headed to our final competition of the year in Galveston, Texas.  I am super excited about this one because it is at Moody Gardens!!!  That is such a fun place to take kids.  Sooooo, we are going to take all of them.  I know my 3 year old is going to love seeing the aquarium and the rain forest!
So I made this cake last Sunday.  It is SO EASY and such a good refrigerator cake….you know the kind that is perfect served cold with a tall glass of milk.  It is perfect for your ripened bananas.  Normally, I just make banana bread, but I think I'll be making this cake a little more often now.
Plus the icing just takes this cake to a new level.  I just love the pineapple in it, but you could certainly make it without it if you or some of your family members are not pineapple-eating peeps.  I happen to adore it!
Finally finish it off with some toasted pecans, and you have a great dessert!
Banana Cake with Pineapple Cream Cheese Frosting
Ingredients
2½ cups flour
1⅔ cups sugar
1½ tsp baking powder
1 tsp baking soda
1 tsp salt
⅔ cup shortening
3 ripe bananas, mashed
⅔ cup buttermilk
2 eggs
1 tsp vanilla
Icing Recipe Follows
½-3/4 cup toasted pecans
Instructions
Preheat oven to 350.
Into a large mixing bowl, sift flour, sugar, baking powder, soda, and salt.
Add shortening and bananas.
Begin mixing and slowly add in buttermilk.
Beat for 1 minute with an electric mixer.
Add in eggs and vanilla and beat 2 more minutes.
Pour into a greased 13 x 9 pan. Bake for 25 to 30 minutes at 350.
Allow to cool and frost cake.
Top with toasted pecans.
Store in refrigerator.
Pineapple Cream Cheese Frosting
Ingredients
1 stick butter, softened
1 8 oz. block cream cheese, softened
1 tsp vanilla
juice of ½ lemon
1½ cups powdered sugar
1 8 oz. can crushed pineapple, drained
Instructions
Beat butter and cream cheese until combined about 1-2 minutes.
Add vanilla and lemon juice.
Add powdered sugar and beat for 2 minutes.
Mix in crushed pineapple.
Spread onto cooled cake.
Other recipes you might like: