Cheesy Jalapeno Egg Squares – This appetizer recipe is so easy and perfect for those egg lovers!  Plus it's low carb!
This Cheesy Jalapeno Egg Squares recipe is a great one to have on hand when you need an appetizer.  It's only 4 ingredients too!  My family is a major egg-loving group.  We usually have deviled eggs at any gathering.  My mom started making these for us a few years ago, and I was instantly a fan!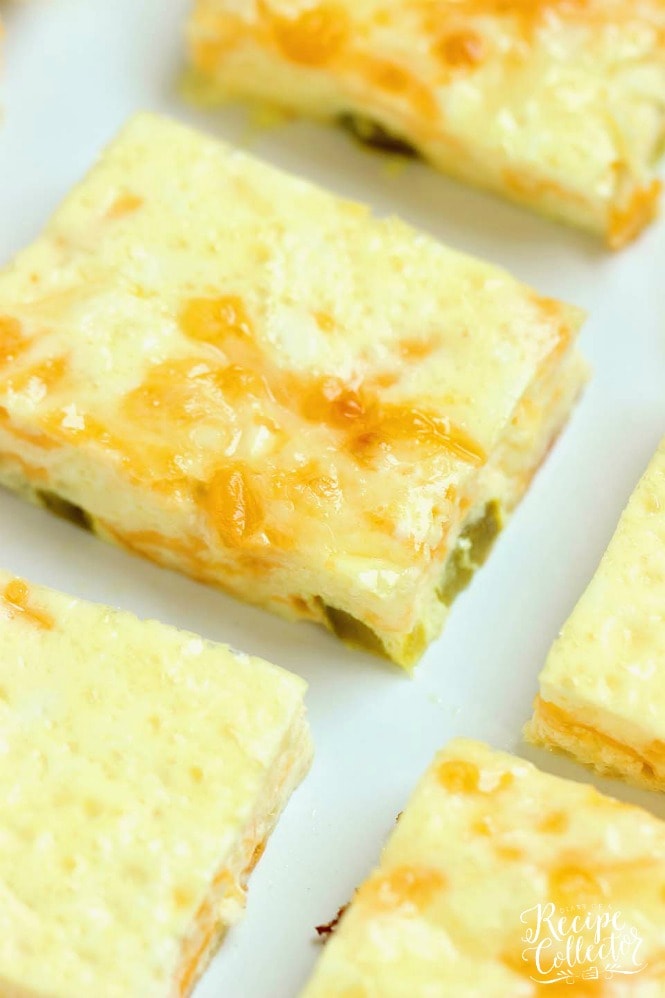 When she told me how to make them and how they were only 4 ingredients, I was really sold after that.  It's all about layers of jalapenos, followed by the shredded cheese, and then top it with the egg mixture.  The eggs are nice a fluffy due to the added sour cream too!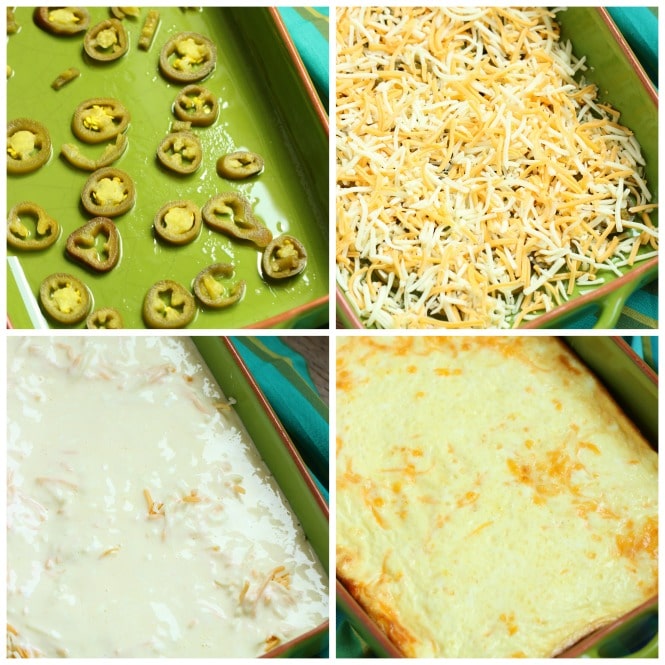 We usually buy a mild jalapeno for this too.  We always have this kind because they are not spicy but have all that flavor.  I use them in this family favorite recipe too.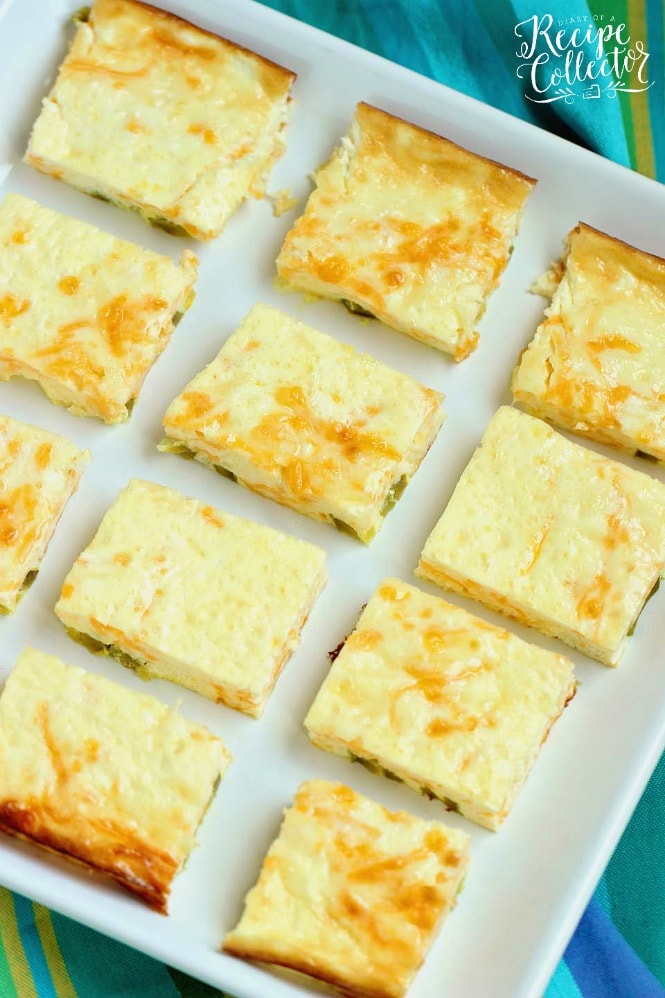 I mean it just doesn't get easier than Cheesy Jalapeno Egg Squares.  If you are looking for a good holiday appetizer recipe to make year-round, this is it friends.  Not to mention, it also helps me avoid the bread and the chips a little more when doing all that snacking 🙂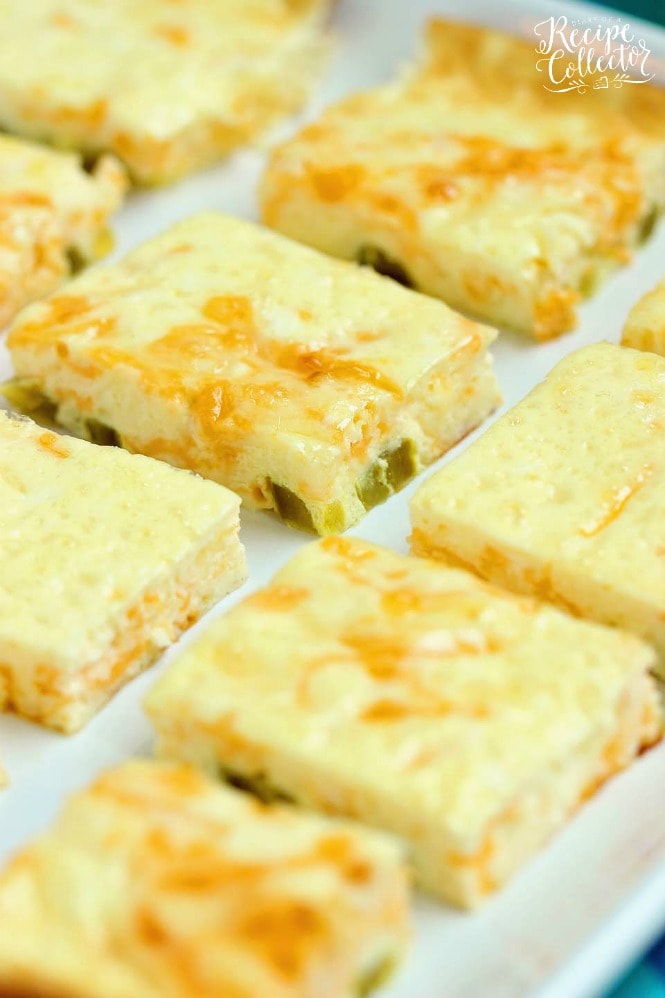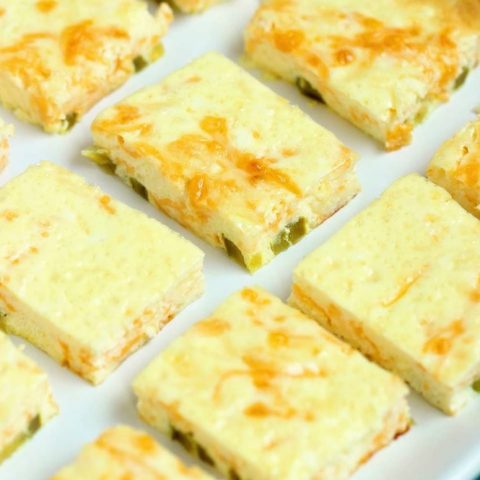 Cheesy Jalapeno Egg Squares
Ingredients
1/2-3/4 cup sliced jalapenos
3 cups shredded cheese (I used Colby Jack)*
6 eggs
8 oz sour cream
Instructions
Preheat oven to 350.
Spray a 13 x 9 dish with cooking spray.
Layer sliced jalapenos in the bottom. (Put the amount you prefer).
Cover with shredded cheese.
Beat eggs with sour cream. Pour over cheese.
Bake 30-35 minutes or until egg is set and starts to turn golden brown along edges.
Allow to cool a few minutes before cutting into squares.
Recommended Products
As an Amazon Associate and member of other affiliate programs, I earn from qualifying purchases. This helps us keep our blog running efficiently and allows us to create more recipes for you.
Looking for other great appetizer recipes?
You can find more Appetizer RECIPES HERE.
You can find ALL RECIPES HERE.
For more ideas, follow me on FACEBOOK, PINTEREST, INSTAGRAM, TWITTER, AND PERISCOPE.
Get FREE recipes delivered to you by email:  SIGN UP HERE!