Boston and Nantucket Trip Part 3 – Here is the final part of our wonderful 20th anniversary trip! These are the highlights from our stops in Plymouth and Nantucket.

Today, I'm continuing our wonderful trip to Boston and Nantucket this past summer. Reliving this trip with you guys has made me so excited all over again!! And I've saved the best for last! Here we go!! If you missed the other parts of our trip, here is Part 1 and Part 2. Plus, our whole Google Doc of the trip is linked below!
We got up early in Gloucester, and headed south towards Plymouth. We made it there around 9 am. We had a big day and lots to see!! Remember that early East Coast sunrise: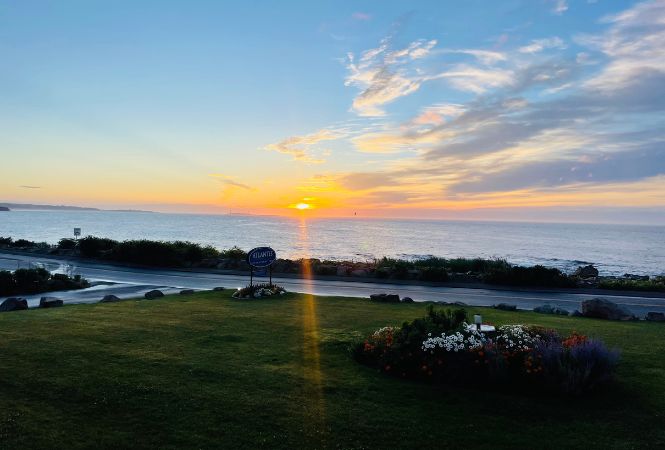 It was an absolutely beautiful day! First, we headed to Plimoth Plantation. This was really neat to see the way the pilgrims established themselves in the new world. We walked through and toured the village and headed to our next Plymouth destination.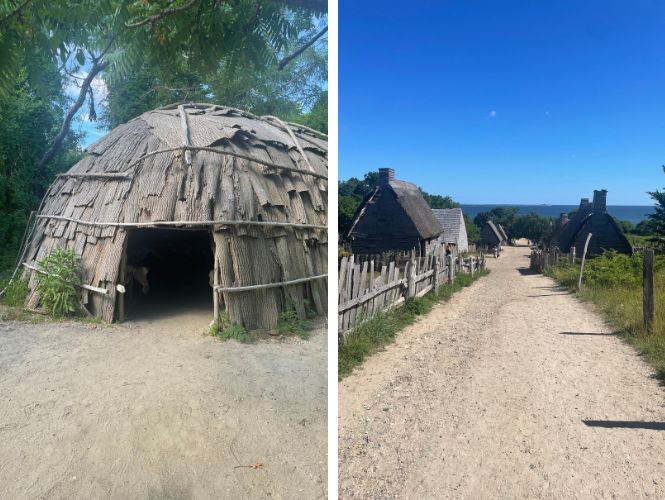 We went to see Plymouth Rock and the Mayflower II.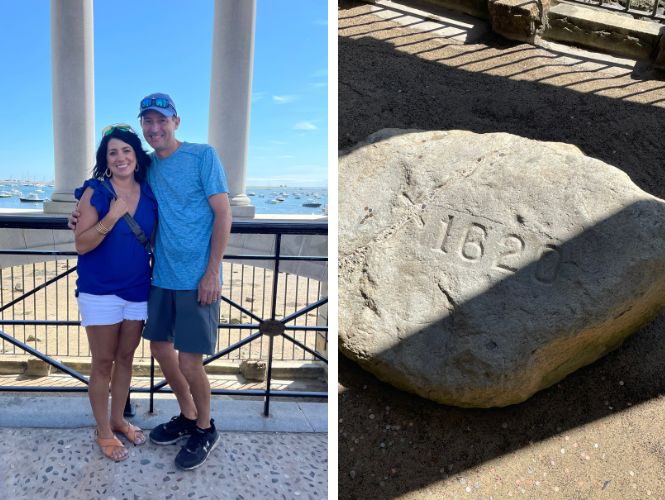 We LOVED the Mayflower II tour!! It was probably one of the best tours on our whole trip. The staff on this ship were extremely great at really sharing the experiences of the first pilgrims. They gave us information that I had never learned before in school. Just to see the scale of the way these passengers lived and survived for all those months was amazing. It was definitely worth the money to do the tour!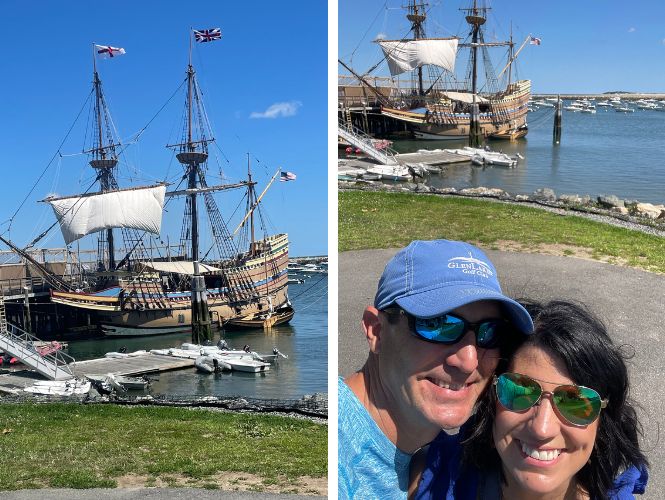 After that, we headed right down the street to Mamma Mia's for lunch. There are a lot of restaurant options in this area. We were craving a little pizza, and this place was really good! Our waiter was precious too!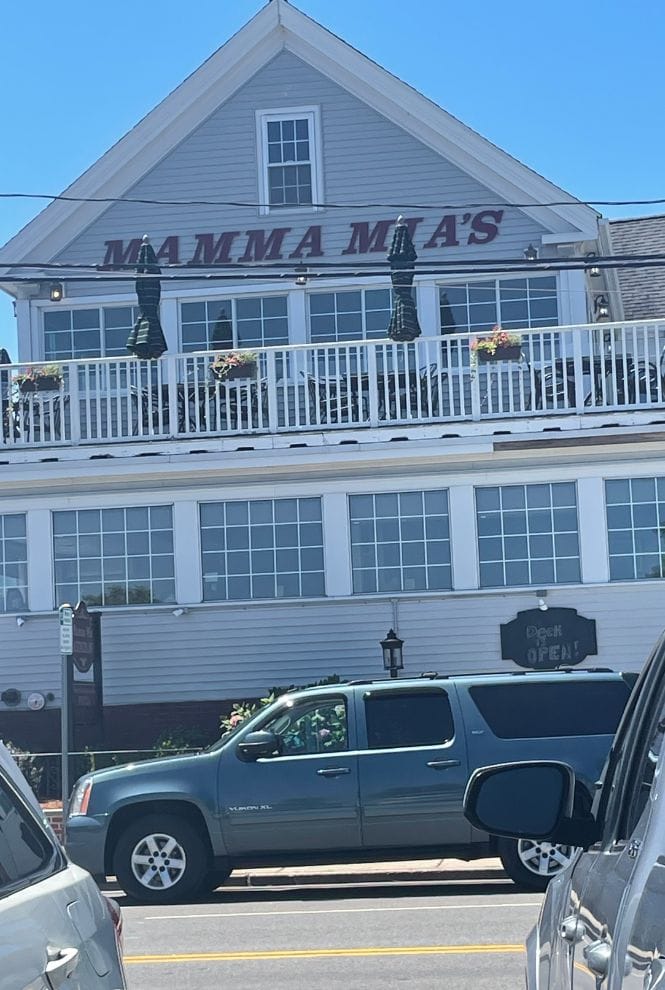 After lunch, we made our last stop in Plymouth at Burial Hill. There we saw graves of some of the pilgrims including the Mayor William Bradford.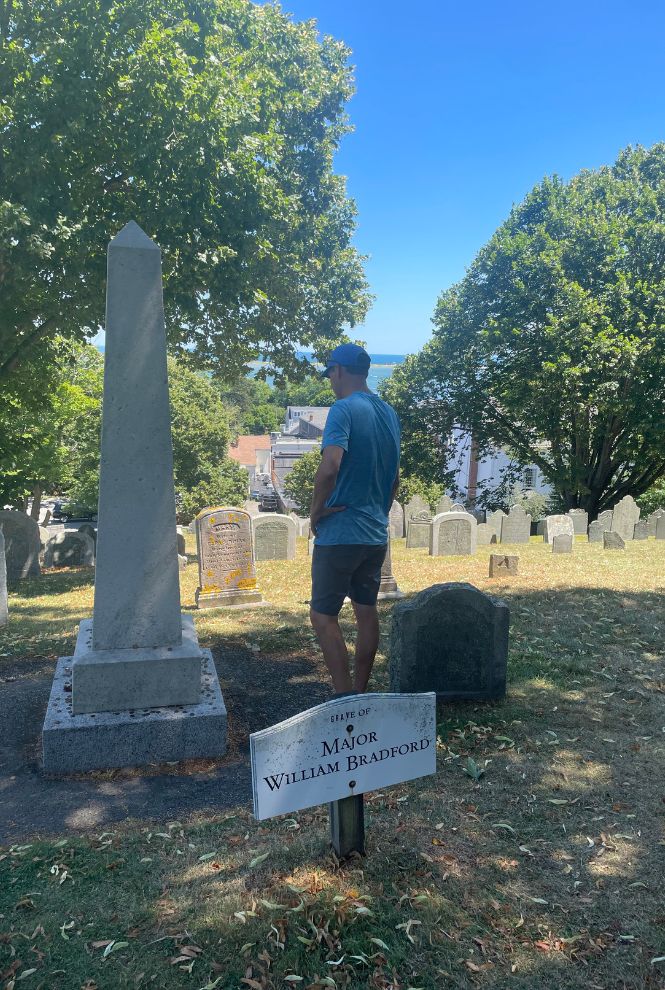 Next, we headed to our final destination!! We dropped off the rental car in Hyannis, MA and had a 2:30 ferry ride to Nantucket!!! Y'all this was a bucket list item for me. I am a huge Elin Hildebrand reader, so the thought of visiting this picturesque island was HUGE! I literally had tears stepping off the ferry!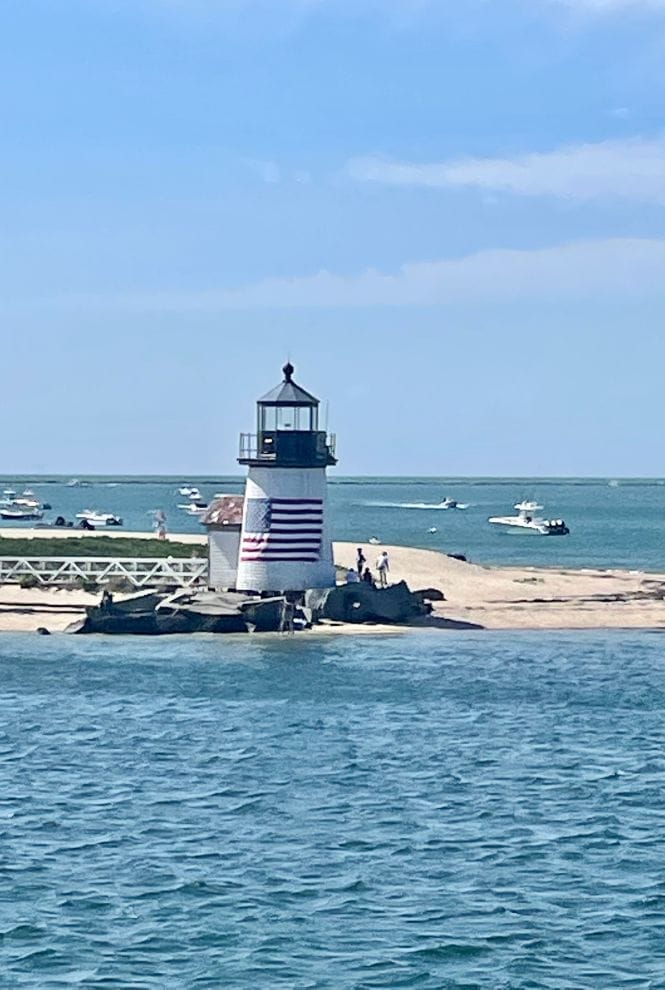 We stayed at the Nantucket Inn. This was pretty far out of the Main Street and town area, but it was not as expensive as some of the other hotels. We really liked it, and our reservations came with a wonderful full buffet breakfast.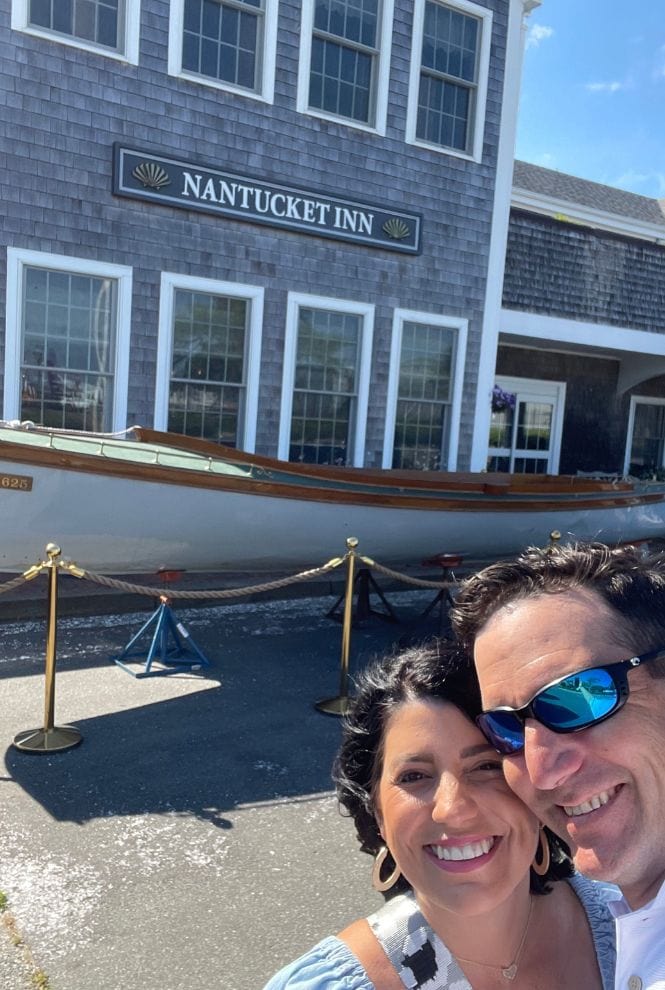 Each night our dinner reservations were pretty early. We headed out to dinner after changing. Our first dining stop on Nantucket was Cru! It was that perfect right on the wharf amidst all the yachts experience.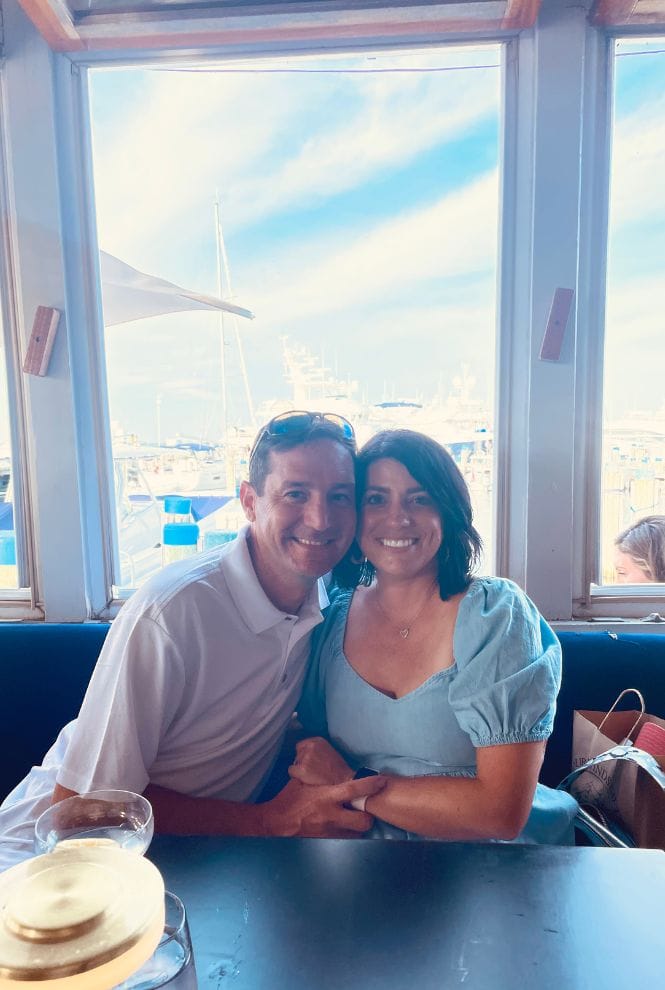 We tried the Burrata which inspired us to make our own when we got home. I tried another lobster roll, of course. B.J. tried the Haddock. The food on this island is really exceptional.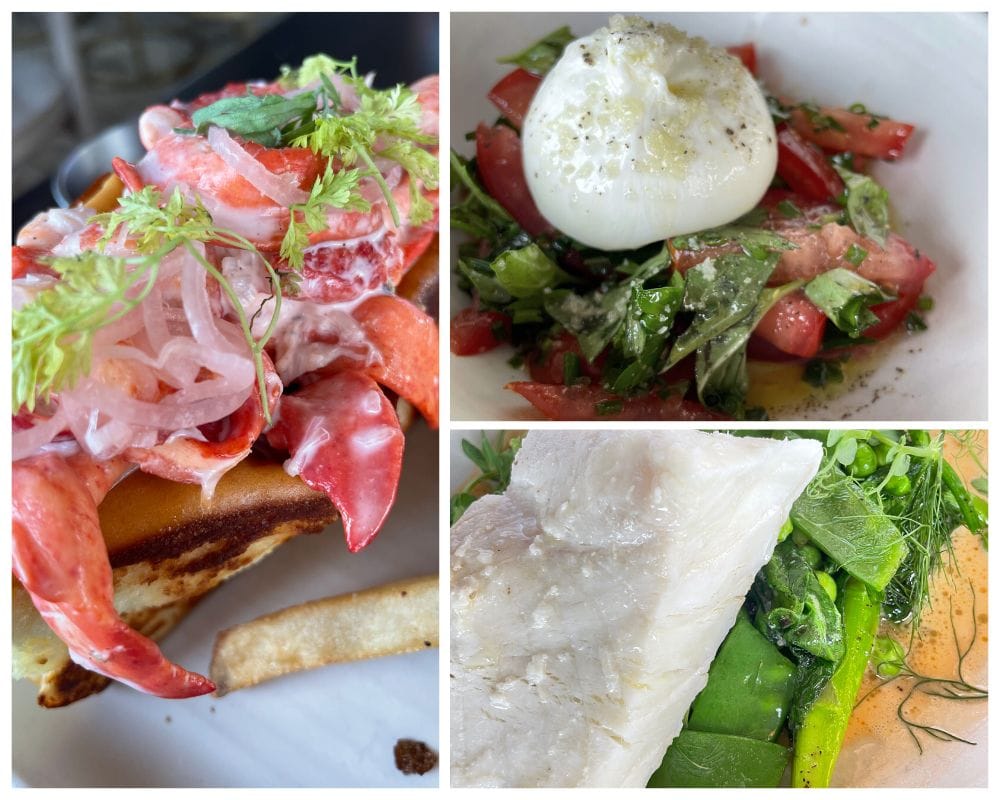 After dinner, we walked the town a little, did a little shopping, and then ended up at Juice Bar!! I got the Samoa Girl Scout Cookie. Y'all, this was amazing! I'm still working on recreating this ice cream recipe in an easy way for y'all!!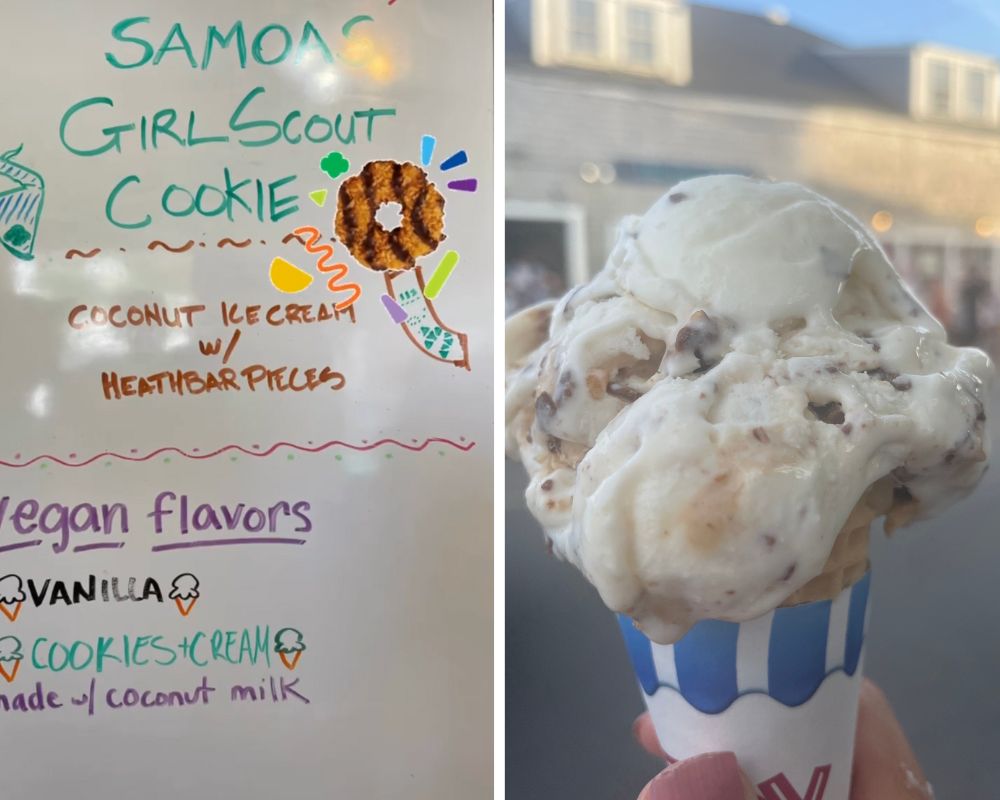 Next, we walked to the Brant Point Lighthouse.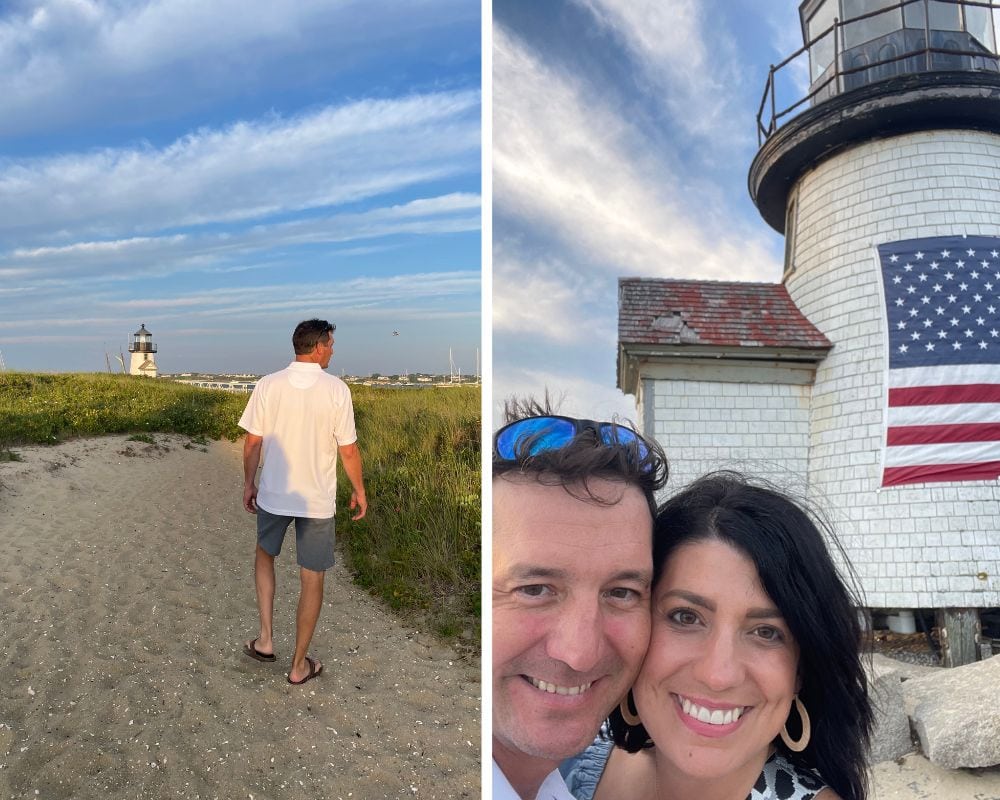 And then we ended up at the Club Car, which is a restaurant and a little bar made from an old rail car. It was super cool. They had a great piano guy, and we stayed for a few hours! Fun fun first day on Nantucket!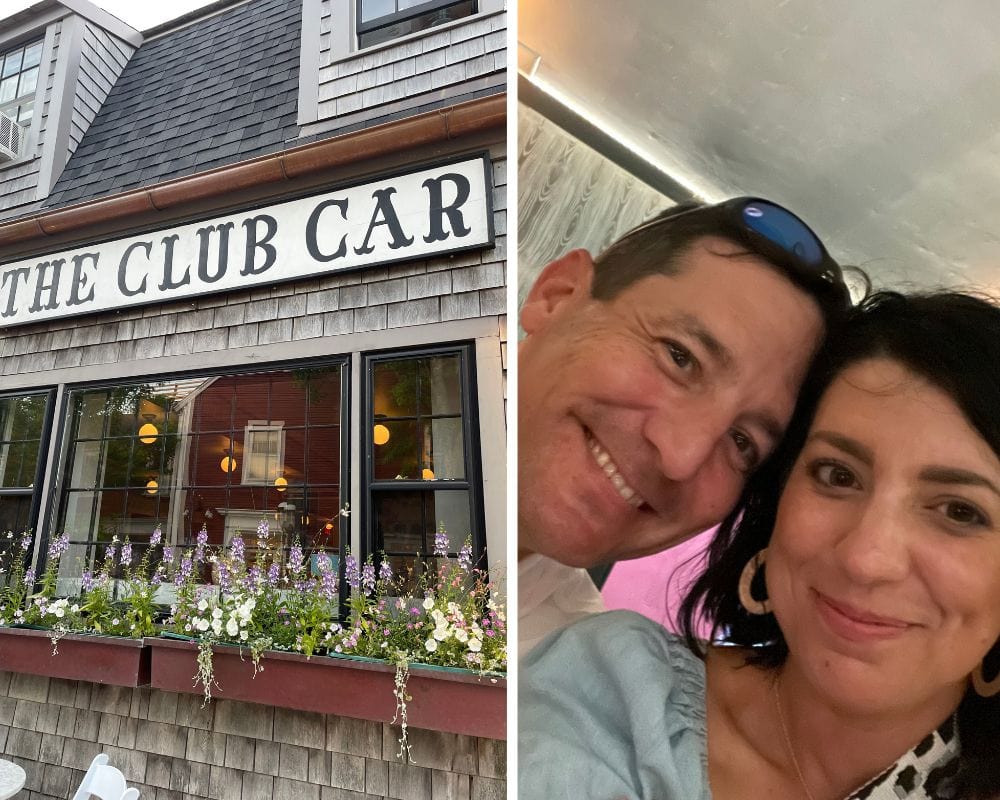 The next morning we woke up early for our first full day on the island. We had big plans! First up, we went and ate breakfast at Island Kitchen. This was so yummy!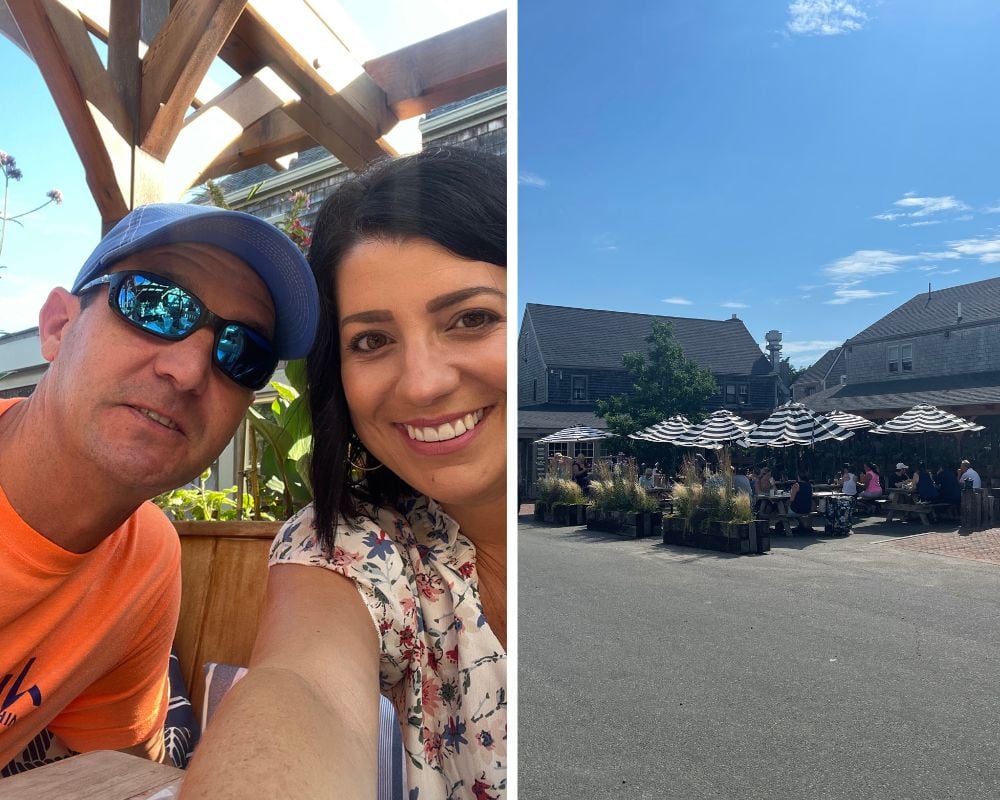 From there, we walked a little ways to our bike rental location, Easy Riders. We rented 2 electric bikes. Let me just mention right here and right now that I am so thankful I rented electric bikes. Holy cow, we had big plans for big bike touring on our own, and I would have NEVER MADE IT without an electric bike folks. Well worth the money!!
So I had a whole biking itinerary for us. I was quite proud of myself because it was awesome! We started by heading to see the beautiful homes and flowers. We were there in July, so the roses were past their peak, but those hydrangeas were showing off!

Our Nantucket Biking Tour Stops from Mid-Island to the North and West:
Plumb Street
Fair Street
Charter Street
Darling Street
Head to the north part of the island to see Steps Beach: From Fair Street, Cross over Main Street up to Centre St up to Ash Ln and Ash St. Then head up to Cliff Rd. towards Lincoln Ave and Lincoln Circle to see cobblestone path to Steps Beach.
Head to Bartlett's Farm Rd. to Cisco Brewers
Check out Bartlett's Farm.
Head out to west side towards Madaket.
Stop at Millie's Restaurant.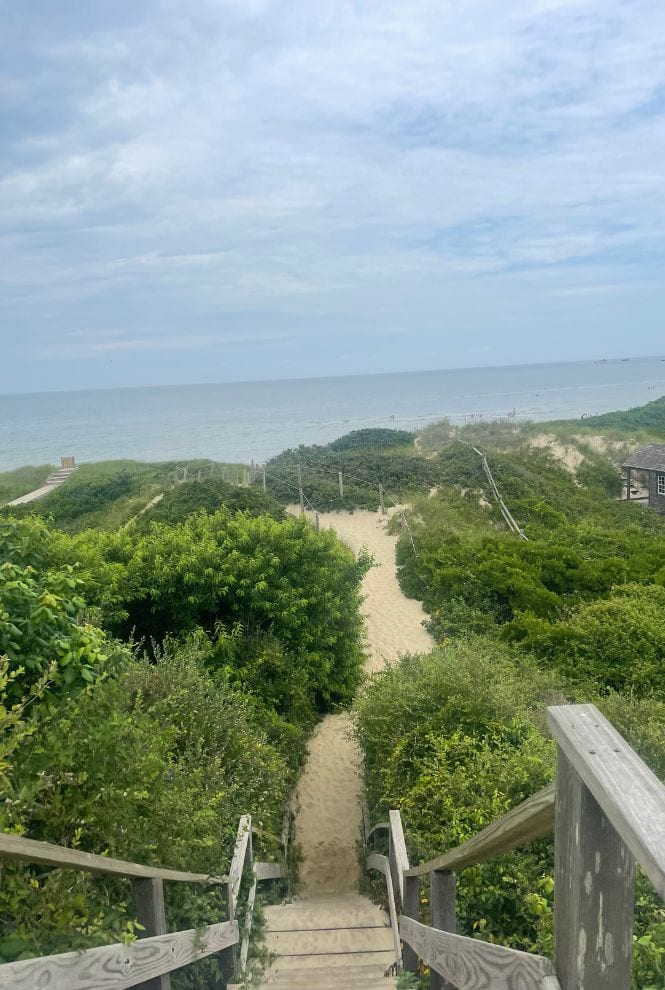 After Steps Beach, we headed to Cisco Brewers. This was a neat little brewery set up with music and food trucks. We found a little spot to take a rest and have a drink after all that biking!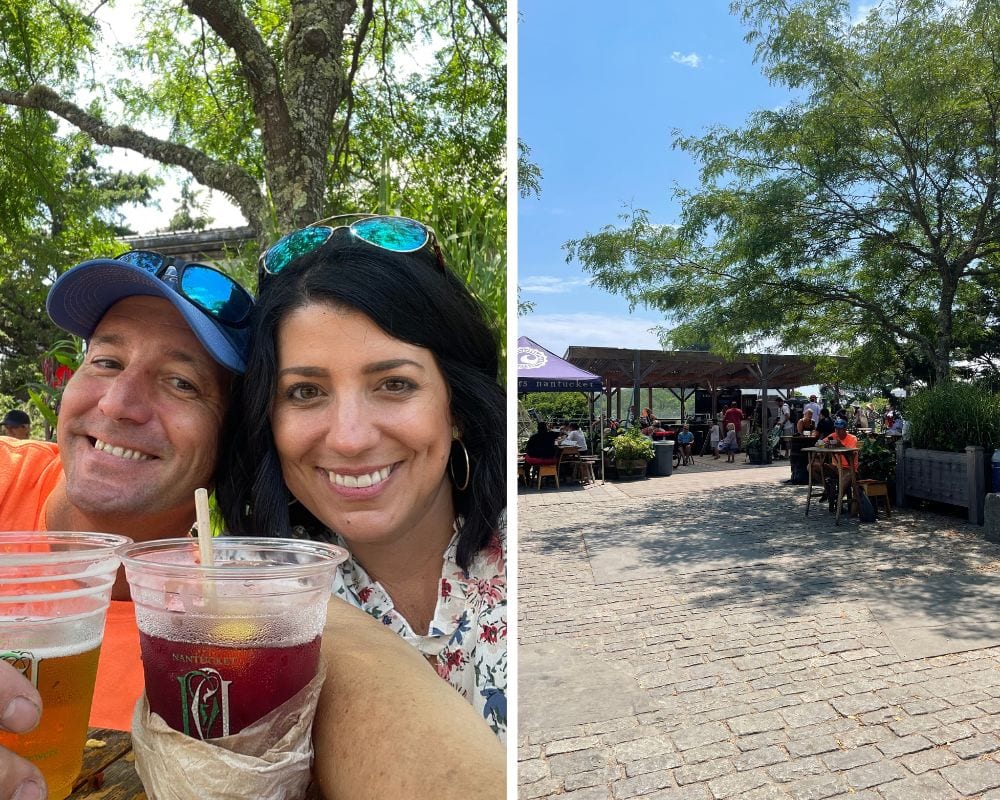 Then we got back on our bikes and headed to stop at Bartlett's Farm. I'm such a foodie, and this place was a little grocery store heaven for me! I found myself wishing we had a kitchen where we were, so I could get some things to cook! After that stop, apparently I put away my phone because I have zero pictures of us heading to the west side of the island towards Madaket. This was about a 30 minute bike ride, and it was at this point, I was pretty darn thankful for electric bikes! We saw some beautiful parts of the island on this ride. We even saw the neatest turtles everywhere when we crossed over Long Pond. Once we made it to Madaket, we stopped at Millies for a drink and shared some chips and queso and some shrimp tacos. It was yummy!!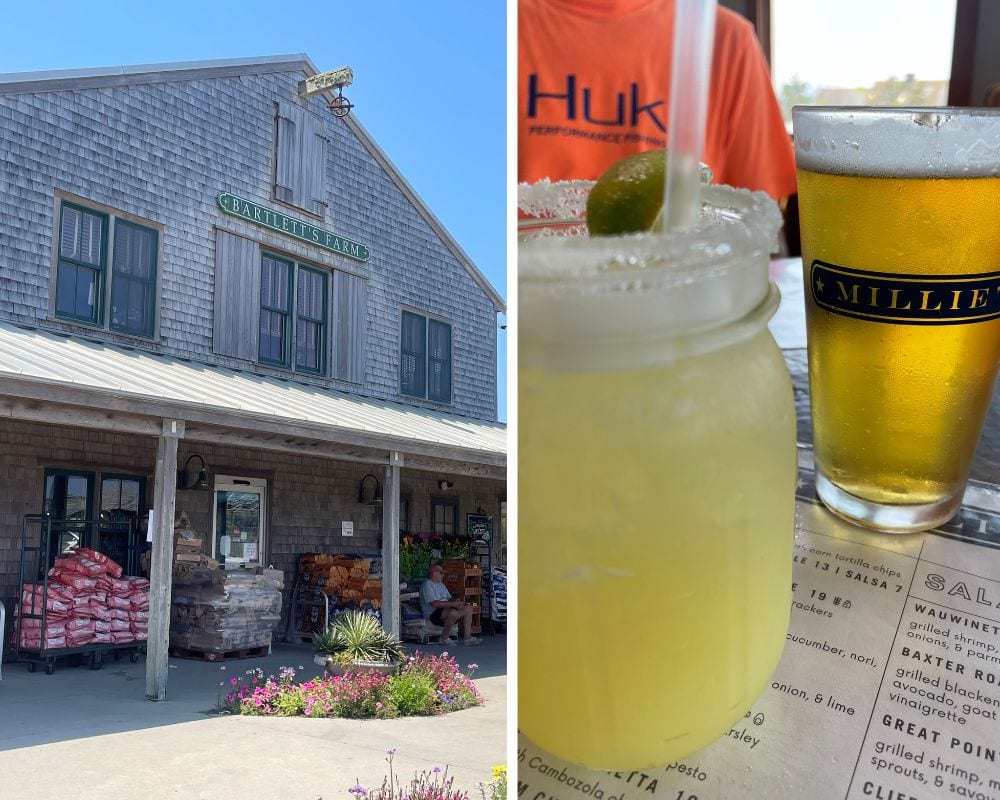 We headed back to the hotel and went to get ready for dinner. Easy Riders picked up our bikes from our hotel, which made it so easy! Dinner was at another Nantucket bucket list item for me…Galley Beach!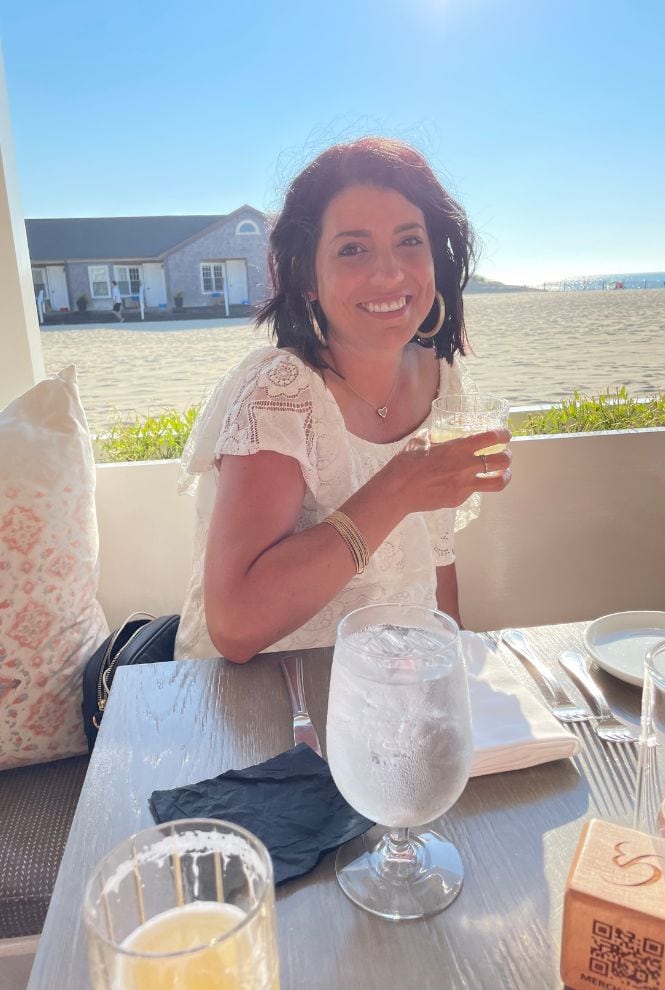 This restaurant was the inspiration for Elin Hidebrand's book, The Blue Bistro. It's literally right on the beach. You can even have a table in the sand if you'd like. They only take reservations starting 2 weeks before, so I made sure to stay on top of that one. It has a special menu, and it was really good. I'm telling y'all…these Louisiana kids ate good in Massachusetts.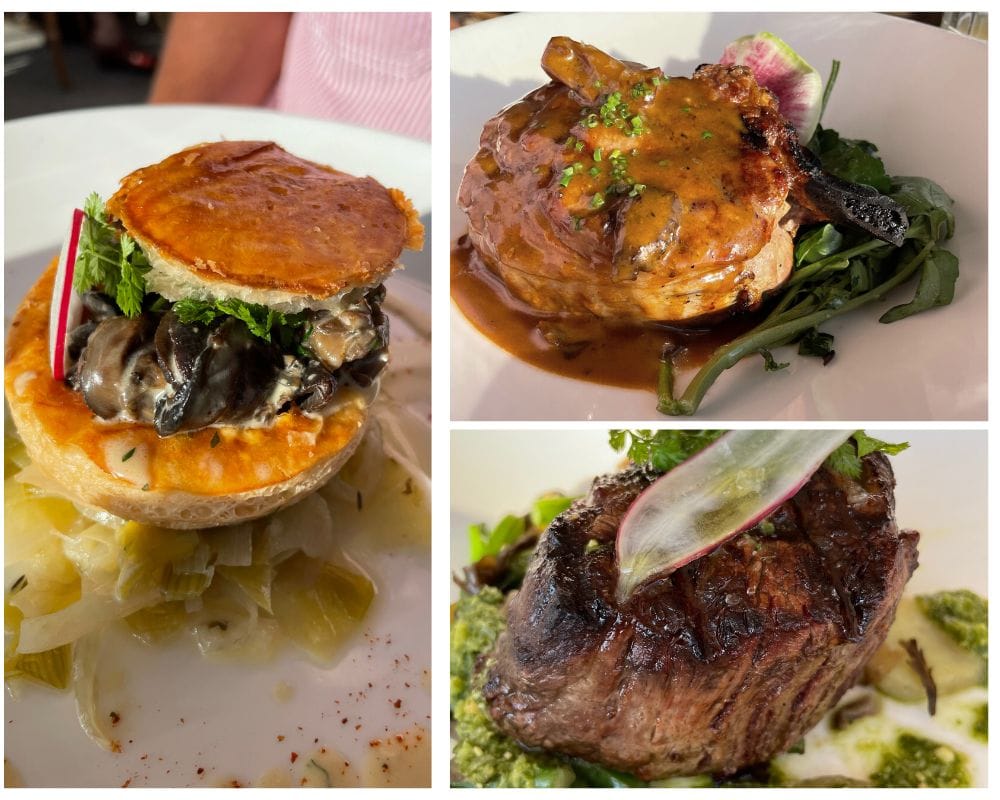 After dinner, we walked the beach up to Jettie's Beach and then headed back into town to catch the shuttle to our Inn.
The next morning we woke up and headed into town to enjoy our final day of the trip. This was was my favorite! We started out walking the Main St. and town area doing a little shopping, and of course, we had to visit book stores!! And they had the CUTEST toy store, Barnaby's.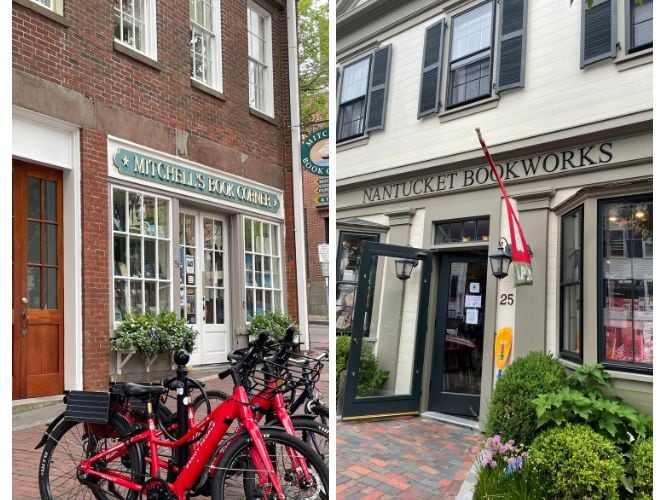 This town is like a Hallmark movie!! I just loved it! After shopping, we found the Nantucket Wave bus, which we got on for a ride out to the east to see Sconset!!!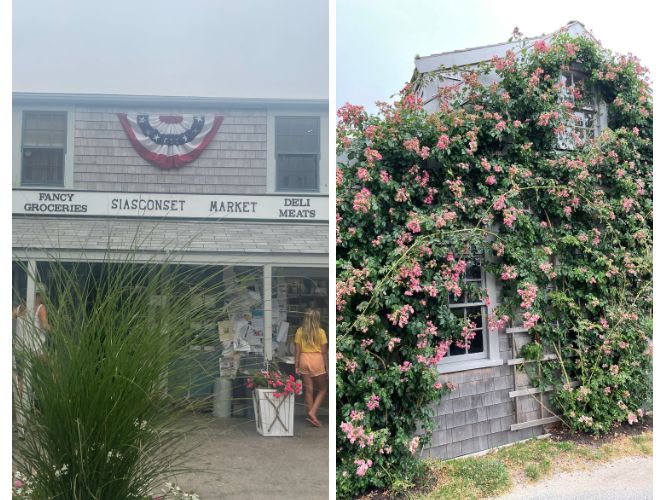 Sconset is on the eastern side of the island and known for its cute cottages and gorgeous beachfront homes with perfect flowers. It was hard not to post every single picture I took. Once we arrived in Sconset, we set out on the Sconset Bluff Walk.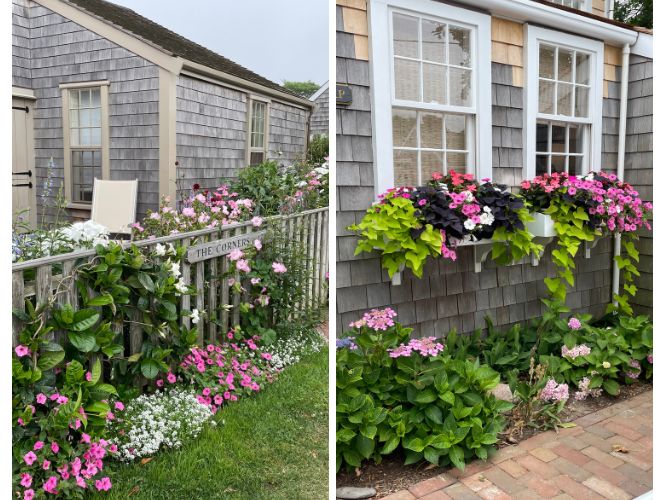 I cannot recommend this walk enough! It takes you right behind the gorgeous homes as you walk along the huge cliff over the beach.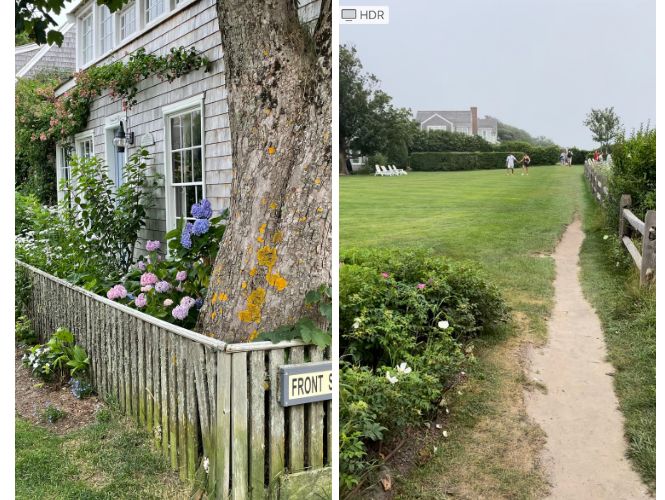 We accessed it right from Front St. There are a ton of beautiful spots to take pictures.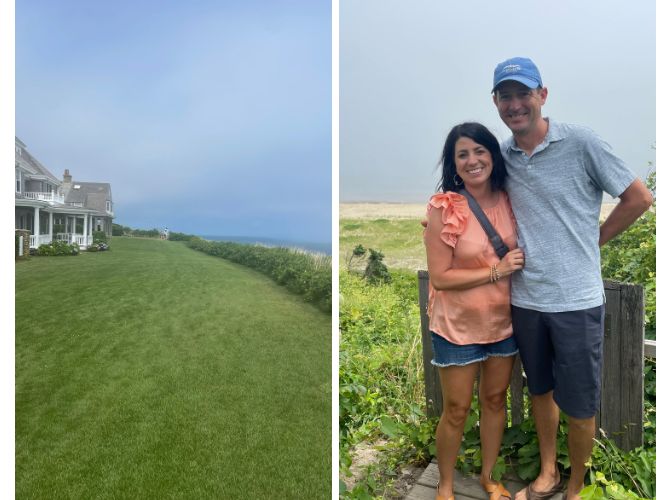 We walked all the way up to the Sankaty Lighthouse. This was quite a walk, but it was so worth it. Then we headed back down into Sconset to the The Summer House Beachside Bistro. We had a nice refreshing drink at the bar after all that walking. We then caught the Wave bus back to our hotel. It was awesome how the bus makes several stops across the island and one happened to be right by where we were staying.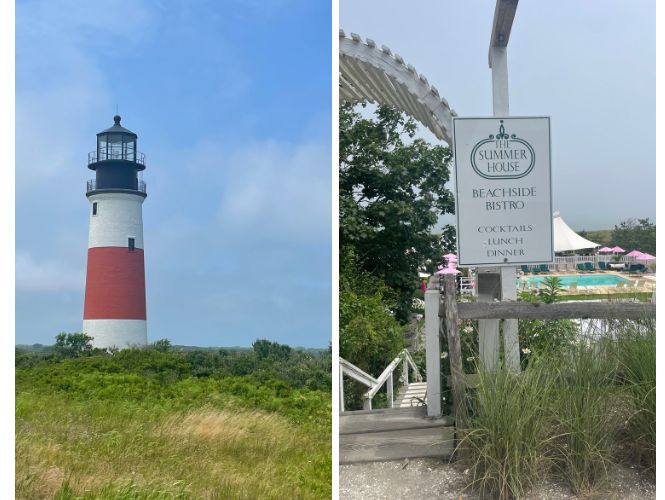 Right across from our hotel is a restaurant called The Saltbox Tavern. We shared some wonderful chips and dip and a few drinks before heading back to the hotel to get ready for dinner.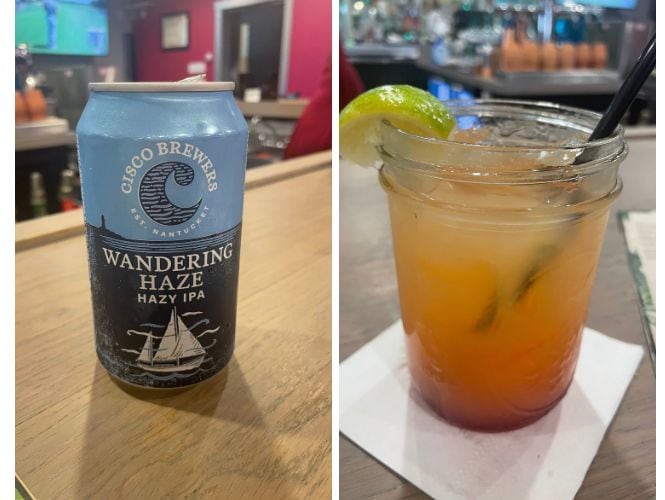 Our last dinner was at Brant Point Grill!! It was my favorite dinner on the island. It's on a beautiful lawn at the White Elephant Hotel.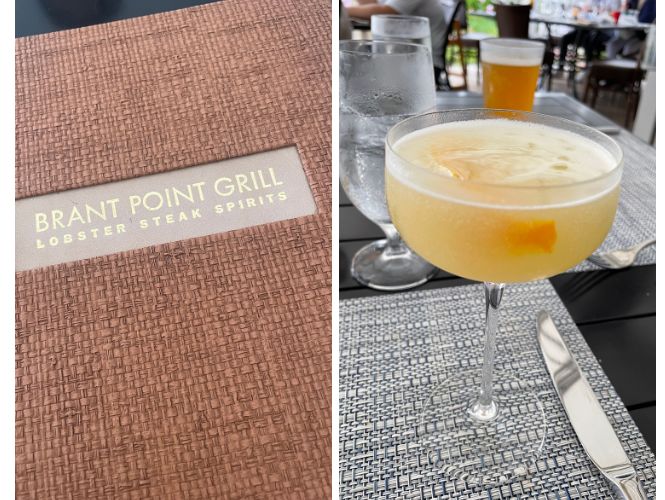 My drink was an ACK Sunshine, and I am drying my best to figure that one out! It was soooo good! I also recreated the Lobster Mac and Cheese with my own Shrimp Version, and I nailed it!!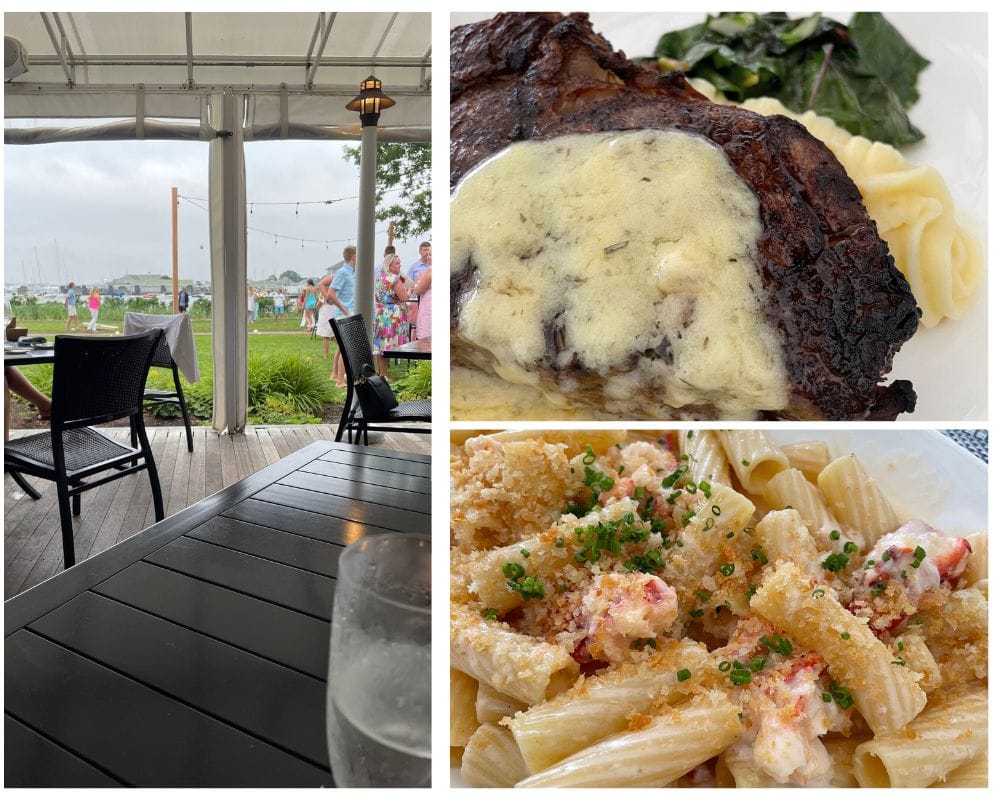 We headed back to the hotel and flew out the next morning straight from Nantucket!! That was way easier than ferrying back and getting a car back to Boston to fly out!
Keep reading to see more places to eat and things to do!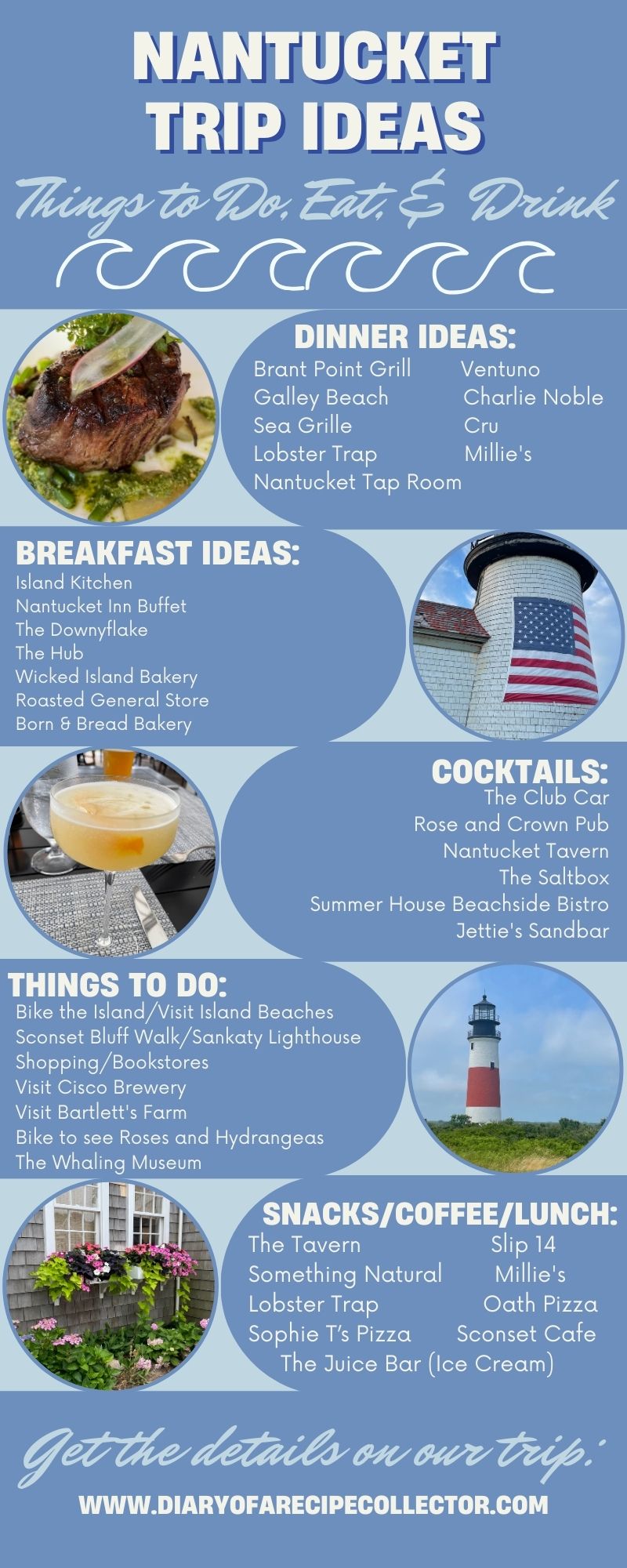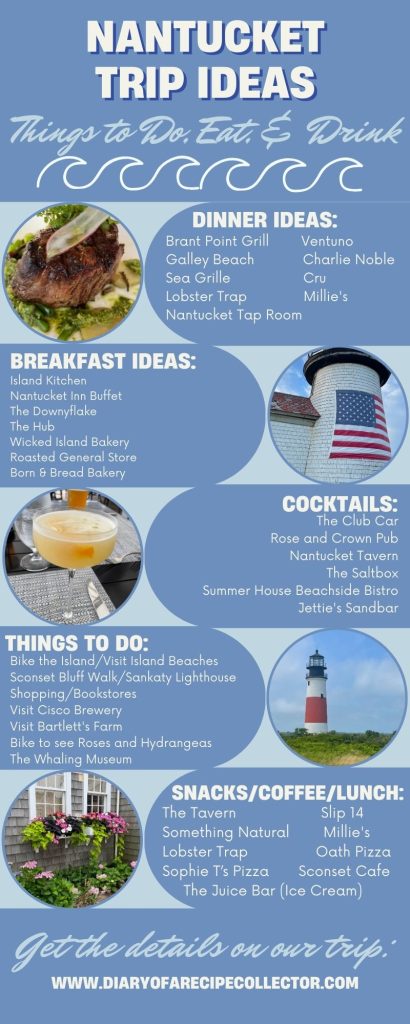 Tips We Learned for Visiting Nantucket:
Book dining reservations in advance. There are a ton of wonderful restaurants on the island. We loved the ones we went to, but there are so many more we saw when we were there.
Don't forget about the on island bus transportation, The Nantucket Wave. They have several routes.
See the WHOLE island! Take each day to focus on different parts of the island. It's so fun to see it and explore!
HERE IS THE GOOGLE DOC OF OUR ENTIRE BOSTON, NANTUCKET TRIP!!
If you missed the other parts of our trip, here is Part 1 and Part 2.
Find more TRAVEL POSTS HERE!
You can find more MAIN DISH RECIPES HERE.
You can find ALL RECIPES HERE.
For more ideas, follow me on FACEBOOK, PINTEREST, INSTAGRAM, AND TWITTER.
Get FREE recipes delivered to you by email: SIGN UP HERE!