Boston and Nantucket Trip Part 1 – All the details of our 20 year anniversary trip to Boston, Salem, Glocester/Rockport, and Nantucket! It was such a wonderful destination!

B.J. and I headed out this past July to see some beautiful scenery and wonderful history all over Massachusetts. Why a Boston and Nantucket Trip for our 20? Why not? We love experiencing places neither one of us have traveled to together! This trip was hands down one of the most exciting trips we've ever taken! I can't wait to share all the details to help you plan a trip to this destination! Get ready for picture overload! Plus, I'll link a document with all the details to help you plan a trip too!

We kicked off this anniversary trip in style for sure! We made reservations for drinks and appetizers at the beautiful Lookout Rooftop Bar at the Envoy Hotel. Words cannot hardly describe how good it felt to finally be there and relax while overlooking Boston Harbor. I mean look how cool!!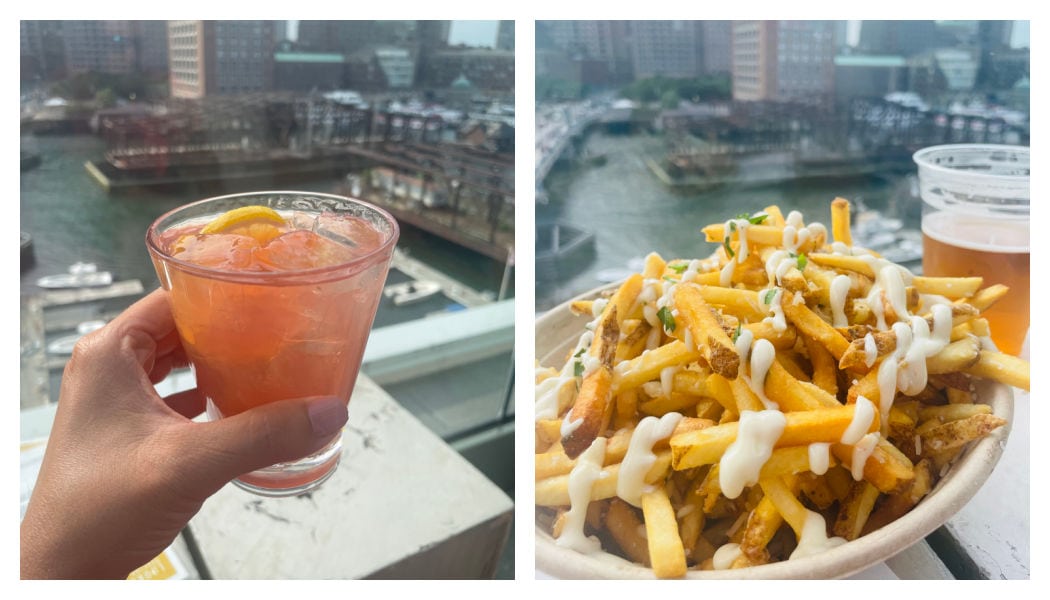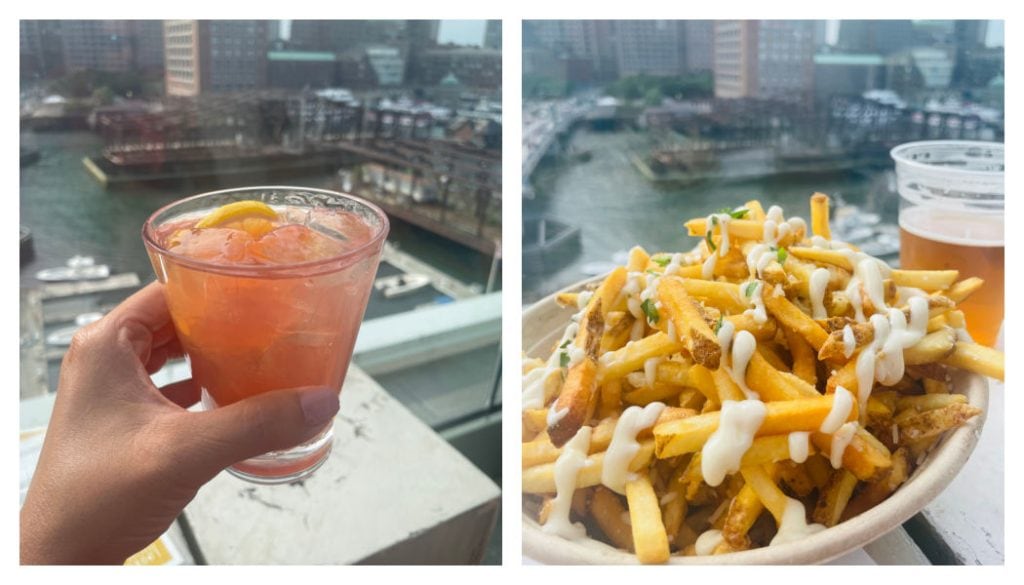 For the rooftop bar, I made reservations a few months before our trip. You can go up there without reservations, but you are basically standing and hanging out with a whole crowd of people, and it's not near as relaxing as having your own little couch and server. Now it is pricey, but this was one of those experiences we wanted for our first night in Boston. We had reservations for 5:30, which was perfect for pre-dinner cocktails. Here's the link to reserve these!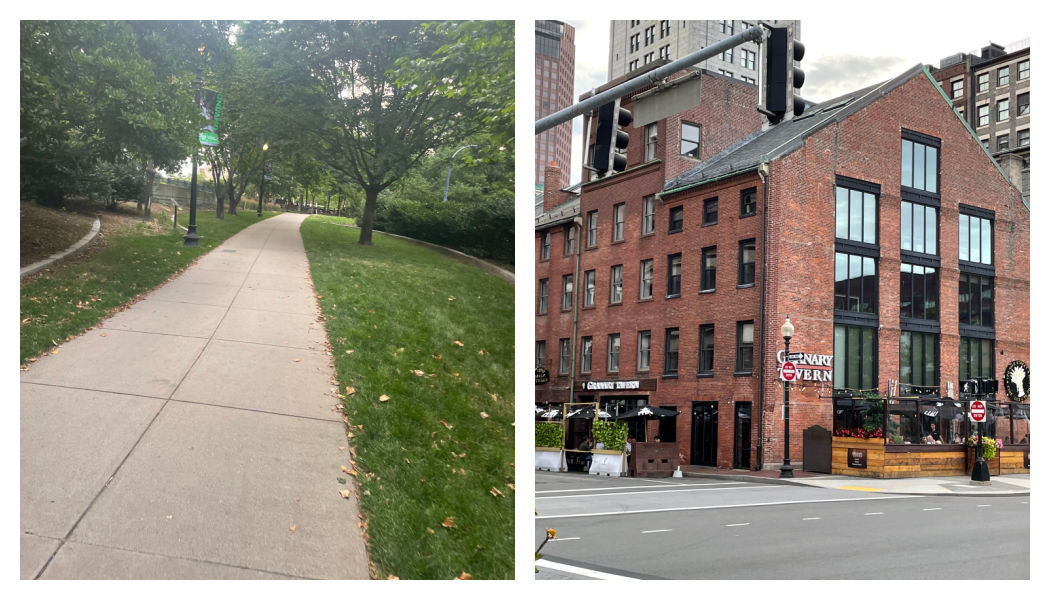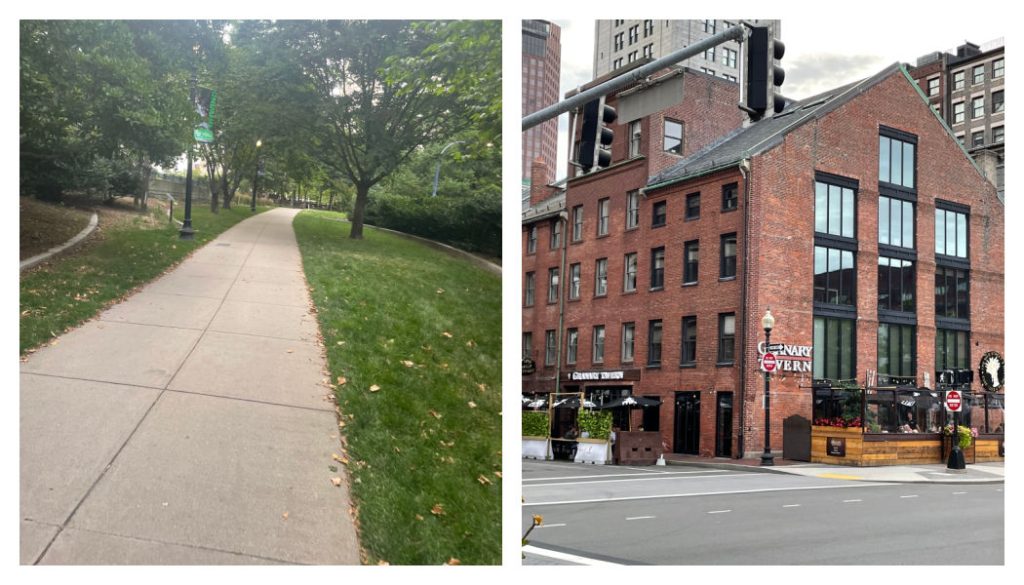 From the rooftop bar, we walked over to the Granary Tavern for dinner. The walk was through a little park along Atlantic Avenue, and it was in that moment that I decided how much I loved Boston! It was just perfect, and the weather was pure bliss even in the July heat. The Granary Tavern was cozy and our meal was good, and I tried my first of many lobster dishes. It was such a great night! From there we walked back to our hotel for the night. It was a long travel day, and we were exhausted!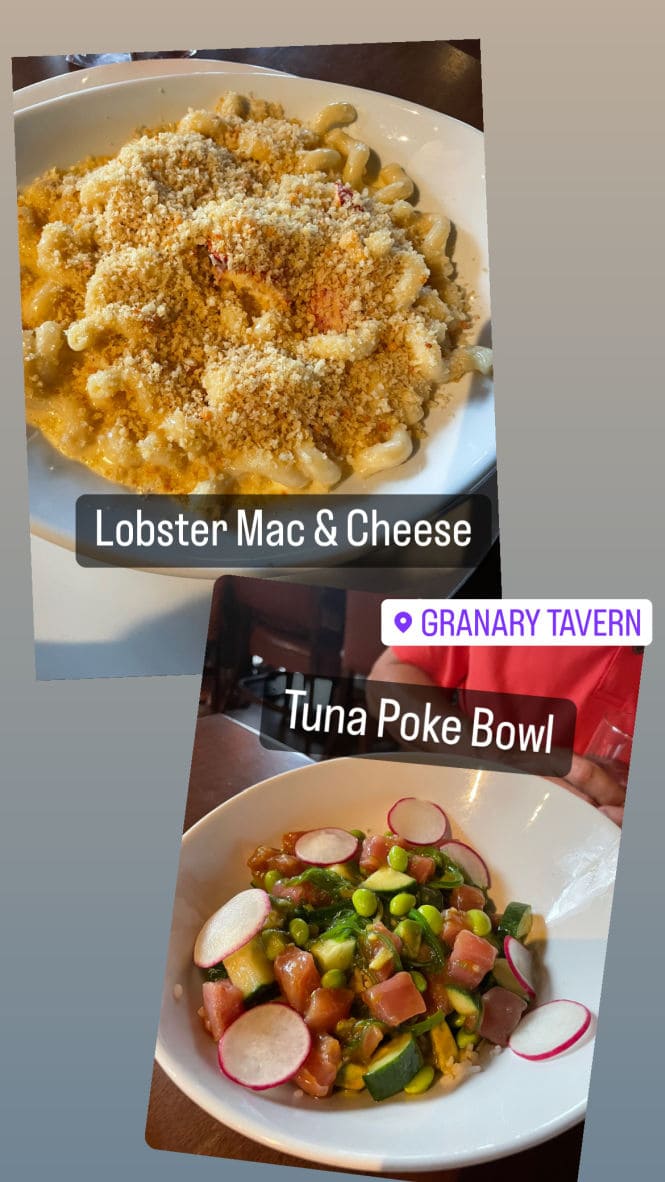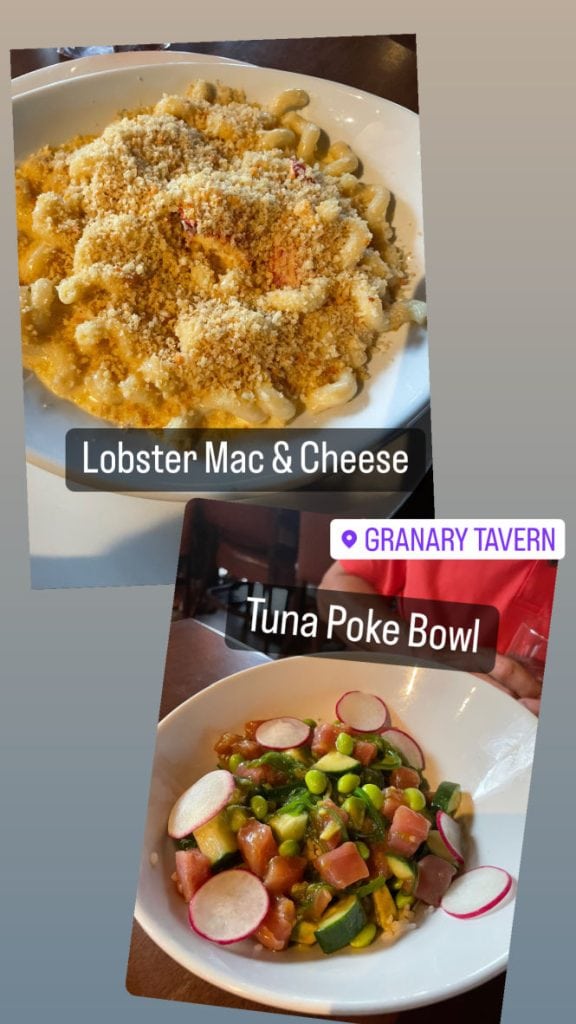 I snapped this next picture on our walk back to the hotel. It's Central Burying Ground established in 1754 and located in Boston Common. Isn't it spooky?!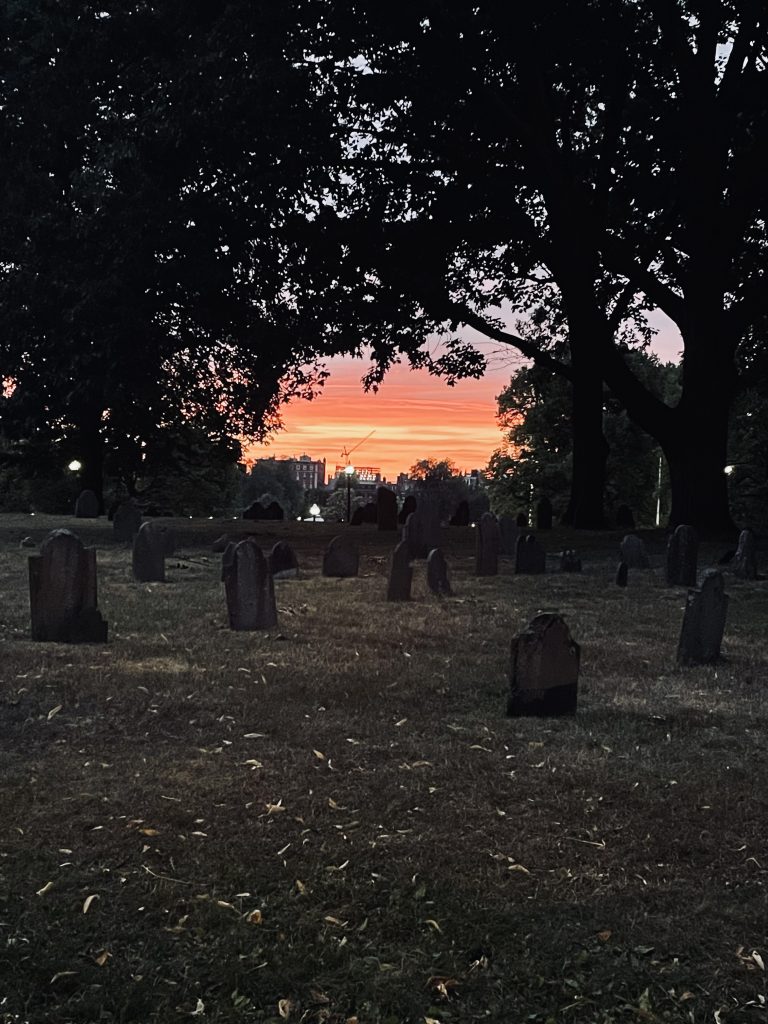 Things I loved about Day 1 of Boston:
We arrived in afternoon in time for a trip down to the seaport area to go to the Lookout Rooftop Bar. This was the perfect way to kick off our trip!!
Our walk from the seaport area to the Granary Tavern was perfection. So glad we chose to walk. It was only a short distance to the tavern.
Day 2 of Boston: Our first full day!
The next morning we woke up and went to mass at St. Cecilia Catholic Church, which was right down the road from our hotel, The Colonnade. I loved this location in the Back Bay area. It made the perfect walk to start our day after mass. We headed to our first stop, Levain Bakery, for a coffee and a little treat!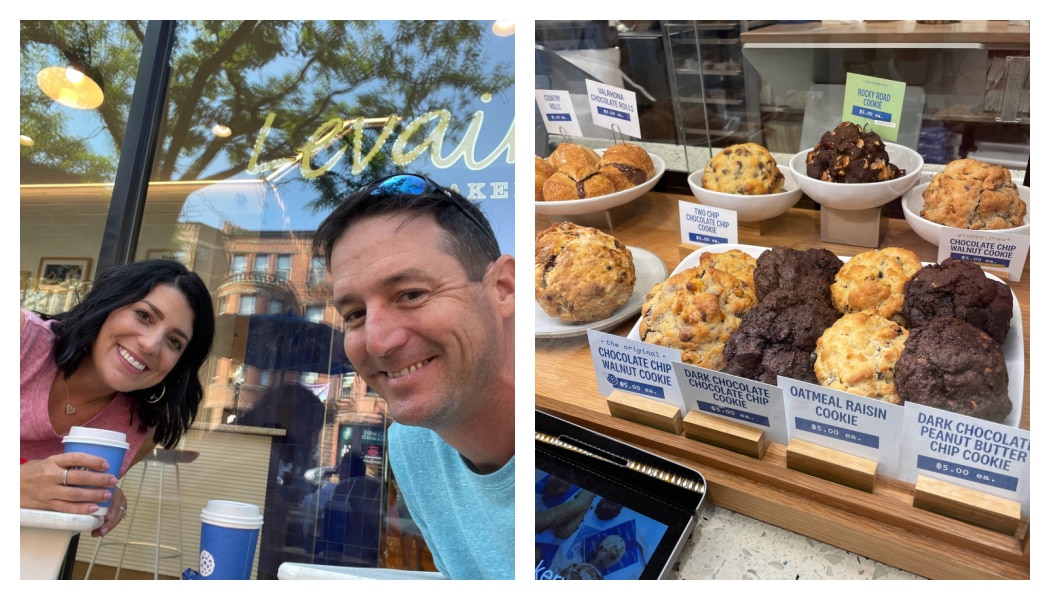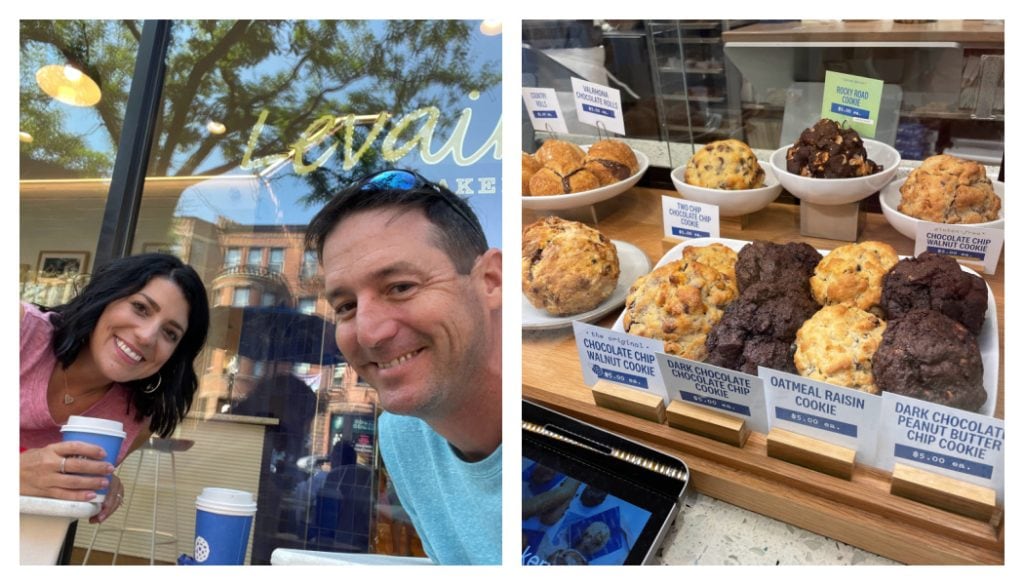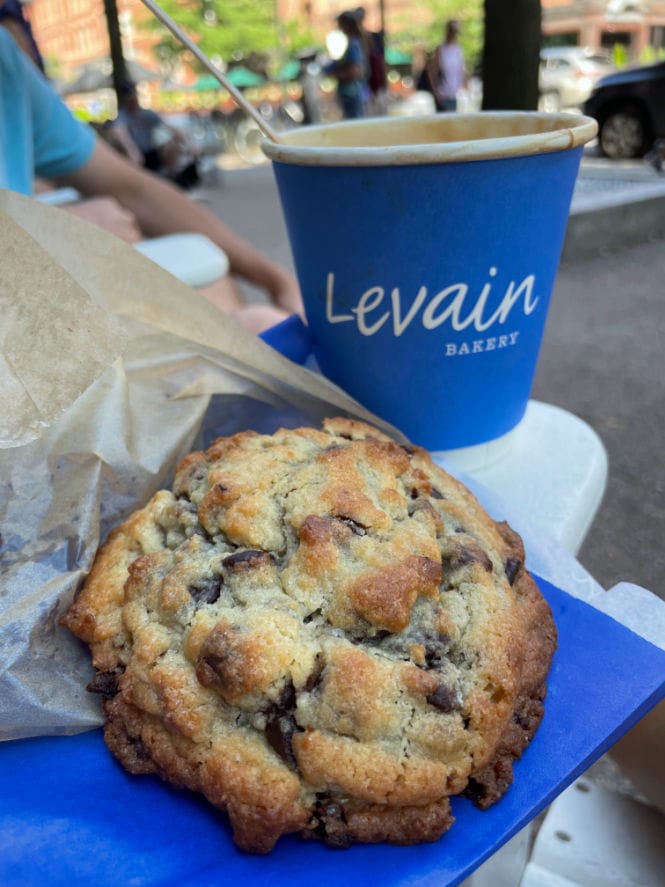 To be fair, I did not eat this cookie for my breakfast. It was the size of my head and so delicious! Can't wait to give a copycat version I found a try! I did however eat some of their delicious coffee cake 🙂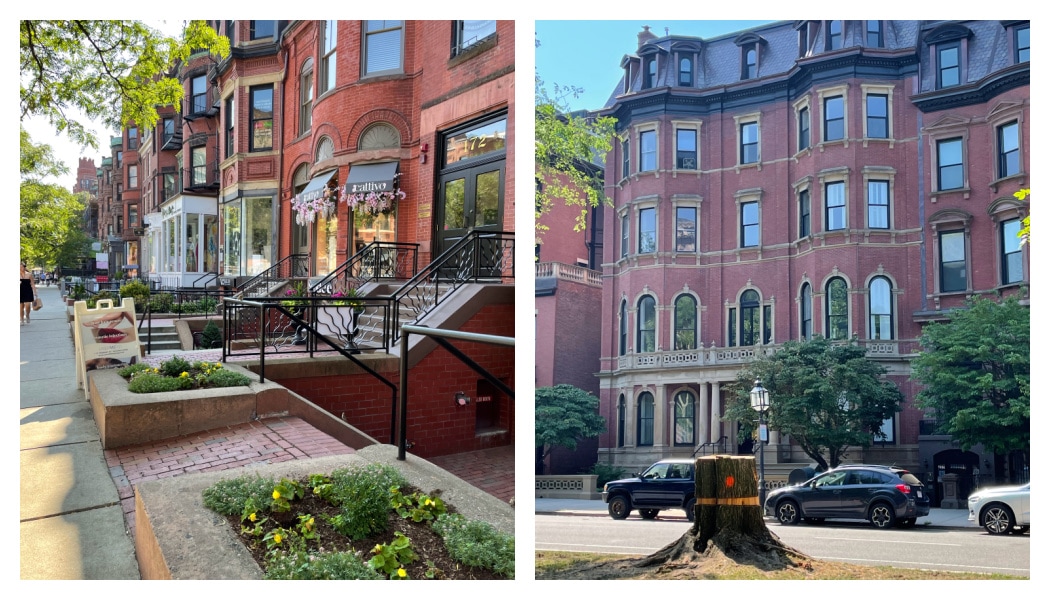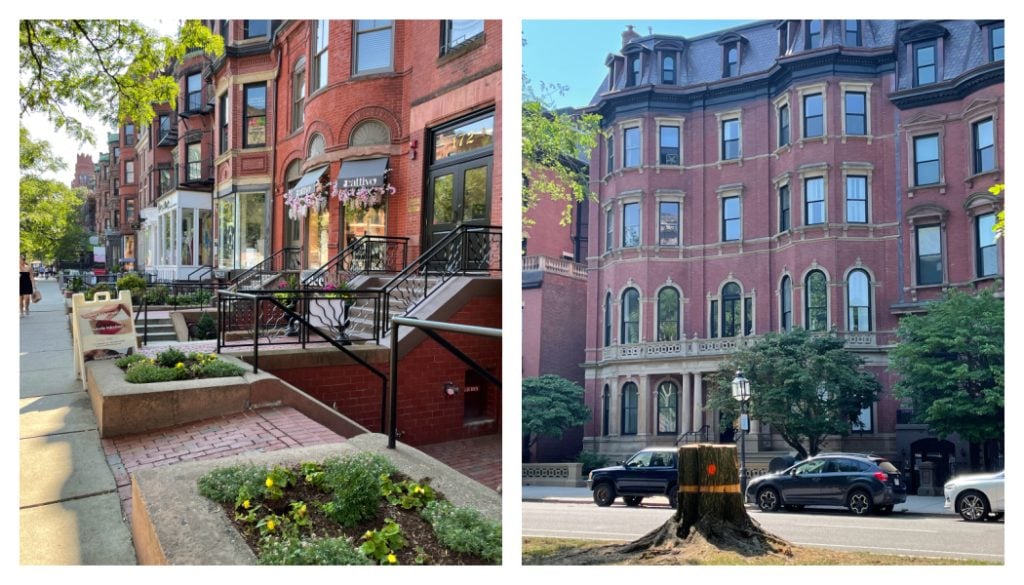 Our walk was picturesque. The weather was gorgeous. The architecture was beautiful. We walked from Levain up to Commonwealth Ave. I HIGHLY RECOMMEND this little walk all the way to the Boston Public Gardens!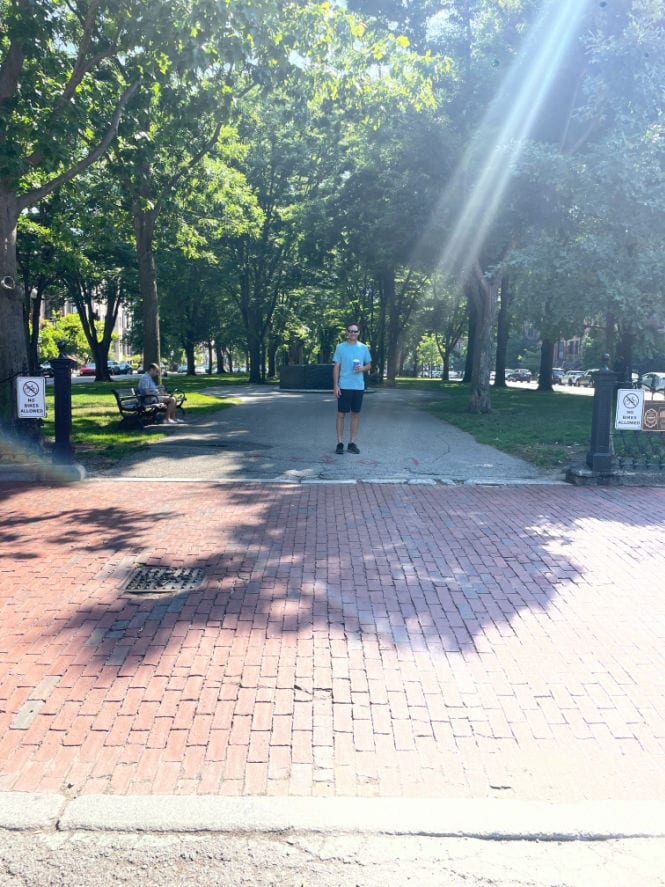 This is Commonwealth Ave. I mean…just such a perfect walk on a beautiful Sunday morning leading us to…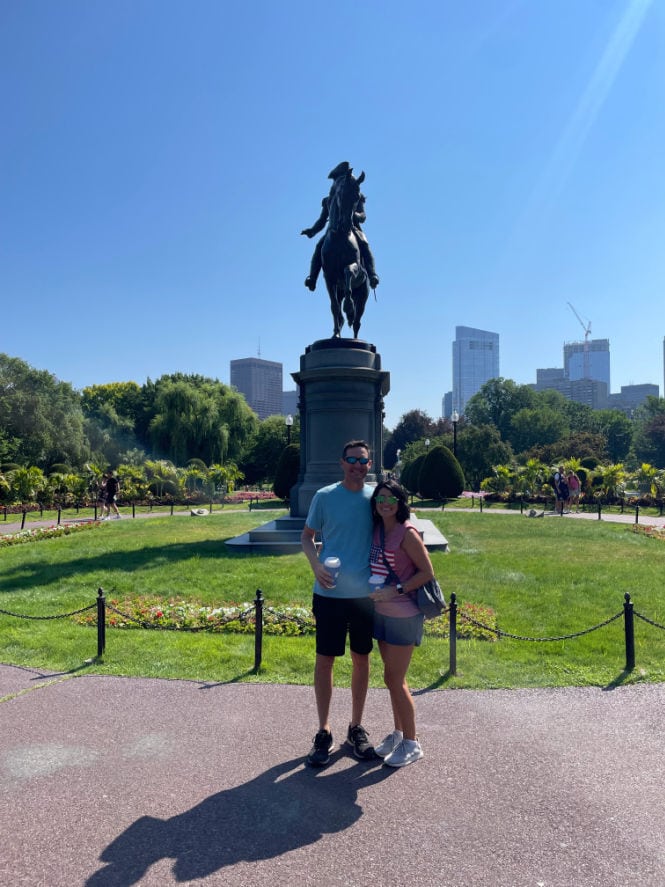 The Boston Public Garden was so beautiful!!! My pictures just do not do it justice! Boston, you are my new fav!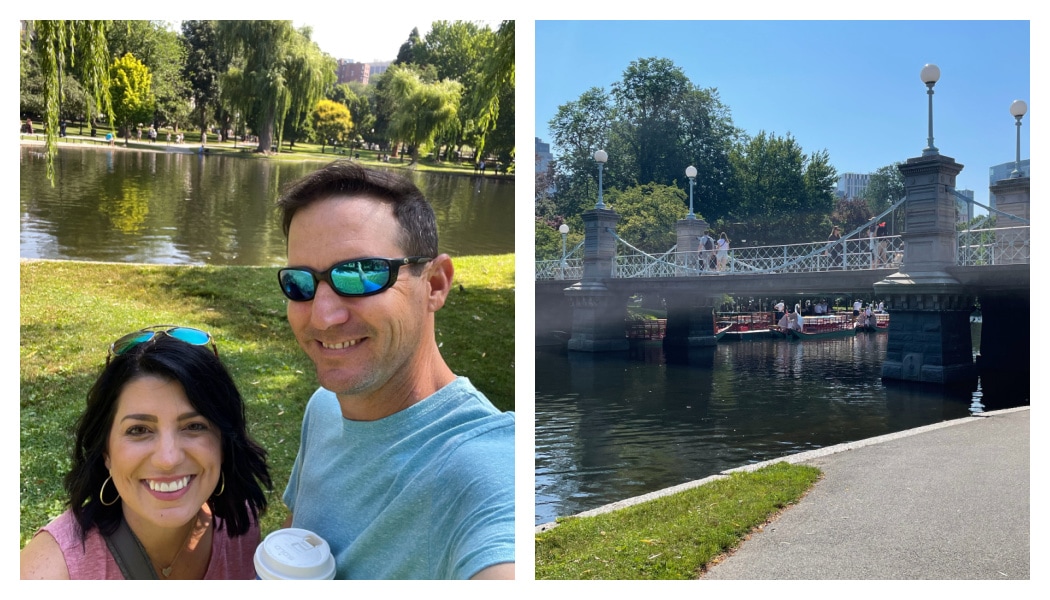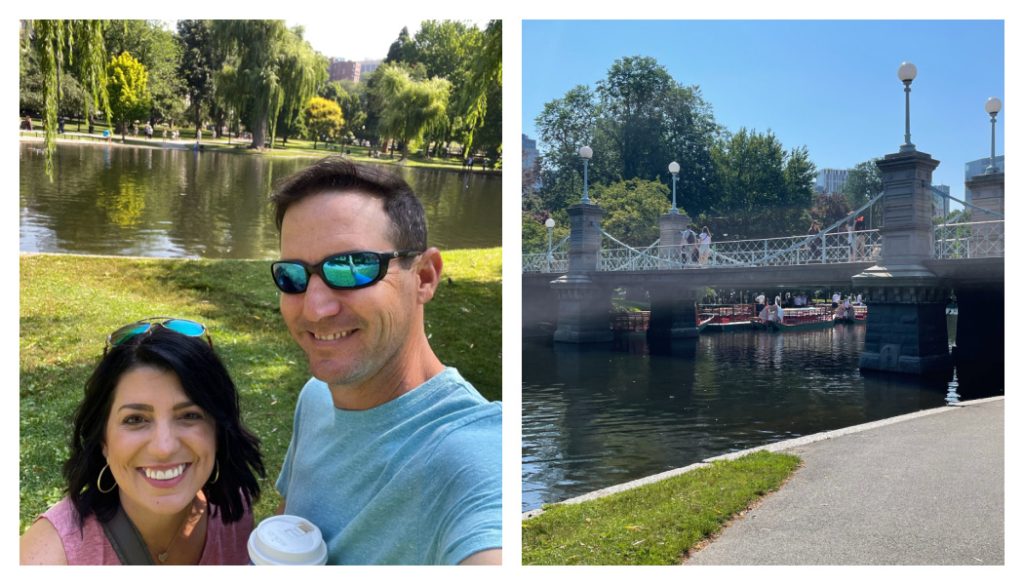 From here, we explored the Boston Common area, and the Granary Burying Ground, which was the start of the Freedom Trail for us. This is the burial site of some very important men in history like Samuel Adams, Paul Revere, and John Hancock. I am a huge history lover, so this was super cool to see! And it was right next door the the Park Street Church.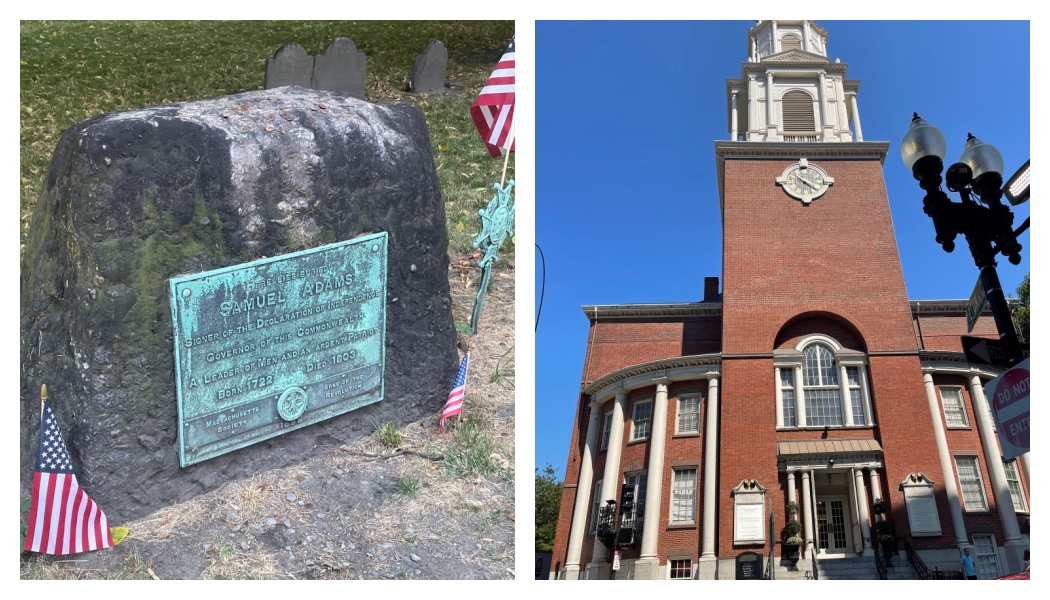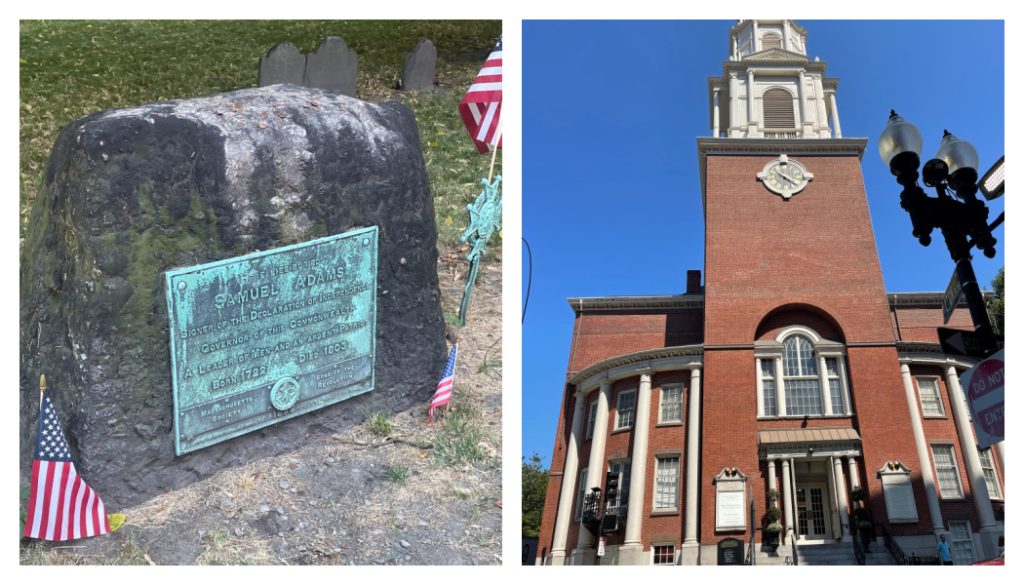 We hopped on one of the Old Town Trolley Tours trolleys to head to our next historical destination. (I pre-purchased tickets online, but we could have bought them at the welcome center location where we loaded at Charles St. and Bolyston. This was stop #12 on the tour. We headed to…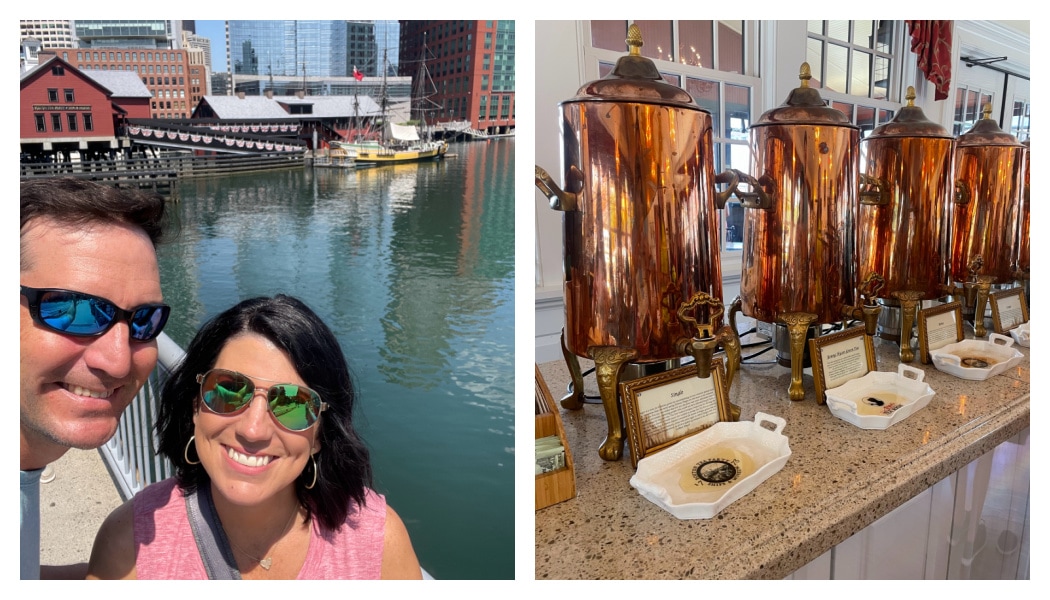 The Boston Tea Party Ship and Museum! This is located right in Boston Harbor, and you can tour the ship and taste the 5 teas thrown into the harbor during the real Boston Tea Party. We opted not to do the ship tour to save time since we still had lots to see. From there, we hopped back on the trolley and headed to the historic north end to see Copp's Hill Burial Ground, Paul Revere's home, the Old North Church where the lanterns were hung to warn Paul Revere of the British coming…I mean how cool is it to be in these historic places!!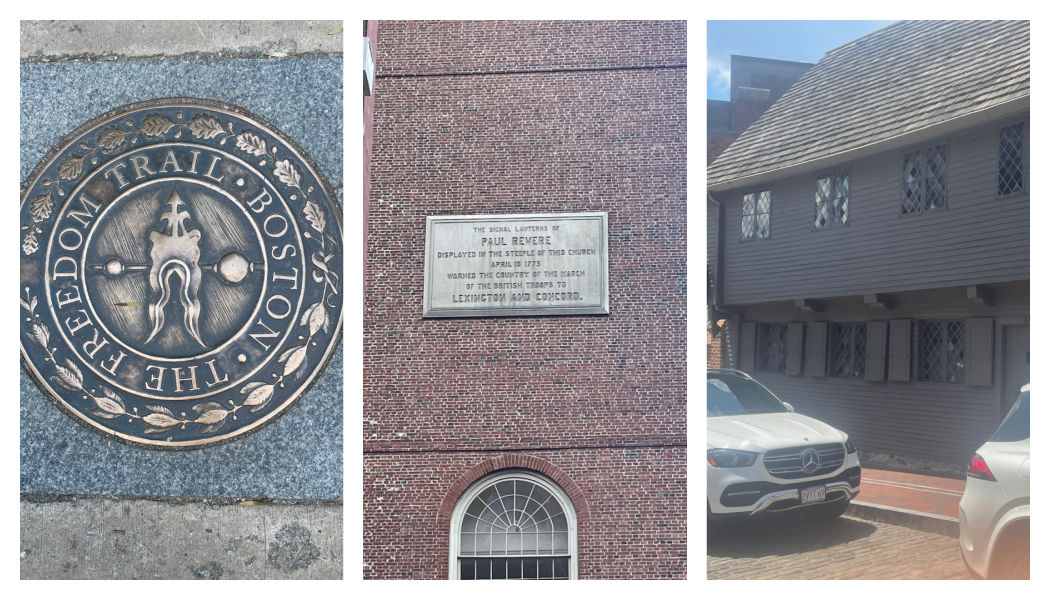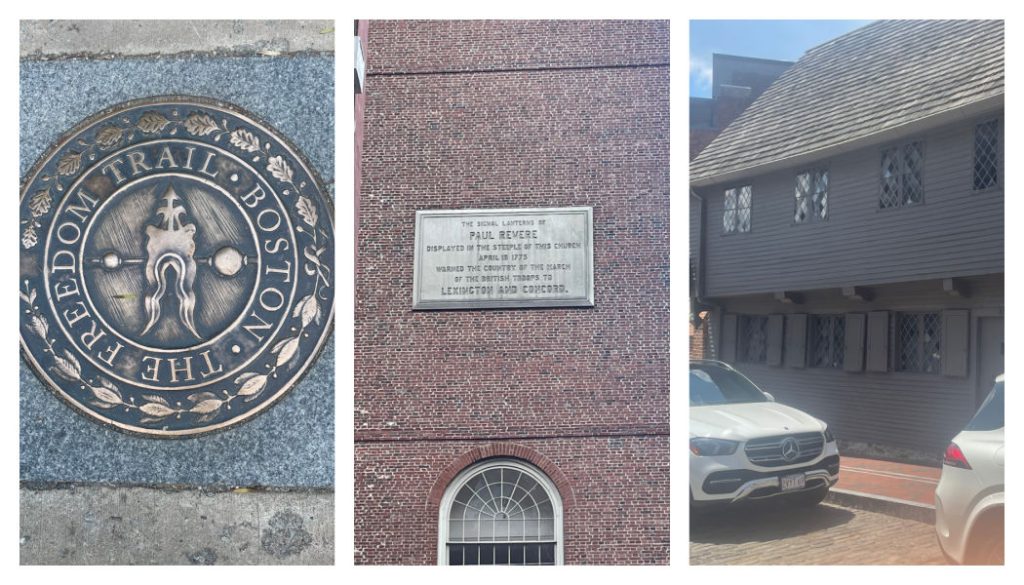 Then we headed to the old historic Bell in Hand Tavern to have a drink while we waited for a seat to eat lunch at the Union Street Oyster House. Both were great!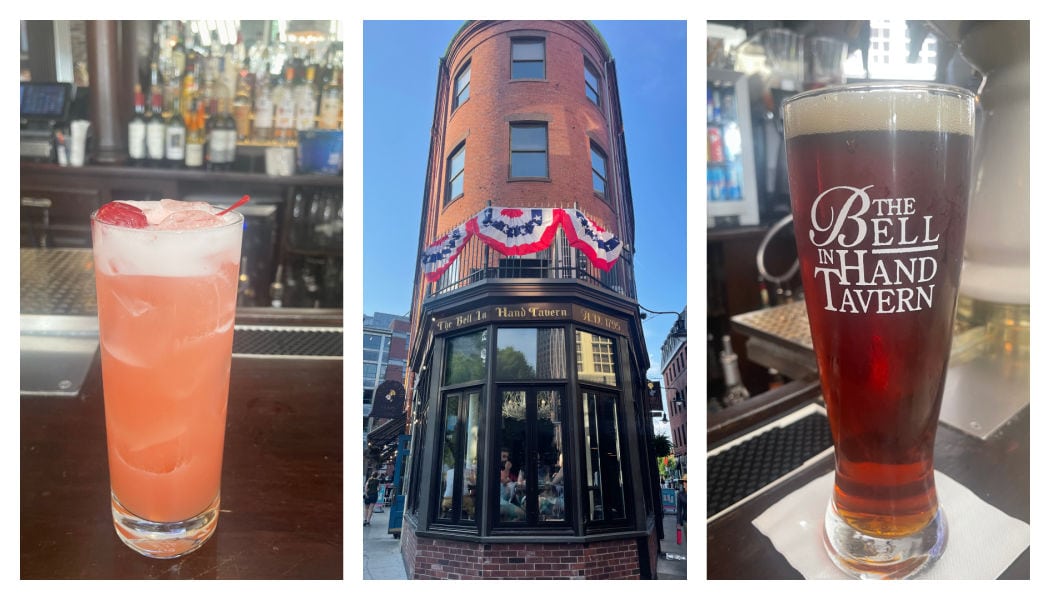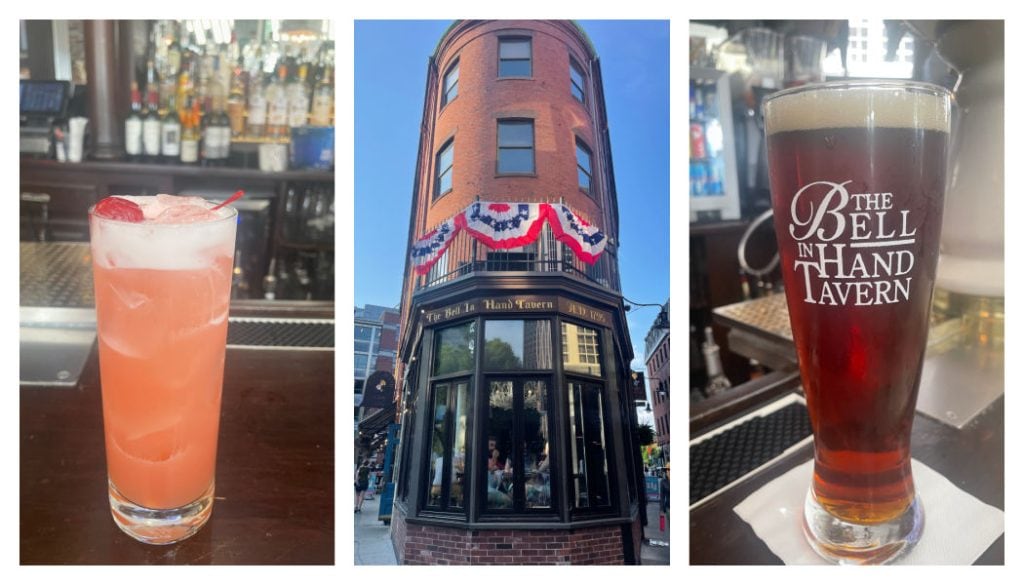 The Paul Revere Punch was super refreshing after all of our walking! After a drink, we headed to the Union Street Oyster House, where I tried my first Lobster Roll and Clam Chowder, and B.J. tried clams. They were all pretty good. We definitely loved the old historic vibe sitting inside and upstairs. This was such a nice stopping point before heading back out to see the city again.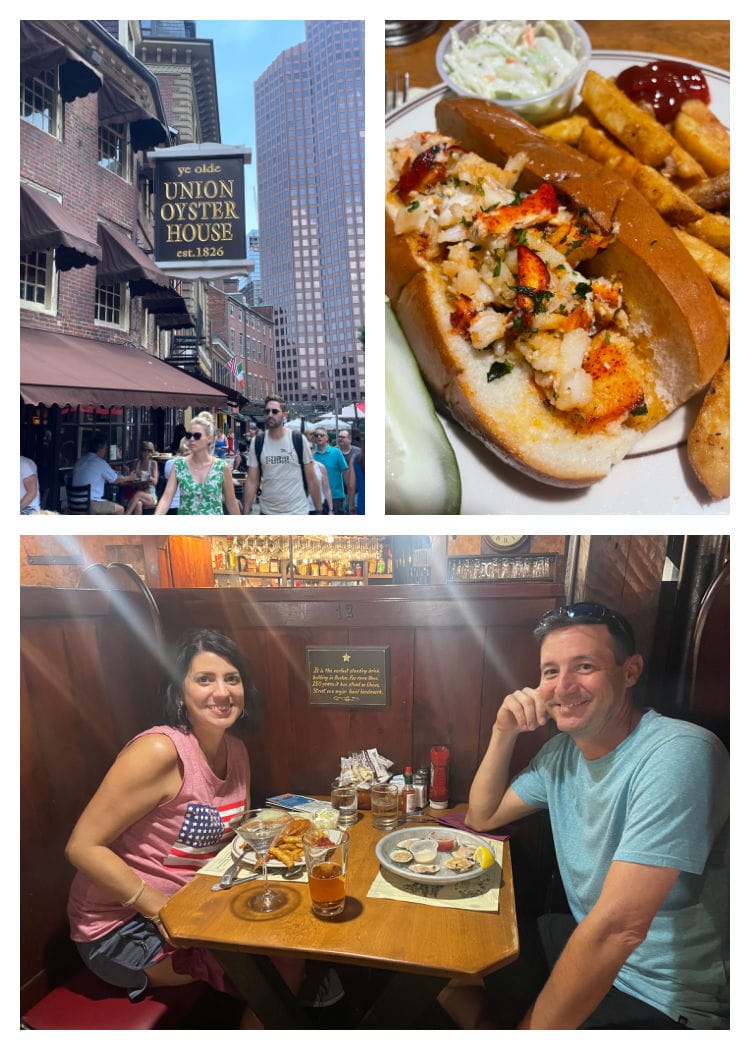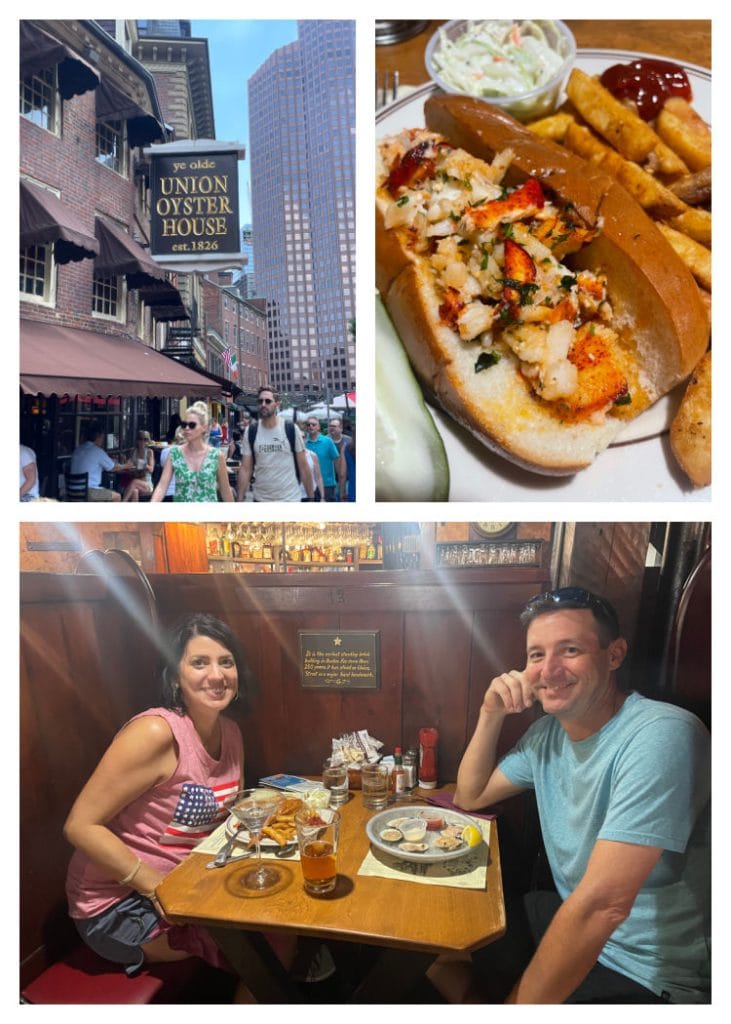 After leaving lunch, we headed to see some more historic sites like the Boston Massacre site, Cheers, and the BEAUTIFUL Acorn St. in the Beacon Hill area. The trolley helped us out tremendously for this! We hopped on right across from the Boston Massacre location and headed to the Beacon Hill/Antique Row stop.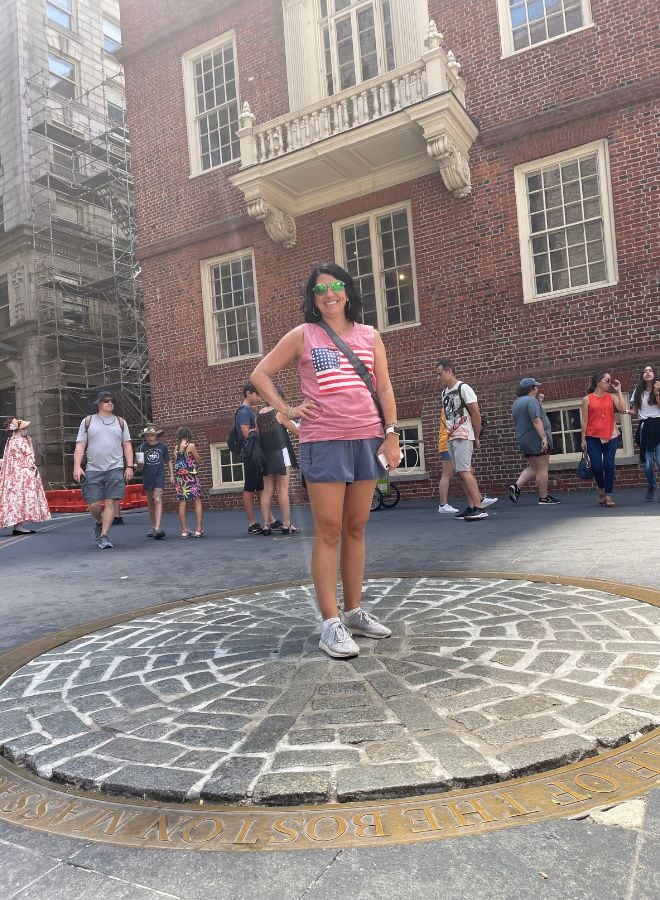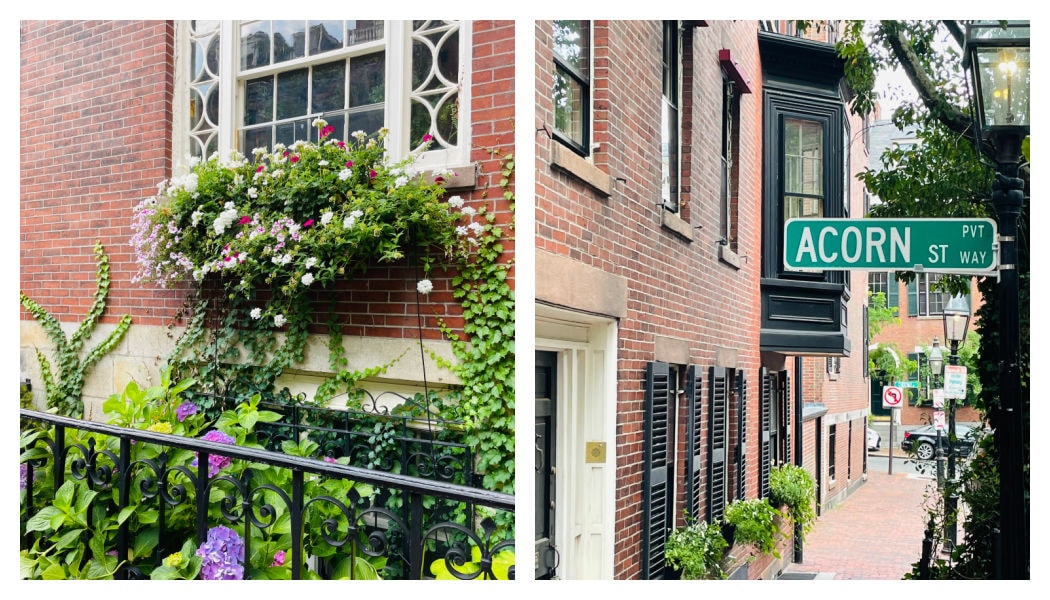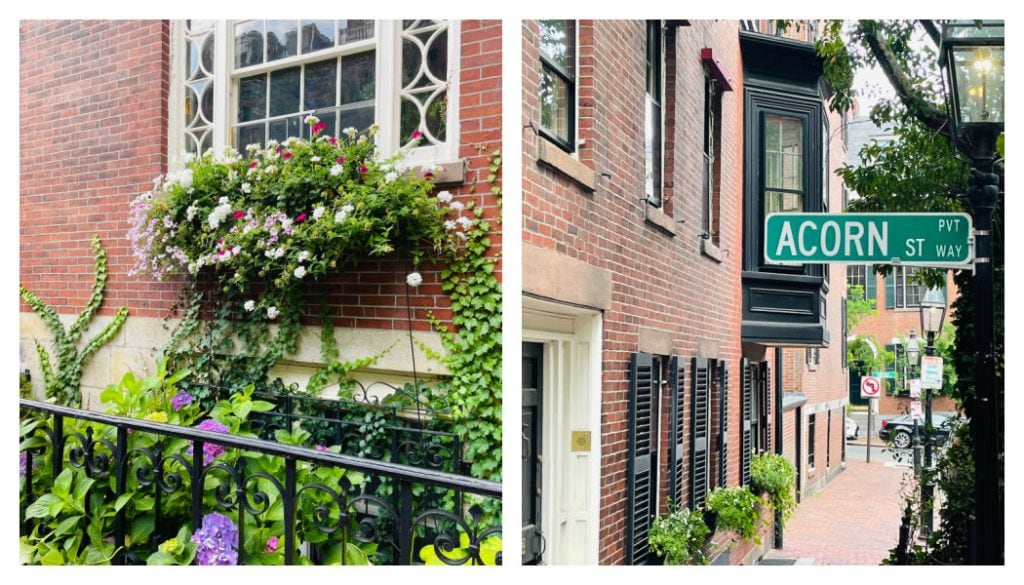 This area pretty much sealed the deal with my love affair with Boston.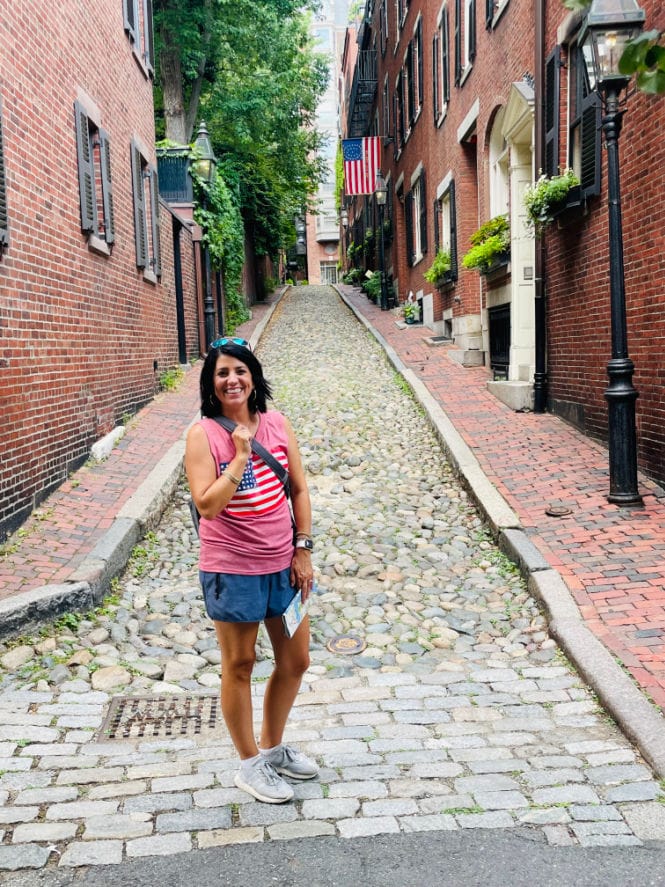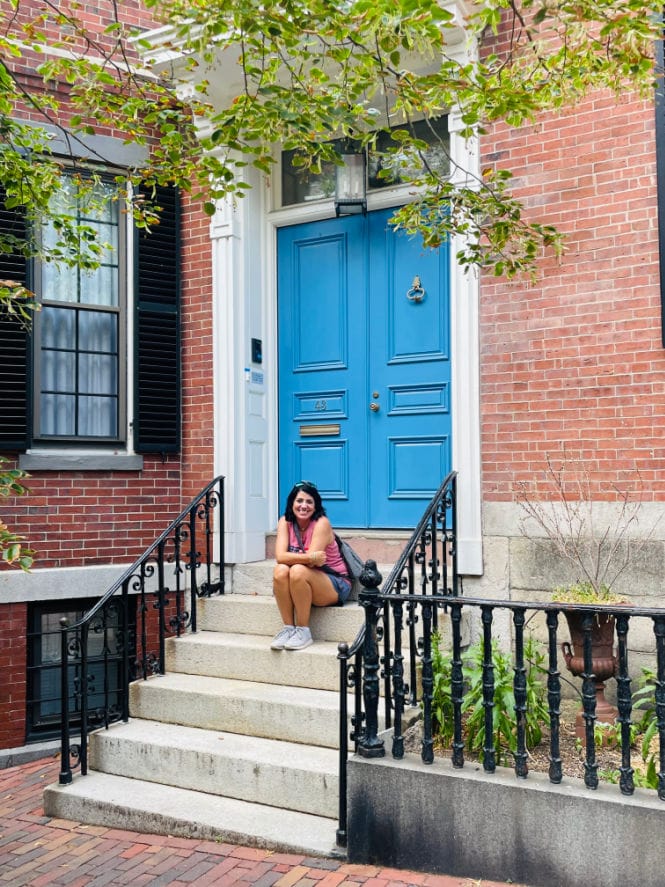 The Cheers Bar marked our last stop was our final stop for the trolley tour. Yes, there was more to see, but we were pooped. It was time to head back to the hotel to get ready for dinner.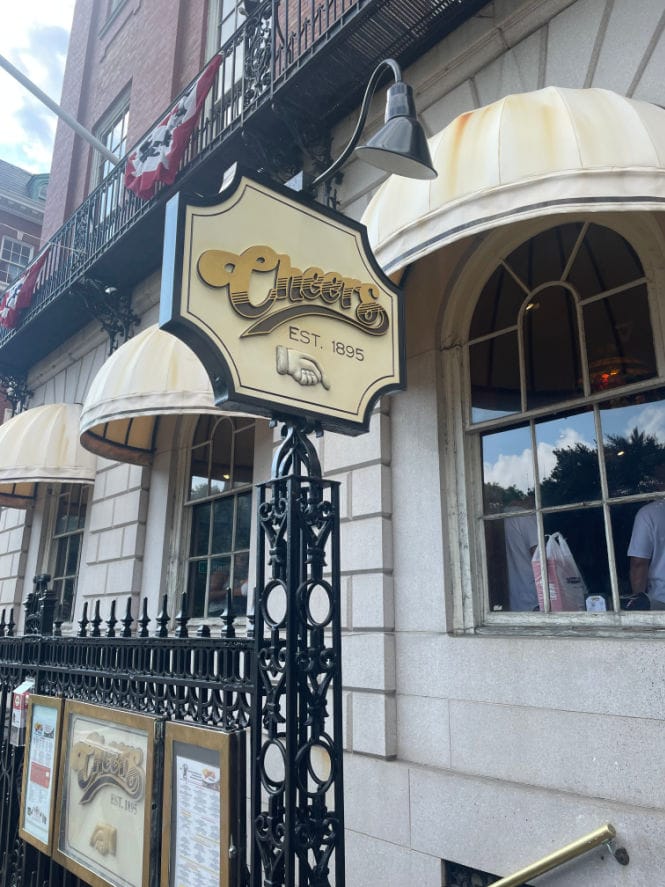 Dinner was in the Little Italy area at Limoncello. First, we stopped for a drink at the Green Dragon, another old historic tavern.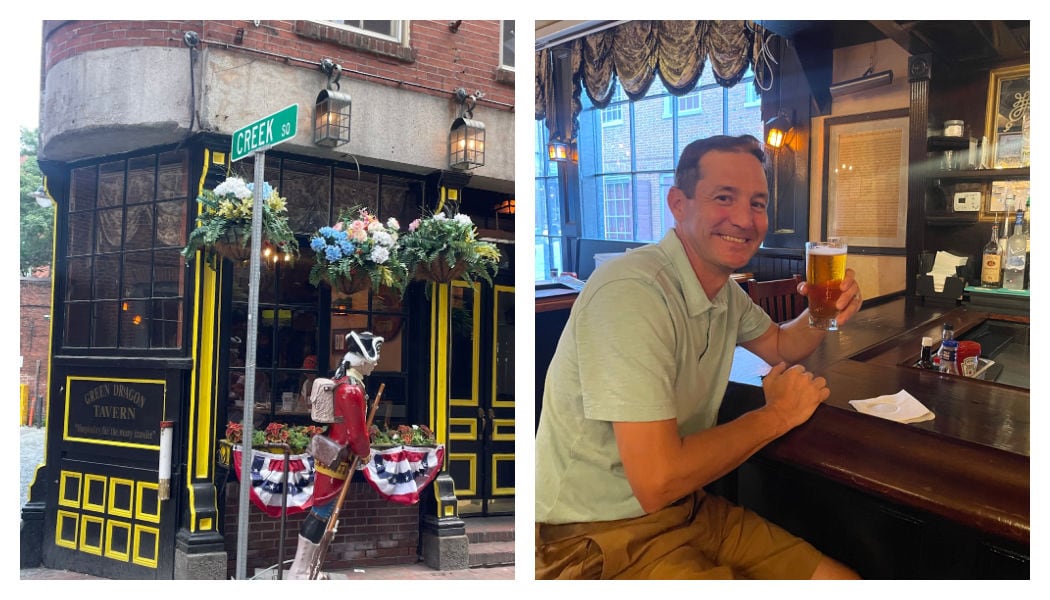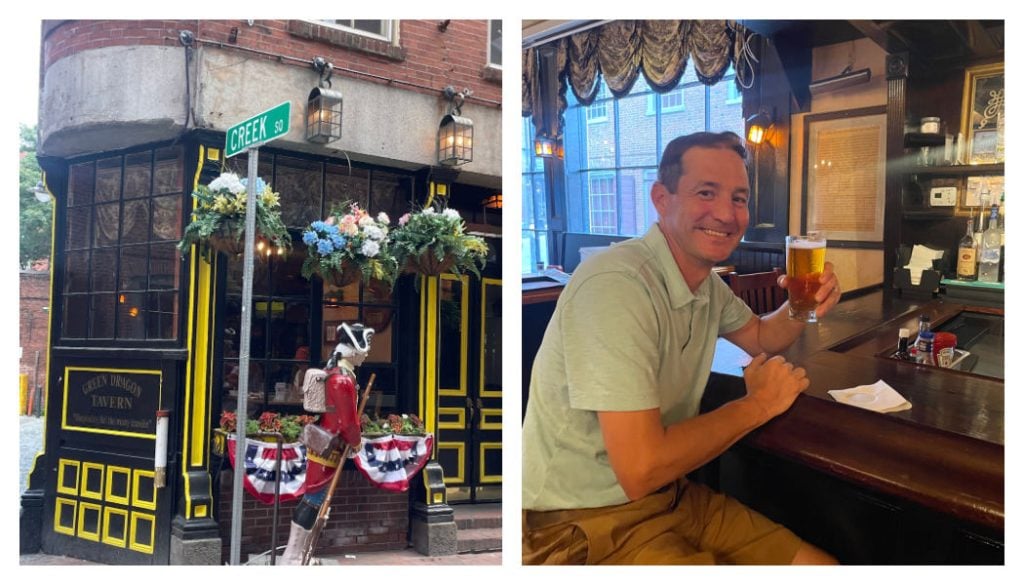 The meatballs were so amazing at Limoncello!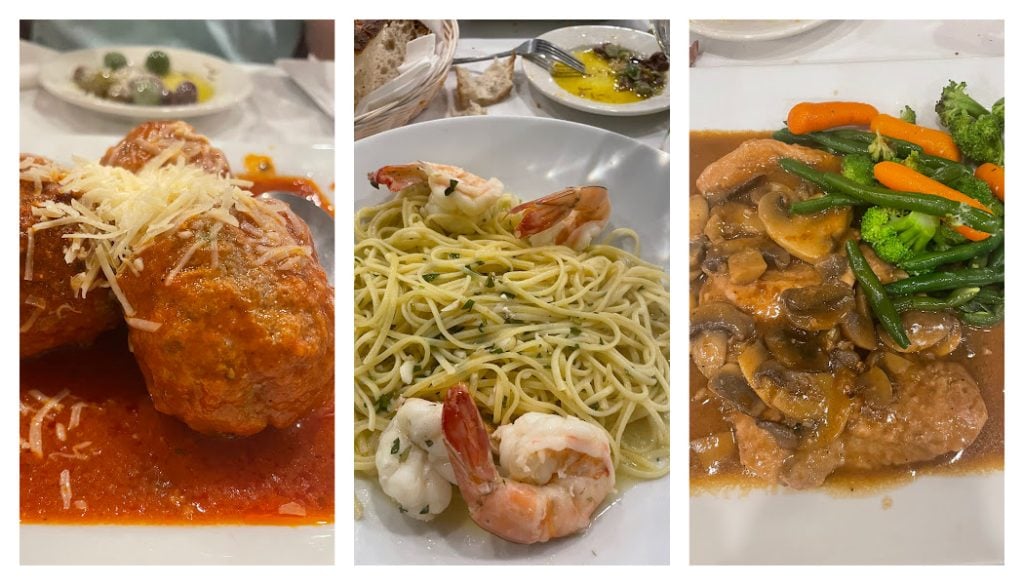 After dinner, we went to right down the street to Mike's Pastry to grab some cannolis. This place was insane! I've never seen so many beautiful desserts. The lines were long, but they moved really fast.
Things I loved about Day 2:
Our walk down Commonwealth into the Boston Public Gardens was amazing! I will do that every time!!
Starting the tour at the Bolyston St. stop and heading to the Boston Tea Party site was a great way to start the Freedom Trail.
Stopping for drinks on this day at two of the oldest bars in Boston was definitely a fun way to experience the city!
Finishing our day with a cannoli equals perfection!
That wraps up our fun 36 hours in Boston! Man, we did a lot and can't wait to go back!
Stay tuned for Part 2 where we head out to the next part of our trip!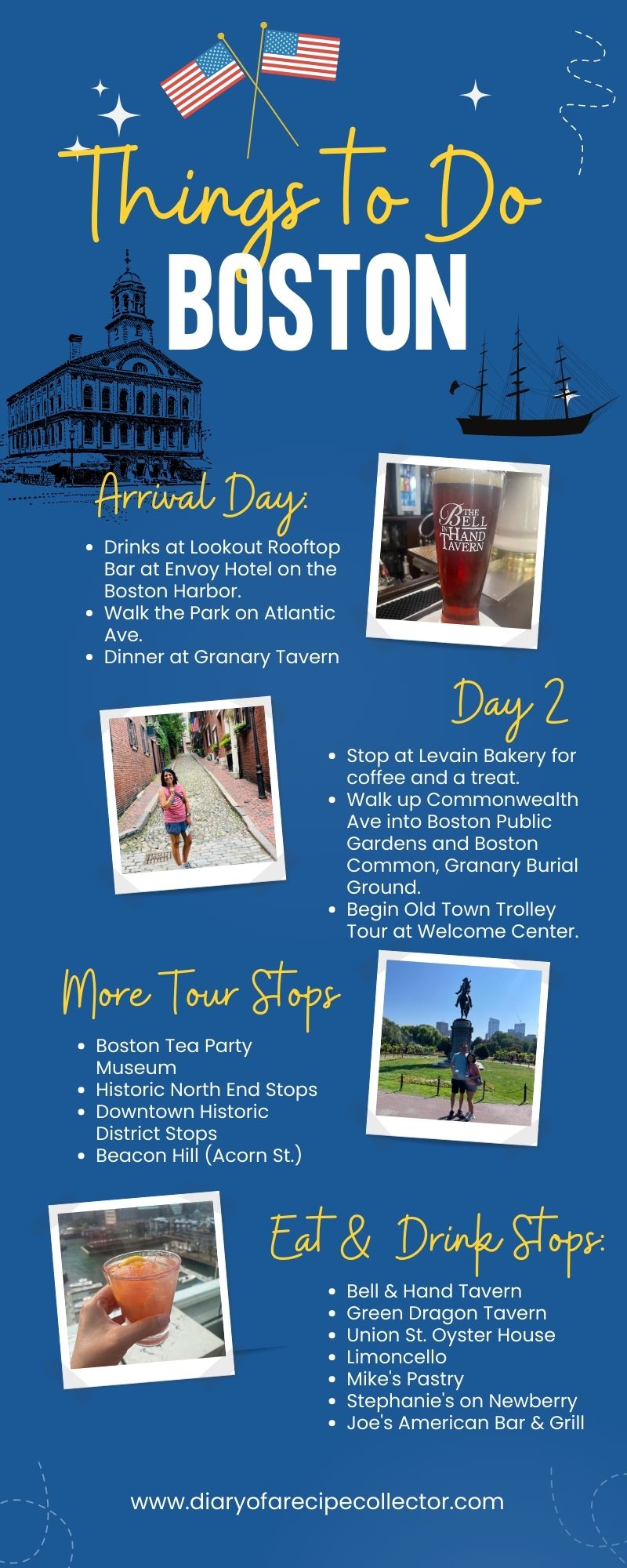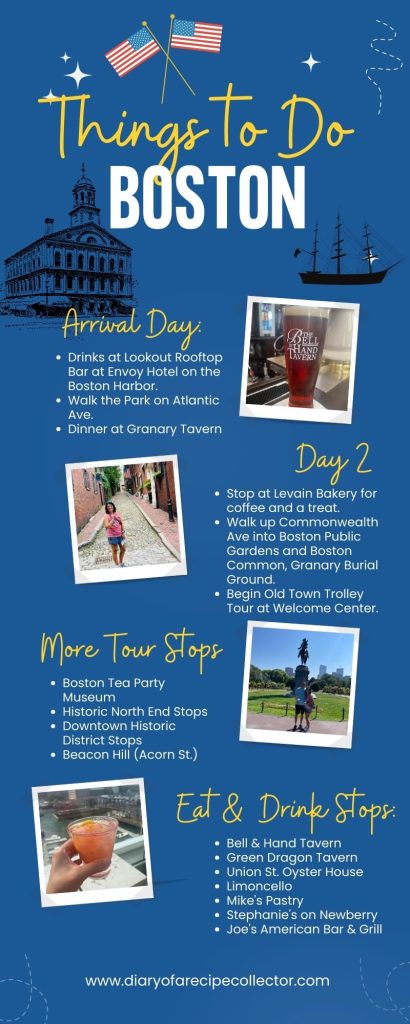 FOR MORE TRAVEL POSTS, CLICK HERE!
Here is the link to my GOOGLE DOC with all the details of what we did for the whole trip!!!!
You can find MAIN DISH RECIPES HERE.
You can find ALL RECIPES HERE.
For more ideas, follow me on FACEBOOK, PINTEREST, INSTAGRAM, AND TWITTER.
Get FREE recipes delivered to you by email: SIGN UP HERE!