Smothered Chinese Chicken and Cabbage – A delicious and hearty main dish for your family's next at-home Chinese night.

What's up everyone? Hope everybody is feeling okay in your neck of the woods cause it's not that way over here. While it may be absolutely beautiful spring-like weather around here lately, I can't say that we are shaking the winter cold blues indoors. My toddler has two ear infections, my 6 month old has a fever and a cold, and my oldest has a fever and sore throat. I spent the last two mornings hanging out at the doctor's office with them and I'll probably be making a third visit today. Needless to say, I'm not getting much done around here. Plus, I'm a little paranoid, because a lot of my other family members have been having very flu-like symptoms (some confirmed and some not). What's the deal? I'm just trying to keep the rest of us at our house healthy.
Germs, germs go away and don't come back another day!!
So do you guys make your own Chinese food at home? If not, you totally should! It is really easy. Now I don't get all fancy and buy fancy Chinese cabbage or things like sesame oil. I just know I probably wouldn't get my use out of it.
I do, however, love a good Chinese night at home. I adore fried rice, lo mein, and EGG ROLLS…gosh how I love egg rolls! So when I make this Smothered Chinese Chicken and Cabbage, I usually make a few of those sides with it.
I have found the key to success with Chinese food is to have everything pre-chopped before you start cooking because it cooks up so fast. While this dish is simmering away, you can whip up some fried rice and bake some egg rolls and dinner is done!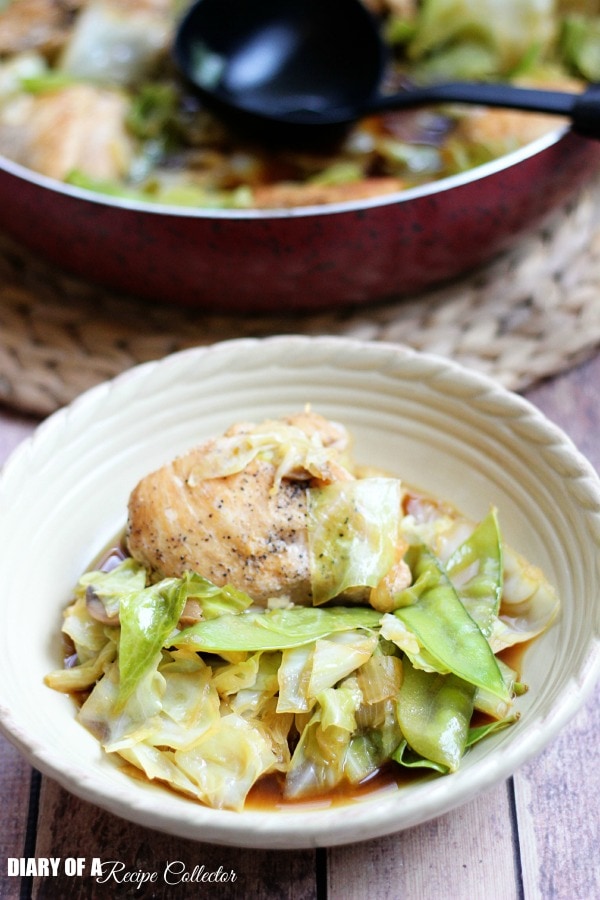 This Smothered Chicken and Cabbage is so delicious!! We love it, and you will too!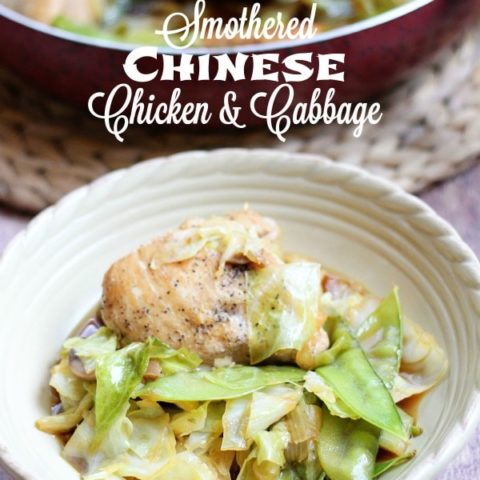 Smothered Chinese Chicken & Cabbage
Ingredients
1 tbsp olive oil
2 tbsp butter
salt and pepper
3 boneless chicken breasts, cut into large pieces
1 small onion, sliced
1/2 bell pepper, chopped
1 can sliced mushrooms
1/3 cup soy sauce + 1/4 cup soy sauce
1 head cabbage, chopped into large chunks
1/2 a 6 oz package of snow peas (found in produce section)*
3/4 cup water
Instructions
Melt butter and oil over medium high heat in a large pot
Season chicken with salt and pepper.
Add chicken to oil and butter and cook for about 5 minutes and flip once golden brown.
Cook a few more minutes and add onions and bell peppers. Cook for another 5 minutes.
Add mushrooms and 1/3 cup of soy sauce. Stir. Flip chicken again to coat with soy sauce.
Add cabbage and snow peas.
Add water and bring to a boil. Cover with lid. Reduce heat to medium low and cook covered for about 15 to 20 minutes.
Add another 1/8 to 1/4 cup soy sauce and stir.
Serve.
Notes
*I love this with sugar snap peas in the place of snow peas too!
Recommended Products
As an Amazon Associate and member of other affiliate programs, I earn from qualifying purchases. This helps us keep our blog running efficiently and allows us to create more recipes for you.
Other recipes you might enjoy:
Hibachi Veggies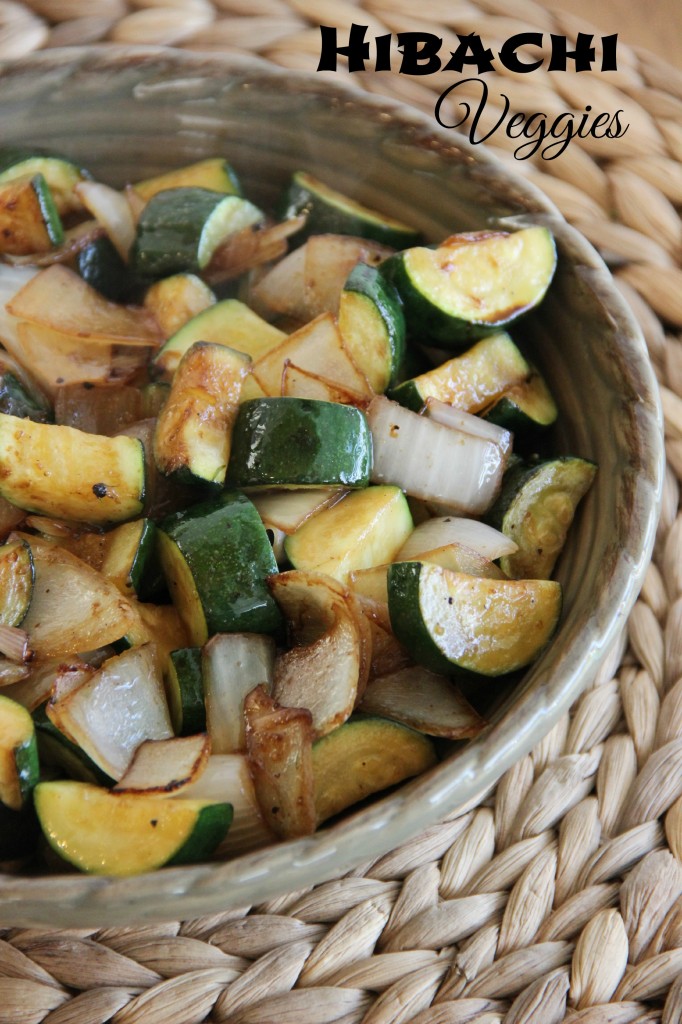 At Home Lo Mein