Copy Cat Bang Bang Shrimp – I have to admit it…the name of these shrimp is what enticed me to give this recipe a try…and boy am I glad I did!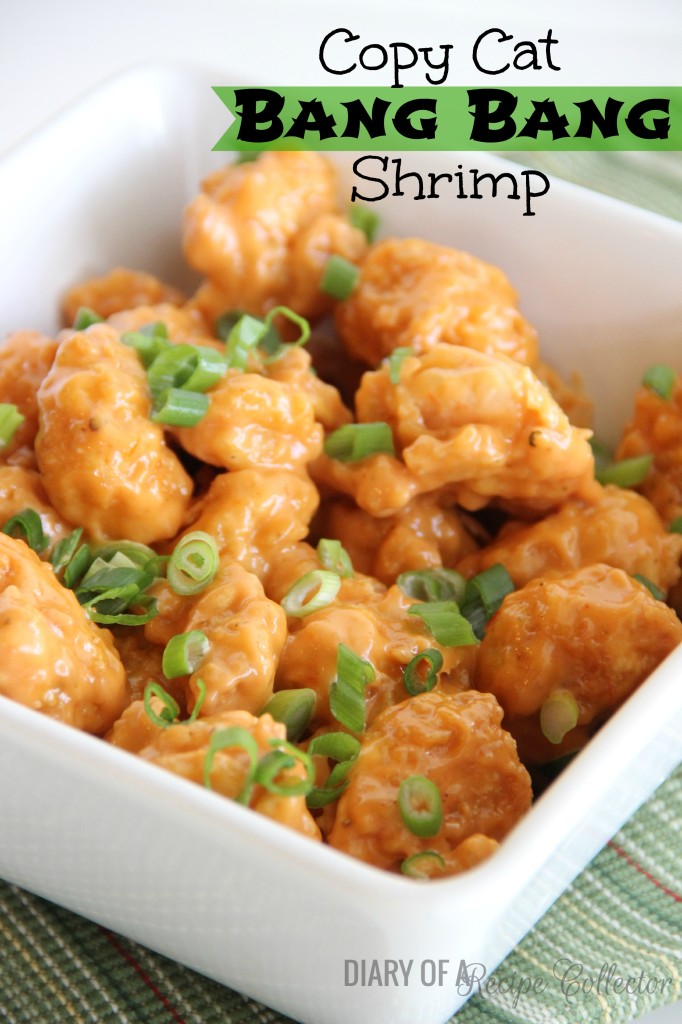 These little babies are so good! I love any excuse to cook shrimp, and I just couldn't pass these up. Fried shrimp are a part of my heritage. We are all about them in Louisiana! What takes these over the top? The sauce!! I know, I know…they are a little excessive. But every now and then, a meal like this is fun to make.
This copy-cat Bonefish Grill recipe is courtesy of Food Network Magazine. They are super yummy. I served them with Lo-Mein and Hibachi Veggies. It was a fabulous meal!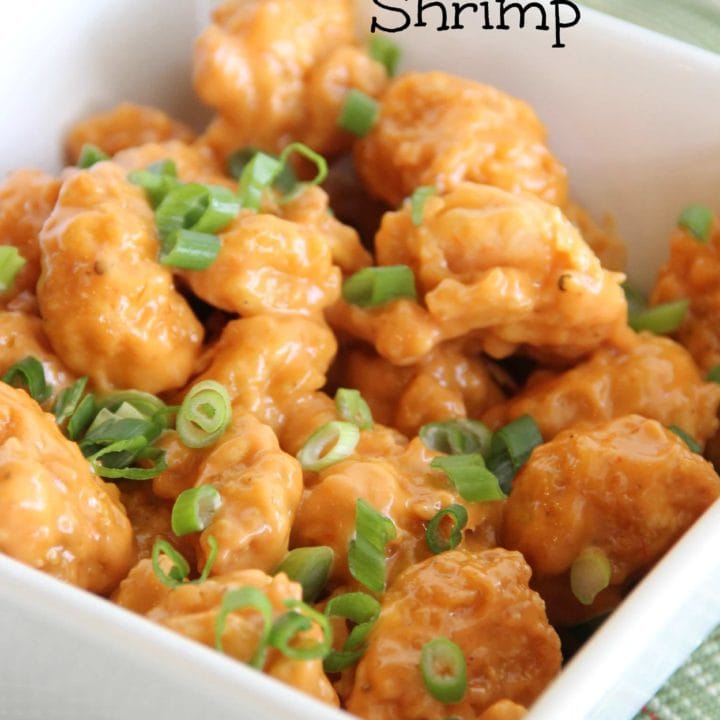 Copy Cat Bang Bang Shrimp
Ingredients
Vegetable oil, for frying
1 lb. 70/90 ct shrimp, peeled and deveined
2 large eggs
3/4 cup flour
1/2 cup cornstarch
salt and pepper or seasoned salt
For the sauce:
1/2 cup mayo
1 tbsp plus 1 tsp chili sauce
2 tsp honey
1 tsp sweet and sour sauce
1 tbsp water
salt (optional)
Instructions
Heat vegetable oil in a pot until it reaches 350 degrees.
Whisk the eggs in a shallow bowl.
Mix the flour, cornstarch and 1 tsp. of salt and 1 tsp. of pepper in a shallow bowl.
Dredge the shrimp in the flour, then in eggs, and then back in flour.
Fry the shrimp in oil for 2 minutes or until golden brown. Drain on a paper-towel lined plate. Repeat with remaining shrimp.
Make the sauce: Mix the mayo, chili sauce, honey, sweet and sour, and water in a large bowl.
Toss the shrimp into the sauce.
Transfer to a serving dish and top with green onions.
Notes
Adapted from Food Network Magazine
Recommended Products
As an Amazon Associate and member of other affiliate programs, I earn from qualifying purchases. This helps us keep our blog running efficiently and allows us to create more recipes for you.


Here are a few side dish suggestions:
Looking for a basic fried shrimp recipe?
Give these Easy Popcorn Shrimp a try!