Slow Cooker Sauce Piquante – An easy and delicious slow cooker version of a Cajun stew filled with tomatoes, smoked pork sausage, and beef stew meat.  Perfect served over rice!  Plus some very personal news!!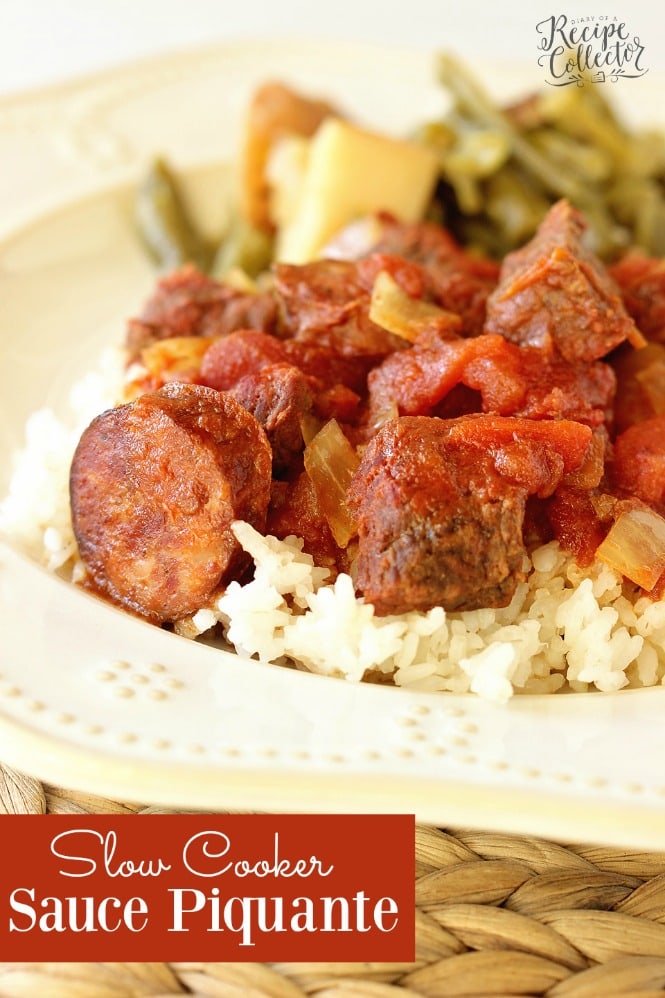 So I have some EXCITING NEWS that I've been waiting to share with you all!!  And the sheer fact that I even have this news is a testament to how God has been working in my life lately.  No….it's not another baby!  (umm…cause I don't know if I could handle another one 🙂 )
Some of you may know that I am a former teacher (3 years elementary and 6 years middle school math).  I quit teaching 3 years ago.  I was done.  Done.  And I really never looked back.  I was fortunate to work with my husband for a year and a half and then stay home with our 3rd and 4th child the last year and half.  Anytime I heard the news of a teaching position, I knew I didn't want to go back to it.
I taught with some wonderful people that I truly missed, and I had the pleasure of teaching some really great kids, but I just needed a break.  And that break turned into this blog…and baby #4.
Well, God sure did have some serious and rapid changes he was about to make in my life.  Out of the blue last week, I started thinking about teaching again.  It was a strange feeling I hadn't had since leaving the profession.  I pushed it aside thinking maybe in a few years I might go back.  And that was a big MIGHT.
Two days later, a friend sent me a message that a local private school was looking for a sixth grade math teacher.  And as always, I told her I wasn't interested.  But it kept nagging at me.  What in the world was wrong with me?  Maybe it had something to do with the fact it would be the school my kids would be attending next year.  So I pushed it aside.  A few hours later, as I was telling my husband about it and all the reasons I couldn't possibly go back to teaching, I got another text from a former co-worker I adore.  I hadn't spoke to her in quite some time.  At that moment, I KNEW God was trying to tell me something.
But I kept pushing it aside.  And y'all…all I could think about was this blog.  I've worked SO HARD on it the last 3 years.  Could I really do both?
As the day went on, I found out it was a position with some friends of mine from church.  And there was that feeling again that God needed me to listen.
So I did.  I made the call to one of those friends.
And the next morning, I accepted a teaching job.
That was a little over a week ago.  I am still trying to wrap my brain around it.  I am in awe at how God has worked on my heart and in my life lately.
I've been at this job for 1 week, and I have been up and down with my emotions of going back to work with now FOUR children and a blog to run.  But I can't help but feel so blessed.  The people I work with are so full of joy and so welcoming.  The students are incredible.  The whole environment is not like any I've ever been around.
So despite being very overwhelmed about putting my two little ones in full-time daycare, LOADS of laundry piling up, no supper planned at all, I feel so blessed.  I am so blessed that God has opened my eyes to something new.
I know eventually my family and I will settle into our new routine.  I will find my groove and learn how to balance it all.  And I will get my suppers planned…
And this Slow Cooker Sauce Piquante is on my new "working mom menu!"  Sauce Piquante is a Cajun dish.  It's usually a tomato gravy with some sort of meat.  It usually comes with a little spicy kick to it too.   It's usually cooked stove-top as opposed to the slow cooker.  I made mine with smoked pork sausage and beef stew meat.  And we LOVED it!  First, it smelled awesome, and second, it that stew meat was so tender!  I was so excited with how it came out.  We served it over cooked rice with green beans and new potatoes.
Hope you enjoy!  I'll be back with a GIVEAWAY tomorrow!!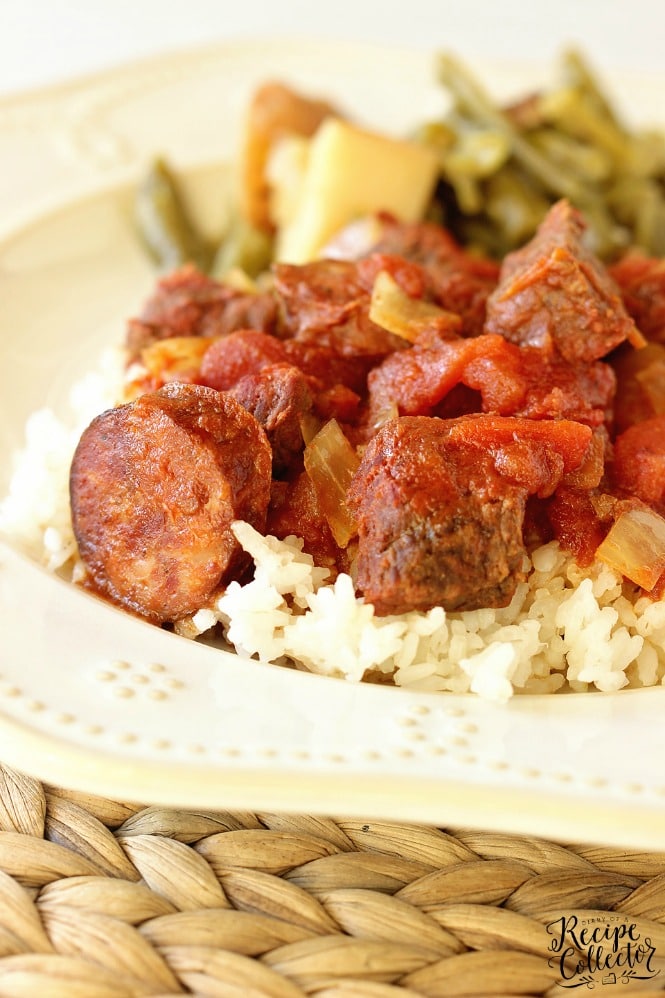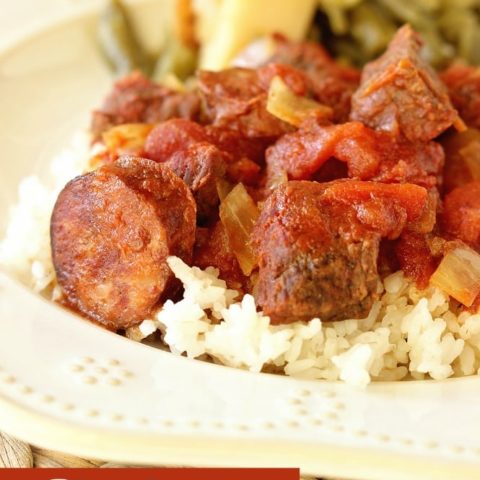 Slow Cooker Sauce Piquante
Ingredients
1 yellow onion, chopped
3/4 lb. tenderized beef stew meat ( chopped)
3/4 lb. smoked pork sausage, sliced
1 14.5 oz can diced tomatoes
1 10 oz. can mild Rotel (use Hot if you like spicy food)
1 8 oz. can tomato sauce
1/2 tsp creole seasoning
cooked rice for serving
Instructions
Add all ingredients except rice to slow cooker. Stir. Cover with lid and cook on low for 8 hours.
Serve over rice.
Notes
This is not a spicy version since I have small children. If you would like a traditionally spicy version, you can add hot sauce, crushed red pepper flakes, or even use a spicy sausage.
Recommended Products
As an Amazon Associate and member of other affiliate programs, I earn from qualifying purchases. This helps us keep our blog running efficiently and allows us to create more recipes for you.
 Other recipes you might enjoy:
Crockpot Sausage and Potatoes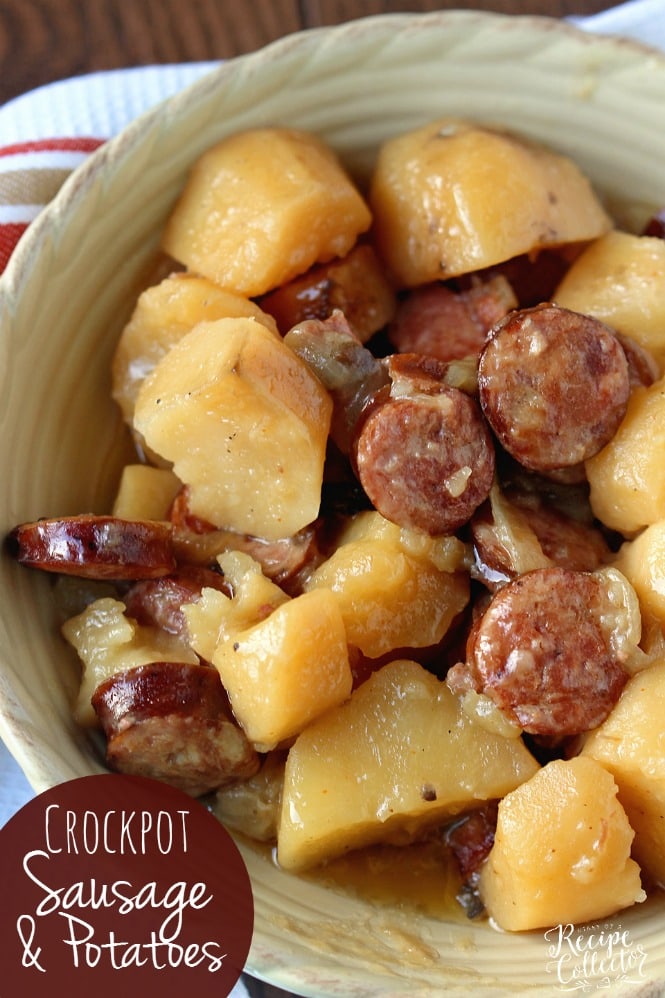 Slow Cooker Chili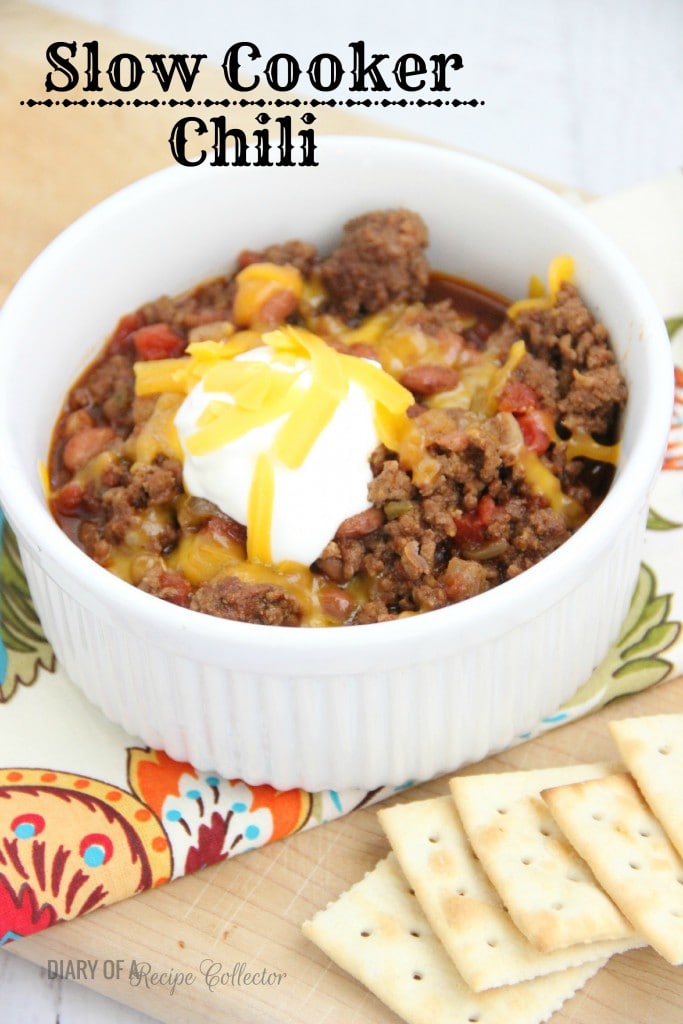 Slow Cooker Balsamic Chicken Sandwiches